The Times of Our Life


Wrangling Oysters Out of Trouble
Down on Circle C Ranch in St. Mary's County, Richard Pelz thinks he's got a pearl of an idea for bringing back both the Bay and oysters you can eat.

— M.L. Faunce • No. 2, Jan. 9

In North Beach, Getting the New Year's Biggest Challenge over Early
The North Beach New Year's Day Polar Plunge was canceled this year, but dozens of people still got wet, cold and red.

— Sandra Martin • Dock No. 2, Jan. 9

Bloodbath at Department of Natural Resources
The sword has lopped off just about all the upper echelon of Maryland Department of Natural Resources on the fourth floor of the Tawes State Office Building.

It all happened Monday, Jan. 13: 30 dismissals in 18 departments, many targeting political appointees, some direct from the office of Gov. Parris Glendening.

All were ordered to vacate their offices by noon Wednesday, Jan. 15, the time scheduled for Gov.-elect Bob Ehrlich's swearing in at Annapolis. A baby or two went out with the bath water, there was just one fourth floor survivor and as we go to press, DNR is a ship without a captain — and only one deck officer.

— Bill Burton • Dock No. 3, Jan. 16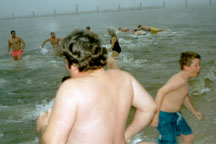 Bare, Cold Bellies Bring $442,000 to Special Olympics
Nobody looks good in a bathing suit in January. So it was more than cold that Polar Bear Plungers braved on the beach at Sandy Point State Park the Saturday before Super Bowl Sunday. Whatever other motives they might have had, all shared a common desire to support Maryland Special Olympics. Led by new Gov. Robert Ehrlich — the first Maryland governor to take such a plunge — 2,212 plungers raised more than $442,000.

—J. Alex Knoll • Dock No. 5, Jan. 30

No Utility in Beauty
Annapolis, Anne Arundel try to trim back BG&E's chainsaws
Buzz. Burr. Whirr. Whiz. That's the sound of the electric hair trimmer. Just a trim, please. Leave a little extra on the top.

Buzz. Burr. Whirr. Snarl. That's the sound of crews working on the streets and roadsides of Anne Arundel County and Annapolis. Only louder. Much louder. And it won't do to ask for just a trim with a little more left on top — except perhaps in Annapolis' Historic District.

— Sonia Linebaugh • Dock No. 7, Feb. 13

Bay Theatre Company
The new kid on the block's got guts
Janet Luby and Lucinda 'Cindy' Merry-Browne share a level of gutsy nerve — or verve — that's one part prudence, one part daring, one part passion, and one part blind faith.

You can see all four parts at work in the birth of their brainchild, Bay Theatre Company which, with Oleanna, has three plays to its credit and a full stage it can truck in to transform any likely building into a live theatre until something more permanent comes along.

— April Falcon Doss • No. 8, Feb. 20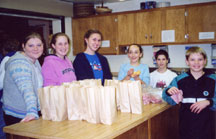 Shelter from the Storm
'Winter Relief' brings homeless men in from the cold
At Our Shepherd Lutheran Church in Severna Park, 28 cots strewn with personal belongings line the walls of the fellowship hall and spill over into the youth room. The church has lived up to its name for the last eight nights, providing sanctuary for 28 homeless men who would otherwise be out in the cold. For many of these men, home for November through April is the Winter Relief Rotating Homeless Shelter. The 11-year-old ministry of northern Anne Arundel County rotates among churches — 26 this year — from Glen Burnie in the north to Annapolis in the south. Churches open their doors, floors, showers, kitchens and hearts to provide not quite home but something like it.

— Martha Blume • No. 8, Feb. 20



The Two Stories of Lynn Buhl
Maryland Senate will write the next chapter
There's two sides to every story.

Gov. Robert Ehrlich says his nominee to head Maryland's Department of the Environment, former mid-tier Michigan environmental bureaucrat Lynn Buhl, is "a business-savvy lawyer and environmentalist who will effective strike a careful balance between a healthy environment and a healthy economy."

That's one side of the story.

The other side is that Buhl's the wrong woman for the job.

"She's not sufficiently experienced, not sufficiently familiar with Maryland's unique environmental problems — and she arrives here from one of the most anti-environmental state agencies in the country," counters environmental activist and lawyer Terry Harris.

— Sandra Martin • Dock No. 9, Feb. 27

Buhl Gets Bruised
Gov's choice for enviro chief in jeopardy
Advising but not consenting on Lynn Buhl, Gov. Robert Ehrlich nominee to head Maryland's Department of the Environment, the Senate Executive Nominations Committee voted 10–9 on March 3 to send an unfavorable vote to the full Senate, who will vote on March 7. If she receives an unfavorable vote there, she will be the first cabinet nominee on whom Maryland's Senate has refused to consent.

— Sandra Martin • Dock No. 10, March 6

How I Did It Myself on Do-It-Yourself Radio
I wanted a radio show to provide young children — and mom and dad — an antidote to music that is packaged from television and movies. South Arundel Citizens for Responsible Development, which calls itself by the acronym SACReD, wanted to expand his organization's access. Low-power community FM radio station WRYR — We Are Your Radio — and I broke into the air waves together.

— Annette Najjar • No. 10, March 6


Bird, Bison or Human Being
Celebrating 540 places wildlife find refuge
One hundred years old this week is our national wildlife refuge system, a national network of lands and waters where fish, wildlife, plants and their habitats are conserved, managed and restored for the benefit of the nation and generations to come.

— Sandra Martin with Martha Blume • No. 11, March 13

Packing Your Disaster Kit?
If you've got a nuclear neighbor, don't forget the potassium iodide
The first-aid kit the Department of Homeland Security advises you to pack to soften terrorism's blow includes a short list of non-prescription drugs. At the top of the list, above aspirin or non-aspirin pain reliever, is potassium iodide.

You may not have heard of it, and you may or may not be able to get it at your drugstore. But as war against Iraq pushes from threat to reality and the state and nation return to Code Orange in anticipation of retaliatory terrorist strikes, the doctors' prescription includes potassium iodide for much of Chesapeake Country.

The doctors — the members of the American Thyroid Association — recommend potassium iodide in the kit of anybody who lives or works in a 200-mile radius of a nuclear power plant.

— Sandra Martin • Dock No. 13, March 27

Maryland Grapples with a Weedy Issue
Marijuana's still illegal, but it's less illegal if the toker's sick
Last week, senators overwhelmingly approved the Darrell Putman Compassionate Use Act, which enacts a legal distinction between the medicinal and the recreational use of marijuana. The Maryland House of Delegates had already passed the bill by a 73 to 62 vote.

Under the proposal, named for decorated Army officer-turned-medi-pot-advocate Darrell Putman (who died of cancer in 1999), patients who demonstrate at trial that their marijuana use is for a legitimate medical need would face a maximum penalty of a $100 and no jail time.

— Paul Armentano • Dock No. 14, April 3

State Budget Cuts Walk All over Counties
And another boot may be coming
Maryland lawmakers went home April 7, leaving county executives waiting for the other shoe to fall.

"We've lost just under $18 million and I have every reason to believe the governor will veto the proposed tax increases, which could add another $10 to $12 million in cuts — and I hope that's all," said Anne Arundel County Executive Janet Owens, who hosted the 47 senators and 141 delegates from January to April.

— Sandra Martin • Dock No. 15, April 10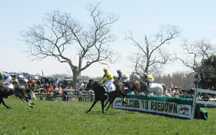 And They're Off!
Roedown Races herald spring in Chesapeake Country
For the 29th straight year The Marlborough Hunt Club has pulled off its spring races in style, despite the vagaries of weather.

"It's a great day," said first-time race-goer Gov. Robert Ehrlich. His respite was from the second-to-last day of his first time trying to manage Maryland's General Assembly. "You have danger, you have horse country, you have excitement and you have one of my favorite counties in the Bay."

The race, which opens Anne Arundel's outdoors social season, meets at Roedown Farm in Davidsonville, a parcel of lush green farmland nestled in the rolling hills of Southern Maryland.

— Louis Llovio • Dock No. 15, April 10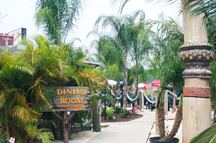 Palms Up, Palms Down
April showers bring May flowers … and palms
It's a rite of passage for people and birds to go south during winter when escaping the cold, snow and ice is paramount. When warmer weather approaches, the trend is sometimes reversed. Which may explain why we're seeing palm trees in Chesapeake Country in the spring.
Though rare in these parts, palms entice potential customers by adding tropical atmosphere to waterholes that take a beach or tiki bar motif.

— James Clemenko • Dock No. 19, May 8

Update: Vol. I, No. 2
The seeds of good eating are still growing
On scales large and small, for-table gardening is taking root in Maryland. Marylanders supported 48 organized farmers' markets last year, with more appearing every season. Come summer, there'll be as many fresh produce stands as turtles on Maryland roads.

Even as the number of Maryland farms declines — from 15,600 averaging 141 acres in 1993 to 12,200 acres averaging 172 acres in 2003 — the concentration of market garden-farms is increasing. Today there are some 820 fresh market growers in Maryland, doubling the 1993 number.

Maryland also boasts 18 CSAs, as they're called, and two thrive in 21st century in Chesapeake Country.

"From the consumer standpoint, CSAs are the best way to get wonderful fresh produce, with more variety and real flavor and taste. Also people living in agricultural areas want to keep farming alive, and one way to support your local farm by joining a CSA or buying from farm stands," says Future Harvest coordinator Dawn Stephenson.

— Sandra Martin • Dock No. 19, May 8


Dylan Plays Solomons
Times have changed, but Dylan's still in good rasp
Whatever Calvert Marine Museum's weather god-placating formula is, the Solomons destination could make more bottling and selling it than they do on their sold-out Waterside Concert series.

Never has it rained on their big-name twice-yearly outdoor concert, and once more this year 4,500 fans of the legendary Bob Dylan boogied sans umbrellas.

Dylan spoke to the audience only once, to introduce his band. He gave them a few classics — "Maggie's Farm," the opener; "Lay Lady Lay"; and "Like a Rolling Stone" — in a concert that sampled his four musical decades without lingering in his folky-protest past. He came on time; played hard for close to an hour and a half, including a two-song encore that brought the thousands to their feet; donned a smartly crimped cowboy hat for a semi bow; and hit the road, fast, in the darkness of one of a pair of giant touring busses.

That seemed to be what just what most of the clapping, swaying audience ordered. Calvert Marine Museum was well pleased, too, as the sell-out show is likely to add $100,000 to the museum's budget.

— Sandra Martin • Dock No. 20, May 15

Demolition Derby Needs Drivers
Smashing up your car is half the fun
On May 31, some two dozen of the bravest, craziest and most passionate people compete, head-on — literally. All will drive and smash their way to hoped-for victory. It will be easy to tell who's won, because they'll be the only one left moving.

"NASCAR people want to see the wrecks, because drivers are on the edge. Demolition derbies cater to that," said James Maxey, a retired Baltimore police driving instructor preparing for his second derby, where he hopes to drive the last car moving, rolling or crawling — whichever can make him the victor.

If he fails, Catlett's Towing is on hand to haul his car away.

— James Clemenko • Dock No. 22, May 29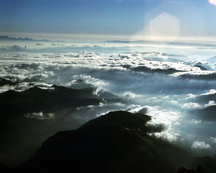 Rainy Weather
The good, the bad and the excess
People in Bay Country are miserable. They're fed up with five weeks of weather forecasts announcing rain, chance of showers, partly cloudy, chance of thunderstorms, severe storm warning. One day of sunshine isn't enough to balance the clouds.

All this rain isn't merely an experience: It has consequences. For the U.S. Geological Survey, it means an end to drought. For the Bay and its creatures, it means trouble. For swimming pool and parks departments, it means headaches. But for farm and gardens, it means potential abundance — if the sun ever comes out.

— Sonia Linebaugh • No. 23, June 5

Trickle-Down Taxes
Calvert and Anne Arundel pay up
Gov. Robert Ehrlich's kept his promise. He's avoided the tax-and-spend ways of the Democrats he replaced. Now, we're getting to see a new version of an old Republican principle at work: Trickle-Down Taxes.
While the state dreamed about how to bring in more money quick, placing bets on slot machines, counties were figuring out how to make cuts in spending and hikes in revenues.

Now, they've made their decisions.

In the short run, Calvert Countians may take in a summer blockbuster during a more wallet-friendly matinee show time, and Anne Arundelians may no longer enjoy the luxury of letting the faucet run while brushing their teeth. But in the big picture, Calvert County's excise tax hike excepted, Chesapeake Country's new taxes are a trickle that run into big streams.

— Lauren Silver • Dock No. 23, June 5

Take a Free Ride to the Shore
Lottery picks up Bay Bridge tolls
Friday, June 6 opens a new era for Bay Bridge drivers. From 7pm to midnight, The Maryland Lottery will pay your way across the Bay.

Of course nothing is free; you save $2.50 at the eastbound tollbooths, but in return you'll have to pay at least minimal attention to east and westbound billboards, signs on toll booths and literature handed out at the booths — at the Lottery's own expense — during the week before the sponsored ride.

Sponsored crossings are Maryland Transportation Authority's bright idea to alleviate the stress of crossing to the beach. The authority says it's promoting sponsorship not just to make money but as part of its mission to educate the motorists about opportunities to avoid congestion.

— Stephanie Chizik • Dock No. 23, June 5


New Toes in the Patuxent
Gov. Ehrlich wades in with Bernie Fowler
It's a first: A Maryland governor drove south to join the wade-in that has made the pages of national and international news and been a visual centerpiece of nearly every television program on the Bay since the late 1980s. It's the wade-in that has inspired folk on other Maryland rivers to begin their own annual June river rituals.

Gov. Robert Ehrlich strode from his car across the field toward wade-in founder former state senator Bernie Fowler and current state senator Roy Dyson. Shaking hands, Dyson notes that he's never missed a Patuxent River Wade-in. "You're going to make a pledge never to miss one either," he said to Ehrlich.

"That's a good idea," Ehrlich replied. By the time he reaches the podium, the governor was ready to announce: "I'll commit to being here every year."

— Sara Ebenreck • Dock No. 24, June 12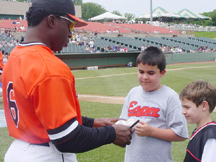 Take Me Out to the Ball Game
On a recent Saturday night, with the sharp smell of new-fallen rain mingling with the aroma of hot dogs and freshly popped popcorn, baseball-loving thousands flocked to Prince George's stadium to see the Bowie Baysox take on the Erie SeaWolves.
It was a summer night made for baseball and for celebration. The Double-A team split a double header, team mascot Louie celebrated his sixth birthday and the Baysox commemorated the event with a party that culminated with a dazzling fireworks show.

Catch a game like this at Prince George's Stadium, and you won't want to go home. That's because you go to minor league baseball for fun as well as for baseball.

— Louis Llovio • No. 26, June 26

African Americans Jump-Start the '06 Campaign
Candidates, voters need
If you can't get a white person to open the door for you, how do you get that same person to vote you into public office?

Jacqueline Allsup sought the answer to that question while campaigning door-to-door in 1998 to represent District 31 in the House of Delegates. When Allsup knocked, a little white girl called for her father. "He looked at me and never answered the door," Allsup said.

History reveals that Allsup is not alone; African Americans have always faced obstacles in politics.

Anne Arundel County has elected only one African American, Sara Carter, to its county council, and only one, Aris T. Allen, to the General Assembly. Both are now deceased.

Now African Americans in Anne Arundel are organizing to pass those obstacles.

— Lauren Silver • Dock No. 26, June 26

Local Fresh Fruits and Veggies
But what you eat at your favorite restaurant may come from far afield
You'd eat your vegetables first if they were fresh and local.

That's one reason Anne Arundel County Executive Janet Owens wrote 269 county restaurants urging them to buy and serve local fruits and vegetables.

The farm to restaurant connection is part of the plan.

In theory, restaurateurs agree. In practice, it's a different story.

— Jessie McLean Heller • No. 27, July 3

Hungry? Why Wait? Grab Something Local
Calvert Country Market, reopening soon, offers more than just veggies
If you're craving more than just a salad, the grander Calvert Country Market will satisfy — whether you're strict vegetarian, meat lover, dessert connoisseur or proponent of keeping Calvert country.

Four rows of 28 total stalls — 21 are new this year — will stand at the core of this now 12,000 square-foot complex. The first row features local artisans, while rows two through four house Calvert County farmers, selling what's in season.

For farmers, the market is their gateway to more customers and, for those who have been forced to abandon their tobacco sickles, an outlet for new specialty crops.

For buyers, it's a convenient, reliable place to buy fresh, local food at the source. "If you have a question about what type of vegetable you're buying, the farmers will be right there to answer that," says Kevin Owen, Calvert Country Market Manager.

For the community, says flower farmer John Prouty, Calvert Country Market is "a place that is not just a market, but a place where people come to talk, to visit, have a cup of coffee and buy something fresh instead of going to the supermarket and fighting people at the checkout counter."

— Lauren Silver • Dock No. 28, July 10


David Takes on Goliath — Round Three
Citizens prepare to battle Army Corps of Engineers
David is ready for battle, and his weapon of choice is a one-inch = 75-foot model of a working wetland.

David is a loose, grassroots alliance of citizens who enjoy the unspoiled nature of land and water along the northwest shore of Herring Bay in Southern Anne Arundel County. Goliath is the Army Corps of Engineers, civilian supporters and marine interests. The battle ground is the confluence of Rockhold Creek with Chesapeake Bay.

At the confluence, the Corps is about to bring in its big guns, building a 1,070-feet long, seven-feet tall and 35-feet wide jetty — plus raising its existing partner to match the specifications of its offspring.

To stop them, antique clock restorer Doug Muir constructed a model. "I wanted to know what would happen to the flow of water, erosion and silting once a second jetty was built, " he said.

— James Clemenko • Dock No. 29, July 17


Where's the Beef?
There's more than corn growing in Chesapeake fields
Calvert County Farmer Danny Gibson knows people want beef. He switched to beef farming from tobacco farming to stay working the land.
"There are people who know they want clean beef," says Gibson, whose cows receive no growth stimulants or antibiotics. Without them, Danny Gibson would lose his greatest satisfaction: working the land he's known and loved since childhood.

As suburbs spread into farmland in Chesapeake Country, farm survival is a growing concern. Our need for food, however, lines up with the farmers' need to market what they grow, and meat is the base for many of our meals. Understanding the way beef is grown gives us more control over the way we eat, and our choices, in turn, affect the future supply of that beef.

— Jessie McLean Heller • No. 29, July 17

Sit and Read a Spell
Bay Weekly's Summer Guide to Maryland Reading
A good book can take you anywhere, and we've all traveled with one or another in strange places and distant times to old worlds and new worlds. Perhaps in all your wanderings of the lands of Oz, you've forgotten that there's no place like home.
To remind your of native wonders, Bay Weekly's writers and readers have gathered a Chesapeake library, stocking it with classics, local history, mystery, nature, novels, poetry and tales tall and true. Our books are all by Marylanders and almost all about Maryland.

—Bay Weekly staff • No. 29, July 17

Airborne Menace Attacked
Mosquito-control products lay siege to backyard pests
When the mosquito bites, who are you going to call? Today, that bite not only itches but threatens infection with West Nile Virus. But if you call on a traditional sprayer to keep mosquitos away, you may be poisioning more than just stingers.

Nowdays you can call on SonicWeb, Rodar II, Mosquito Trap, Lectroswat, The Bug Eater, Mosquito Terminator, Backyard Avenger and Mosquito-Magnet.

They're among 21 mechanical mosquito-control products hawked on the Google Internet directory.

Mosquito-Magnet®, a device manufactured by American Biophysics Corp., is the most popular device in Chesapeake Country.

— Sonia Linebaugh • Dock No. 32, Aug. 7


Politics Is Killing the Bay
The author of Chesapeake Bay Blues isn't hysterical … but we should be
"If a student came to me and said 'I know I failed the test , but I studied really hard," you know what I'd say?" asks Howard Ernst, the Naval Academy professor who's written the most talked-about book on the Bay.

But it's not students the professor is talking to in Chesapeake Bay Blues.

Chesapeake Bay Foundation, he says, must "advocate or abdicate."

Gov. Robert Ehrlich, he says "has made a serious of disastrous choices for the Bay. Why was this guy elected?"

"Politics," says Howard Ernst, "is killing the Bay."

— Sara Ebenreck and Sandra Martin • No. 33, Aug. 14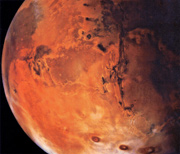 Mars a Marvel in Our Skies
Red planet comes its closest in 60,000 years
From Aug. 23 to 28, the point of Mars elongated, elliptical orbit brings it to our neighborhood. On August 28, we Earthlings get the best view of our neighbor, for then Mars, the Earth and the Sun stand in a row. Astronomers call that line-up opposition. Those dates are prime, but Mars is with us even now.
"It's like a big beautiful peach. It's brighter than the brightest star, and night by night you can almost see it grow," said amateur astronomer Bob Roberts.

— Kimberly Goode • Dock No. 34, Aug. 21

America's Navy Can Fight
But can they play football?
If the U.S. Navy fought wars like its training academy for officers plays football, we'd all be speaking Japanese right now.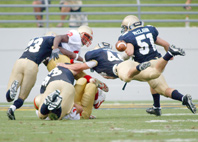 In three years the Mids have won only three of 33 games. The biggest and toughest of Navy's fleet hasn't won an opening-day home game since 1990, when this year's crop of seniors weren't even teenagers.

2003 could be Navy's year.

This season marks a turning point for a historic program that has had its fair share of misery in the last 21 years.

Opening day opponent VMI seemed like a good time to begin the new era. Since 1898, the Keydets had lost all seven previous meetings to Navy.

— Louis Llovio • No. 37, Sept. 11

Gambling on Gambling: Change is a Sure Bet
Slots legislation would revamp Rosecroft Raceway
Where will all your quarters, dimes and nickels go?

If gambling legislation is passed by the Maryland General Assembly, then Rosecroft Raceway will be transformed from a homegrown harness racing track to a metropolitan gambling destination for players of video lottery terminals or slots.

"We want to create a program where racing and gambling complement each other," said Tom Chuckas, CEO of Rosecroft Raceway at a visit by the Ways and Means Committee of the Maryland House of Delegates this week. "Rosecroft will become a location destination for entertainment, racing, gambling, dining, weddings, conferences, lodging and a multi-level parking garage."

— James Clemenko • Dock No. 37, Sept. 11

Who's the Fairest of Them All
County fairs make champions of everyman and woman
County fairs are harvest festivals. Whatever else you do — and there's plenty, from spinning on carnival rides, stuffing yourself on cotton candy and boardwalk fries, competing as a Daisy Duke look-a-like or cheering on giant tractors pulling monumental loads — the main attractions rise from farm and field.


Monday of fair week, canners, bakers, painters, garden growers and candle maker descend on arts and crafts halls with boxes, baskets and truck beds full of their wares. Nearly everything you make, bake, can, collect, grow, sew or paint has a place at the fair.

Tuesday of fair week, the judges appear. Clipboards in hand and pencils at the ready, they slowly stroll through each exhibit comparing and contrasting. Some categories have a single judge while others have up to six. Pros in the art they judge and often trained in the ways of judging, they come to the fair to rule on quality, consistency, conformity and creativity.

Who are these men and women who choose the fairest of us all?

—Kimberly Goode and Sandra Martin • No. 38, Sept. 18


We're Not Turning the Tide!
So says Tom Horton in his new book on the Bay
Horton starts out an average morning out on the Bay in a kayak, watching the sun rise in the east. "I do that to keep my spirits up," he says. "Being out there at dawn renews me."

Horton needs uplift because he thinks Bay trouble is basic: We're just not turning the tide of destruction. At the time of the 1991 first edition of his book for the Chesapeake Bay Foundation, Turning the Tide, Horton was hopeful that new visions and programs would achieve Bay restoration.

The conclusion of this volume is different. "I don't think that even the whole Bay program is going to get us there. That's depressing, a downer," he says slowly. "I see how fast a decade can go by with a lot of talk and too little action."

— Sara Ebenreck • No. 38, Sept. 18

Our Rain Barrels Overfloweth
In storm as in drought, rain barrels help save the Bay
Don't roll that rain barrel away. When we last wrote about rain barrels, drought sucked precious water from our soil and we were eager to use every drop that came our way.

Now, in the rainiest season in years, the rain barrel's true purpose is served, slowing down storm water runoff to cool the water down and help prevent the erosion of our creeks and streams.

— Sonia Linebaugh • No. 38, Sept. 18

Scenes from Isabel
After Chesapeake Country's 'Perfect Storm' homes and businesses sink or swim
Days after Isabel landed on Thursday, Sept. 18, Chesapeake Country offered scenes of devastation rivaling almost anything in North Carolina, Virginia and the more publicized paths of the hurricane.

A perfect storm of elements — a six-feet surge of water, high tide and easterly winds — destroyed piers and boardwalks, damaged hundreds of homes along the shore and crippled some businesses so badly that they may never reopen.

The loss of electricity in recent days was trivial compared to the repair and rebuilding tasks faced by many along the Bay. Long after harrowing stories from the night of the storm have faded, people will still be dealing with the economic consequences.

Hit with the worst flooding in 100 years, everyone has a tale to tell.

— Deborah Bell, Steve Carr, James Clemenko and Bill Lambrecht
Dock No. 39, Sept. 25

Brushing up after Isabel
10,000-ton pile still mounting in Anne Arundel
As soon as Isabel blew by, citizens were indeed swarming the Anne Arundel trash and recycling yards at Sudley, Glen Burnie and Millersville. For the first nine days after the storm, September 20 to 28, the yards were open 12 hours a day. During those days, 40,800 customers — twice the usual average — carried in Isabel's mess. Sudley alone served 7,600 customers with an all-time high of 2,721 on Saturday, September 21. That's almost 2200 more vehicles than the usual daily average of 525.

In the days since Isabel, brush piles have mounted to 10,000 tons. Ten thousand tons of brush recycles into a lot of mulch.

—Sonia Linebaugh • Dock No. 41, Oct. 9

Nature's Survival Challenge
What would you do if you found yourself alone in the woods at night? Wish you'd learned your lessons in Calvert's Wilderness Survival Camp.

Jackie Waymire, Calvert County park ranger and site manager for Kings Landing Park in Huntingtown, grew up on a Calvert County farm and lives an outdoors life. Her survival campers are far more familiar with the mall than the woods. Basic facts of nature are foreign concepts to children growing up in housing developments — even ones with woods for backyards.

"Lots of kids don't even know the way the sun goes," Waymire laments. "While teaching orienteering, I have to repeat again and again that the sun moves from east to west during the day. Without knowing that basic, how can they figure out what direction they're going?"

—Vivian I. Zumstein • No. 40, Oct. 2

Gambling on Gambling: A New Deal
Racetracks play their hand to win slots game
The deck of cards has been dealt and the players at the table are wrangling to outwit their opponent. In this round, the players are the Maryland Jockey Club partnered with the Magna Entertainment Corporation from Ontario, Canada up against the Maryland House Ways and Means Committee. The winner may be decided by who holds the best hand — or who bluffs the best.

The stakes are high as video lottery terminals — slots — are the reward for victory.

—James Clemenko • Dock No. 42, Oct. 16

50 Ways to Eat an Oyster
Without forgetting to plan long-term about how to save oysters, we're thinking short term about how to eat them.

Churches, neighborhood associations and fire departments show you how God meant an oyster to be fried. You'll find no nouvelle oyster cuisine at such affairs, but who need innovation when tradition tastes so good?

The St. Mary's County Oyster Festival and National Oyster Cookoff is a feast of a different species. Here, oyster cookery breaks with tradition in favor of innovation.

Bay foodways historian Whitey Schmidt pays homage to both the eating of the oyster and its the culture in his brand-new Chesapeake Bay Oyster Cookbook.

— Sandra Martin and M.L. Faunce • No. 43, Oct. 23


Heavy Mettle
Do you have what it takes to compete in a Scottish Highland Games?

"You don't have to be Scottish. Just strap on a kilt and get out there," said Dave MacKenzie, steward for the heavy athletics competition at this year's 12th annual Anne Arundel Scottish Highland Games, held Oct. 11 at the Anne Arundel County Fairgrounds.

Unlike Olympic athletes who specialize in and compete in only one or a few events, competitors at the Scottish Highland Games do it all. At the Anne Arundel games the magic number was seven: Hammer Toss, Braemar Stones, 56-pound Weight for Distance, 28-pound Weight for Distance, Caber Toss, Sheaf Toss for Height and the Weight for Height.

The heavy athletics season for the Mid-Atlantic region — encompassing Maryland, Virginia, West Virginia, Kentucky, North Carolina and Tennessee — starts in April and ends in Richmond the last weekend of October. Every year, Chesapeake Country offers up two broadly Scottish festivals with the games: this one in October and the Southern Maryland Celtic Festival in April at Jefferson Patterson Park in St. Leonard.

—James Clemenko • Dock No. 43, Oct. 23


Filtered by Shellfish
Can a Golden Clam help clean up Lake Lariat?
When you've got 90 ailing acres of water in the midst of 3500 homes full of water-loving kids, you've got quite a problem.

But for shellfish entrepreneur Richard Pelz of Circle C Oyster Farm Ranch [Wrangling Oysters Out of Trouble, Vol. XI, No. 2: Jan. 9], Chesapeake Ranch Estates' problem at Lake Lariat is a golden opportunity. It's so good that he's adding clams as a second line to the oysters he raises for food and water purifiers.

— M.L. Faunce and Kimberly Goode • No. 44, Oct. 30

Our Ailing Bay Takes Turn for the Worse in 2003
We've got the way, but not will, to do better, Bay Foundations says
Twenty years ago, Bay states, the District of Columbia and an alphabet of federal agencies joined in an unmatched cooperative effort to save the Bay from a rising tide of degradation. In 1983, nobody thought living up to the Chesapeake Bay Agreement would be easy. But by now, everybody expected we'd have turned that tide.

Instead, it's getting worse — which says something about our efforts as well as about the Bay.

"One hundred is the historic ideal Captain John Smith would have seen when he sailed up the Bay 400 years ago," says Baker, explaining the index which the Foundation devised six years ago to measure Bay health

This year's score is 27, a point worse than last year, which was already bad enough. Could we be on a slippery slope back?

—Sandra Martin • Dock No. 46, Nov. 13

Tables Turned
Grading the Chesapeake Bay Foundation
On the day Chesapeake Bay Foundation issued its report card on Bay health, muckracking Naval Academy political science professor Howard Ernst issued his report on the state of the Chesapeake Bay Foundation.

"I'd give them a C-, and that's an improvement from a flat F," said the self-styled "easy grader."

— Sandra Martin • Dock No. 46, Nov. 13

Happy Birthday, Howard
Maryland momentum goes to Dean for President
Democratic presidential aspirant Howard Dean celebrated his 57th birthday Nov. 18 with a nice birthday card from Maryland. Sixty-eight elected Democrats — from Brian Frosh, the senator honored last week by League of Conservation voters as Maryland's environmental leader of the year, to Annapolis Mayor Ellen Moyer to Eastport Alderman Josh Cohen — signed his card, promising to support him above all other Democrats in the contest to beat President George W. Bush.

That's as good as money in the bank for the former five-term governor of Vermont. Maryland's March 2 primary is not of the king-making scale of those, but it sure will do somebody good next spring. This month's early endorsements make Dean the man with momentum.

—Sandra Martin • Dock No. 47, Nov. 20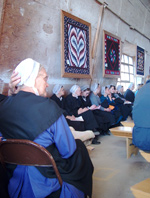 Stitches of Awe
St. Mary's Amish auction the arts of daily life
Once again this Saturday before Thanksgiving, the 14th annual Southern Maryland Amish Quilt Auction united two disparate cultures, pouring cash into the Amish community near Mechanicsville and inspiring awe in English throughout the Washington metropolis.

Syllables of awe rose to the falling colors of "The Third Weekend in October." Unfurled by Amish men from the wooden and leather pulley they raise to display the art of their womenfolk, the 94-by-113-inch quilt stunned the hundreds of English gathered at the annual auction to bid and buy the works of a simpler culture.

"That ohhhh added $500 to what it cost us to take this quilt home," said Larry Hyatt. Hyatt, of Fulton and Coltons Point, was the silent partner in bidding that leapt from $500 to $1500 to $1650 in the short minutes it took English auctioneer Rodney Thompson to coax the day's highest bid from Mary Hyatt.

—Sandra Martin • Dock No. 48, Nov. 26

How We Celebrate
Thanksgiving at the farm
In June, Phil and I moved to a 16-acre horse farm in Reisterstown. Our house sits on a hill overlooking the front pasture. In the back are more pastures and paddocks and two barns.

Across the narrow lane is an 80-acre cattle farm. The tree line just down the road marks the watershed at Liberty Reservoir with miles and miles of trails for us to ride.

I'd described it for my family and sent photographs. Unbeknownst to me, they started planning their Thanksgiving visits …

— Nancy Hoffmann • No. 48, Nov. 26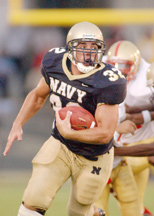 Navy Masters Football
After 21 years of misery, the Mids scored an 8–4 season
If Bay Weekly produced newspapers like we predict football, you'd be reading this etched into a cave wall.

— Louis Llovio • Dock No. 50, Dec. 4

Do You Treasure the Chesapeake?
Then come January, you'll be buying a new licence plate
Your 2004 traffic jams will be better.

Come January, Maryland's Motor Vehicle Administration will be selling redesigned Treasure the Chesapeake license plates.

As well as giving motorists more eye-catching license plates, the plates will fund Bay-improving projects throughout Chesapeake Country.

— Louis Llovio • Dock No. 50, Dec. 4