2003: The Year in Review
Places
New Year Traffic Concerns
Tankers in Chesapeake Bay
In a decision that will change the habits of Bay boaters and fisherman, the Coast Guard this week removed one more obstacle to a Virginia company's opening a new Bay port for tankers at Cove Point in Calvert County.

After an 18-month study, the Coast Guard sent Dominion Resources Inc. a letter saying that Chesapeake Bay could be used for shipments of liquefied natural gas.

The Coast Guard said it would issue new guidelines for security later that take into account the threat of terrorist attack.

—Sandra Martin • Dock No. 1, Jan. 2

500-yard security zones to encircle tankers en route to Cove Point
If you think of it as a board game, with giant tankers as the pieces and the U.S. Coast Guard rolling the dice, you'll see how close they've come to home. In this game, home is Cove Point on Calvert County's southern shore, and that's where Dominion Resources Inc. plans to reopen the three-decade-old disused dock to tankers delivering cargoes of liquefied natural gas.

In the latest move, the Coast Guard has proposed an operating plan defining 500-yard security zones to surround both the dock and the delivery tankers.

—Sandra Martin • Dock No. 13, March 27

Liquefied Natural Gas Returns to Chesapeake Bay
22 million gallons dock at Cove Point



With Norman Lady's arrival, Chesapeake Bay becomes home to the biggest of United States' four LNG facilities, with an output capacity of one billion cubic feet of gas a day.

The huge red ship slipping up Chesapeake Bay had been expected for quite some time. Its historic voyage from Trinidad was preceded by packed public hearings and political brouhahas as Chesapeake Bay citizens, politicians and experts warned that natural disasters or terrorist attacks could devastate not only Dominion's Cove Point LNG Terminal, where it was heading, but also the Calvert Cliffs Nuclear Power Plant up the shoreline.

The Norman Lady's load primed Dominion's processing machinery. LNG ships with bigger loads begin arriving in early August, with several arriving each week once the operation is running at full capacity.

— John Guerra • Dock No. 31, July 31

Cove Point Settles Down to Shipping as Usual
With the arrival of third giant container ship of LNG Sept. 2, something akin to a regular schedule of ships has begun.

—John Guerra • Dock No. 37, Sept. 11

'Someday' Has Come at Banneker-Douglass Museum
When it's stories of overcoming you want to hear, you can't come to a better place than Banneker-Douglass Museum in downtown Annapolis. Nor could you hear them at a better time than our time, when begins the long-planned $5.5 million expansion that will more than double the size of Maryland's museum of African American heritage.

—Sandra Martin • Dock No. 6, Feb. 6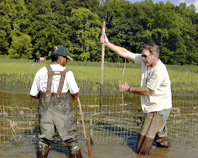 Everybody Loves Wild Rice
But Canada geese are eating Jug Bay's crop all up
Migratory birds that stop over in the Jug Bay wetlands depend on wild rice to continue their fall journey. The rice that grows in the marshy stretch of the Patuxent near Lothian is related to the wild rice grown in Canada and sold for $6 a pound at Whole Foods. Ten years ago, expansive stands of the tall grass filled Jug Bay, attracting large numbers of migratory birds. Then the resident Canada goose population in Jug Bay exploded.

—Scott Hertzberg • Dock No. 12, March 20

Waiting for the London Town Ferry
What history has lost, heritage tourism may regain
London Town has a history as a place of waiting. Today, it is waiting for the appointment of an executive director. Maybe that will be Donna Ware, interim director since the departure of Gregory Stiverson for the president's job at Historic Annapolis.

While she's waiting, Ware is busy. London Town, east at the juncture of the South River and Almshouse Creek, is bursting with projects and ideas. There's an underground watering system that will be advertised for bid on May 1. The cost is already funded by a State bond bill from 1996. "My job is to make sure it keeps moving," says Ware.

Ware also moves forward plans for London Town's $5.1 million visitor center and museum. The center, to be built mostly underground at the site of an earlier waste-water treatment plant, will highlight London Town's role as a tobacco port and transportation hub in the days when travelers waited here — some for the ferry to carry them across the water to Annapolis; others for tobacco or slaves to be delivered.

—Sandra Martin • Dock No. 13, March 27

Pound Nets and Fishlighters
Two-thirds of the way down the Chesapeake shoreline in Calvert County, where fossil-filled cliffs change to a low, sandy, ever-changing shoreline, lies Flag Ponds, a park with a past.

Not so long ago, a thriving Chesapeake pound net fishery operation had its base camp at Flag Ponds. The outlines of its history are traced in exhibits at the park, but not much was known about the lively details that add zest, humor and human interest to the facts.

It took a former DC police officer, now an inquisitive park ranger, to do the detective work of digging out the story of the watermen who worked their livings out of this place.

—Sara Ebenreck • No. 14, April 3

Does Galesville Need Another Bar?
No, says West River Improvement Association
To the West River Improvement Association, just as big a deal as a gubernatorial appointment was businessman and aspiring restaurateur Charles 'Nick' Bassford's application to hold a third liquor license in the Southern Anne Arundel County village of Galesville.

Galesville, which claims 363 residents and twice that number of boats, already supports three liquor licenses. Pirates Cove is the only one of the three licensed establishments not under Bassford's control. Through limited partnerships, he holds the liquor licenses at Topside, which includes a package store, and Steamboat Landing.

Now Galesville could get a fourth and Bassford a third, if old Woodfields fish and ice house opens as a crabhouse sometime this summer.

—Sandra Martin • Dock No. 14, April 3 & 15, April 10

Chesapeake Discoveries
Anne Arundel County gets a new old town
Herrington had been the most lost of the lost towns. Not now.

Using a modeling program that is based on discoveries at other county old towns — London town and Providence — archeologist have unearthed after three centuries the southernmost discovery in the county's Lost Towns project.

—Pat Piper • No. 15, April 10

Finally Annapolis Neck Has Its Small Area Plan
Or does it?
When the Anne Arundel County Council approved the Annapolis Neck Small Area Plan at its March 17 meeting, two things happened. First, it formally adopted a document that aims to guide regional development for the next decade and beyond. Second, it seemingly ended a five year process that was marked by countless meetings and endless acrimony, controversy and contentiousness.

There's just one hitch: The county doesn't know how it's going to solve one of the Neck's most pressing issues: where to put all the cars. As a result, the zoning statutes to put the long-deliberated plan in motion won't be finished until at least September.

—Gary Starikoff • Dock No. 16, April 17

Bay Weekly's Guide to Spring Homekeeping
Put in the flowers, take out the trash
Spring's ready. Are you?

Get inspired on the 66th annual Maryland House and Garden Pilgrimage, where history of the past meets history-in-the-making. There's no better way to look at your own homestead's possibilities than to visit some of the most fascinating homes in the region.

Spring cleaning. Cut flowers. Old stories. Annuals. New windows. Native plants. Gifts of nature. The persistent lesson from the house and garden pilgrimage is that the outside is the key to enjoying the inside.

—Sonia Linebaugh • No. 16, April 17

John Wennersten's Environmental Biography of the Bay
Want to know why the Bay has troubles? Looking straight into the flow of the last 400 years of Chesapeake environmental history, John Wennersten, author of The Chesapeake: An Environmental Biography, explains that for us newcomers, it's always been take, take, take.

Colonists didn't come here to admire the land; they came to make a new life — and profit. Land, they thought, was improved by making it productive. Timbering and planting and harvesting took the 'wildness' out, civilized the place. The waters, Wennersten writes, "were from the earliest period defined by private business and state governments as engineering problems standing in the path of business expansion."

What was true then is just as true in our time.

"Humans always transform their environment," he explained to reviewer Sara Ebenreck. "The idea of a pristine environment is a myth. But in the past, human despoliation of the environment was limited by the population. In the 21st century, we have exponential growth in population."

—Sara Ebenreck • No. 22, May 29


Digging Eastport
To avid archaeologists, backyards and long memories tell a story

Archaeologists are digging up back yards of Eastport this summer. They're still welcome, because they're not only digging but working with the people who have lived here to reveal the community's history. On this dig, Eastport residents continue to make contributions that sometimes surpass anything coming out of the ground.

"We sensed an opportunity in Eastport," says University of Maryland professor Mark Leone, the program's director, who likes nothing better than for people to come visit his excavations. It's a misconception, Leone explains, that "if you let the community design research questions, then it's not 'scientific.'"

—Sam Gordenstein • Dock No. 30, July 24

Statues Grow at Annmarie Garden
Exotic abstractions from the Hirshhorn join native favorites
City-cousin Hirshhorn, a Smithsonian in-door and out- museum, is paying a visit to county-cousin Annmarie Garden. Sculpture, big sculpture, is the family tie that unites Washington's premiere collection of abstract art and Calvert County's garden of sculpture. Having discovered their kinship, the two are getting together. This month and last, seven Hirshhorns have come to stay. Over the next two years, six more will join the family in Solomons.

"Some folks will come to Annmarie and suddenly think 'I've got to get up to see more at the Hirshhorn,'" says director Stacey Hann-Ruff. "Others may be coming down from DC or Baltimore to see art that's only viewable here," says Hann-Ruff.

—Sara Ebenreck • Dock No. 36, Sept. 4

Lighthouses Have Plenty of Past
Now, Thomas Point Light Has a Future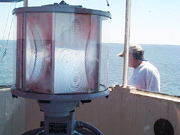 As Isabel approached last month, Chesapeake citizens ashore from Smith Point to Havre de Grace raced to tie down belongings, secure boats, store outdoor furniture and other potential projectiles. The day before the storm, Thomas Point Light was battened down by Coast Guardsmen, who secured the National Oceanic Atmospheric Administration weather equipment inside. After they then boarded their boats and pushed off the base of her spider-like iron frame, Thomas Point Light, the last of the Bay's working screw pile lighthouses, stood on its own.

Now human forces are converging to ensure that the Thomas Point light shines on. The city of Annapolis and the Chesapeake Chapter of the U.S. Lighthouse Society are poised to lease the 138-year-old screw-pile lighthouse from the Department of the Interior.

—John L. Guerra • No. 42, Oct. 16

Growing St. Leonard
A community with a past tries for a future
Can a crossroads village surrounded by a sprawl of housing developments grow into a thriving community? As Dr. Seuss almost said, "If such a thing could be, it certainly should be."

In the Calvert County village of St. Leonard, a "Vision Group" is pushing hard for that goal.

— Sara Ebenreck • Dock No. 46, Nov. 13

Counting Isabel's Blessings
Annapolis Maritime Museum sees brighter future
If Friedrich Nietzsche was right, and "What does not destroy us makes us stronger," then the Annapolis Maritime Museum will rebound in 2004 bigger and better than ever before.

This year, the museum is thankful to have survived the year of the hurricane, Isabel. When the hurricane and its storm surge raged through Chesapeake Country, it tore through the museum's properties and heart.

"But we're not sitting by," said acting museum director Jeff Holland. Indeed, the board is planning to make the museum bigger and better. "Isabel was a good excuse to grab attention and has become an opportunity to make the facility into a world-class center," Holland said.

—James Clemenko • Dock No. 48, Nov. 26

First Isabel Threw Her Party, Then North Beach Partied
$12,981 raised for victims clean of wind and water
Hurricane Isabel whooped and hollered her way through North Beach on the night of September 18, wiping out much of Atlantic Avenue, along the town's long Bayfront, and whipping the remainder. Two months later, a couple hundred friends of North Beach had their own night on the town with much different results.

In five hours — about half the time Isabel stayed around, partying locals whooped and hollered up $12,981 to help victims clean up after the big wind and high water.

—Sandra Martin • Dock No. 48, Nov. 26

Holiday Essence
Poinsettias bloom red and green for Christmas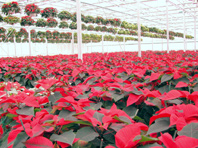 What's red and green and bought all over?

Answer: Poinsettias.

The colors of this tropical shrub symbolize Christmas and ring in the holiday season. Poinsettias epitomize and evoke the holiday spirit in a way no other plant can, except of course Christmas trees.

As non-native species in this cold part of the world, they are a hot commodity this time of year for decorating homes and offices. In Chesapeake Country, Greenstreet Growers in Lothian is to poinsettias as the North Pole is to Santa.

Greenstreet Growers, a 55-acre campus of cultivation, specializes in poinsettias through the holidays. Over 40,000 poinsettias make their home at Greenstreet before being bought by other nurseries around the country or for your home or office.

—James Clemenko • Dock No. 49, Dec.