Dock of the Bay
Counting Isabel's Blessings
Annapolis Maritime Museum sees brighter future
If Friedrich Nietzsche was right, and "What does not destroy us, makes us stronger," then the Annapolis Maritime Museum will rebound in 2004 bigger and better than ever before.

"We're not sitting by, resting on our laurels," said acting museum director Jeff Holland.

On December 3 at Carrol's Creek Waterfront Restaurant in Annapolis, the Annapolis Maritime Museum hosts its annual meeting and party to celebrate its 2003 accomplishments and discuss its 2004 goals.

This year, the museum is thankful to have survived the year of Hurricane Isabel. When the hurricane and its storm surge raged through Chesapeake Country, it tore through the museum's properties and its heart.


photo by James Clemenko
The Annapolis Maritime Museum awakened to two damaged buildings, McNasby's Seafood and Oyster Company and the Barge House. The wreckage forced the cancellation of exhibits, lectures and concerts.
After Isabel, the goal was to relocate as much as possible. At the time, Holland said, "The challenge is to find venues to reschedule events. This is an opportunity to start fresh and grab people's attention to raise funds. We want to make the museum bigger and better."
Two months later, Holland is pushing the theme of opportunity. "Essentially, we're in a regrouping mode," he said. "Isabel was a good excuse to grab attention and has become an opportunity to make the facility into a world-class center."
First, they'll have to find a site for their world-class dream.
"Ideally, we'd like to rebuild on the current site," said Buck Buchanan, museum chairman. In the future, he dreams of reaching beyond museum walls with an at-risk youth program and a community boating program to teach safety as well as basic sailing instruction.
"We feel that the museum can be a positive social force in the community, not just a warehouse for old things," said Buchanan.
That long journey has started with a short-term office.
Temporary headquarters have been set up on Severn Avenue in Eastport to coordinate restoration and rebuilding of the two buildings and new museum developments.
In one of those new developments, the Thomas Point Shoal Lighthouse, in partnership with the City of Annapolis and the U.S. Lighthouse Society, seems ready to be handed over to the rebuilding museum. The lighthouse will stay put at the shoal, where it will continue to aid navigation.
"There are no known roadblocks," said Buchanan, referring to the process by which the lighthouse becomes museum property.
Public boat trips to Thomas Point Lighthouse with a guided tour are planned. Beyond the lighthouse, the museum is working to develop a display kiosk on or near City Dock and a second exhibition and education center on Spa Creek in the heart of Annapolis.
The museum is planning a capital campaign for 2004 and has already hosted two fundraisers since Isabel. The Renaissance Party raised more than $6,000 and the Great Schooner Race raised in excess of $2,000, which will help fund new projects and restoration of the two buildings. A fundraiser has already been scheduled for next year — on March 8, at Galway Bay restaurant on Maryland Avenue.
To celebrate 2003 and to look ahead at the future, the museum needs your help. "The meeting and party is your opportunity to vote, participate and lend a voice," said Buchanan.
To see the museum's current exhibit, Before There Was GPS: the genius of Capt. Philip Van Horn Weems, head to Weems & Plath, 214 Eastern Ave., Annapolis.
To join in, see
8 Days a Week
.
— James Clemenko
---
Isabel Threw Her Party, Then North Beach Partied
$12,981 raised for victims clean of wind and water
Hurricane Isabel whooped and hollered her way through North Beach in September, wiping out much of Atlantic Avenue, along the town's long Bayfront, and whipping the remainder. Two months later, a couple hundred friends of North Beach had their own night on the town with much different results.

In five hours, about half the time Isabel stayed around, partying locals whooped and hollered up $12,981 to help victims clean up after the big wind and high water.

Nobody minded a bit as they emptied their pockets. That's because the Town of North Beach's Hurricane Isabel Fundraiser was a good time for a good cause.

First, the springs of generosity were touched with a slide show of local photographs of Isabel's night on the town.

"That broke my heart," said Doug Sisk, of Owings. In turn, Sisk and his wife Terri bought several items at auction. "The more you drink, the more you buy," said Terri Sisk.

Next, the town laid a bountiful buffet of cold cuts, chicken wings, pizza and cake.

Then, with firetrucks moved out of the North Beach Volunteer Fire Department to let the fun-raisers in, the hall started jumping. North Beach's Deanna Dove raised the emotional temperature with songs rooted in Chesapeake Country.


photo by Sandra Martin
Rockfish got the crowd moving at a North Beach fundraiser for Isabel victims.

"You add music, and more people say, 'let's go,'" said Karyn Molines, technician for Rockfish, the second in a lineup of three bands.

The four Beach locals who make up that band — Gary Pendleton on harmonica, Ray Saunders on guitar, Chris Garrett on mandolin and vocalist Susan Berman — added a star in the person of 80-year-old Western swing fiddler Bill Marquess, also of the Beaches ["Still Swinging After All these Years," Vol XI, No. 31: July 31]. When Marquess stepped to the fore to fiddle "Big Ball in Cowtown," the crowd sat up and paid attention.

As parents got into the groove, kids had their own night out, throwing themselves into games and crafts set up by the Bayside Boys and Girls Club. Not a kid in the hall went home unpainted or unsaited.

By the time auctioneer Eric Miller — a former North Beacher — took the mike, the hall was ready to go anywhere he led them. Item by item, with applause, cheers and competitive bids egging them on, the auctioneer led the crowd to $2,796.50 of the night's total.

Highest dollar — $340 — went for Jack Morgal's sculpture of a crab holding a fish.

North Beacher Morgal is a plumber whose sideline is turning the materials of his trade into whimsical creatures. The high bidder, Smokey Ward, has a double life of his own: D.C. police detective and commercial crabber, he calls his work boat Investigator.

"That's his theme," said Ward's daughter Stacy Wilkerson, "and he was determined to have it."

As the dollars flowed in, a second group — the Beach Business Hurricane Relief Fund — raised an additional $1,306 toward the $50,000 they hope to contribute to help businesses hardest hit by Isabel stay on their feet through the winter season.

Closing band Treated and Released, also with local roots, took over a crowd that had lived up to its name: well treated, North Beach's many friends had released far more than the expected $5,000.

"Humbled by the wrath of Isabel, everyone was overwhelmed with generosity," said organizer Joanne Hunt.

The citizens relief fund is administered by St. Anthony's Church: 301/855-7898; the business fund by Lynda Striegel through Calvert Bank: 301/855-2246.

— SOM

---
Opera's Grand Night

Concert Gala raises funds and audiences
On November 8, the Annapolis Opera partied all night long for their 30th Anniversary Gala — It's a Grand Night for Opera — to raise funds for the 2004 season.

The grand night for opera was deemed a success in attendance and revenues.

"We are pleased the way things turned out," said Annette Semerjian, Annapolis Opera publicity chair. Some 150 people attended, helping Annapolis Opera raise more than $12,000 through tickets sales and a silent auction.

That $12,000 helps pay for future productions, orchestral accompaniment, chorus, singers, sets, lights, costumes and space at Maryland Hall for the Creative Arts.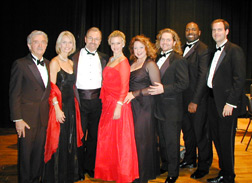 photo courtesy of Annapolis Opera
Gala performers Dominic Cossa, Carolyn Black-Sotir, Jason Stearns, Angela Fout, Lori Hultgren, Daniel Holmes, David Cantrell and James Rogers.
Money also supports Annapolis Opera's annual vocal competition for eight finalists, which returns February 1, 2004, at Maryland Hall. The competition, as well as children's concerts throughout the season, are free and open to all.
"The vocal competition is an opportunity for people who would not normally be able to afford the opera to go for free," said Semerjian. "It's a chance to entice people to become opera lovers."
In addition to raising money, the gala showcased local artists.
Annapolitan Jason Stearns, a baritone who sings for New York's Metropolitan Opera, sang his Prologue to I Pagliacci. Head of the University of Maryland voice faculty Dominic Cossa, a baritone, sang "Di Provenza."
Other singers included Carolyn Black-Sotir and previous winners of the Annapolis Opera vocal competitions: sopranos Angela Fout, who won first prize in the 2000 competition, and Lori Hultgren, the second-prize winner at the 2001 contest.
The All Children's Chorus of Annapolis, the Anne Arundel Community College's Chorus and the Annapolis Opera Orchestra rounded out the night's entertainment.
The enriched opera's 2003-2004 season continues with Mozart by Candlelight Concert December 7.
— James Clemenko

---
Stitches of Awe
St. Mary's Amish auction off the arts of daily life
Syllables of awe rose to the falling colors of "The Third Weekend in October." Unfurled by Amish men from the wooden and leather pulley they raise to display the art of their womenfolk, the 94-by-113-inch quilt stunned the hundreds of English gathered at the annual auction to bid and buy the works of a simpler culture.

To the Amish, we of the gasoline engines and ready money are English. To us English, the Amish are plain people who eschew vanities and bright colors along with modern technologies from the zipper to the grid. Yet here hung, swinging for all to see, a riot of shape and color as unabashed as its namesake season. Sewed over countless hours in painstaking stitches no longer than the letter n, pieced from fabric squares no larger than two-by-two-and-one-half inches, this is no plain blanket.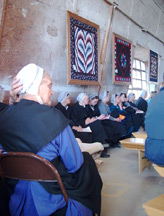 photo by Betsy Kehne
Amish women watch as 'English' bid — often hundreds of dollars — on the quilts they craft to raise money in their community, above.
"That ohhhh added $500 to what it cost us to take this quilt home," said Larry Hyatt. Hyatt was the silent partner in bidding that leapt from $500 to $1,500 to $1,650 in the short minutes it took English auctioneer Rodney Thompson to coax the day's highest bid from Mary Hyatt.
"Sixteen, 16 and a half … come back … would you bid 16 and a half … the whole world's looking at you … he doesn't care, would you bid 16 and a half?"
Blushing, she would and did, taking home in early afternoon the quilt she had marked for her own that morning. When the Hyatt's home in Coltons Point is renovated for retirement, "The Third Weekend in October" will be the centerpiece around which the master bedroom is decorated.
Wild applause greeted Hyatt's winning bid. "Somebody help that lady!" called out the auctioneer in mock recognition of the staggering victory.
Despite the modesty of the Amish, pride and pleasure must have warmed the heart of quilter Elizabeth Hurztler, though she did not stand or cheer or punch a high-five to claim her victory.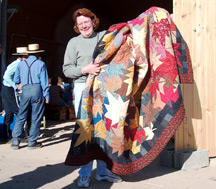 photo by Betsy Kehne
Mary Hyatt, the day's highest bidder and proud owner of The Third Weekend in October.
Once again on the Saturday before Thanksgiving, the 14th annual Southern Maryland Amish Quilt Auction united two disparate cultures, pouring cash into the Amish community near Mechanicsville and inspiring awe in English throughout the Washington metropolis. In this harvest of a year's handiwork, "The Third Weekend in October" defined the pinnacle of extravagance. It did so without diminishing the beauty or artistry of the dozens of other quilts on display. Log cabin; Wedding Ring and Double Wedding Ring; Shining Star, Morning Star and Lone Star; Trip Round the World; Flower Garden; Checkerboard — each variation on the old themes or creation of new ones won its own awe. Prices ranged from less than $200 for infant quilts to near $1,000 for the highest-bid queen size. Many full-sized beauties sold for less than $500.
Small or large, each quilt is a masterpiece of pattern and patience. Blankets assembled like sandwiches in three layers, they are composed of tops that, like "The Third Weekend in October" are pieced from bits of fabric that may be no bigger than business cards. Always, the layers are sewn together in elaborate patterns of tiny stitches. In the finest work, as in all sold at this auction, the stitches are sewn by hand.
"Without television," quipped auctioneer Thompson, "these people do some amazing things."
It's too late this year, but horse-drawn buggies and motorcars will convene again next year in a drafty shed on the Hurztler property off Route 236 in St. Mary's County for the annual Amish auction of quilts and other handmade arts of daily life.
—
SOM

---
In Virginia, it looks like the Commonwealth is doing what Maryland used to be good at. Gov. Mark Warner and state officials gathered last week to celebrate preservation of another choice parcel of land: a 535-acre farm called The Meadow, in King William County. It brought to 230,000 acres the amount of land saved by conservation easements by the Virginia Outdoors Foundation, which was created by the General Assembly…
In Washington, senators in the region want to set up another governmental entity to help restore the Bay. It's proposed name is a mouthful: the Blue Ribbon Commission on Chesapeake Bay Nutrient Pollution Control Financing …
In Spain, the Barcelona Zoo last week announced the death of Snowflake, the world's only known albino gorilla, after a long battle with skin cancer. Hundreds of people stood in line to view the body of the popular, 310-pound gorilla, who was recalled as a lover of yogurt. He was to be cremated …
Our Creature Feature is our promised update from Hong Kong on famed crocodile hunter John Lever's much-publicized search for the wily beast that has been frightening the bejeezus out of locals. Lever, an Aussie quite high on himself, remarked before his plane landed that he probably would "just walk in and grab it."

Well, it hasn't been quite so easy. Mr. Croc Hunter reported Monday that he's been motoring a boat loaded with chicken heads through creeks where the elusive crocodile lives, but he hadn't yet seen it. "I know what crocodiles are like and it's always a hard job. They are very difficult animals to catch," he said. Stay tuned.