Editor's note: Last Christmas, Hoffmann told the story of her family's first Christmas at the new farm of ex-urbanite New Yorker cousins: "Christmas in the Country" [Vol. X, No 51]. This season, the tables are turned.
Thanksgiving at the Farm

For Phil and me, this Thanksgiving brings a new home, a new life warmed by four generations of family under our roof.
story by Nancy Hoffmann ~ illustrations by Betsy Kehne
"Tom is planning on flying in for Thanksgiving," my mother said of my brother. "Your aunts will be there, too."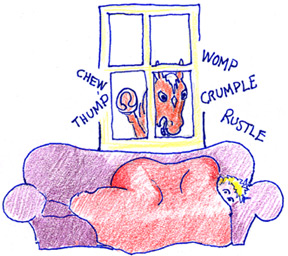 There was only silence on my end of the long-distance line. I'd just heard from my niece. She and her family were going to visit for Thanksgiving, as were my parents. My husband's family would be with us, too. And several friends who had to work and couldn't travel to be with family had accepted my invitation.

"How many will that be for Thanksgiving dinner?" my mother asked.

"Probably 20 or so," I said, feeling overwhelmed. I was having some very non-giving type thoughts about all those freeloaders coming to my house for dinner.

On top of that, I'd have family staying with me for several days. I wondered if they would require clean towels and three meals a day.

"Everyone wants to see the farm," my mother said.

The Early Birds
For years, only my husband's family, who live in Linthicum, dined with us at Thanksgiving.

They suffered through my early turkeys. Like the first one, back when I didn't know it took days to defrost that rock-hard bird. Seven hours in the oven and it was still raw. Let's not forget the burnt rolls and those instant mashed potatoes.

I have no family in Maryland. We stretch up and down the East Coast from Connecticut to New York on down to Virginia and Florida, then west to Dallas. Everyone always kept close to home for Thanksgiving.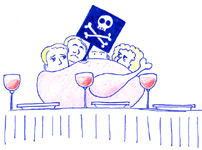 Only when word spread that the threat of salmonella poisoning had receded did my family start visiting for Thanksgiving.

My husband, Phil, and I lived in Millersville. Our house was perfect for family gatherings: three empty bedrooms, two spare bathrooms, a double oven in the kitchen and a ping-pong and pool table in the basement for the nieces and nephews.

November became filled with telephone calls about who was coming, who couldn't make it and who would wait until the last minute, after all the food was purchased, to decide. A small contingent of my family would then sit at our table.

But this year is different. In June, Phil and I moved to a 16-acre horse farm in Reisterstown. Our house sits on a hill overlooking the front pasture. In the back are more pastures and paddocks and two barns.

Across the narrow lane is an 80-acre cattle farm. The tree line just down the road marks the watershed at Liberty Reservoir, with miles and miles of trails for us to ride.

I'd described it for my family and sent photographs. Unbeknownst to me, they started planning their Thanksgiving visits.

Why is it that my family is drawn to the country? Our roots are in New York City and its congested suburbs.

All I could think was that Phil and I are in a house less than half the size of our old house, more like a townhouse without the neighbors. No double oven and no pizza delivery when I get tired of cooking.

Meanwhile, my family was thinking 16 acres, back to nature, peace and quiet.

Barn Buddies
"You'll stay in the barn office," I said to my brother, Tom, who's flying in from Dallas. It's heated and has its own bathroom."

"But," I added, "you'll have to share with the stray cat."

"Just as long as I don't have to share with anything that has a long thin tail and buck teeth," Tom said.

"That's what the cat is for," I lied.


No need to tell him about the rat's nest we found in the feed room, which, I hate to add, is right next to the office.

On the other side of the office is the indoor riding arena. That's where we've found fox and raccoon at night. I didn't bother telling him about them, either.

If that's not enough company for Tom, he'll also have the horses to talk to. Horses need only several hours of sleep so they'll be up most of the night picking through their hay. It can get quite loud, sounding like a room full of people crumpling their Sunday papers. One horse gets antsy in his stall. He has a ball with a handle that he grips in his teeth to toss in the air and bang against the walls.

For Tom, we'll close the barn doors to keep the critters out. But our horses weigh about 1,000 pounds. Animals that size generate a lot of heat, poop and urine. Put the three together in a closed-up barn, and boy do you get something to smell.

After a good night's rest in the country, I'm sure Tom will be ready to help with the morning feeding. When the horses hear a human in the feed room, they nicker and whinny. Our young horse will kick at his stall door, angry he's the last in line. The noise won't stop until all their noses are buried in the feed pans.

Green Acres
It was a three-day weekend, cold and windy. Phil was away, traveling for work. I was up at 5:30am to feed the horses, dogs and cats.

As the animals ate, I went out to the pasture and broke up the ice in the water troughs. Several fence boards had fallen during the night, probably knocked down by deer. I got a hammer and nails.


When I returned to the barn, the horses were finished eating. One at a time, I led them out to the pasture. They called out and tossed their heads, excited to be free. I lingered at the fence as they greeted each other, nose to nose, gentle puffs of breath blown back and forth. Formalities completed, they rolled in the grass, and I got back to work.

I mucked out the stalls, put down fresh sawdust and a new flake of hay in each stall. When the horses came back in that night, I'd put out warm water. It was an extra step, but horses don't drink enough water in cold weather. The warm water would encourage them to drink and help avoid colic, which can be fatal. This winter we'll feed a mash of grain, bran, hot water and mineral oil. It keeps everything moving smoothly through the horses' intestines.

The stray cat mewed at me as I lugged bales of hay from the loft in the back barn to the feed room in the front barn. After the third trip, I caved in and put more food in her bowl.

Then I cleaned the filter for the koi pond and reattached the hoses to the outdoor faucets. The evening before, I had stretched out the hoses and drained them before they froze.

So the work continued into the evening, when it was time for another feeding, to bring the horses back into the barn and to gather up the cats before the fox came out to hunt.

I slept well, ready to do the same tomorrow and the day after that. Then it would be back to my day job, and the farm work would be done early in the morning and in the evening.

"I don't know why you ever moved there," a friend said to me. "Home is where you go to rest."

"It must be so much work," my aunt said.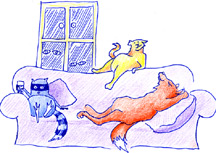 "How long does it take you to feed all the animals?" my mother asked.

Farmers like to talk about how much work they can fit into a day, what time they get up and all the projects they have going on their farms. The efficiency and cleanliness in the barn is much more important than the décor in the house.

"Now that so and so," farmers will say by way of an insult, "he doesn't have much work in him."

The farm calls to you to work it, but it isn't a labor or a chore.

Icing the Cake
"You'll have to take everyone riding," Phil said to me.

"Maybe they won't want to go," I said, trying to weasel out of it before my family had even arrived in Maryland.

"Don't worry," Phil said. "They'll want to go."

Everyone warned Phil and me that after we moved to our own farm we'd have less time to ride. We try to prove them wrong.

One autumn day, we tacked up our horses and headed out onto the trails. Phil was riding his eight-year-old quarter horse gelding, Blue. He's thick and compact, like the old-style foundation quarter horse. I was on my mare, Misty. She's 20 years old, half quarter horse, half Thoroughbred. The two hate each other.

Fallen leaves covered our path, but we trusted Misty and Blue to find solid ground. We trotted past herds of deer and a lone fox. A gentle touch of rein against Misty's neck, and she glided around a turtle parked in the middle of the trail, locked tight in its shell.

Following a wide but winding path, we headed down to the water. A blue heron fished from a log. Canada geese honked overhead. Out on the reservoir, fishermen cruised by in their electric boats and cast their lures.

And over Maryland's rolling hills we traveled, the horses' hooves pounding out a steady beat.

A neighbor who keeps her horses on 22 acres always tells me: "When you have your own place, riding is the icing on the cake."

Well, Misty is the icing on the cake, but Blue's cake is still in the oven.

Many horses will buck, especially in cooler weather. You have to decide if it's a happy buck. When I ask Misty to go from the trot, a four-beat cadence, into a lope, which has three beats, she often drops her head and does a little hop. It's a happy buck, saying let's go. She'll then lengthen her neck and stretch out into the run.

Then there's Blue.

We had reached the water's edge and turned around to run back up the path. Phil and Blue were in the lead, but Misty is faster than Blue and we were gaining on them. Misty wanted to pass, but I held her back. Blue started to buck. Once, then twice, then three times. Phil laughed.

"It's a happy buck," he said.

"Not from where I'm sitting," I said.
Phil and I slowed the horses to a side-by-side walk. Misty pinned her ears and bared her teeth at Blue. He sped up to take the lead and angled his rump toward us, sizing up Misty for a kick.

With his attention focused on Misty, Blue didn't notice the deer until they bounded across the trail in front of us. Startled, he lunged to one side. Misty and I stopped to watch the show.

"Well," I said to Phil, "once that horse grows up, you'll be expert at riding out a spook."

Later, I tell Phil we'll put my brother and nephew on Misty when we take them for a ride. "And no running," I said. "Only walking and trotting."

"Good idea," Phil said.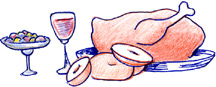 They'll Soon Be Here
Everyone has called with their flight numbers and arrival times. I've e-mailed the driving directions.

Now I rush from store to store. My brother likes bagels, my aunt has a sweet tooth, my father enjoys a glass of burgundy wine. For my young nephew, a small gift to make him feel welcome.

They'll soon be here, hoping to eat a tender turkey, seeking a few days of quiet country life.

For Phil and me, this Thanksgiving brings a new home, a new life warmed by four generations of family under our roof: things to be thankful for.