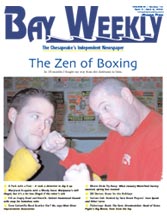 On Our Cover
The Zen of Boxing: In the ring Baltimore Boxing club owner, fight promoter and Baltimore boxing legend Jake 'The Snake' Smith, shuffled effortlessly — despite weighing 35 pounds heavier than his normal fight weight. Sparring with him, Matthew Pugh got his first taste of a pro boxer's punch. Photo by Ernest Anastasio.


The Zen of Boxing
by Matthew Thomas Pugh
In 18 months I fought my way from the doldrums to bliss.