2003: The Year in Review
Time keeps sliding into history, thickening the volumes of Bay Weekly and the archives of all our lives. By now, nearly all the promises of 2003 have been kept — or broken: the anticipations realized, the surprises neutralized, the shocks weathered, the patterns woven and repeated. Here we are again, in December's waning days — wondering how these 365 days went so fast; watching the hours of daylight turn minute by minute in our favor; aspiring to make 2004 the best year ever.

But not for another week. As we teeter on the brink, we invite you to return with us one more time to the thrilling days of yesteryear.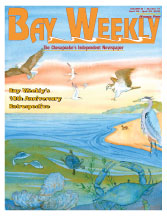 10th Anniversary Special ~ April 24
Blue Crab Blues
Update: A Decade Later, Everybody Keeps Singing that Same, Sad Song

Just how bad was 1992's crab season?

A little more than 30.25 million pounds of crabs were landed, according to the Maryland Department of Natural Resources.

Update: 1993 was better, with a harvest of 55 million pounds, but worse was still to come. Annual hauls dropped to 20.2 million pounds in 2000. So bleak was the picture that Maryland and Virginia agreed to boost the reproducing population by reducing their harvests by 15 percent in 2003.

Crab harvests keep falling. Why, what to do about it and the will to take hard steps are just as elusive in 2003 as in 1993.

— J. Alex Knoll

Bay Beaches Are Trashy Places, It's Not Their Fault
In our Bay's sprawling watershed, 15 million people live, work, play — and litter.

Update: By 2003, population in the Bay had swelled to 15,709,111 million people. In 2020, growth is expected to bring us to nearly 18 million.

— Sandra Martin

On the High Seas, the Coast Guard Rules
Update: You could still be next

"The Coast Guard has jurisdiction to board anybody anywhere. We can have a reason. Or we can have no reason."

That's a lesson charter boat captain Mike Harris, who fishes out of Rod 'n' Reel on Compensation — learned painfully and expensively back in 1992.

His story happened long before 9/11 brought us heightened security alerts and broadened police powers. Since 9/11 the Coast Guard has become part of the massive new Department of Homeland Security. It now patrols the nation's waters even more aggressively, a Coast Guard spokesperson told Bay Weekly this week.


Chasing the Blue Monster
Update: Make that rock monster

How's this for a spring dream? You're trolling in the Bay, your first time out in a season full of hope, and WHAM … ZINGGGGGG — the rod bends like a horseshoe, the line smokes toward the horizon and your heart starts hopping even in bed. Gotta be snagged.

Update: Keep on dreaming. At the 20th annual Maryland Saltwater Sportfishermen's Association Chesapeake Bay Tournament on May 16-18, 2003, rockfish, now recovered, replace bluefish as the fish of choice with some 200 cash prizes to be won. First prize for rockfish is a guaranteed $15,000, but with additional skill-level fees and bonuses, last year's winner got $35,000. The $100,000 grand prize still stands.

Whale of a Change in the Chesapeake?
Update: If you can't see a whale, a dolphin may do


Two Nicks and No Fin showed up, as did Rabbit, known for some awesome acrobatics. But the real celebrity was Tattertail, whose knobby young head already adorns a postcard in New Jersey.

They're part of a baker's dozen of baby humpback whales who spent the first months of 1993 capering about at the mouth of the Chesapeake Bay. That's baby, as in 30 feet long. Adults get up to 50 feet and can weigh 40 tons.

Update: In recent years, adult humpback whales have been spotted in Chesapeake Bay. Back in 1993, only baby humpback were spotted. Why either age comes, we still don't know for sure.