Bird, Bison, Human Being

Celebrating 540 Places Wildlife Finds Refuge

by Sandra Martin with Martha Blume
Black against the blue sky, four birds soar, slide and slope. Big birds by their size at even this distance, they should be vultures, who like to ride the currents in hungry, watchful company. But there is more power in the stroke of these wings than the effortless glide of vultures.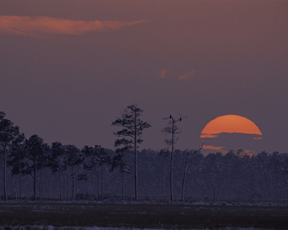 By the time sun strikes a white head silver, one of the four has dropped out the of the precision flying drill. The third is having trouble keeping pace but still streaks after the remaining pair. These two, by now, are so synchronized that the one seems the shadow of the other.

These are not vultures, nor windhovers, the falcon of Gerard Manley Hopkins' poem. But in words, only poetry — and in flying machines, only Blue Angels — can come near this pair of bald eagles trying out each other's company in late December.

Eaglets will feather their nest come April.
Wild Places for the Web of Life
That such sights as these are still to be seen is due in no small part to the National Wildlife Refuge system. Celebrating its centennial this week is a national network of lands and waters where fish, wildlife, plants and their habitats are conserved, managed and restored for the benefit of the nation and generations to come.

Rare whooping cranes make a species-saving circuit from Patuxent Wildlife Refuge right here in Maryland to Necedah Wildlife Refuge in Wisconsin and Chasahowitzka Wildlife Refuge in Florida. Fifteen hundred alligators and many more carnivorous plants feast at Okefenokee National Wildlife Refuge in Georgia. Archie Carr National Wildlife Refuge in Sebastian, Florida, is the sea-turtle capital of the western hemisphere.

In the West, bison still roam at Bison Range Wildlife Refuge in Montana. And at Jackson Hole, Wyoming, Elk Wildlife Refuge welcomes its namesake by the thousands each winter as migrating herds come down from the mountains to feed, drawing wolves that hope to feed on them.

"Refuges protect the whole web of life — not just the charismatic species but all that inhabits there," says system spokeswoman Cindy Hoffman.

More than 700 species of birds, 220 species of mammals, 250 reptiles and amphibian species and 200 species of fish find safe homes in refuges. Some 250 of those animals and plants — including bald eagles, black bear and Delmarva fox squirrels — are threatened or endangered. Some four dozen refuges were created to protect particularly rare species.

Not only birds, bison, bear and bugs live wild in our wildlife refuges. They're also land where humans can drop out of civilization and back in time a century or two to get a taste of our nation's once most abundant, and now scarcest, natural resource: wilderness. Twenty million acres in the National Wildlife Refuge System are designated as wilderness.

With a little human help — like planting native trees in land once cleared for farming — nature rules in wildlife refuges. Roads and buildings are kept to a bare minimum, so there's as little as possible between you and nature as you hike, bike and paddle. In 311 refuges, you can hunt; in 271, you can fish. At one, you can dive and swim with manatees. At another, you can tour by sled, gliding among elks tamed by feeding.

But you can't stay overnight. Like most other refuge rules, that one exists to protect America's scant remaining wildlife and wilderness from us humans, its most endangering species.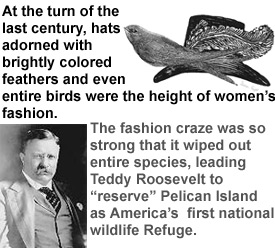 100 Years, Nearly 100 Million Acres
All this started because of ladies' hats.

A century or so ago, women of fashion completed their costumes with elaborate hats swirled and spiked with the feathers of exotic birds. Sometimes, even entire dead birds perched on these ladies' hats. So all-consuming did the style become that whole species were plucked to extinction.

"To preserve from destruction beautiful and wonderful wild creatures whose existence was threatened by greed and wantonness," wrote President Theodore Roosevelt in his autobiography, he "reserved" Pelican Island as a rookery. Protected by the barrier islands along Florida's Atlantic coast, the little island was — and remains — home for not only pelicans. A 19th century naturalist counted "thousands of Herons, Peale's Egret, the Rufous Egret and Little White Egret … and Roseate Spoonbills; and immense numbers of Man-of-War Birds and White Ibises."

On March 14, 1903, Roosevelt signed the executive order bringing Pelican Island under federal protection — and creating America's system of wildlife refuges. T.R., America's first conservationist president, designated 55 reserves to protect birds and animals.

In the 1930s, Teddy's cousin, President Franklin D. Roosevelt, added over one-half million acres as part of his Civilian Conservation Corps campaign to rebuild a nation devastated by the Great Depression and the agricultural disaster of the Dust Bowl. Franklin Roosevelt's administration also created the federal Duck Stamp program, and sales of the permit stamps to hunters continue to support the purchase of refuge land — as well as open a door to fame for wildlife artists. In the 1970s, President Jimmy Carter added 53 million acres, many in Alaska, more than doubling the whole system.

In a hundred years, protected acreage has grown from Pelican Island's five acres to 95 million acres, all overseen by the national Fish and Wildlife Service.

Refuges have spread across the nation, from Florida to Maine, Alaska and Hawaii. Every state and most U.S. territories have at least one. Kentucky has only one; North Dakota has 64, the most of any state. California follows with 38, then Florida with 29. Alaska is home to the largest, the 19.2 million-acre Arctic National Wildlife Refuge. The smallest, half-acre Mille Lacs National Wildlife Refuge, belongs to Minnesota.

Maryland's three refuge complexes range from tiny Susquehanna Island, eroded to less than an acre, to Blackwater Wildlife Refuge at 26,000 acres.

At one of the system's 540 refuges, Eastern Neck National Wildlife Refuge, my pair of Christmas eagles are now nesting.

Eastern Neck National Wildlife Refuge
Water surrounds Eastern Neck Wildlife Refuge's 2,285 acres. The Kent County island has the Chesapeake Bay to its west, the Chester River to its east and little Willson Narrows Creek to its north, severing it from the rest of the peninsula. Eastern Neck is a typical Bay island, the kind migratory birds have depended on — and descended on — for eons in stages of their annual cycle.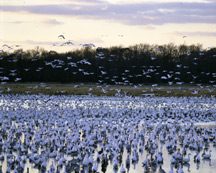 photo courtesy of U.S. Fish and Wildlife Service

Snow and Canada geese — along with more than 30 other species — winter over at Eastern Neck Wildlife Refuge.
One human lives in these low, grassy wetlands today, but hundreds could have. In the 1950s, a developer bought a big chunk of the island and subdivided it into 293 small lots. As with so many refuges from Pelican Island on down, neighbors came to the rescue. Heeding their call, the U.S. Fish and Wildlife Service bought up the whole island between 1962 and '67.
So Eastern Neck Island will always remain one stepping stone in the international chain of refuges where millions of migrating birds rest and feed as they fly thousands of miles south for the winter and return north for the summer. This month, thousands of waterfowl — the all-time high count was 43,000-plus birds of 33 species — will be leaving the refuge to make their way north.
Two-hundred-eleven other species, familiar and exotic, stop by Eastern Neck Wildlife Refuge. Songbirds traveling north reach their highest concentration in late April or, perhaps this year, early May. Over 100 species nest there, including at least three pairs of eagles. Among them is the pair that soared in the last days of December, 2002.
Human visitors can get among all those creatures on six miles of paved roads, four trails and a boardwalk. You can also fish, crab and, from April through September, launch small (not trailered) boats at the refuge.
Destination:
Eastern Neck Wildlife Refuge is just across the Bay from Sandy Point State Park. By car, Rt. 50/301 north. Rt. 213 north to Rt. 20 south, to Rock Hall. Rt. 445 south into the refuge.
Chesapeake Mashlands Complex
One eagle watched us from a dead tree as we circled Blackwater Wildlife Refuge to catch the setting winter sun. A couple of herons fished the icy channels of the marsh. But where were the waterfowl?

Darkness was fast falling when we found our answer: The geese were in the cornfield. At every corn stalk, three or four Canada geese pecked and poked, dislodging the last dry kernels from cob and shuck. The whole field was alive with squawking geese.

At 26,000 acres, Blackwater Wildlife Refuge is not only the largest of the three refuges that make up the Chesapeake Marshlands complex. (The other refuges are islands: tiny, eroding Susquehanna in the north of the Bay and Glen Martin Refuge on Smith Island just above the Virginia line.) Blackwater is also Maryland's largest refuge. Thus it has both lots of work to do and lots of problems.

Amidst the Eastern Shore landscape of farms and small towns, Blackwater's fields planted especially for wildlife lure geese by the thousands. Some give up their migratory lifestyle for the easy life on the refuge. But these resident Canadas become a new problem, eating up habitat meant for wildlife.

Refuges often become the last remaining vestiges of greenspaces in the area where they are situated. "Wildlife refuges end up compensating for unwise development around them," said environmentalist David Conrad, a frequent visitor to Blackwater.

photo courtesy of U.S. Fish and Wildlife Service

Many endangered species make their homes at national wildlife refuges, like this Delmarva fox squirrel at Blackwater Wildlife Refuge.
Other appetites are chomping away at Blackwater, too. Nutria, the furry muskrat-like rodents imported from Louisiana in a hunting scheme gone awry, have colonized the refuge. Teaming up with such other invaders as phragmites, nutria have cost the refuge 7,000 acres of marsh. The Army Corps of Engineers has mobilized to rebuild marshes, and the upcoming federal budget includes half a million dollars for the war on nutria at the refuge.
Gaining more ground is the refuge's campaign to reforest 10,000 acres. In Maryland as across the nation, cutting down — and cutting up — forests has exiled wildlife from their homelands.
"Agricultural fragmentation is not just local but a national issue with serious negative effects on birds and other species that require large areas for breeding," said Blackwater forester Tom Eagle, as he organized a centennial-celebration tree-planting campaign.
Added to the Refuge system in the 1930s under FDR, Blackwater is mostly converted wetlands, cleared and drained for agriculture. But on roughly a third of the refuge, native trees are being replanted to establish seven of what Eagle calls "large contiguous forest cores" designed to provide breeding room for forest interior dwelling songbirds — known as FIDS in Fish and Wildlife speak.
As the temperatures rose to tropical 60s on March 8, 250 volunteers slogged through supersaturated wetlands to plant the first of 80,000 hardwoods — bald cypress, black walnut, black gum, cherrybark oak, green ash, persimmon, river birch, shumard oak, sycamore and willow oaks — in the refuge this year.
All those trees will also help keep the endangered Delmarva fox squirrel from going extinct.
Blackwater offers six and a half miles of paved Wildlife Drive, two short trails and a boardwalk where you can make your own discoveries of creatures both flourishing and endangered. Or follow 20-and 25-mile routes along county roads through the Refuge's varied habitats. Some hunting and trapping is allowed by permit.
Destination:
Blackwater Wildlife Refuge is on the Eastern Shore. By car, Rt. 50 south to Cambridge. Rt. 16 east. Rt. 335 south into the refuge.
Patuxent National Wildlife Refuge
Head bobbing, high stepping on long black legs, the sleek white creatures approach until their red foreheads, black cheeks and golden eyes are level with the awed human they're about to encounter. At five feet, they are the tallest birds in North America. One crane backs off a bit to a place where there is room enough for him to spread his immense black-tipped wings.


Whooping cranes at Patuxent National Wildlife Research Center socialize with humans and breed. But they will never return to the wild or have contact with chicks raised to be wild.

photo by Martha Blume

On the Central Tract at Patuxent Wildlife Research Center, tucked away from public view, a family of rare whooping cranes strut their stuff in a prehistoric dance. These cranes are continuing a biological destiny that was almost lost in the 20th century. Some help conserve the gene pool while others serve as surrogate parents and imprint-models for chicks that will learn to fly behind an ultralight aircraft to complete a migration odyssey of 2,500 miles, from Wisconsin to Florida and back.
Like these whooping cranes, Patuxent Wildlife Research Center is unique. Its original 2,670 acres were reserved in 1936 by Franklin D. Roosevelt as our nation's only wildlife refuge focused on research.
The refuge has grown to 12,750 acres rich with woods and ponds where a host of other critters whoop and sing, slither, scamper and exchange oxygen. These are the little-known celebrities of the refuge.
In vernal ponds, salamanders slink, unaware that they are watched by scientists who hope to learn the causes of their population declines. Kestrels nest in boxes enclosed in large pens at the forest edge in a closed colony. They are their species' guinea pigs in experiments to determine toxic effects of mercury. Scoters — sea ducks that live on the Bay — dive in tanks, doing what scoters do, while scientists take notes on how long they stay down and how much food they pick up.
Many sorts of significant research go on here. An acid rain study site sometimes records rain with the pH of vinegar. An old DDT study plot once belonged to Rachel Carson, who exposed the deadly effects of pesticides on wildlife when she worked here as an employee of the Fish and Wildlife Service.
Patuxent Wildlife Refuge is unique in yet another way. It's also the only refuge on Maryland's Western Shore. Midway between Baltimore and Washington just off the busy Baltimore-Washington Parkway, it occupies lands surrounding the Patuxent and Little Patuxent rivers.
Preserved by its past affiliation with the Department of Agriculture and the Department of Defense, Patuxent survives as one of the largest forested areas in the mid-Atlantic region. That rare, unbroken cover makes it indeed a refuge for migratory birds. As well as forest, this refuge contains meadow and wetlands habitats, all managed to maintain biological diversity for native and migratory species.
The Central Tract where rare cranes live is one of three tracts into which the refuge is divided. Plus cranes and offices, the Central Tract houses study sites of some 165 research biologists employed by the United States Geologic Survey on some 160 current projects. Scientists at Patuxent also monitor trends in North American bird populations by managing the North American Breeding Bird Survey in conjunction with the Canadian Wildlife Service and the Bird Banding Laboratory.
The refuge's North Tract is largely wild but visitor-friendly, inviting hunting, fishing and hiking and hosting to a variety of interpretive programs operated by the Fish and Wildlife Service. Many of the bird and wildlife encounters for children and adults you read about regularly in Bay Weekly's 8 Days a Week calendar meet here. Here, too, a pair of bald eagles has nested and raised eaglets since 1989.
The South Tract houses the National Wildlife Visitor Center and six easy-access trails. Trails range from 0.2 to 1.4 miles, some handicapped accessible, and you can follow them from the Visitor Center through a variety of habitats, from wetlands to meadow to hardwood forest. As well as all the usual resident birds this time of year, visitors may even run across a wild turkey; ten were sighted at year's end in the Christmas bird count.
Armchair travelers might prefer to take the tram, which operates around Lake Redington, through meadow, marsh and forest. A guide points out waterfowl, signs of forest succession and experimental plots like a fenced-in area where researchers study the effects of deer grazing on the forest understory. The Visitor Center's colorful hands-on exhibits teach about local issues, animals and habitats. The Visitor Center also houses a bookstore, auditorium and meeting room.
Destinations:
National Wildlife Visitor Center, South Tract: 10am-5:30pm daily. Off Powder Mill Rd., between Rt. 197 and the Baltimore/Washington Parkway, Laurel: 301/497-5760 • www.pwrc.usgs.gov.

Tram tours, South Tract. Saturdays and Sundays from mid-March to mid-November, every half hour 11:30am-3:30pm; $3 with age discounts.

Patuxent Research Refuge, North Tract: Programs by advance registration. Rt. 198 between the Baltimore-Washington Parkway and Rt. 32, Laurel: 301/497-5887 • patuxent.fws.gov.
Celebrating a Century
With more than 100 other refuges, Maryland will be celebrating the system's centennial this weekend. Pelican Island Refuge, where the story started, will host the big party, including the first day of issue of the pelican stamp issued by the Postal Service to commemorate the occasion. On March 15, the stamps will be issued at other refuges.

Pelican Island has more to celebrate this month. With the addition of 12 new acres, it continues to grow in the new century.

Behind the celebration looms threat. In times of scarce resources such as these, it's tempting to fall back on what's been put aside. All that open land invites use in some world views; indeed, refuge land has allowed jet skiing and livestock grazing. Even as the centennial is celebrated, President George W. Bush has counted in his budget tens of millions of dollars to be gained from drilling in the Arctic National Wildlife Refuge.

Dollars are tight on the refuges as well. The system's operating budget of about $368 million is stretched over 94 million acres. This year's federal pay raises come with no additional appropriation, so they'll make the stretch even tighter. There's so little give at Blackwater, for example, that replacing the salaried volunteer coordinator is impossible, making even free help ironically unaffordable.

---
Centennial and Beyond at Patuxent Wildlife Research Center
March 15–A Century of Conservation celebration of the nation's Wildife Refuge system begins with a Time Capsule ceremony at 10:15am, featuring a presentation and impersonation by President Theodore Roosevelt. Activities for adults and children — including animal visits — till 3pm. Billy B plays environmental music at 11:30 and 2 at the National Wildlife Visitor Center, South Tract.

March 22-23–Learn the basics of birding in two sessions, including discussion and walks focusing on bird identification, habitats and equipment. 1-3:30pm Sa; 8:15-10:30am Su at the North Tract; rsvp: 301/497-5887 • patuxent.fws.gov.

March 29-30–14th annual Patuxent Wildlife Art Show and Sale and Migratory Waterfowl Stamp Design Contest. See and shop the work of world-renowned artists, including winner of the federal duck stamp Ron Louke. Another feature is the judging of the 2002 Maryland duck stamp competition. Sponsored by Friends of the Patuxent. 10am-4:30pm at the National Wildlife Visitor Center: 301/497-5789 • www.friendspwrc.org.