A Tale of Two Museums
Greg Stiverson Reviews His Legacy at London Town; Plans His Future at Historic Annapolis
Gregory Stiverson — who took the lead at Historic Annapolis this January after four years heading Historic London Town and Gardens — moves through the world with a sense of wonder and history, past, current and future.

"I came to Annapolis in 1968, two days after the great riots in Baltimore," he'll tell you. "It was a tough time to move to an urban area on the East Coast. There were protests against the Vietnam War and all those racial riots."

Stiverson had come east from Washington state for graduate school at Johns Hopkins. After three years of research at Colonial Williamsburg, he returned to find Annapolis bypassed by world events.

"There was still a gas station downtown. I asked the attendant for directions to the state museum.

"'No museum in this town,' he told me.

"I couldn't comprehend it. No museum in a place so old. I still don't understand it. I am still impressed — or rather depressed — by the lack of a museum."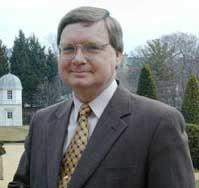 photo by Sonia Linebaugh

Greg Stiverson has big plans to bring a state museum to Annapolis.
You can understand, then, Stiverson's excitement about his new job's biggest project: bringing a history museum to reality in Annapolis. In current coinage referred to as a history center, the museum will occupy the last remaining 18th century warehouse in City Dock left for the foundation to take on. The three-story, red brick building at 99 Main Street, familiar to Annapolis shoppers as one-time home to Sign O' the Whale gift shop, is, historically, the Frederick Grammar building.
"We'll be throwing all our resources into this one," says Stiverson of the history center. "It's a big project."
Stiverson has previous experience with big projects as executive director of Historic London Town and Gardens in Edgewater.
"My heart will always be at London Town. I only got things started there," says Stiverson, who was torn over leaving the historic tobacco port even for his dream job with Historic Annapolis. "The museum project there," he adds, "is like the one we should have here in Annapolis. It's such a bold plan to build an education center underground in place of the former wastewater treatment plant. If the bids come in as planned, they should be able to pull it off."
If all goes well, work on London Town's museum and visitors center will start this spring under acting director Donna Ware, also Anne Arundel County's historic sites planner. Another project Stiverson left in progress is an underground watering system (not strictly historical) to go to work this season in the flower and herb gardens of the 23-acre site.
Even as he worked to unearth more of London Town's history and to bring the public to learn and live it, Stiverson kept his eye on the transformation of Annapolis. Before that, too.
As he worked for three years under Maryland comptroller Louis Goldstein, he kept one eye on the history of Annapolis and another on a legend in the making.
"Goldstein was wonderful," he says. "He was what he said he was — a public servant and a shrewd businessman."
Wonderful is a word that comes easily into Stiverson's conversation. When a blue-painted grandfather clock chimes noon from the corner of his office in the historic Shiplap House, Stiverson interjects, "Isn't that wonderful? That's the Annapolis Regulator. It was made by Abraham Claude, who migrated here before 1860. All watches in Annapolis were checked daily against the regulator. I hope it kept better time then," Stiverson says. "Now it loses five minutes a day."
From the fading, sleepy town of the '60s, when most of Main Street was boarded up, to a vibrant town quarter welcoming a million tourists annually, Annapolis has been under Stiverson's watchful eye. During 20 years as a researcher and writer at the Maryland State Archives, he peered intimately into Annapolis history while researching books on the Maryland flag, the poverty perpetuated by tenant farming in the 18th century and the biography of Annapolitan William Paca, a signer of the Declaration of Independence.
His eye is not only for the big moments of history but for the human and the humorous as well. While working on the Paca book with researcher Phoebe Jacobson, he hankered to know the correct pronunciation of the Paca name. Impossible, he was told. But the truth came to light.
"You never know what you might find out," says Stiverson. "William Paca was a member of the Homony Club, a very select gentlemen's group with only 15 members. These clubs always had odd ways of distinguishing themselves. The Homony Club was no different. If a man wanted to visit the club, he had to apply in writing. Then each member of the club had to sign off in agreement — in a rhyming couplet."
In one such couplet "Will Paca" rhymed his name with the preceding line ending in "take a."
Now Stiverson is looking at Annapolis with eyes that see into the future. As president of Historic Annapolis, he's the man in charge of bringing the past, present and future together.
He sees a downtown museum as central to that integration. Over half the funds for the history center project are in hand. Raising the rest, even in today's tough budget times, does not daunt Stiverson.
"Money is very difficult," he allows. But as he sees it, "the state is an important source — but not the only one. As a private organization of 1,300 members, we'll raise additional money."
Public hearings will come this summer. Even now, architect Cal Jones and Gallagher & Associates, museum exhibition designers, are drawing up plans to hold and display a collection of 800,000 "properly catalogued" archeological artifacts.
"The William Paca House is chock-a-block with stored history," says Stiverson, excitement twinkling in his eyes. "The main role of Historic Annapolis is preservation. I am committed to reinvigorating that mission. We can be the continuing presence here."
Will be when Stiverson's dream of a historic center comes true.
"What if a quarter-million people were touched by the history of this town and this region," he says. "It would be ever so cool if we could do that."
— Sonia Linebaugh

---
Winter's Wrath Marked by Crumbling Cliffs
Calvert's prehistoric cliffs slowly return to water from which they rose

With the snow finally melting, we take inventory of the damage: broken gutters, potholes and snapped branches. The melt has been slow, and heavy rains have percolated through an insulating layer of snow, so most rivers were able to contain the melting water without overflowing their banks. But how did one of Chesapeake Country's most sensitive environments fare? What toll did the storms take on the famous, fossil-filled Calvert Cliffs?

My boots sink in the mud and water as I slog down the mile-and-a-half trail leading to the beach at Calvert Cliffs State Park, one of the rare spots where the cliffs are publicly owned. There's simply no place for the recent rain and melting snow to go. Along the way, warning signs remind me of the danger of landslides from the cliffs. This point is illustrated at the beach. The last warning sign is nailed to a tree that has fallen into the Bay, its roots unable to hold onto any real estate. I must tilt my head to read it.
"Its really very sad," said Connie Darago, a board member of the Friends of Calvert Cliffs State Park, the group responsible for the day-to-day maintenance and running of the park. "People have been visiting the cliffs for hundreds of years. But with no way to stop the recession, the cliffs will eventually become extinct."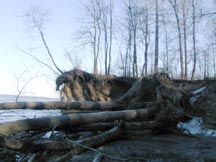 photo by Cristi Pasquella
People do love the cliffs. Some 80,000 visiors come here each year from other parts of the state, the country and the world. Calvert Cliffs is one of the top three fossil beaches in the world, with ancient sharks' teeth the commonest but by no means the only remains from when the cliffs were the bottom of the ancient Miocene sea. This is also one of the few parks where you can actually keep any fossil you find.
So why aren't the cliffs protected?
It's not waves that are eroding the cliffs but rainwater and melting snow that infiltrate the ground. Moving down the cliffs aided by vertical cracks or joints, much of the water is directed toward the cliff face when it reaches an impermeable layer of clay.
The sandier sediments above become saturated. Since these layers are tilted slightly toward the Chesapeake Bay, the water moves toward the cliff face, seeping out and running down. The seepage erodes the sandy sediments above the clay layer and also saturates underlying layers, which can also cause collapse. In the most common type of collapse, a sheet of the cliff face breaks off. Crumbling and breaking intensifies in the winter, when freezing and thawing occurs along joints.
Waves also play a role, especially during intense storms and high tides. But their contribution is minor compared to groundwater seepage. Fallen debris at the base of the cliffs helps to protect them, but storms in the Bay quickly re-deposit debris elsewhere.
"Not all erosion is necessarily bad," said Rachel Smyk-Newton, of Maryland Sea Grant Extension. "Tiger beetles, an endangered insect, use the eroding cliffs for habitat. Sediment eroding from the cliffs also feeds beaches that, in turn, support other wildlife like nesting diamondback terrapins. And for fossil seekers, storms expose the jewels that the cliffs are famous for."
Constantly moving and shifting, the cliff seems alive. Like a massive animal, it inhales water and exhales soil. Something catches my eye. I look up in time to see small bits of soil and rock rolling toward the sliver of beach.
Thus it is up and down the 30-mile range of Calvert's prehistoric cliffs.
Information? Friends of Calvert Cliffs State Park: 410/394-1787; Maryland Department of Natural Resources at Point Lookout State Park: 301/872-5688 •
www.dnr.state.md/public lands/southern/calvertcliffs.html
; Maryland Geological Survey
www.mgs.md.gov/esic/fs/fs10.html
.
— Kathy Reshetiloff

---
Got a Story to Tell?
The Maryland Historical Society Wants You

When the expanded and renovated Maryland Historical Society in Baltimore reopens its doors in November, its definition of historical will be expanded as well.

An elevation drawing, above, shows the new Carey Center for Maryland Life museum opening November at the Maryland Historical Society.
That expansion, too, is underway as folklorist-historian Richard Vidutis goes Looking for Liberty in Maryland. The researcher is traveling the state in search of oral histories to document Marylanders' pursuit of liberty from the colonial period to the present.
"Nothing like this has ever been done before in Maryland history," says Laurie Ossman, curator of the Looking for Liberty in Maryland exhibit. "By taking an approach such as liberty, we want to unite different groups from across the state to identify with the course of Maryland history."
"This research will provide an enormous amount of information about the people of Maryland and the role liberty has played in their lives and communities," says Vidutis, of his travels that will take him to every Maryland county. "We are trying to see what liberty means in terms of the broad topics of work and labor, defense, land and projects, religion, self-experience and self-determination," he explains.
Starting fresh at the new year, Vidutis — who has experience gathering oral histories from all over the world — is rooting out knowledgeable contacts, speaking to community, college and high schools groups and asking people to tell him their stories.
"It's a lot for one person to travel to the southern tip of the Eastern Shore and to the northern tip of Garrett County," he says of the work that lies ahead. "There's so many people to contact, yet it's also extremely interesting. I'm getting to learn more about Maryland and how it's made up and what kind of people are out there and the geography of the state."
Vidutis began in Western Maryland, where the last silk mill closed in the late 1950s. He's also prospecting contacts on the Eastern Shore, beginning at the Naabs Center cultural museum in Salisbury
Everywhere he goes, Vidutis is talking to every citizen he can. "I already have 400 contact people and organizations, historical societies, art councils and churches — whatever I think can lead me to some information," he says. I'm also talking to local radio stations and local newspapers. People at these places would know their area intimately."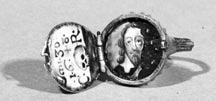 A ring, circa 1649, with a concealed portrait of King Charles I and worn by an Eastern shore Royalists is exhibited at the Maryland Historical Society.
In Western Maryland, Vidutis found a partner in high school teacher Dan Wetzel, whose ongoing project sends students to interview mill workers in Garrett, Allegany and Washington counties and to compile their stories in a booklet.
"We are trying to find contact people across Maryland who can help us compile the stories of different groups," says Vidutis, who'd be happy to enlist dozens more like Wetzel.
The Maryland Historical Society already has a vast collection of recorded oral histories. The twist to this addition is statewide coverage and up-to-date data. Maryland's fresh stories will join the old at the society's renovated library. Selected audio accounts will be presented in the new exhibition, illustrated with personal possessions, paintings, documents and photographs.
"The purpose of this exhibit is to help visitors see history in a new light," said Ossman. "Usually they expect to see stories of the 17th century cultures or of the 19th century, but now they can see themselves as part of the culture as well.
The historical exhibit opens in November, but the research will continue because the story of people is ongoing. "We want to get as many oral histories over the next 10 years as possible to see what Marylanders are today and where other historians can continue," said Ossman.
Information? Laurie Ossman at the Maryland Historical Society: 410/685-3750.
— Sara Kajs