The Two Stories of Lynn Buhl
Maryland Senate Will Write the Next Chapter
There's two sides to every story.
Gov. Robert Ehrlich says his nominee to head Maryland's Department of the Environment, former mid-tier Michigan environmental bureaucrat Lynn Buhl, is "a business-savvy lawyer and environmentalist who will effectively strike a careful balance between a healthy environment and a healthy economy."

That's one side of the story.

The other side is that Buhl's the wrong woman for the job.

Gov. Robert Ehrlich is already spending political capital defending his nominee for Department of the Ennvironment Lynn Buhl.
"She's not sufficiently experienced, not sufficiently familiar with Maryland's unique environmental problems — and she arrives here from one of the most anti-environmental state agencies in the country," counters environmental activist and lawyer Terry Harris.
Harris, of Baltimore, directs the Cleanup Coalition, organized in 1998 in response to the plight of Wagner Point, a Baltimore neighborhood languishing amid a circle of chemical plants. The entire community was eventually relocated. The coalition has since helped other neighborhoods with emergency planning and brownfield clean-up, Harris says.
Other environmental organizations, like League of Conservation Voters, are "concerned about Buhl and the culture she comes from in terms of the future of our Maryland agency when it comes to strong enforcement," says League executive director Sue Brown.
The Cleanup Coalition is a small player on Maryland's environmental scene, but it's taken its concern to the plate.
"This is the most important position on the environment in Maryland," says Harris, "and she's just not right for the job."
Of his talking campaign to keep Buhl out of Maryland Department of the Environment, Harris says: "You go to where the choke point is and that's the Senate,"
He's making his case this week in advance of the Senate Executive Nominations Committee's consideration of Buhl on March 3. Ten votes in committee would take the nomination to the entire senate with a negative recommendation. On the Senate floor, Harris would need 24 no's. Then, he hopes, "the nomination won't go forward."
Harris bases his objections to Buhl on "the Michigan record," which, he says, "has been horrible for the environment."
Back to the other side of the story.
Harris' is the kind of "kneejerk reaction," that, says Lt. Gov. Michael Steele, provoked him to label opponents of Buhl's nomination "whiners."
Reprising a linguistic directness of Spiro Agnew, Maryland's last Republican governor, practiced as Richard Nixon's vice president, Lt. Steele said "You are a whiner when you base your objections to a woman you don't know on [the reports of] groups against her out in Michigan.
"Give her one or two years," he told Bay Weekly in an interview, "and I'm sure you'll see that she'll adapt and that all the whining was unnecessary."
There are two sides to every story, but only one will prevail. As soon as next week, we could know if Lynn Buhl will be given her chance.
— SOM
---
A New Oyster's Coming to Chesapeake Country
Virginia Approved to Plant One Million Asian Wonder Oysters
Down in the salty Virginia Bay, where disease has about wiped out Crassostrea virginica, the oyster named for its abundance there, a new oyster will be planted this spring. On February 25, Virginia approved a plan to allow a handful of watermen to cultivate one million of the Asian wonder oyster, Crassostrea ariakensis.

The plan, proposed by the Virginia Seafood Council, is aimed at determining the economic potential of ariakensis. Earlier research has shown the disease to be resistant to the Bay's two main oyster diseases, MSX and Dermo. But to revive the local oyster industry, the oysters must also sit well on the tongues of local purchasers. Whether local packing houses and raw bar customers would slurp up the foreign creatures remains to be seen.

"With the numbers used [in previous research], they didn't have enough to sell them," says James Wesson, who directs oyster restoration at the Virginia Marine Resources Center, that state's equivalent to the fisheries branch of the Maryland Department of Natural Resources.

This year's plan is a major expansion of previous studies on small samples of 6,000 and 60,000 non-native oysters. It's also a substantial revision of a plan that was proposed — and rejected — last year because of safety concerns raised by the Virginia Institute for Marine Science and the Chesapeake Bay Foundation, among others.

Chesapeake Bay's native oyster, Crassostrea virginica, right, compared with the Asian oyster, Crassostrea ariakensis, that some are hailing as the savior of the Bay fishery.
Public comments so far have shown that "there's pretty much agreement that it's much improved since last year," Wesson explains.
Indeed, the research is sufficiently modified that the Chesapeake Bay Foundation now endorses the plan.
"We had some concerns last year, many of them having to do with good science and biological integrity — being sure that proper safeguards were in place to ensure that there's no chance of inadvertent introduction of fertile oysters," says Charles Epps, who speaks for the foundation in Virginia.
Specifically, the project would use "triploid" oysters, which are bred by the Virginia Institute of Marine Science to contain three chromosomes and thus rendering the bivalves sterile. They are also tested to prove that they're disease free.
"We've always been supportive of a sustainable, healthy oyster industry. There might be some benefit in limited aquaculture of a non-invasive foreign species," says Epps, explaining the foundation's turnabout.
Chesapeake Bay Foundation remains opposed to the introduction of any non-native species that is fertile.
Of course, nothing comes without risks. The National Academy of Sciences has been asked to step in to assess, based on past research, the potential hazards of introducing ariakensis into the Bay. The final report is due this summer.
But the academy made an early analysis of the Seafood Council's one-million-oysters-for-the-table plan. The statistical prediction is that some 900 fertile oysters would likely be contained among the sterile triploids. Whether those fertile ariakensis could reproduce would depend on when they were harvested and whether chance put a male and a female close enough for oyster romance.
There are risks in doing nothing, too, as any oysterman can tell you. So important to clean waters are oysters that, with Maryland and Virginia harvests at historic lows, many despair of the Bay's recoverability.
"At some point, you need the function restored," says Wesson. "You need filtration, you need bottom reef-building, you need [an oyster] industry. If you spend 50 million [on restoring native oysters] and get nothing, at some point you have to pull the plug."
The million-oyster plan is privately financed, Wesson noted, and so should not detract from any federal or state initiatives to restore our native virginica oyster.
Still, not everyone believes that the virginica is down for the count — or that ariakensis is the only way out of the Bay's current decline.
"Reports of the native oyster's death are extremely premature," says Epps. "We are finding in Virginia that if you concentrate large numbers of native oysters that have been bred to withstand MSX and Dermo onto man-made shoal reefs, we're seeing record spat sets&Mac226; record numbers of baby oysters being produced and a slowly growing number of adult oysters surviving."
The results of those efforts, says Epps, demonstrate that "over time the native oyster can be restored."
"Establishing any oyster in quantities is going to take years, whether it's ariakensis or virginica," he says. "But for the health of the Bay and the whole ecology and food chain, a native oyster and all the benefits such a critter can bring are irreplaceable."
There are still hurdles to planting alien oysters in the Bay. At the procedural level, the Army Corps of Engineers must approve the planting. And at the substantive level, two federal agencies, the Fish and Wildlife Service and the National Oceanic and Atmospheric Administration — remain opposed and may take action.
In addition, the National Academy is reportedly miffed that Virginia took action before its review was completed.
"There is some risk involved, and it would be a good idea for Virginia to wait for this independent report," said Fish and Wildlife biologist Julie Thompson. "At this point, we don't feel there's enough scientific information to make a decision that could affect states up and down the Atlantic Coast."
— April Falcon Doss

---
Coming Soon, A Dog Park Near You
Pressed by Owners, County Ups Eventual Dog Park Count
Anne Arundel County is no exception to the growing national popularity of dog parks. And more are on the drawing board, says John Marshall, the county's chief of special facilities at the Department of Recreation and Parks and dog-park point man.

A nudge from citizens brought Anne Arundel its first dog park at Quiet Waters Park. The park proved so successful with canines and their owners that County Executive Janet Owens committed to four parks. Annapolis, Broadneck and Crofton got the first three, and the fourth park is slated for the western part of the county.

Now it seems that dog lovers elsewhere in the county won't be left out. "Six to eight parks would be my guess now," says Marshall, of the parks some call playgrounds for people who don't have kids. This will be a "lean year, budget wise," Marshall acknowledges. "But we know how much people love these parks."

He knows that from experience, for he and his dog have visited.

What kind of dog does he have?

A "bad one," he says of his Jack Russell terrier-beagle mix.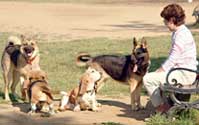 photo by Nancy Hoffmann
The small parks average an acre or so and are divided into sections for smaller and older dogs, on the one hand, and large dogs on the other. Located on county property, each costs the county about $25,000 for fencing and concrete. Parking and getting water to the site cost more.
"We need to make sure we have the financing and budget," says Marshall. Finding the right location for a dog park is also "tricky," because, he notes, while "99 percent of the people love them, the one percent who don't may cause a problem."
To make sure the local community is on, the county board meets with local organizations as part of considering a park for any area. A volunteer network of Bark Rangers trained by the county helps with the care of local parks that offer exercise and socialization for canines in a social setting for their owners.
Marshall keeps track of all inquiries. In my dog-parkless neighborhood, Southern Anne Arundel County, a recent survey by Recreation and Parks still being evaluated yielded a 20 percent return from residents, which Marshall says is "astronomical."
"They're saying they want something down there," says Marshall, who notes that "several large parcels are slated for purchase" in the south reaches of the county.
Nudge Marshall for your community: 410/222-7317 x 3530.
— M.L. Faunce

---
In Virginia, a Coast Guard discovery in the Elizabeth River last week was surprising — and big: a 40-foot-long but still young fin whale, the second largest in the whale kingdom. It showed signs of having been run over by a vessel or succumbing to a collision of some sort. The carcass was towed to an island for autopsy. …
In Chesapeake Bay, officials are seeking another island to dump millions of cubic yards of dredge from Baltimore Harbor. Among those islands being considered are Hooper, James, Holland, Barren and Ragged off of Dorchester County and several along Somerset County, including Little Deal. Environmental groups and watermen are watching closely after the long flap over dumping in the open Bay. …
Our Creature Feature comes from Europe, where there's good news for pets — with a catch. The European Union last week agreed on a new plan that would allow people to more easily take their pets across the borders of the 15 member states.

Now, the catch: like people, pets must carry identification. And what is being talked about is an electronic microchip that would be embedded under the skin or, our favorite, a tattoo. So far, there's no guidance about the kind of tattoo, but we doubt if a Lab would be allowed to wear the likeness of his sweetie on his belly.