---
Bay Reflections
In Memory of Owen Carr IV
by Sandra Martin, Sonia Linebaugh and Nancy Kelly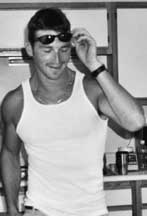 It could have been mine, each mother says, as the smoky fire that suffocated Owen Carr in his bed rises up to haunt us. It is not relief at being spared we feel, but the gut-blow of life's fragility. That a child of our creation could cease to be: From grief like this, not even God could be immune.

"A good boy — most of the time," says his mother, Peggy Carr, as she endures the condolences of friends come for her only son's funeral at St. Anthony's Catholic Church in North Beach. She is not yet out of the habit of thinking of Owen as an ordinary kid — though chance has made him that most extraordinary of boys, the son who died young.

In his 24 years, Owen was wonderfully ordinary. Growing up in the village of Fairhaven, at the very edge of Chesapeake Bay, he became a son of the community as well as of the water.

The Kelly household just over the hill was a regular place to play, to spend the night, or just to touch base on his way to the school bus. "He was here with us in the neighborhood," recalls Nancy Kelly, mother of five. "He was here on the swings, on the beach, on the hill, on the bridge with a crab net. He was here — in our life." As constant as the rhythm of the water.

"At the news of Owen's death," she says, "I watched the hearts of everyone in my home crumble. My sorrow has been so awfully deep. He was my oldest son Joseph's best friend. He was truly my son Paul's best friend." Like the grandfathers and fathers and uncles of Fairhaven, Owen should have grown old with the boys of childhood.

Among them, says Kelly, "Owen was a leader. Nathaniel Hawthorne once wrote that Benjamin Franklin was a born leader. He led all the little boys before he led men. Owen was like that. When these neighborhood kids were little, they were always making forts and clubs. One of them would come home crying, 'I got kicked out of the club.'

"I'd say 'What do you mean? Who kicked you out?' The answer was always Owen. I would say 'Who made him boss? Why don't you all just say no?' They looked back at me like they couldn't understand how anyone could say no to Owen. Pretty soon, my sister would call. Her son John was crying. He was kicked out of the club. Oh man, what a thrill it was when Owen accepted them back into the club."

For Kelly, Owen was a child and later a young man of good example. He was thoughtful enough to help move furniture without rolling his eyes. He liked having conversations with adults because he was interested in learning and knowing about things. He was motivated, he made plans, he worked hard. When his dad gave him an old pickup truck, he was proud to paint it to show his dad how much it meant to him. "He was real about who he was," says Kelly. "He didn't try to put on airs about himself. He was an honest guy."

When Owen laughed, it made other people laugh, too, because he got such a kick out of other people. He loved his friends. He was sentimental about them. He loved his family. And he loved his boyhood Fairhaven neighborhood and friends even when his circle grew larger.

Owen loved the girls, too, and they returned his affection. It was a Fairhaven legend how Owen's mother tromped into the deep woods to roust him out of the gang's clubhouse where he was holed up with a girl. Even in his final hours and in his smoky death, he was not alone. His girlfriend Caroline Allen died with him.

We do not penetrate his family's grief — mother Peggy, father Owen, sister Maureen — but each of us feels its rays. We are warm with grief; they burn like the sun.
Owen Carr IV died of smoke inhalation early February 18, at his apartment in Greenville, North Carolina. He was 24 years old.
---
Appreciation ~ George Daly
May 13, 1923–February 18, 2003
By Sandra Martin with M.L. Faunce and Eric Smith
photo by David Hawxhurst
What Will Shady Side Do without him?

The twinkle in George Daly's eye made him Shady Side's perfect Santa Claus these last 13 years. He so mastered the role of hearing children's dreams that he branched out from Captain Salem Avery House Museum to bring Saint Nick to half a dozen Southern Anne Arundel County locations.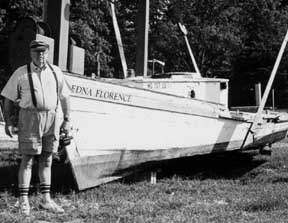 But there was more to George Daly than any one role — which is why he made such good newspaper copy.

When Bay Weekly first encountered George, we were still in our first year and he was bringing home a derelict boat. We saw the twinkle in his eye as he directed the 46-foot-long Bay-built around the tight turns of Shady Side, where it had been built a half century before.

Restoring the Edna Florence — which had been given to the Shady Side Rural Heritage Society and stored for several years at Parish Creek Marina — was a labor of love. First George had to secure a bond bill and county matching funds, then oversee the building of a boat house to shelter the old deadrise, built low to the water so an oysterman could raise and lower his tongs. When George and his crew of volunteers-turned-marine carpenters were finished, the Edna Florence had never looked so good. He kept her in shape with regular vacuuming and scrubbing.

That's the kind of project that could get many a guy in trouble with his wife. Not George, and not his wife Mavis.

Courting since 1946 and married since 1949, the Dalys believed in what one another did. Much of it, in fact, they did together. By the time they moved to Shady Side in 1987, they'd retired, he as owner of service stations on Capitol Hill and Lanham, she from the federal government to which she'd come from South Dakota as a government girl in 1945. After retiring, they'd spent a decade traveling the continent in their motor home. Now, they were ready to settle in.

Soon after the Dalys moved to Shady Side, the Rural Heritage Society purchased property for a museum. The Captain Salem Avery House Museum gave both Dalys a cause into which they could pour their energies. Mavis, a former journalist, had a way with words. George had a way with things. She became publicity chair and he buildings and grounds chairman. Then, the Dalys served together as co-presidents of the Rural Heritage Society for six years.

George's service in the jungles of New Guinea and in the Philippines during World War II won him three battle stars. Back home, he learned truck-body mechanics on the GI Bill. Idle hands didn't suit him, and transforming Captain Salem Avery's house into a museum needed many hands.

Projects big and little kept his hands and mind busy. As well as the boathouse, he supervised the entire renovation of the museum and outbuildings. Inside, he built furniture, cabinets, display boards for exhibits, shelving and railings. The day he entered the hospital with his last illness, he had been working on a bookcase for the museum.

Outside, he built and erected the museum's sign, as well as signs directing visitors to their destinations along tentacles of roads leading to the water. He must have decided they'd need to find Shady Side first, because he also made the village's welcome sign.

But he loved boats best, and when the famous little Chesapeake 20 racing boat Vanity was donated by Steuart Chaney to Shady Side Rural Heritage Society, George oversaw its situation on the Captain Salem Avery House Museum's front yard overlooking West River and Parrish Creek. That was another Bay Weekly story.

"The brawn behind the brains," George said of his role in the Daly partnership to preserve local history through the museum. But, of course, that wasn't quite true. George managed his projects so that there was no debt to the society. And when the museum was ready to add human stories to its collection of artifacts, George videotaped interviews with some four dozen watermen and longtime residents — men and women who are the fabric of the early history of the community.

George Daly possessed in himself the interests, energies and skills of four or five dozen people. At the mass in celebration of and thanksgiving for his life at Our Lady of Sorrows Catholic Church in Owensville February 22, family and friends reminisced about all he'd meant to them and all he'd done. He'd taught a community of children to swim in his pool in Kent Village, Hyattsville. He'd made the shores of his Avalon Shores community swimable by maintaining the net to keep jellyfish out. He'd entertained — or amazed — folks in nursing homes with karoake sing-alongs.

Whenever you thought you'd got George Daly pegged, up popped another surprise. In George Daly's next to last appearance in Bay Weekly, last summer [Not Just for Kids, Vol. X, No. 17] he popped up as a master yoyoist.

"The Obi-Wan-Kenobi of the yo-yo," junior reporter Eric Smith called him.
"He can make the dancing disc on string spin, flip, fly, sip, rock, loop and sleep. (He has yet to get it to stay, heel or fetch).

For 60 years he has been a master, but the force that courses through his yo-yo strings is powerful still. Ever since he won his first yo-yo contest as a youngster at the local drugstore in Georgetown, he has fascinated children and amazed adults.

"To win you had to do six tricks," he recalls, his eyes following his yo-yo as he lets it unwind down the string. "I think they just gave me the prize because everyone else competing had already won it."

After watching his walk the dog, around the world, and baby in the cradle, I am skeptical. I am mesmerized. George Daly has won another convert.

That's how we all felt about George Daly.
If you'd like to help remember George with a memorial contribution, make it to the Shady Side Rural Heritage Society, P.O. Box 89, Shady Side, MD 20764.