N
o
t
J
u
s
t
f
o
r
K
i
d
s
One book, two book,
Old book, new book
by April Falcon Doss
Dr. Seuss (1904-1991) was born as Theodor Seuss Geisel on March 2, 1904. He would have been 99 years old this Sunday.
Dr. Seuss wrote over 40 books for children. Almost all of them are still in print, and you can find most of them at your local library. Here are a few of the most popular ones. How many have you read?
The Cat in the Hat (1957)

The Cat in the Hat Comes Back (1968)

Dr. Seuss's ABC (1963)

The Foot Book (1968)

Fox in Socks (1965)

Green Eggs & Ham (1960)

Hop on Pop (1963)

Horton Hatches the Egg (1940)

Horton Hears a Who (1954)

How the Grinch Stole Christmas (1957)

The Lorax (1971)

Mr. Brown Can Moo! Can You? (1970)
Dr. Seuss studied English literature in school. He taught himself how to draw cartoons, and worked as a cartoonist for magazines. Then, while on vacation when he was 24 years old, he was listening to the sound made by the engines of the ship he was on. The rhythm of their noise inspired him to write his first book: And To Think That I Saw It on Mulberry Street.
Inspiration can come from almost anything: the sound of wind or waves or birds. The shape of clouds or snowdrifts or tree branches. All the different shades of the color green. What inspires you?
You don't need to know a whole dictionary full of words to write a book. Dr. Seuss's publisher wanted him to write a book that first-graders would be able to read by themselves: a whole book using less than 250 words. That's how The Cat in the Hat (1957) came to be. There are only 220 words in the entire story.
Later, someone dared Dr. Seuss to write a book using only 50 words. The result: Green Eggs and Ham (1960). It's one of the best-selling children's books of all-time!
The moral of the story: Keep learning new vocabulary words, but you can start writing stories with the words you already know.
---
Here's just such a story, written when its author was 12 years old: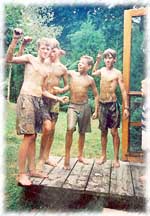 Joseph, Owen, Daniel, John and Peter.
Ordinary Boys
by Joseph Kelly
Once there was a gang of boys that lived in a little community called Fairhaven. Their names were Mike, Owen, John, Chip, Joe, Pat, Teen, Daniel, Sam — and King, their dog.
Well, they all get together at a certain time called summer after a weird-looking and bad place called school.
They are a wild bunch of strange creatures that do the most crazy things in the galaxy like ride these things that are called bikes into a liquid called water off of a platform in the middle of the liquid.
They have a bad habit of throwing a round, bouncy object through a ring with a rope hanging off of it.
But they are organized.
Owen Carr IV died this week at age 24.
---
This Week's Kids' Events
February 28
A First Book of Manners
Kids of all ages learn do's and don't from the book Oops, Sorry! Afterwards, decorate a place mat for lunchtime. 10am @ Barnes and Noble, Harbour Center, Solomon's Island Rd. Annapolis:
410/573-1115.
March 1
Young Salts
Kids 4-6 learn about local topics such as sharks, fossils, lighthouses and weird Bay creatures. 10am-noon @ Calvert Marine Museum, off Rt. 2, Solomons. $8 w/member discount; rsvp: 410/326-2042 x 45 • [email protected] • www.calvertmarinemuseum.com.

Buzzy, Busy Bees
Bzzz … bzzz … kids 3-4 meet the fascinating friend of flowers — the honeybee — thru games, songs and crafts. 10:30-11:30am & 1-2pm @ Patuxent Research Refuge Visitor Center, Powder Mill Rd. off Baltimore-Washington Pkwy and Rt. 197. free; rsvp: 301/497-5887.

March 3
Happy Birthday Dr. Seuss
Kids of all ages celebrate Dr. Seuss' birthday w/guest readers who share their favorite stories. County Executive Janet Owens; District 3 Councilman Ron Dillon and his wife Melanie; and former delegate Mary Rosso. 7pm @ Mountain Road Public Library, Mountain Rd., Pasadena: 410/222-6699.

March 4
Kids 'N' Critters
Kids ages 3-5 w/parent discover why grown-ups say the month of March roars in like a lion and leaves like a lamb. What do they mean? Listen to stories on this windy month. Bring a bag lunch. 10:30am @ King's Landing Park, Huntingtown. $3 w/member discounts; RSVP: 410/535-5327.