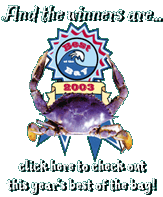 Dock of the Bay
Scenes from Isabel
After Chesapeake Country's 'Perfect Storm' homes and businesses
sink or swim
Days after Isabel landed on Thursday, September 18, Chesapeake Country offered scenes of devastation rivaling almost anything in North Carolina, Virginia and the more publicized paths of the hurricane.

A perfect storm of elements — a six-foot surge of water, high tide and easterly winds — destroyed piers and boardwalks, damaged hundreds of homes along the shore and crippled some businesses so badly that they may never reopen.

The days-long loss of electricity was trivial compared to the repair and rebuilding tasks faced by many along the Bay. Long after harrowing stories from the night of the storm have faded, people will still be dealing with the economic consequences.

Hit with the worst flooding in 100 years, everyone has a tale to tell.

Here are a few of those tales:
At Annapolis City Dock and Eastport, Isabel's surge rose to an official high water mark of 7.58 feet at 6am on Friday, Sept. 19. That's more than a foot higher than the previous record of 6.35 feet set by the Great Hurricane of 1933.

As Isabel climbed, Annapolis harbor seemed suddenly transported into winter. All of the white mooring buoys danced on the rising seas, empty of boats. Two days before, the harbor had been filled with pleasure craft of all shapes and sizes. But with a big daddy hurricane on the outskirts of town, the tour boats, the governor's yacht, even Natural Resources Police boats had moved to safer sanctuaries.

As she grew close, a high-pitched mournful wailing that seemed almost alive echoed through the city sending chills up the backs of listeners. It was the wind whistling through the thousands of stays holding up the masts of the sailboats lashed down in the Spa Creek marinas. As the wind force rose and fell, the stay song pitch followed along.

The pilings at the end of City Dock were bundled with thick cables, and someone had attached a pair of pink plastic ducks inside the cables, as if lashing them to the mast of a ship heading straight into the teeth of the hurricane.

Meanwhile, the real ducks that call Annapolis harbor home bobbed upon the still placid waters of Ego Alley, no doubt wondering where all of the tourists had gone. There were not going to be any free handouts for the ducks this day. Still, the mallards loafed in pairs, preening as if it were just another day.

At 1am Ezra Androus, owner of Annapolis Yacht Company, set out by canoe to check the damage done to his business, which sits behind the Harbor Master office and just down from Phillip's Seafood restaurant on City Dock.

"The massive storm surge hit, and water rose several feet, bringing over three feet of water into my business," Androus said. A model yacht launched from a table to float around the office.

On Friday morning, another canoe, a green Old Town, floated in a parking space in front of Storm Brothers ice cream parlor. It had its bowline hitched to the parking meter. Someone had even put money in the meter.


photo by James Clemenko
Annapolis City Dock early Friday morning after Isabel left town.

Annapolitan Graden Laycook went wading at City Dock. "I expected to see flooding," he said. "But never in a million years did I think it would be that bad. The water was around knee-deep until I got down by Mills Liquor Store, where the level rose above my waist."

At North Beach, a spray-painted inscription on a severely damaged house told the tale of Isabel: Izzy Is Busy. Indeed, the town lost its prized boardwalk and appeared to have suffered the heaviest localized damage of any community along the Bay.

Billie Hinnefeld peered out from the devastation of her North Beach home to a future every bit as uncertain as her fate in the moments before she and her cat were rescued as Hurricane Isabel rampaged.

On the night of the storm, Hinnefeld, 46, a lawyer in Washington, was plucked from rising waters along with her cat, Tiger, by North Beach public works director Brian McNeil in what Hinnefeld termed a "hysterical, emergency evacuation." She had to leave behind her other two cats, Big and Little, which she later found safe.

In the mud and broken glass Isabel left behind on a ruined hardwood floor lay a computer keyboard that has typed its last word. In the kitchen, muddy appliances scattered around her refrigerator, which was flopped over like a felled tree.


photo by Cheryl Emery
The storm surge battered the boardwalk and houses along North Beach's Atlantic Boulevard.
But the real problem looked to be the crumbling foundation undermined by tons of rushing water, making it unlikely that Hinnefeld can live in her home again without massive reconstruction.

Like others battered by Isabel, Hinnefeld worries that the insurance payments won't come close to covering the damage.

Nearby, Denise Lucero, vice president of the North Beach Town Council, surveyed her silt-laden hardwood floors and a big-screen television spattered in mud.

She displayed the attitude enabling many in her community to survive.

"You focus on the good things," she said. "There was no loss of life, and we've seen a small-town atmosphere with people helping one another. That's what keeps you going."

Likewise, Mary Locker, 69, cheerfully received a visitor to her damaged Bayfront home.

"If I could sit down and cry and make it go away, I'd sit down and cry. But it wouldn't do any good," she said.

Crying might be in order for Joanne Fayette, who said her Bay Avenue Antiques in North Beach may not reopen. Two feet of water peeled the veneer off of furniture and ruined quilts and many other items.

Across the street at the Nice & Fleazy, valuable rugs lay in piles along the streets. Proprietor Dale Thomas remarked that among the items saved were his sharks' teeth. "The Bay tried to repossess them, but was unsuccessful," he remarked.

In Chesapeake Beach, a hand-held wind guage noted wind speeds over 60mph — and estimated at 80mph peak. Still, Mayor Gerald Donovan said that his community had emerged unscathed other than the flooding at Stinnett's and several other establishments. Water came within two inches of flooding his Rod 'n' Reel Restaurant, but the hotel he is building was undamaged thanks to following a FEMA directive to construct it four feet off the ground.

"People get upset with the federal government, but hats off to FEMA. The hotel barely got a scratch," he said.

At Herrington Harbour in southern Anne Arundel, Steuart Chaney estimated the damage to his two marinas book-ending Herring Bay at $2 million.

Piers were twisted in the air like roller coasters at Herrington Harbour North, where pilings had become dislodged and piping and electrical connections were destroyed. Herrington Harbour South endured jetty damage, the loss of lighting and irrigation systems, and its entire beach was washed away.

Chaney said his marinas might have suffered even worse were it not for slipholders' precautions and the hauling of many boats. He said the storm underscored the need for construction of the new jetty along Rockhold Creek, which is moving forward despite environmental concerns from some in Deale.

At Herrington South's Herrington on the Bay, waves and water whipped the ballroom-sized party tent but didn't blow it down. Forty-eight hours later, three weddings went on under the tent overlooking Herring Bay.

At Solomons, which sits at the wide mouth of the Patuxent River, residents suffered flooding and wind damage.

"My husband and son took the boats off the island to Back Creek for shelter," said Kathy Conner, owner of Bunky's Charter Boats. But seven inches of water rose in the store.

"I lost all my rugs, and the hardwood floors that have been here since 1939 buckled," Conner said. "The wind blew part the top off the store, which allowed more water to enter."

But Isabel was selective, and Back Creek was protected from the storm. So Bears By the Bay was untouched by Isabel, owner Dena Smith reported. On the river side, however, Smith said "we walked down toward the Solomons pier, with water up to our knees. The pier was gone and crumbled."

In Deale, at Skipper's Pier, hundreds of feet of decking were destroyed along with a newly appointed waterfront bar. Co-owner John Price shook his head at his misfortune.

"It was all beautiful a week ago, and we were looking at two great months. We're going to do our best to reopen, but …" Price said, his voice trailing off.

Across the creek at Happy Harbor Inn, water from the storm's surge inundated the restaurant and bar, spreading across the street beyond and lapping at the door of Bay Weekly's own office.

"It wasn't the water that hurt us so much," said owner Barbara Sturgell. "But five days without electricity — we had to throw away two dumpsters worth of food. That's $30,000 worth."

In Galesville, water rushed in from three sides, inundating water-hugging homes and businesses. Hartge's Marina, Pirates Cove, Steamboat Landing, West River Marina, Woodfields Crabhouse as well as waterfront homes were drowned by the tide.


photo by Deborah Bell
Surrounded by the West River and two creeks, homes and businesses in Galesville were inundated with water.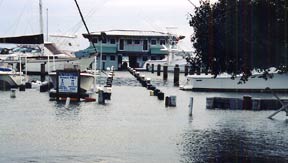 At Steamboat Landing, which stands on a pier projecting into the West River, a foot and a half of water rushed into the dining room. Nearly a week after Isabel, behind locked gates a sign reads "Closed until Further Notice."

Woodfields Crabhouse, not yet even open, took a worse hit. "Six and a half feet of water made this as complete a loss as you can get," said to Mike Winters, manager at Topside, the only Basford enterprise Isabel skipped in her visit to Galesville.

At Pirates Cove, Bob Platt shoveled out, mopped up and looked ahead.

"This is the worst we've ever been through, including 1985 and 1996. Nothing compares to this. It was three times worse," said Platt. "But we're going to reopen Wednesday for lunch with a limited menu of favorites."
— Bill Lambrecht, Deborah Bell, Steve Carr and James Clemenko

---
The Water You Almost Couldn't Drink
How Annapolis avoided Isabel's toxic cocktail
Call it the Isabel one-two punch: lights and water.

We know what the well-predicted, highly awaited hurricane did to Baysiders' lights. Nearly a week later, many are still in the dark.

This is the story of Annapolis' water. Not the water that submerged downtown or turned Spa Creek into a Great Lake. This is the story of the water that you almost couldn't drink.

It starts with Annapolis' network of deep wells and filtration processes which, unlike its county counterparts, weathered Isabel in mostly fine fashion. City officials say a large part of the success is due to the refurbished wastewater pumping station at Second Street in Eastport, which came on-line a mere 10 days before the hurricane struck. Its three new centrifugal pumps worked hard to keep sewage flows going at a manageable and efficient rate toward the city's Back Creek treatment plant.

But when a felled tree caused a power outage during the storm's brunt Thursday afternoon, the station's operation was threatened. Backup generators were automatically triggered, but pumps couldn't work at their peak capacity. As the hours dragged on, Isabel continued to pound — and the city's pipes began to fill with untreated sewage.

If full power could be restored, however, the pumps could again work at full strength and a crisis could be averted. Otherwise, wastewater would mix with drinking water in a toxic cocktail served to people's homes.

Enter Annapolis Mayor Ellen Moyer, who placed a call to BG&E requesting a crew be dispatched to repair the downed lines. The utility told her to wait: Officials were concentrating on other areas.


photo by Deborah Bell
Water from Isabel, knee-deep at City Dock the morning after the storm and its surge, nearly contaminated Annapolis' drinking water.
What happened next was characterized by one city official as some "very vocal prodding" by the mayor "at an increasingly elevated decibel level."

Probably not coincidentally, a utility team was soon deployed to resurrect power on Second Street, and by 11:30pm Friday, electricity was back on. Water was again flowing fully and freely beneath the city.

Just what did the mayor say that prompted such quick action?

"I just asked what BG&E's priority [for repair] was," she calmly explained later. They said live wires and lines that serve 10,000 people or more. I told them that this station serves at least that number and if the outage] continues, we could be releasing 100 percent of our stuff into the Bay. Maybe we should rethink our policy."

That's not all the mayor has on her mind concerning city utilities, either. She announced this week that she wants to take a serious look at ways to avoid the massive power outages and resulting problems that typically follow when large storms strike the area.
"
The utilities were helpful during the emergency, but the truth of the matter is that we've come to expect a higher standard," Moyer said.

In the meantime, though, as the days go by and lights still haven't come back on, try not to curse the darkness. Instead, turn on the tap and be thankful for the water you almost couldn't drink.

— Gary Starikoff

---
In Annapolis, the Maryland Democratic Party has begun a telephone fund-raising campaign that lambastes President George W. Bush for deceiving the public before the invasion of Iraq. Reading from a script, solicitors assert that it's an "outrage that solid proof of weapons of mass destruction did not exist"…

In Washington, Hurricane Isabel laid waste to dozens of huge trees at the U.S. National Arboretum last week. Officials said that mature oak, poplar and pine trees broke at the base or were uprooted as heavy foliage in the trees' canopies overwhelmed the capacity of the roots to anchor trees. The Arboretum's vast azalea collection also was badly damaged…

Our Creature Feature comes from Spain, where the mystery surrounding the death of several giant squid may be solved. Four of them — one as long as a bus — have been found recently washed up on beaches or floating adrift.

Now the head of Spain's marine protection agency says shock waves from scientific tests by the Spanish navy are to blame. Scientists working on the project responded that no proof exists that shock waves killed the huge creatures, which were mythologized as the monster that attacked Nautilus in 20,000 Leagues Under the Sea.