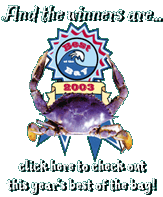 Dock of the Bay
Heavy Mettle
Do you have what it takes to compete in a Scottish Highland Games?
You don't have to be Scottish. Just strap on a kilt and get out there," said Dave MacKenzie, steward for the heavy athletics competition at this year's 12th annual Anne Arundel Scottish Highland Games, held October 11 at the Anne Arundel County Fairgrounds.

At the games, 24 athletes competed in seven events for pride; a broadsword — yes, a real, full-sized broadsword — and qualification for the national championships October 25 and 26 in Richmond, Virginia. Among the competitors were women; masters, who are over 40 years old; and men under 40.

"Anybody can enter the games," said MacKenzie. "People walk up asking to enter."

That includes local Chesapeake Country athletes.

At 61, Malcolm Doying of Crownsville was the oldest competitor at the games. "I picked the sport back up after a 20-year absence," said Doying. "When my wife wanted to play, I did too."

In addition to Malcolm Doying, Tim Bell of Mayo competed this year.

"It's not all about winning," said Bell, squaring off in his seventh Highland games of the season. "You're competing against yourself. It's totally about everybody trying to make everybody else better."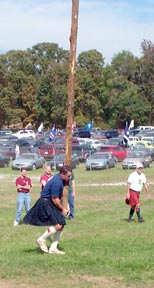 photos by James Clemenko
An athlete competing in the Scottish Highland Games balances the Caber.
You don't have to be Scottish, but Bell is; all his ancestors came from Scotland, and the name Bell is a sept, or family, of the MacMillan Clan.
The heavy athletics season for the Mid-Atlantic region — encompassing Maryland, Virginia, West Virginia, Kentucky, North Carolina and Tennessee — starts in April and ends the last weekend of October in Richmond. Every year, Chesapeake Country offers up two broadly Scottish festivals with the games: this one in October and the Southern Maryland Celtic Festival in April at Jefferson Patterson Park in St. Leonard.
At each Highland game, winners are crowned for each class. Medals are handed out for the top three finishers for each event, and points are accumulated throughout the day for the top overall place.
Unlike Olympic athletes who specialize in and compete in only one or a few events, competitors at the Scottish Highland Games do it all. At the Anne Arundel games the magic number was seven: Hammer Toss, Braemar Stones, 56-pound Weight for Distance, 28-pound Weight for Distance, Caber Toss, Sheaf Toss for Height and the Weight for Height.
The Hammer Toss requires athletes to swing a rattan handle leading a lead weight in a circle with enough momentum and power to let it fly. The farther it travels, the better your score.
In Braemar Stones, the ancestor of the Olympic shot-put, you hold a heavy stone close to your body in one hand and toss or push it for distance.
Weight for Distance, divided into two weights, demands a steady hand to hurl a short-handled weighted ball for distance.
The event telephone repairmen probably wish they could compete in, the Caber Toss, takes flipping a telephone pole-sized trunk of wood end over end. The Caber, which means tree in Gaelic, will range from 18 to 21 feet in length. The object is to have it land 180 degrees from where you launched it.
The Americanized Sheaf Toss for Height takes heaving a sack of hay weighing between 16 and 20 pounds up and over a bar, which rises after each successful toss.
At the end of the day, Weight for Height requires athletes to swing and heave a 56-pound weight up over their head and over a bar.
The events descend from everyday activities in the Highlands.
Scottish culture is a big part of the games, and not just for competition.
"I'm proud of my roots and my heritage," said Bell, who's a landscape painter in his other life. "I got involved to expose my children to it all."
Others say that competition is natural for Scots with their feisty nature.
"What's the difference between the Irish and the Scots? The Irish drank first and fought later. The Scots fought first and drank later," said Dave MacKenzie, who competed in the games from 1971 thru 1986 and is one of the Mid-Atlantic judges for heavy athletics.
While there's no real fighting, there's not much standing in your way from competing in a future Scottish Highland Games. All you need is a kilt and some courage.
— James Clemenko
---
Shades of Autumn
Biochemical processes paint the landscape
Hurricane Isabel not only wreaked havoc along shorelines and lowlands but clawed away at uplands too. Branches snapped and trees fell. Surviving trees lost many leaves prematurely. How will this shape our autumn landscape? Will the fall be duller?

Isabel won't have much of a hand in our autumn, according to Maryland Forest Service's Will Williams.

"Although many leaves were lost," said Williams, "this will be offset by the fact that we have had such a wet year, making the trees especially vigorous in the wake of last year's drought. I think the colors will be as brilliant as ever because of the abundance of moisture stored in the trees."

But you never can tell, adds Jug Bay naturalist Karyn Molines. "Predicting autumn color is a day-to-day gamble because of the complicated forces that cause it," she says. Too much rain, water or wind could dilute the effect as green withdraws to unmask yellows and oranges. "Twigs damaged by Isabel could also dampen color."

In the normal order of things, with drier days and cooler nights, autumn colors peek out of the green landscapes. As days grow shorter and nights become cooler, biochemical processes in the leaf begin to paint the landscape with nature's fiery autumn palette.

Color changes start late September in New England and move southward, reaching the Smoky Mountains by early November. By late October, autumn should color Chesapeake Country.

The colors we rejoice in are the shut-down of the tree's food factory, leaves. In the leaf, chlorophyll uses the sun's energy to convert carbon dioxide and water into sugar, food for the tree. With shorter days comes less sunlight to manufacture food. Nutrients and minerals are drawn from leaves and transported to the permanent parts of trees: trunk, stems and roots. Chlorophyll production slows down and eventually stops.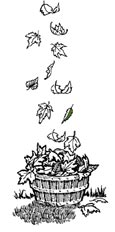 As well as the green of chlorophyll, leaves contain other pigments. These colors are hidden most of the year by the abundance of chlorophyll. As chlorophyll breaks down and other pigments are unmasked, leaves reveal their autumn colors. Xanthophyll produces yellow; carotene, the same chemical as in carrots, produces yellow-orange.

Leaves continue to produce sugar during autumn days, but cold nights prevent trees from drawing food out of their leaves. So sunny days and cool nights favor the sugar-related pigment anthocyanin, which produces fiery reds. A succession of these warm, sunny days and cool, crisp but not freezing nights spurs production of the brilliant anthocyanin pigments, seeming to bring about the most spectacular color displays.

Red maple and staghorn sumac are two of the more vibrant red trees. Vines such as Virginia creeper and poison ivy also turn crimson. In all these trees and vines, anthocyanin dominates.

Birches, beeches and tulip poplars turn golden, revealing xanophylls. Sassafras trees take on the orange tone of carotene. The sugar content and the variety of pigments in the leaves makes the sugar maple one of the most colorful trees; it may turn yellow, orange, red or any combination of these hues.

The oaks turn a variation of yellow, orange or bronze. Leaves stay on oaks the longest; it is their dry leaves you hear rustling in the winter breeze.

Winter is a certainty that all vegetation in the temperate zones must face each year. Trees need protection from freezing temperatures during harsh winter weather. Stems and twigs can survive extreme cold and reawaken when spring heralds the start of another growing season. Tender leaf tissues, however, would freeze in winter, so plants must either toughen up and protect their leaves or dispose of them.

The evergreens like pines, spruces, cedars and firs survive winter because they're tough. Their needle-like foliage is covered with a heavy wax coating. Fluid inside their cells contains substances that resist freezing. Evergreens can safely withstand all but the most severe winter conditions, like in the Arctic.

Broad-leafed trees, on the other hand, are tender and vulnerable to damage. Their thin leaves are not protected by thick covers. Fluid in these leaf cells is a thin, watery sap that freezes readily. Tissues unable to overwinter must be sealed off and shed to ensure the tree's survival.

So when their food factory is fully shut down, deciduous trees shed their leaves. Gradually, the bond between leaves and tree weakens. The tiny veins that carried sap to the leaves all summer long are sealed off. Leaves then fall to the ground, encouraged by wind or by the sheer weight and force of gravity. Now the dominant color is brown as leaves begin to decompose.

The U.S. Department of Agriculture's Forest Service toll-free hotline updates weekly fall foliage changes at National Forests throughout the country. For Maryland: 1-800-leaves1. Also Find fall foliage information on the Forest Service's website: www.fs.fed.us/news/fallcolors/.

— Kathy Reshetiloff

---
Everyone Wins this Lottery

At Collector's Choice, Art Follows the Luck of the Draw
Everyone wins the lottery this weekend at the Maryland Federation of Art event Collector's Choice. The way it works is this: Each $150 ticket admits two to an evening of chance, fine foods, high spirits — and the certainty of taking home a work of art valued anywhere from $150 to more than $2,000.

Collectors love it. While enjoying cocktails and party dishes donated by a dozen area restaurants, they eye the art and compile their dream lists. At 6pm, the first number is chosen randomly from a hat, and the drawing begins.

"The beauty of the event," says Federation director Pam Wilson, "is that your first choice might not be on my list or mine on yours. People have such different tastes. We have five more pieces than tickets, so that even the final person has a choice." Then those last five pieces are also offered for sale.

"Artists love it, too," says Wilson. "They're helping Maryland Federation of Art, which relates to them, as artists, to the community and promotes fine arts in the community. They also enjoy the opportunity to develop a relationship with art collectors."

One of those artists is painter Marie Linnekin, who has contributed work to every Collector's Choice event for its entire 27 years. "I'm very fond of MFA," says Linnekin, "and I'm grateful for all they do for the emerging artist. They teach the mechanics of hanging a show, writing grants, working with galleries and art agencies. Nobody thinks to tell you this stuff in art school."

Linnekin's large abstraction "Dreams Remain" is the centerpiece of this year's art lottery.

"I'm interested in the relationship between line, form, color and the texture of the paint. I have a lot of what one critic called 'unprogrammed space,' with lines and shapes hither and yon," says the artist of what you might see in her painting.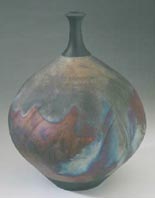 For the viewer this translates into an attractive fresh blue spaciousness. The deeper blue on the left creates a structured "interior" with shapes constrained in floating boxes. One box pulls the eye across the line to an unbounded, lighter "exterior space," with uplifting scrawls that express joyful freedom. It will be number one on many lists the evening of the lottery.

Artist Amy Ruschell's pair of intimate black-and-white photographs also take on the play between interior and exterior. One shows a carved stone face half seen between massive boulders, the other a tree-like standing nude silhouetted against a door. Ruschell, who's making her third contribution to the show, says of her work, "Artists record what's going on in society. I'm interested in the interaction between the artist and the viewer. I'm interested in pulling them back together."

In addition to paintings and photographs, the show features sculpture, drawings, hand-pulled prints, wood, clay and glass.

Maryland Federation of Art also loves Collector's Choice. The event at Annapolis Volvo draws popular support from Chesapeake Country as well as regulars from Baltimore, Northern Virginia and Washington. That means financial support for the federaton's 40-year, threefold mission: promoting the artistic growth of emerging and experienced artists with affordable outlets for their art; exhibiting art selected from across the nation; and taking art appreciation to the community with programs for at-risk or disenfranchised children and adults.

Sponsorship by Annapolis Volvo president and CEO Frank Ferrogine and wife Angie lowers costs and means more profit for the federation. One hundred works of art are contributed and tickets sold, so the federation expects an annual influx of $15,000 from the event.

Collector's Choice combines philanthropy with the undeniable thrill of the luck of the draw. Everyone wins this lottery.

Collector's Choice: 5:30–8:30pm Sun., Oct. 26 at Annapolis Volvo, 333 Busch's Frontage Rd., Annapolis. rsvp: 410/268-4566 • www.mdfedart.org.

— Sonia Linebaugh

---
Earth Journal: Tumultuously Alive
Come stand with me on the rim of Fairhaven Road on the edge of an unnamed salt marsh, two narrow lanes from the Chesapeake Bay. On the Bayside, waves rush noisily against the storm-cracked breakwater.

On this side, all is quiet.

The autumn is without drama, for leaves were torn early from their branches by the greedy winds of tropical storm Isabel. The morning sun warms our backs through thin jackets while a coolish wind from the northwest brushes our cheeks red.


Terns, white with black-tipped wings, wheel over the marsh, fall — whack — into the water, then fling themselves back into the cloud-raked sky with some choice morsel. Whack. Another and another. A fearless drop. A victorious rise.

Between the road and the high-tide water, a tangle of bird sounds rise from a clump of bushes draped with grape ivy with blue and purple berries. Ptee-cheet against churr-cheee. Female cowbirds perhaps. A single voice sounds ptik. Ptik. Ptik. A male cardinal gone russet with the leaves. He flits out of range. Phragmities wave, tan or green, as beautiful as cattails gone to fuzz. White wild asters are splayed against a tumble of ochre, russet, tawny, sepia, brown, straw, spent green, dying yellow.

Sun and wind. Backs warm, faces cool.

The marsh water runs soundlessly southeast matched by wind-fanned clouds. Birds chorus in the bushes. Crickets add their trill. A butterfly adds a note of orange outlined in black.

The world is tumultuously alive.

— Sonia Linebaugh
---
In Ellicott City, state tourism gathered this week with two priorities: promoting Chesapeake Bay, hopefully by its inclusion in the national park system; and re-creating the Underground Railroad, the means by which Harriet Tubman and her allies brought some 300 slaves from the South to freedom …
In New York, singers Alanis Morissette and Beastie Boy Mike D are jumping on the bandwagon to drum out notorious Interior Department Deputy Secretary J. Steven Griles for his aggressive efforts to drill for oil and gas on public lands. They noted, among other things, that Griles still receives $284,000 annually from the energy companies he lobbied for …
In Germany, a tiny biotech firm has gone batty, we think. The company, Paion GmbH, is using the saliva from vampire bats to produce a drug that improves circulation in stroke victims …
Our Creature Feature comes from Mozambique, where rangers found a shocking scene in the famed Kruger Park wildlife preserve in September: a pregnant rhino shot dead, her horn chopped off. Shortly afterward, two male white rhinos were found in the same condition.

But this sad tale has a good ending. In rare cooperation, South Africa and Mozambique tracked the poachers deep into the jungle and discovered several of the horns before they could be sold for quack medicine in Asia or for dagger handles in Yemen. The joint effort arrested six men and broke up a poaching ring that had preyed on wildlife for years.