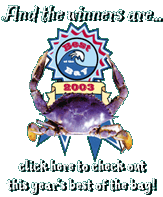 Not Just for Kids

Ollie Oyster's Upbringing
a parable of oyster recovery
by Donna Goldsmith-Day

Deep near the bottom of a cove in Chesapeake Bay lived an oyster named Oliver, Ollie for short. Ollie was clinging to an old sunken boat, trying to stay away from the bottom of the cove, where chemicals and dirt settle.

Ollie was an orphan oyster. His father had died of a disease called dermo, and his mama had died of MSX, a disease caused by a mysterious tiny germ that no one can even see.

Germs and chemicals had been filtered out of Bay water by Ollie's generations of grandparents and great-grandparents at the same time they filtered water from their food. Like lots of filters in a fish tank, they had filtered the waters, making them pure for other animals and fish to live in and for people to enjoy. Ollie's Grandoyster had told him stories about how oysters could once filter the whole Bay clean in three to six days.

Ollie was still filtering. But now cleaning the Bay took almost a year with all oysters working together, and they still didn't do a very good job.

Lots of other creatures liked Ollie. They liked to play in the nooks and crannies of his shell. His buddies were amphipods and anemones, barnacles and bryozoans, grass shrimp and hooked mussels, mud crabs and red-beard sponges.

Lately, Ollie hadn't been feeling well. He had trouble breathing, so low was the oxygen down where he lived. He wasn't growing much, because it took all his energy just to stay alive.

Ollie had another worry: the oyster dredges that broke up whole families of his cousins. "Watch out for those men with dredges and tons," Grandoyster had told him, and Ollie had learned to fear humans because they always seemed to be hunting him.

So Ollie quaked with fear when he saw the outline of a big boat far above.

Next came a terrible splash, and the whole cove shook with a huge roar.

Ollie clung to the old boat for his life until the water finally calmed. As the water cleared, what he saw amazed him.


A mountain had risen in his cove.

Then a magic thing happened. Oysters live their whole lives where they settle. But now Ollie wanted to climb it so badly that he broke his hold on the boat.

He rose first a little and then higher and higher, stopping by the side of the mountain to rest from time to time. When he neared the top, where the water was clear, Ollie began to feel great. He could breathe much better. He felt bursting with energy. He went right to work on a pearl of wisdom.

The huge mountain was an oyster reef. The humans in the boat had dropped a thick crumble of old roads and buildings into the Bay. It rose like the reefs of Grandoyster's stories, giving Ollie and his friends space and hope.
Donna Goldsmith-Day of Annapolis also writes about beds and breakfasts: Inns and Colonial Homes of Historic Maryland; and Historic Inns and Famous Homes of Maryland.
---
Kids' Stuff This Week
Friday, October 24
Pumpkin Walk
Kids of all ages dress for Halloween for this annual event. Enjoy games, prizes, storytelling and costume parade. 4-6pm @ Hammond Harwood House, 19 Maryland Ave., Annapolis. $4 w/ age discount. rsvp: 410/263-4683.
www.hammondharwoodhouse.org.

October 24, 25, 31
Morgue Manor
Kids of all ages (except the impressionable) get spooked at this very scary haunted house. Bring the whole family and scream until you can't scream any more. Plenty of food and drinks. 7:30-10:30pm. Parking and shuttle service from Deale Fire Department. $6: 410/867-9374.

October 24 & 25
Ghost Walk
Kids 6 and up take a spooky, scary, scream filled Halloween walk. Mischief-makers and ghosts guide you down the path. 7-9pm @ Darnell's Chance House Museum, 14800 Gov. Oden Bowie Dr., Upper Marlboro. $4 w/ age discount: 301/952-8010.

Sunday, October 26
A Symphony Spook-tacular
For kids ages 4 & up, the Annapolis Symphony Orchestra presents the famed Enchantment Theatre Company. Using puppetry, magic and mime for a well choreographed afternoon of ghostly theater. 2-3:30pm @ Maryland Hall for the Creative Arts, 801 Chase St., Annapolis. $10: 410/263-0907. www.annapolissymphony.org.

Plan Ahead
Halloween Costume Contest
Deadline: Oct. 24-kids of all ages get spooked. Show off your best costume and win a prize. Prizes awarded to each age group. Contest October 30. 6:30pm @ Southern Community Center, Appeal Ln. (off Rt. 765), Lusby. free; rsvp: 410/586-1101.

Halloween Party
Deadline: Oct. 25-ages 1 to 9 are invited to a Halloween party with "Holiday the Clown" and "Mrs. Carol." Listen to ghost stories and fill up on trick or treats. Halloween Party Oct. 30. 5:30-7:30pm @ Mt. Hope Community Center, 100 Pushaw Station Rd., Sunderland. $7: 410/257-6770. [email protected].