How I Did It Myself on Do-It-Yourself Radio

Low-power community FM radio station WRYR — We Are Your Radio — and I broke into the air waves together.

by Annette Najjar
It's 3:40pm; just 20 minutes of "What Will We Hear Today" remain. I'm rather pleased with myself today. No spoonerisms or gibberish have escaped my mouth. Songs have faded into each other smoothly, no dead air or miscued music tracks. I've read the stories with all the right inflections and intonation.The CD burner that records the show is operating flawlessly.

It's time for my weekly radio hour's key song, a little girl's frustration in a class with four boys named Jordan. I was thrilled when I'd found the free MP3 file on Amazon.com for it is perfect for a show about names. I'd successfully downloaded it to a compact disc that I now insert confidently into CD1. The CD player reads it, then flashes a message on the display.

"Not an audio file."

Four and a half minutes have to be filled some other way, and I'm going to have to wing it. That's what I get for being smug. Sometimes, forces align to stop you in your tracks in ways you least expect.

But sometimes forces align to launch you on your way.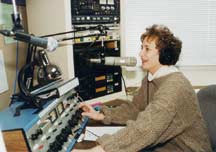 photo by Chris Kulczycki
The Lone Ranger

Well before my son was born, I declared to my older sisters that no Disney-produced CD or video would enter our house. The sisters cackled knowingly, so I had to remind them that they raised their kids in a generation when branding was something you did to a cow's behind, not a quest for market domination.
Finding children's music other than Nickelodeon and Disney is my obsession. It's not that there are no other music choices, but the effort in ferreting them out is exhausting and expensive. Most of the music I find at record stores is exactly what I try to avoid, and music searches on Amazon are time-consuming.
Then it hit me: Why isn't there a children's radio station, or even a radio show for young children? Strapped in car seats so much of the day, on their way to play dates and Gymboree and meeting their brothers at school or practice, children are literally a captive audience to whatever the radio is tuned. Why not provide them — and mom and dad — an antidote to music that is packaged from television and movies?
I could try XM Radio, the equivalent of a national cable radio system. With a $150 satellite receiver and a monthly fee, I can get 100-plus channels of specialty format music, kids' stations and, supposedly, no commercials. One of the two children's stations, of course, is Radio Disney.
How hard could it be, I wondered, to do a show myself?
Harmonic Convergence
Little did I know a national movement that spanned decades would converge in my own neck of the woods to give my show a platform.

Since the 1960s, entire do-it-yourself radio stations have cropped up, run by activists frustrated because commercial radio did not meet their standards for local service. These activists, dubbed radio pirates, simply erected illegal antennas and transmitters, then dared the Federal Communications Commission to shut them down. Sometimes the FCC took them up on their dare.

But early in this century, the FCC did an about face. Over the loud and protracted objections of the commercial broadcast and public radio industry, it issued rules establishing low-power FM stations, which in radio-speak are stations of up to either 10 or 100 watts, or LPFM. These stations must be noncommercial, operated by nonprofit entities or public safety and governmental groups. Ideally, the group should have been in the community for at least two years.

Many of the radio pirates who formerly raided the airwaves in support of community groups now shepherd them through the FCC's application process. One such pirate is Pete Tridish — pronounced petri dish — a pseudonym he used when he broadcasted from illegal FM stations. In 1999, when LPFM was just a concept afloat at the FCC, Tridish sailed into Baltimore to deliver a lecture on community radio. In the audience was one of the more famous — or infamous — citizens of independent-minded Southern Anne Arundel County.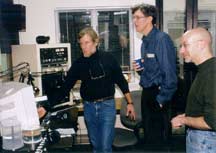 WRYR founder Michael Shay, Baltimore Sun columnist Tom Horton and station program director Eric Funk at the station office in South County.
SACReD's Pirate

Mike Shay may not be a pirate, but he is a flamboyant figure. To many in Anne Arundel County, Shay is recognized as the man who marched a 12-foot effigy of county executive Janet Owens through the streets. South Arundel Citizens for Responsible Development, which calls itself by the acronym SACReD, formed to oppose the development of a Bay-front stretch known as Franklin Point. The grassroots group mounted a successful legal challenge against that development and spearheaded years of protest against Safeway in Deale. As part of the campaign, Shay paraded his Queen of Sprawl.
Shay had no broadcast experience, but he was willing to put up a pirate radio station to expand SACReD's access to the public. Come to think of it, parading an effigy through the streets and flaunting an illegal antenna at the FCC aren't so different.
Opportunity Lights up the Board
I drive past a little Churchton strip called Franklin Center for the fifth time in two days, slowing to a crawl to a symphony of loud horns and shaking fists. I squint up to the building's second floor; the office above the Domino's is always locked tight with blinds closed. I've used every excuse I can think of to drive by: Food Rite for lemons; the post office for stamps; the liquor store; the library. I'm running out of ruses.

On learning of a new radio station, WRYR, whose switch would be thrown on that coming weekend, I danced in my kitchen. How often is it that a radio station is born, let alone one so close by that you can bike to it? And how likely is it that WRYR wouldn't be sympathetic to my quixotic campaign? After all, it was none other than the pirate Pete Tridish who helped WRYR get on the air.

Mike Shay's long shot had come in. A year after he and Tridish first met, Shay hand-delivered SACReD's application for a LPFM license to the FCC. Another year passed before the application was culled from 3,200 others and accepted. SACReD received a construction permit to build a station. The FCC then approved the call letters WRYR, for We Are Your Radio. By April 2002, WRYR received its permanent broadcast license. It was one of only 11 licenses granted in the United States — and the only one granted to an environmental group.

I've sweated blood over a concise two-page proposal; I won't rest until I put it in somebody's hands
Over the Top
It's Thursday evening as I listen to my telephone messages. I've pestered the station twice in the past five weeks. I've left the proposal with a poor engineer wiring the studio, and I've stumbled on Mike Shay himself. Now, he wants to know if I can come to the station on Saturday and record a demo show.

I'm outraged. Two days to produce a reality-altering program that will affect the synapses of our young? Impossible. I demand at least 10 days. Who do these people think they are?

I call him back: "Sure, Mike. What time?"

Insufferable doesn't describe my behavior for the next 48 hours. My toddler would wade through paper, picture books and borrowed CDs to clutch at me, then ran away. The well-intentioned suggestions of a close friend I rejected with a derisive snort. I even practiced the silly show. You'd have thought I had a doctorate on the line and was defending my thesis.

In the studio, I confront WRYR's mixing board. It has eight dials, eight toggle switches — one to a dial — plus an assortment of levers and output gauges. Some buttons and dials have unmistakably clear stickers: Do Not Touch!! Wired to the board are the main microphone, two guest mikes, three CD players, a cassette player, cartridge players that look like old 8-track tape players, a CD burner to record your show, the telephone patch-in system and the computer that sends out the signal. Since each of those eight toggle switches has three settings, there are at least 24 ways to err.

Oddly, I'm relieved, for this is familiar to me. As a telephone operator in my youth, running 16 concurrent phone calls — two plugs per call — I got my knuckles rapped if my error rate was above one percent.

No one here is rapping my knuckles, though I am told gently to monitor my volume. The hour streaks by in a minute. Finally at ease, I remove the headphones. I have to make amends at home for my behavior, but that's okay. Exiting the studio, I ask when I'll hear if I have a show.

"Oh, you pretty much had it before you came in here."
The Irony and the Ecstasy
WRYR's antenna is on the Eastern Shore, not even within the line of sight to the studio in Churchton. This split between Eastern and Western Shores is curious but creative. The Washington metropolitan area bristles with radio towers, and, according to Shay, most of the radio frequencies in the area are already owned by corporations or other groups. By siting the antenna on the Eastern Shore, SACReD was able to snag a rare available radio frequency. Plus, the antenna's location on the water's edge allows the signal to travel without resistance back across the Bay to a radio tuned to 97.5FM.

Buried in SACReD's FCC application are map coordinates that represent the antenna's optimal location. In reality, the best spot is at Lowes Wharf Marina in Sherwood, one of the few places with enough civilization and electricity to power WRYR's transmitter.

Which is how Shay, GPS in hand, came to call on Lowes Wharf Marina owner Paul Zelinske in the Talbot County village midway between St. Michaels and Tilghman Island.

"When we received our construction permit, I had never talked to Paul before," recounts Shay. "I said 'Hey Paul, my name is Mike Shay, and I would like to tell you about community radio.'"

Paul listened, then agreed to host WRYR's transmitter and antenna. In return, the marina would eventually get a brand new 75-foot flagpole on which the antenna would be planted.

But first Shay would have to convince officials of Talbot County that the configuration of flagpole topped with an antenna did not violate the county's moratorium on unsightly antenna towers. In the middle of SACReD's active campaign against the Deale Safeway, Shay was pushing a county on the other side of the Bay — not in his backyard — for a zoning ruling in his favor.

Shay must have spoken with a golden tongue. After two months of filings and hearings and correspondence, Talbot County agreed that even in a wetlands critical area, a flagpole at a marina was neither a permanent structure nor an unsightly antenna tower. But no other structure, not even a shed, could be built to enclose any of WRYR's other equipment.

Thus WRYR's transmitter is suspended above the bar at Lowes Wharf's restaurant, and the antenna rises atop the flagpole above the stars and stripes.
Dead Air
It's now July. I haven't heard from WRYR since my audition in March. Deflated and grumbling, I click on the station's website one morning and read: "WRYR-LP is back on the air!!"

I stare at the screen. What do you mean, "back on?"

Shay recalls this period as personally very difficult. "I remember going to see one of our supporters, bringing my portable radio in, knowing [the station] should be coming up and suddenly it wasn't there," he says. "I thought 'Oh, well, maybe it's the link.' But that was the exact storm that took out the Wye Oak; it hit the flagpole. Our antenna was dangling 75 feet in the air above Paul's patrons."

Once Talbot County had blessed the antenna at Lowes Wharf, a team of technical volunteers had to get the signal from the studio in Churchton to Sherwood and back again. How is this done without a microwave link or a dedicated wire line — or a pot of gold?

The solution is a 28,000-mile journey. The mixing board, where your deejay sits, sends the signal to the studio's computer. By cable modem and the Internet, the signal is shot across the Bay. A second computer in the utility room at Lowes Wharf receives it. Enter again the Internet, add a satellite dish, a satellite modem, the transmitter suspended above the marina's bar and, finally, the antenna. Thus is the signal on its way to your radio.

A 28,000-mile journey is bound to have some delays. But with the number of roadblocks that could stop the signal, no one expected a factory fitting on a flagpole to be the weak link.

For a second time, a crane was brought in to Lowes Wharf, this time to take the flagpole down. The offending mast fitting that failed during the storm was replaced and the flagpole re-planted. Two weeks after the storm, the station was up and running.
Real-Life Interference
The telephone is ringing, and I leap for it. It's training day, and I've been waiting for a call from Phil LeCroy to confirm what time to meet at the studio. He's crackling on his cell phone.

"We have to cancel tonight. I'm on my way to Pennsylvania to cover the mining accident."

Training day will again have to wait, this time for two weeks. Nearly five months after my trial show, real life continues to interfere with my avocation. Killer thunderstorms, mining accidents, jobs that actually put food on the table: They are all part of this marvel of volunteer radio. LeCroy, for example, is a television cameraman by day and a father at all times. The best hours for him to engineer a program or train another volunteer or host his own show are at night, after 9:00, when his and my toddlers have been tucked in.

Not all of my fellow deejays have stalked the station to be heard. On the contrary, many others, like local poet and musician Max Ochs, were sought out by WRYR. The station's program director, Eric Funk, approached Ochs specifically to develop a folk music show. Ochs' day job is in public affairs at Anne Arundel's Community Action Agency. During off hours he runs The 333 Coffeehouse, which showcases fellow folk artists and poets. A distillation of the two jobs is his weekly show Community Folk — Community Spirit, a combination of folk music, poetry and news of the agency's services and programs. Even his boss, recognizing the platform Ochs' show can give their office, supports his traveling from Annapolis to South County during work hours every Thursday afternoon.

"I want to make a show that I would listen to," he says, as he prepares to read, at a listener's request, the poetry of W.S. Merwin. "At first, I thought 'what a strange sort of insanity this is, talking to yourself in an empty studio.'"

You may not love everything you hear on WRYR, but you're certain to hear the unordinary there. All of the deejays are volunteers, all passionate to get their points across — be it Kevin Kamps on nuclear proliferation, Gary Beckett on island music, Terri N. as the Mystress of Love, Carolyn Stearns's original storytelling and, of course, all of us on the health of the Chesapeake. This is the intent of LPFM radio: programming by and for your neighbors.

LeCroy is patient and encouraging. He repeatedly reminds me to stop cutting off my songs. He says funny things like, "Always pot down your CD channel before you start your next track. I like to have all the pots open at the same time…

" Unknowingly, he also gives me programming advice when he says, "This sounds like the Wiggles." I make a mental note to be more selective about my music. But first I have to learn this weird radio language.
I Hope No One Heard That
At last the show I recorded with LeCroy is going to air. It's set for 3:00pm August 15. My first coincides with another milestone for the station's programming director. It's the first time Funk has managed to download a show into the computer for future airing. One small glitch: In the process, the first few minutes of the show have gone missing.

So I know I won't hear myself announce that today's show will transport listeners to the wonderful world of kitchens. Still, after five months, I'm finally on the air.

Our Grundig Yachtboy short-wave crackles on the back deck railing, antenna fully extended. Five minutes stretch to nine minutes.

Finally, I hear myself in the middle of the show's feature story, reading three lines. Then I break off mid-phrase and repeat those lines. For six more minutes I repeat them, until Harry Belafonte's "Coconut Woman" comes in mid-verse. Harry sings eight and a half lines then repeats himself for six minutes. Listeners may surmise the next lines SACReD programmed deliberately:
Good garbage smells bad to your nose;
Bad garbage grows and grows and grows;
Good garbage is supposed to decompose..
Garbage, garbage gar …
And those lines repeat for six minutes.
Is Anybody There–I
The studio's computer doesn't control only how you hear WRYR. When there is no warm body at the mixing board, the computer controls what you hear.

FCC rules specify that LPFM stations must air a minimum number of hours of locally produced programming, stemming the flow of nationally syndicated shows. WRYR has chosen to broadcast 24/7, so there is always something on, even though most often no one is in the studio.

The hours unfilled by live deejays are controlled by automated programming: 2,500 or so music tracks played in random rotation. Most of the music is "indie" music, or music most definitely not produced by major record labels. Eclectic is the watchword. As one listener in Annapolis noted, nowhere else in the area can you find blues, folk, world beat, rock and jazz in the same hour.

Someone had to convert all those CDs into MP3 format, dump them in the computer, and massage the automation software. Program director Funk modestly admits it was he.

Public service announcements, Watershed Radio's environmental spots, show promos and the mandatory top-of-the-hour station identification are all automated for timed broadcast. Some of WRYR's programs are now routinely pre-recorded, then converted to a computer file and scheduled to air (flawlessly) in their proper time slots.
Is Anybody There–II
My holiday show is almost over, just two more songs to go. It's turned out exactly as I'd planned. I was determined to feature music of all the winter holidays, Hanukkah, the Solstice, Christmas, Kwanzaa. Even the Islamic Eid, which fell a week before Christmas this year, was represented. I introduce the symbols of the Solstice and follow it up with "Deck the Halls." But what comes on is the polar opposite: "Angels We Have Heard On High."

"Damn," I say softly to myself.

Then I notice the microphone is open.

I know the offending word wasn't quite soft enough, because I captured it on CD. But the station hasn't received any outraged messages, so I assume no one heard me. I am relieved, but I'm also disappointed.

Do I have any audience at all?

WRYR is limited in signal power to 100 watts, roughly a three- to five-mile radius from the transmitter. Shay believes that siting the antenna across the Bay brings the signal three to five miles into every community it touches, like Annapolis, Edgewater, Calvert County or Kent Island. Thus SACReD's purpose for the station would be met, for it would indeed be reaching the wider audience for which it went to all this trouble.

It can't be denied, though, that the system has its gremlins. With its limited strength, the signal is done in by cloud cover, buildings, trees and height above sea level. Even if you can hear it some of the time, you won't if the studio's cable connection is out, or if the satellite modem is out. If the Internet is congested, your favorite jazz piece or children's show breaks off abruptly without even any static to assure you the station is still on the air.

Shay answers the oft-heard complaint "I can't get the station" with a patient smile and a recommendation for an auxiliary antenna for your radio. After consulting the many pages on WRYR's website that are devoted to these antennas, I finally wired one to my home stereo.

If you want to hear WRYR, that's what you'll have to do.

As for the drop outs, you think of it as a friend dropping the phone to answer the doorbell, or maybe a cell phone cutting out. It's something you learn to tolerate: interrupted calls from a cherished friend.
Your Neighborhood Radio
When I first approached WRYR, I was unknown. I assumed I'd be required to join SACReD. Instead, I was handed a key and the alarm code and never asked to sign any contract or pay any dues. I am expected to put the best interests of the station and SACReD first.

As a former contract administrator who was once paid to cross t's and dot i's, I'm shocked, but Shay says the group is very comfortable with handshakes and eye-to-eye contact.

"Yes there is a lot of trust; yes there is a lot of understanding," he says. "And yes, people get something for it in return. To many commercial radio stations, money is what's important. To us, our resource in our community is our volunteers."

And that is an impressive force.