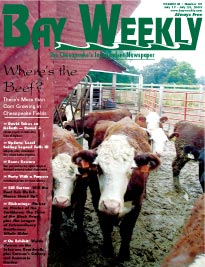 On Our Cover
Where's the Beef?
photo by Jessie McLean Heller
The deep red-brown color of Calvert County farmer Danny Gibson's cows — and several black coats mixed in — reveal that he has mostly Hereford cows, with a few black Angus. The cows are raised in pasture, but when the calves are seven or eight months old and weigh about 600 pounds, they enter a feed lot to get ready for the slaughterhouse.

Where's the Beef?

There's more than corn growing in Chesapeake fields.

By Jessie McLean Heller.

Buying local beef may well be better for your health; it also supports the farmers, whose jobs are also their homes, their memories — and some of our last open space.

David Takes on Goliath, Round 3
Citizens prepare to battle Army Corps of Engineers
by James Clemenko


Update: Local Sailing Legend Falls Ill
Annapolis sailor, commentator Gary Jobson battles lymphoma
by James Clemenko

Bears Beware
Next year, firearms may replace stamps as Maryland's preferred method of bear control
by Eric Smith
Party With a Purpose
Parrotheads partner for oyster recovery
by Diane Gunter
Way Downstream

In Virginia, an energy company from New York wants to build 150 windmills off the Eastern Shore…
In Spain, three people were gored last week, and nine others trampled while running with the bulls in Pamplona…
In Chile, scientists have stopped scratching their heads, having figured out that the beached 40-foot-long mass of leathery gray flesh that has been puzzling them is — or was — a sperm whale…
This week's Creature Feature: In Baja California and elsewhere along Mexico's Pacific coast, pollution prevention is being taken right to the horse's — rear end. Nowadays horses must wear diapers when they take tourists sightseeing.