---
Bay Weekly's 2003 Summer Gudie
101 Ways to Have Fun on the Bay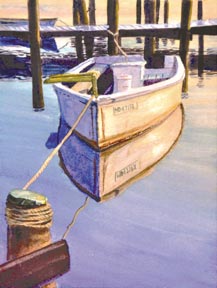 Welcome to the long-awaited Chesapeake Bay summer of 2003. Excesses of snow and rain have made us hungry for summer in the way kids are hungry for school to end. Now, at last, school's out and summer's in. In all its bounty, Chesapeake Country is calling. Will the last one left inside please turn off the lights?

If you've got your copy of Bay Weekly's "Indispensable Guide to Summer on the Bay" that last one won't be you.

In our 101 Ways, you'll find so many things to do and places to see that you'll have plenty to do even if it rains. In Bay Weekly's 10th anniversary year, we've reprised and updated many of the favorite Ways of past years. Prime among this year's collection are Ways that define Chesapeake summer. Collecting and creating these Ways has reminded us that you don't have to travel far or long to spend summer in paradise. Paradise is here, waiting for us.

Mixed in with those distinctive Chesapeake Ways are Ways as universal as summer itself. They'll enrich your season even if you're unlucky enough to leave Chesapeake Country this summer.

Behind all these Ways are 10 categories of fun:
Seize the Day; Share the Day
Bay by Land and Sea
Hunt and Gather
Lively Up Yourself
Discover the Artist in You
6. See What You Can See
Feast
Wise Up
Take a Walk on the Wild Side
Finally, every 10th Way is Not Just for Kids. These are our all-time favorites, and in choosing them, we've sent our censor home. When you're feeling jaded, forget your age and choose one of these Ways to have fun.
We suggest you make a pact with yourself — plus friends and family — to try every Way in the book. We annotate our book each year, so we can assure you there's lots of fun to be had in keeping score.

This anniversary year, we're offering a prize for the best used copy of 101 Ways. To be eligible, send us your well-worn copy or a letter detailing how you had 101 pleasures this summer. Entries will be judged on the Autumnal Equinox, September 22, with the winner announced the first issue of autumn, September 25.

Summer is in your hands now.
---
"101 Ways to Have Fun: An Indispensable Guide to Summer on the Bay" is an annual June supplement to Bay Weekly newspaper. If you missed advertising this summer, you'll want to make early reservations for your space in "Local Bounty: Bay Weekly's Indispensable Guide to Holidays on the Bay," published annually on the Wednesday before Thanksgiving. That's November 26 this year.