81. Get Ready to Chunk a Punkin
Pumpkins will fly across the sky in "slower, lower" Millsboro, Delaware during the 18th Annual World Championship Punkin' Chunkin', October 31-November 2. If you want your chance to chunk, you better plan ahead now.

Join 80 to 100 teams and 20,000 to 30,000 spectators in a magic soybean field and watch what the joining of medieval warfare and modern technology will do to an eight-to-10 pound pumpkin.

All chunkers agree that while punkin' chunkin' starts as a hobby, it quickly becomes an addiction. This summer, design and build your own machine and join the diverse group of engineers, mechanics, builders and tinkers that make up the punkin' chunkin' nation. Enter the contest, see what chunkin' is all about and find out if you catch the fever.

For more information on the 18th Annual World Championship Punkin' Chunkin' go to www.worldchampionshippunkinchunkin.com.
---
82. Take on a Cause
Summer awakens the sense of possibility. Winter, you felt you could barely drag through. Now, you're imagining that something more could nicely enter your life.

Will you make a sundial? Study for a motorcycle license? Learn to flyfish? Cook the perfect crabcake? Paint nature?

Chesapeake Country is your oyster. 101 Ways can be your guide.
---
83. Discover What's in a Name
People give names to everything.

In Bay Country, every geographic feature, every point of land jutting into the Bay gets a name: Cove Point, Breezy Point, etc. No visible islet goes unnamed: Sharps and Poplar Islands, for example, have no people living on them (but they do have histories). Of course we have streets, any of which may have acquired its name because some whimsical property developer thought a high-sounding name would sell more houses.

Regardless of a name's source, tracking down that source can be a fascinating pastime that will reveal to the diligent searcher not only the history of the thing named but facts about the people and events surrounding the place.

I took at random Camp Roosevelt Dr., in Calvert County. Jennie Plummer-Welker of the Calvert County Historic District Commission told me the camp was named after one of the Presidents Roosevelt, probably FDR. No surprise there, as many things are named for political figures.

But what kind of camp? It is claimed that Camp Roosevelt was the first Boy Scout camp in the United States, and it was built, at least partially, with the labor of Boy Scouts. In 1937, Calvert County received an application for Designation Of A Historic District. The application was granted, and the rest is History.

Many resources will help you learn how something got its name. Most counties have an office whose job it is to keep track of county history. Librarians in public libraries are eager to help. Bay Country has a large number of marine museums that can provide a wealth of information on nautical matters. Not the least important of resources are the old-timers who had the good sense never to move away from Bay Country. If they don't know how some local feature got its name, they might make up an answer for you.
---
84. Duck Indoors if It Rains
If your date for theatre under the stars gets rained out, which seems quite possible this year, duck indoors with one of Chesapeake Country's troupes for all seasons:
2nd Star Productions: Getting rave reviews is Me and My Girl, a comical English musical where a man is jolted to high society after inheriting a fortune. Act quickly; the show ends June 28. 8pm FSa; 3pm Su @ Bowie Playhouse, Whitemarsh Park, Bowie. $15 w/ discounts. RSVP: 410/757-5700 • www.2ndstarproductions.com.

Chesapeake Music Hall: Thru July 19, see Oliver! with supper. Chicago follows, running July 26-Sept. 13. Doors open 2 hours before showtime, buffet starts 1.5 hours before. Curtains part 8pm evenings; 2:30pm Su; 1pm W @ Chesapeake Music Hall, Busch's Frontage Rd., Annapolis. $35 w/day and age discounts; rsvp: 800/406-0306.

Talent Machine: Young stars sing and dance in Camp Hawyah this summer from July 11-20 and Brigadoon from August 1-17. 7:30pm Th-Sa; 2 and 6:30pm Su @ St. John's College's Key Auditorium in Annapolis. $10 w/ discounts: 410/956-0512.
---
85. Read Maryland Writers A–Z
Maryland claims so many fine writers that you can read your way through the alphabet and not be done with authors born or shaped in Maryland.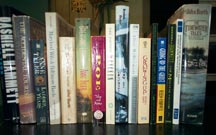 Anne Tyler (1941), novelist. Breathing Lessons won the 1989 Pulitzer Prize in fiction. The Accidental Tourist reappeared as a 1988 film starring William Hurt and Kathleen Turner.

Barth, John (1930), novelist. A native of Dorchester county, Barth writes satiric, humorous and increasingly experimental novels with philosophical depth, among them the long 18th-century tobacco satire, The Sot-Weed Factor (1987).
Cain, James M. (1892-1977); reporter, editor, novelist, screenwriter. Cain was born in Annapolis and grew up in Kent County. His contribution is hard-boiled detective stories featuring dark, amoral characters such as insurance salesman Walter Huff and his lover Phyllis Nirdlinger in Double Indemnity (1936).

Dashiell Hammett (1894-1961); detective novelist. Born in St. Mary's County on a tobacco farm, the great Hammett created the hard-boiled detective story with "The Continental Op" (1923).

Edgar Allan Poe (1809-1849); Mystery and suspense writer, poet and the father of modern dramatic suspense. Poe invented detective fiction in his tale "Murders in the Rue Morgue" (1841).

Frederick Douglass (1817-1895); writer, orator, abolitionist. Born into slavery on a Talbot County plantation, Douglass secretly learned to read as a boy. He eventually escaped slavery, becoming an articulate and dignified spokesman for abolition. Read The Narrative of the Life and Times of Frederick Douglass, An American Slave, Written by Himself (1845).

Growing Up, by Russell W. Baker (1925); journalist, memoirist. This 1983 autobiography about coming of age in Virginia, New Jersey and Baltimore during the '30s and '40s won the Pulitzer Prize.

Horse-shoe Robinson, by John Pendleton Kennedy (1795-1870); novelist, lawyer, former U.S. Navy secretary. This 1835 historical novel re-creates the American Revolution.

Iola Leroy (or Shadows Uplifted), by Frances E.W. Harper (1825-1911); poet, novelist, abolitionist, orator. In this 1892 novel, Harper — born a free woman in slave-holding Baltimore — explores racism, sexism and classicism in late 19th century America. One of the first novels published by an American black woman.

The Jungle, by Upton Sinclair (1878-1968); This 1906 novel about the plight of the workingman and the conditions in a turn-of-the-century meat-packing factory was so shocking that it pushed the enactment of the Pure Food and Drug Act.

Karl Shapiro (1913-2000); poet, editor of the celebrated international literary quarterly Prairie Schooner 1956-63; 1945 winner Pulitzer Prize in poetry for V-Letter and Other Poems.

Leap Into Darkness, by Leo Bretholz (1921) memoirist, bookseller; and Michael Olesker, journalist. At Olesker's urging, his friend Bretholz documented his youthful years on the run after the Nazis invaded Austria, his homeland. Olesker makes these profound experiences into a fine story. Published in 1999.

McDermott, Alice (1954- ); novelist. McDermott, of Montgomery County, won the 1998 National Book Award for fiction with her novel, Charming Billy.

Nightmare Town, edited by Kirby McCauley, Martin Harry Greenberg (1999). This is a collection of 20 Dashiell Hammett stories that were published in pulp magazines in the '20s and '30s.

Oysterback Spoken Here (1998), The Oysterback Tales (1994), by Helen Chappell. Eastern Shore tale-teller Chappell is irrepressible, overflowing with romance novels, mysteries and local history as well as these enchanting, down-home stories from the mythical Shore village of Oysterback. Many have appeared in Bay Weekly.

The Postman Always Rings Twice, by James M. Cain. This classic black tale of greed and lust was twice dramatized on the big screen: the 1946 version stars Lana Turner and John Garfield and the 1981 remake stars Jessica Lange and Jack Nicholson.

Q.E.D., by Gertrude Stein (1874-1946); writer. Stein identified herself as a Baltimorean even though she only lived there from 1892-1903. Q.E.D. was inspired by a romantic disappointment suffered during her time there. Stein is best known for The Autobiography of Alice B. Toklas (it's her own autobiography).

Rachel Carson (1907-1964); writer, scientist. Silent Spring, Carson's 1962 book alerting readers to the dangers of pesticides, spurred more than 40 state bills regulating pesticide use.

Salamanca, J.R. (1922); novelist. His 1961 novel Lilith, about a sensitive young man's enchantment with a young woman who is a patient at the mental institution where he works, was reprinted in 2000. A 1964 film based on the novel starred Warren Beatty.

The Tidewater Tales: A Novel, by John Barth and Mary Johnston. In this 1988 stories-within-a-story novel, a married couple entertain each other by telling tales while they sail the Chesapeake Bay.

Upton Sinclair (1878-1968); novelist, social reformer. Born in Baltimore, Sinclair won the 1942 Pulitzer Prize in fiction for Dragon's Teeth, a novel on the rise of Nazism.

Veils of Silk, by Mary Jo Putney; romance writer. A 19th century tale about a marriage of convenience.

Weems, Mason Locke (1759-1825); writer, Episcopal preacher, traveling book salesman. Born in Anne Arundel County, Weems wrote The Life and Memorable Actions of George Washington around 1820, shortly after the first president's death. This fictionalized biography, which focused on Washington's honesty, patriotism, piety, wisdom and work ethic, popularized the story of the cherry tree and became this country's first bestseller.

Exodus, by Leon Uris (1924); novelist, screenwriter. This 1958 novel chronicles founding of the nation of Israel. Exodus is also the name of the Maryland-built steamboat, formerly the President Warfield, that attempted to carry 4,500 Jews through the British blockade of Palestine, a passage chronicled in Uris' novel.

York, Rebecca; romance and cookbook writer. York is a pen name for Ruth Glick. Her 1998 and '99s novels Nowhere Man and Shattered Lullaby received positive reviews from Washington Post literary critic Michael Dirda. Her cookbooks include Simply Italian: 100 Zesty Italian Favorites Ready to Eat in Minutes and Skinny One-Pot Meals.

Z stands for zero: Unless we get last minute inspiration, you'll have to fill in this one for us.
---
86. March to the Beat of a Military Band
The Armed Forces' military bands — resounding with some of the nation's finest musicians — thrive throughout Bay Country, performing music ranging from rousing patriotic standards to the symphonies of classic masters to cool jazz to the Top 40 pop hits. Come summer, many of their concerts go outdoors. What's more, they're always free.

The United States Naval Academy has a fine band, and within that band are many combos: the Concert Band, the Electric Brigade, Next Wave, the Woodwind Quintet, two brass quintets, the clarinet quartet, the trombone quartet, the tuba-euphonium quartet, two ceremonial bands and the marching band.

You can hear many this summer throughout Chesapeake Country, including on the idyllic Academy grounds. Anyone over 16 must present a picture ID to enter the grounds. (410/293-0263 • www.usna.edu/USNABand/Schedule/index.htm).


The season starts July 4, at 8pm at Farragut field where the band gets you in a patriotic mood for the fireworks to follow.

On summer Tuesdays at 7:30pm it play its Summer Serenade Concert Series at Annapolis' City Dock. July 8 begins the series. It ends August 12 with a Musical Extravaganza of the band and all its combos — plus the "1812 Overture" with real cannon fire.

Further afield, you'll hear the Electric Brigade July 6 at Downs Park, Pasadena at 6pm. To the west, listen in Sundays at Bowie's Allen Pond Park. The Concert Band plays July 6 and the Electric Brigade July 27: 301/809-3076.

Naval Academy also hosts other superb Washington-area military bands for its Guest Series (7:30pm Th @ Rip Miller Field, U.S. Naval Academy). July 17 and 31 guest performances have yet to be determined, but the Electric Brigade on Aug. 7 will bring this favorite series to a smashing close (www.usna.edu/USNABand/Schedule/index.htm#guest).

The U.S. Navy band also makes a summer ritual of performing on Tuesday evenings at the Navy Memorial in D.C. Hear them or an ensemble June 17 thru Aug. 28 (8pm @ 701 Pennsylvania Ave., NW: 202/433-2525 • www.navyband.navy.mil).

All military band concerts are free and need no tickets. Weather dependent. For updates and new dates, call the bands: Navy 202/433-2525; Marine 202/433-4011; Army 703/696-3399 • Air Force 202/767-5658 www.mdw.army.mil.
---
87. Explore Soft Shells
If you've not eaten them, the eight wiggly legs and two claws sticking out of your sandwich may make you squeamish. If you have, you know few foods in the world are better.

But do you know who serves the tastiest of all?

Challenge yourself this summer to finding out.

You're in for enlightening experiences. You might discover gold in the least promising places.


Want to master softshells in your own kitchen? We like the simple, traditional recipes best, and the simplest is detailed by Whitey Schmidt in The Crab Cookbook. After you get the basics down (including how to trim them), you can consider his chapter of more sophisticated recipes.

For the last couple of years, we've been experimenting with a new, low-fat take on an old New Orleans recipe. We've now got it just about perfect.

After you've cleaned them, soak the crabs in milk to plump them up (your cats will drink the milk). Toss in a bag with seasoned flour — we like whole wheat pastry flour seasoned with fresh lemon thyme. Shake, spray with olive oil and bake at 425 about four to five minutes on each side. Crisp and so delicious no one will know it's heart healthy.

If you still believe fatter is better, try Maryland Department of Agriculture's luscious recipe.

Clean and dredge in flower. Then fry, 1 tablespoon of butter per crab, in a hot, heavy skillet till reddish brown, about five minutes. Turn and brown underside.
---
88. Get to Know a Bay Animal
Do you ogle over ospreys? Are you perplexed about plankton?

What's your favorite Bay animal? Pick one you like, one you hate, or one you just want to get to know better. Find out everything you can about it.

Will you need special tools for your research? Binoculars work best for birds. If you want to see what's going on in the water without getting your face wet, make an underwater viewer. Cut the top and bottom off a half-gallon milk carton. Cover one end with plastic wrap and secure it with a rubber band. It will work like a magnifying lens for critters swimming or living just below the surface.

Does it swim beyond the surf line? Then a visit to an aquarium might be your ticket to better observation. The National Aquarium in Baltimore and the Calvert Marine Museum in Solomons have live exhibits featuring animals of the Chesapeake Bay.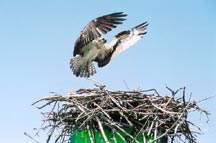 Check out the library. Field guides like David Owen Bell's Awesome Chesapeake and Chesapeake Bay Walk, Zora Aiken's Finding Birds in the Chesapeake Marsh, Kenneth Gosner's A Field Guide to the Atlantic Seashore, or Hildebrand and Schroeder's Fishes of the Chesapeake Bay give detailed descriptions of animals: how they look, where they live, what they do.

Talk to scientists. The Smithsonian Environmental Research Center in Edgewater has guided canoe trips and other hands-on programs featuring Chesapeake Bay animals.

Be a scientist. Get out there. Walk on the beach. Muck in the mud. Take a boat ride. Explore the intertidal zone. Observe. Take notes.
---
89. Crunch Your Way to Demolition Derby Fame
It gives new meaning to the phrase, road rage. If you want to satisfy your desire to ram, smash and crunch to your heart's desire — enter a demolition derby and rid yourself of all your frustrations — legally.

There are rules for a demolition derby, of course, but you can still obliterate the competition using your vehicle as a weapon. In order to drive in the race, you must adhere to rules and regulations.

First, you must be 16, crazed and in possession of a car you don't want to drive home.

Second, before your car meets its fate, it must be stripped and customized to demolition derby standards. To be safe enough and qualify to Crash, V-Room, Screech, Bam! a car must have a hardtop; all glass, special bumpers and trailer hitches must be removed; radiators must remain in their original positions or taken out, all doors must be fastened shut; hood and trunk must be wired in six places; front doors must be painted white with numbers, and gas tanks must replaced in front of the rear axle.

Still interested? Every year the demolition derby comes to the Anne Arundel County Fairgrounds. This year, however, they have already crashed, crunched and smashed thru Chesapeake Country. But don't fret. If you're curious, try checking out other demolition derbies in Maryland. You'll have to drive a little, but it's well worth it.

The Montgomery County Fair will have three nights of derbies; August 15, 18 and 19. The Frederick County Fair hosts a demolition derby on September 20.
Size up the competition, prepare your car and you'll be all ready for destruction when Anne Arundel's demolition derby returns in May '04.
---
90. NJFK: Take an Insect Safari
You can thank the Bay waters for that mosquito that just landed on your arm and is getting ready to stick her nasty proboscis into your nearest vein. Many of the bugs you see flying around and landing on your skin for a quick bite grew up in the Bay and its surrounding wetlands.

The next time you're at the water's edge, go on an insect safari. Take a small dip net and a collecting jar. You might want to wear your galoshes. Turn over some rocks and look carefully at grass stems that stretch underwater. Chances are good you'll find some teenage insects or insect homes.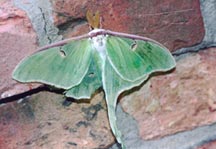 The larvae or teenage stage of mayflies, dragonflies and damselflies, mosquitoes and caddisflies all cling to rocks or leaves underwater. Mayfly, dragonfly and damselfly larva have similar shapes, with head, thorax and abdomen; all but the dragonfly have feathery appendages coming out the back.
Mosquito larvae are about one-half inch in length and have feathery hairs coming off all sides. They have a breathing tube, so they are found near the surface. Caddisfly larvae make funky homes of sand grains, twigs or stone that they carry with them.

When they become adults, these insects lay their eggs in any standing water, so be sure to empty buckets and put away anything around your home that collects water or you'll have a mosquito breeding ground.

What else can you find? Bugs with fascinating names like water strider, water boatman and diving beetles live in still waters. Catch some in your jar with some water and watch them swim around or a while.

Be sure to return them to their homes. Many fish and birds call them dinner.