---
101 Ways to Have Fun on the Bay 61-70
61. Save a Turtle
The Eastern box turtle is a beauty: four to six inches long with a high, domed shell that's usually dark brown with orange or reddish blotches that form an eye-catching pattern. Unfortunately, we see them most often when they're headed for trouble.

Crossing roads is natural for turtles. Nobody told this ancient, slow-growing species that roads were coming to fragment their habitat.



Roads are also deadly. Road kills are one reason North American box turtles are listed as a threatened species by The Convention of International Trade in Endangered Species of Fauna and Flora. Threatened means that the loss — by traffic, pet collection and so on — of just one adult box turtle from a population each year or two will doom that population to eradication in the not too distant future.

If you are lucky enough to see a box turtle wandering the woods or on your property, please leave it untouched. Simply enjoy it — and realize that nowadays fewer and fewer people have such an opportunity.

If you find one crossing a road, help it to the side toward to which it's headed. Many researchers feel that moving a turtle to a distant site simply dooms the animal to begin searching for its former home, multiplying its likelihood of encountering highways and other hazardous areas.

Most importantly, exercise caution when driving along rural, wooded areas particularly in the mornings, evenings and after rainstorms. By this simple act, you can contribute to the future of this remarkable species.
---
62. Build a Sundial
Get a whole new perspective on the phrase sun worshiper. Work on your tan and learn about marking time while building an analemmatic sundial.

This is the basic plan for an informal analemmatic sundial, built flat on the ground in an elliptical shape. The east/west axis will be about twice as long as you are tall (say 10 to 12 feet). The north/south axis is shorter.


Minimum Supplies: 24 12-inch patio pavers; white paint and brush; sticks, stones and string.

Preparation: Find out where on earth you live. Start with your zip code and go to the US Census Bureau website to find your precise latitude. Crofton, for instance, is at 39.011ºN.

Go to The British Sundial Society website (www.sundialsoc.org.uk) section for beginners, put in your latitude as directed and download a simple paper version of an analemmatic sundial specific to your latitude.

Go to Frans' Sundial Site for photos of an analemmatic sundial that Frans Maes of the Netherlands built in his garden as well as his collection of sundial photos and information from all over the world (www.biol.rug.nl/maes).

Looking north, stand roughly in the center of your proposed site on a clear dark night. Find the North Pole. Start with finding the Big Dipper. The two stars on the front of the dipper (away from the handle) point to Polaris, the North Star, the bright single star that holds the center of our night sky.

Lay a row of stones or a long stick on the ground pointing to Polaris. This is your north/south axis.

Build the sundial:
Scale-up your analemmatic sundial print-out to real size. Simply put, 1 inch (on paper) = 2 feet (on the ground).
By day, lay another row of stones or a long stick directly across the north/south axis to point east/west. Make this line as long as the widest part of your dial.


Put sticks into the ground at both ends of the east/west axis and stretch a taut string between the sticks. Do the same for the full length of the north/south axis.


Place the hour markers according to your scaled-up plan.


Paint hour numbers in white.


Place the date markers according to your scaled-up plan.


Paint the month names in white.
Now, all you need is some sunlight and your own body. The shadow-casting pointer in a sundial is called a gnomon (say NO-mon) and you are it.

Take the time test:

Stand on the marker for the correct month, hold your arm straight up and note where your shadow falls. Compare with a clock.

Trouble shooting:
Why doesn't my sundial agree with my clock? The British Sundial Society answer is, Probably, it's the clock's fault.

Sundials rarely agree exactly with clock time, sometimes running behind or ahead. It has to do with the difference between local apparent time and mean time. For instance, Portland, Maine, has the same time as Cleveland, Ohio, which is the same time as Crofton, Maryland — just now Eastern Daylight Time, which is based on the 'real' time midway across the time zone. This standardization makes it easy to be on time for your plane, train or job. But the sun doesn't care about that.

Luckily, Bay Country is not far from the center of the Eastern Time zone, just west of Cape May Point. That puts us off the mark by only three minutes. The hour is due to daylight savings time.

To double-check the local apparent time, look for sunrise and sunset times in a local paper. On June 3, the sun rose at 5:41 in Crofton and set at 8:26. Estimate the time mid-way. I make it 1:03pm for the local apparent noon time.

Finally:
If you haven't retreated behind dark glasses or a cold drink in a dark barroom, you're ready to go on-line and get started. There's information for experts as well as amateurs.
---
63. Dig History
Each year archaeologists uncover new evidence of Maryland's past. Often they invite the public to watch or even join in. Here are four places in Chesapeake Country to dig history:
Historic St. Marys City: 800/762-1634.
Explore Maryland's first capital, a state historic park on the banks of the Patuxent River in St. Marys County. Watch archaeologists uncover historic buildings and artifacts dating as far back as 1634, as well as Indian artifacts thousands of years older. You can tour archaeological excavations throughout the summer. Any time you visit you can chat with costumed interpreters; check out the reconstructed sailing ship the Maryland Dove, see a reconstructed 17th-century plantation, tavern and state house and walk through a reconstructed Indian village. T-Su 10am-5pm.

For hands-on archaeological activities, visit during Tidewater Archaeology Weekend, July 26-27. $7.50 w/discounts. Prepare to get dirty!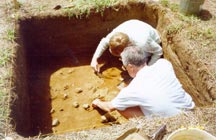 Jefferson Patterson Park & Museum
10515 Mackall Rd., St. Leonard: 410/586-8501 • www.jefpat.org.

The park encompasses scores of archaeological sites in nearly a square mile of fields and wooded shores along the Patuxent River in Calvert County, including Indian sites dating back millennia, plantations of the earliest colonists and house sites of enslaved and free Africans. The park staff and volunteers research these sites, as well as the naval engagement in the Patuxent River that preceded the British invasion and burning of Washington, D.C., during the War of 1812. free: T-Su 10am-5pm.

Tours of the Smith St. Leonard archaeological site are available this season for a look at the exhibition and area's cultural and agricultural history. Opportunities, by arrangement, for archaeological fieldwork are available through July 5 (Tu-Sa 10am-3pm) and for laboratory work the year round (M-Sa 8am-5pm). Contact: Kirsti Uunila, 410/586-8555. Rt. MD 2/4 to Broomes Island Rd. to Mackall Rd.
London Town Historic Park
839 Londontown Rd., Edgewater: 410/222-1919 • www.historiclondontown.com.

This National Historic Landmark overlooks the South River, just 10 minutes south of Annapolis. Visitors tour a mid 18th-century brick mansion, expansive gardens and an outdoor archaeological exhibit of an early 18th-century tavern. M-Sa 9-4pm, Su 12-4pm.

Anne Arundel County's archaeology team conducts excavations on site once or twice a week, inviting the public to participate. Public dig days are one Saturday each month, 9am-2pm: July 12, August 9 and September 6. Reservations must be made in advance to participate.

Call Erin Piechowiak to volunteer in the field or laboratory during the week: 410/222-7441.

Historic Annapolis Foundation/University of Maryland
Dr. Tom Cuddy: 410/626-1032
This two-decade-old collaboration between the University and the Foundation welcomes visitors at four historic sites in suburban Eastport, twice as many as last year, on June 20-21 and 27-28 from 9:30am-4pm. The archaeological team has studied the yards of 102 Chesapeake Ave., 201 Chesapeake Ave., 127 Chester Ave. and 512 Second St. and will gladly share what it has learned through free walk-on tours guided by UMD students active in the excavation.
---
64. Bike the Bay and Beyond
Picturesque seaside towns, wooded countryside and rural tobacco farms are just some of the hidden Bay country treasures awaiting your discovery. But whizzing by at 60 miles an hour is not the best way to see these gems.

Hop on a bike, though, and you'll be pleasantly surprised to see what you've been missing.

Chesapeake Country offers some of the best cycling in Maryland. Plenty of documented bike routes offer rides averaging 15 to 50 miles. Many of these are short loops that can be joined with other loops for a longer ride.

In Anne Arundel County, tour Annapolis. Safer and exhilarating is the woodland to river trail through Quiet Waters Park in Annapolis. Bike into the park and avoid the parking fee.


Inland at Severna Park, you'll find the start of the B&A Trail Park, a wide, paved biking/hiking path that runs through scenic woods up to Baltimore Washington International Airport. Park and rides give easy access and the trail makes for a safe ride away from traffic. And, in case of any mishaps, several bike shops sit near the trail.

For flatter terrain, try the Eastern Shore. A popular and ambitious pedal is St. Michael's to Tilghman Island for lunch and back. Don't want to get well into the double digits? Confine your tour to Tilghman Island where the scenery's great and the roads are nothing so crowded as at St. Michael's. Or bike off the beaten path through Blackwater Wildlife Refuge, which, seasonally, is full of waterfowl.

Just north off Interstate 95, on the edge of Baltimore and Prince George's Counties lies one of the best mountain biking trails in the entire Washington/Baltimore corridors — Patapsco Valley State Park.

When setting out on a cycling adventure, whether it's mountain biking or road riding, it's important to remember some key safety tips:
Always wear a helmet — better safe now than sorry later.

Ride with someone for safety.

Avoid heavily traveled roads; traffic is a biker's biggest danger.

Use roads w/bike lanes.

Bring water or a sport drink; drink before you feel thirsty.

Carry a map.

Bring snacks, extra money and identification.

Let someone know your plan for your trip.

Keep your bike properly maintained.
Beginning and experienced cyclists alike find guidance in Family Bicycling in the Washington-Baltimore Area by John Pescatore, whose book provides 35 short routes for the entire family and includes maps. Mountain Bike: Washington-Baltimore: An Atlas of the Washington-Baltimore Area's Greatest Off-Road Bicycle Rides by Scott Adams and Martin Fernandez will satisfy the adventure cyclist in you. 25 Bicycle Tours in Maryland: From the Allegheny Mountains to the Chesapeake Bay by Anne Oman offers specific bike tours that will take you through Chesapeake Country and beyond.

Cycling is great fun and exercise. So take a break from your hectic summer schedule and enjoy a relaxing or adventurous bike ride.
---
65. Take a Ride on the Wild Side
What could be better summer fun than twirling on a carousel, looping and diving on a roller coaster, cooling off at a water park and pigging out on funnel cake? You'll find all this and more at Chesapeake Country's own Six Flags America, in Largo.


In this era of roller coaster mania, amusement parks battle to outdo one another, adding new rides with each new season, and Six Flags has shone since the days when the park was known as Water World and later Adventure World. Newest of the attractions is the Penguin's Blizzard River, the world's tallest spinning rapids water ride, for two minutes 41 seconds of thrill.

Also popular is Batwing, a face-down flight lasting more than two minutes with top speeds of 50 miles per hour. Another is the Joker's Jinx, which rockets you forward to 60 miles per hour in three seconds! And don't forget your swimsuit and towel as admission gets you access to Six Flags' giant water park, complete with giant slides, wave pool, meandering river and more. ($35.99 w/discounts; $9 parking: 301/249-1500).

Farther afield, visit Paramount's Kings Dominion outside of Richmond (804/876-5000), Busch Gardens in Williamsburg (800/772-8886) or Hershey Park in Hershey, Pennsylvania (717/534-3911). And if you're at the beach, hon, don't pass up Ocean City's ocean pier and boardwalk-end amusement parks. The classic carnival atmosphere boasts midway games, a tall Ferris wheel, small mobile roller coasters, kiddy car rides and more (800/oc ocean).
---
66. Catch Movie Madness by Moonlight
It's a different kind of nostalgic fun when movies come out into the fresh summer night. For this rare treat, you've got choices locally and in Baltimore.
\Kinder Farm Park shows free flicks on July 11. A smorgasbord of family fun will start at 6pm, with The Wild Thornberries on screen at 9pm: 1001 Kinder Farm Park, Millersville: 410/222-6115.

For a real old-fashioned drive-in, catch an outdoor flick on the East Coast's largest movie screen at the historic Bengies Drive-In Theatre, 3417 Eastern Boulevard, Baltimore, just past Martin State Airport. Features, showtimes and house rules? 410/687-5627 • www.bengies.com.

Baltimore's Little Italy Open Air Film Festival brings — what else? — Italian movies outdoors every Friday from July 11 thru Aug 29. Live music opens the evening at 7pm followed by 9pm movies. The seats are free (lawn chairs welcome), and the show is shown on a draped wall of the neighboring restaraunt. The shows are popular; arrive an hour early for good seats: 410/528-1096 • www.amiccis.com. Ci vediamo al cinema! See you at the movies!
---
67. Barbecue
When the going gets hot, hot chefs go outside and barbecue.

This ain't grillin' burgers or hot dogs over flaming coals. This is a drawn-out, precise science, perhaps more an art, where low temperatures and slow cookin' turn ordinary pork, beef or chicken — there are even those that barbecue shrimp and other seafood — into the tenderest, juiciest, most mouth-watering food you'll come across.

If you've got a smoker, you're ready to go. But even if you're using a covered charcoal grill — like a Weber kettle — you can barbecue. Gas grill? Forget about it.

The Golden Rule of barbecue defies the adage "where there's smoke there's fire." If you see flame, you're not barbecuing, you're ruining good meat. The goal here is to produce smoke, keeping the temperature as low as possible and keeping the cooking chamber moist. The longer you smoke the meat, the more flavor it absorbs. The lower and wetter the heat, the moister your barbecue.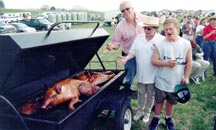 Getting your smoker or kettle grill smoking is the first step. Start with either wood chips or small pieces of wood, ideally hickory, mesquite, cherry, apple or any fruit or nut wood. Stay clear of soft woods like pine or spruce that will leave your food coated in creosote. Soak your wood in water at least an hour; better yet, overnight.

When it comes to firing up the smoker or the kettle, don't use too much charcoal. In a kettle grill, set a baking pan filled with water on the lowest rack and surround it with charcoal. A couple dozen briquettes should be enough. Smokers have separate chambers for charcoal and water. Fire up the charcoal, let all flames burn out and, once the briquettes are gray with ash, close all but one vent. Your ideal barbecue temperature is between 200 and 300 degrees — the lower the better. Set one-fourth your wood chips over the charcoal.

Now you're ready to barbecue.

You've lots of choices and boundless room for experimentation. What sort of meat do you want and what sort of sauce do you want on it? A Texas-style beef brisket served "dry" with no sauce? A Carolina-styled pork with vinegar sauce? Kansas City spare ribs smothered in a sweet-tangy sauce? Chicken smoked and rubbed down with herbs?

Whatever meat you choose, there is no rare in barbecue. You're striving for tender, juicy flavor, and the longer your meat's smoking, the more of these qualities it will have. Allow at least three hours for ribs. Slow-cooking chicken needs at least three hours to kill any salmonella strains and at least four hours for meat so tender it falls off the bone. For pulled Carolina-style pork, at least six hours. For Texas-style beef brisket, you're looking at 10 hours!

You can turn your meat once or twice every hour, but don't worry, the smoky flavor will pervade. Add charcoal as needed to maintain your heat. Add the remaining wood chips in stages to keep things smoking. Don't let any flames fire up.

While your meat's smoking, get your sauce. Many bottled sauces are modeled after those of famous barbecue joints and they hold their own. Or you can experiment. Most sauces are based on ketchup and honey, molasses or brown sugar and varying degrees of spice. Carolina style sauce is vinegar with pepper flakes and seeds floating in the mix. Baste your meat regularly, and, if you like, soak the meat in your sauce when the smoking's over.

Now you're ready to cool off and dig in
---
68. Go Antiquing
The Chesapeake region was home to some of the first settlements in America. So what better place to hunt for some old-time treasures? Meander through the past while treating yourself to long, happy, intense hours of rummaging in Chesapeake Country's rich trove of antique shops.

Wander down historic Maryland Avenue in Annapolis and discover the many antique stores clustered there, or venture over to browse at several shops on or near West Street. At the edge of town on West Street almost to Solomons Island Road, check out high-end Ron Snyder Antiques and Annapolis Antique Gallery.

Stuck on Rt. 50 in traffic waiting to cross the bridge? Featherstone Square Antique Mall and Collectibles, an easy off-and-on at Exit 30 or 31, stays open late for an antique store (until 7pm Su-Th and 8pm Fridays and Saturdays) and offers 30,000 square feet of antiques and collectibles.

In South County, head to Galesville to explore Genuine Old Stuff, Rowland Antiques on Main Street. Continue your antiques tour through Deale on Rt. 256, which is peppered with antique merchants. The new Williamson Antiques is lots of fun.

Calvert County is fine antique country, boasting over 30 antique shops. An energetic shopper can visit most of them in a day. See the Bay glisten in the background while exploring the wares of the North Beach/Chesapeake Beach antiques dealers. In particular, don't miss the quartet of shops at the corner of Bay and 7th in North Beach: Nice and Fleazy Antiques (a historical anchor for a quarter), Willetta's Antiques, Bay Avenue Antiques and Chesapeake Antique Center.

Cruise south on Rt. 2/4, turning into old town Huntingtown and find Vintage Annie's. Just down the road, stop at Southern Maryland Antiques Center. All the way down, you'll find more stores and excellent views: Grandmother's Too and Island Traders among many, at Solomons and Grandmother's Store just above Solomons on Dowell Road. Finally, on the way back detour into Lusby to visit Dodson's on Mill Creek or into St. Leonard to take in the expansive Chesapeake Marketplace.

As a side trip, head over to Bowie to the Maryland Clock Company, where you can buy new and antique clocks or get a clock repaired. You'll love the tick-tock chorus.

Whether you're a collector, a bargain-hunter or just a browser, you'll have fun antiquing in Chesapeake Country.
---
69. Hop a Hog
You probably caught the itch on back of a bike: Speed and sound blurred. Thoughts blowing by in the wind. Peripheral vision of cars, trucks, green trees and roadside weeds whizzing by.

When it's time to move to the front, you'll find that buying a motorcycle is not like buying a new car. You don't always get a chance to test-drive it before you decide to buy.

To get the chance, you'll need your license. Stand in line. Seems everybody's wanting one, nowadays.


First step is MVA's motorcycle safety program. For $100, you get 15 hours of training on and off an MVA-supplied motorcycle. (Courses fill up months in advance: 800/638-1722 • marylandmva.com/MVAprog/moto.) Harley-Davidson of Annapolis also offers daily classes, which also fill up fast: 410/263-3345.

Topics covered include risk awareness, acceptance and management; protective gear; pre-ride inspection and motorcycle maintenance. Next come riding skills, safety rules and signals. After that, street strategies teach positioning the motorcycle, becoming visible to other drivers, braking and swerving, as well as common and special riding situations. There's a test at the end. If you pass, you can get your license.

Add a helmet, don long pants and proper shoes and you're ready to try for a demo on the bike of your dreams.

Annapolis Harley-Davidson is unique in offering weekday demo rides. Other big dealers have demo days. Check out the yellow pages for a dealer of your choice, speak to the manager and ask about dates.

Now you're ready to sit in front as you ride on the wild side.
---
70. NJFK: Build a Treasure Box
The kid in all of us loves to collect treasures. It's easy to do because treasures are all around us. Find a box, like a shoebox or one of those plastic boxes from the dollar store. Decorate it with stickers, paint, a collage of summer pictures or any other way you like it. As you add memories of summer's adventures to your life, add treasures to your box. Seashells from the beach trip, sharks' teeth from the Calvert County shore, interesting rocks found on a hike. Include ticket stubs from a movie seen with friends or a brochure from a historical home visited with your family. Keep the box and its contents forever as a special memento of your summer. And in the dark of winter, open it carefully and enjoy the remembrance of hot summer days.