---
101 Ways to Have Fun on the Bay 91-101
91. Hop a Water Taxi
How many times have you stood on one side of the creek, river, Bay — and wanted to be on the other?

You contemplate the vast amount of water lying between you and your goal. You don't have a boat, and even if you did, you're not a captain at heart.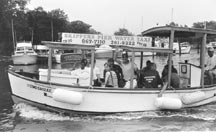 Don't despair. You can cross to the other side. Just hop aboard a Chesapeake Country water taxi. Enjoy the cool breezes, take in the sights and sounds and leave the driving to somebody else.

In Annapolis, Jiffy Water Taxi will taxi you about or show you the sights. Board a taxi at City Dock every hour. Call to get picked up at Back Creek or another location on demand. 9:30am-11pm M-Th; 9:30am-1am F; 9am-1am Sa; 9am-11pm Su . Rides range from $2 to $4.50 per person depending on the destination: www.watermarkcruises.com

Deale boasts a free taxi to carry you from point to point (even to your own boat, if you wish) through its nifty harbor. Board at Happy Harbor 4-9pm F; noon-10pm SaSu. Tips let Capt. James Carney or 1st Mate Judy Carney know if you enjoyed the ride — and keep this taxi running. Contact the taxi through radio or phone: CB Channel 21, VHF Channel 68, 410/703-1361.

At St. Clement's Island-Potomac River Museum, you can visit the very spot where Maryland's first European settlers landed. Visit the tiny isle on weekend water taxi trips (noon-4pm; $5 w/age discounts) or tour the mainland museum for insight on how we got started (9-5 M-F, noon-5 SaSu @ Colton's Point in St. Mary's County; $1: 301/769-2222).
---
92. Clean Up as You Go
When you enter a state park nowadays, they'll give you a trash bag and tell you to take out everything you bring in.

Why not bring this good lesson home? Wherever you walk or visit in Bay Country, pick up some trash and take it home for proper disposal. Tie a trash bag onto your stroller or kid's wagon, or stick one in your hiking backpack. Keep an extra trash bag in your car. Don't be afraid to pick up trash, but be cautious and teach children to be careful. Never pick up something that could be risky to your health.

Separate the recyclable trash: cans, bottles, papers. Throw out the yucky stuff. You'll feel good, and our environment will look good. Everyone will benefit, even the thoughtless fools who throw all that junk out of their car windows.
---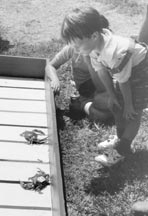 93. Savor a Maryland Seafood Festival
Summer seafood feasts have been a part of Chesapeake tradition for generations, so it's only natural that the Bay area hosts over a dozen big seafood festivals between now and summer's end. Treat your palate to steamed crabs, soft-shell crabs, crab cakes, crab soup, crab balls, shrimp, fish, clams, pit BBQ, sausages, corn on the cob, watermelon and more.

July 16: Indulge in all-you-can-eat crabs, clams, fried fish, French fries, watermelon and more at the ever-popular 27th Annual J. Millard Tawes Crab & Clam Bake. 1-5pm @ Somers Cove Marina, Crisfield. $30; rsvp early: 800/782-3913 • www.crisfield.org.

July 26 & 27: Feast on the Bay's 'beautiful swimmers' at Chesapeake Bay Maritime Museum's Crab Days 2003. Indulge in crab cakes and steamed crabs plus crab racing, chicken necking, trotlining, live music, kids' fun, boat rides and more. 10-5 @ the museum, St. Michaels. $10: 410/745-2916 • www.cbmm.org.

August 1: Enjoy heaps of all-you-can-eat steamed jumbo #1 crabs, crab soup, beef barbecue sandwiches and more in time-honored Annapolis fashion at the 58th Annual Annapolis Rotary Crab Feast, touted as the world's largest. 5-8pm @ U.S. Navy-Marine Corps Memorial Stadium, Annapolis. $45; $15/kids 6-12: 410/841-2841 • www.annapolisrotary.com.

August 23 & 24: Frolic at a beach party, enter a crab cake contest and treat the kids to a pony ride and more at the North Beach Bay Fest. noon-6:30 @ Boardwalk, North Beach: 301/855-6681.

August 29-August 31: Pick and feast at the 56th Annual National Hard Crab Derby & Fair. Includes crab races, beauty pageant, parade, boat racing/docking contests, carnival, fireworks and more. 6-9pm F, noon-9pm Sa & Su @ Somers Cover Marina, Crisfield. $4; $2/kids 12 & under plus what you eat: 800/782-3913 • www.crisfield.org.

September 6-8: Enjoy various seafood delights, nonstop musical entertainment and arts and crafts plus more for the kids at the Maryland Seafood Festival. 11am-8pm @ Sandy Point State Park, Annapolis. $8; $2/kids 7-12 plus what you eat: 410/268-7682 • www.mdseafoodfestival.com.

Check Bay Weekly's 8 Days a Week for listings of smaller or spur-of-the-moment feasts. For a more complete list of Maryland's seafood festivals, log on to the Maryland Department of Agriculture's 2003 Maryland Seafood Festivals calendar at www.mda.state.md.us/aqua/fests03.htm.
---
94. Stroll Thru a Garden
Soak up the fragrance and weave your dreams in a garden.

Head first for a MaryLandscape, a Bay-friendly garden of native plants. These plants require little maintenance, watering or chemicals, so there's less harmful runoff in Chesapeake Bay. They're smart as well as good looking.

You also find them throughout Annapolis. Comptroller William Donald Schaefer helped dig a Bay garden at the State Treasury Building on Calvert Street in Annapolis. Other Bayscapes front Maryland Hall for the Creative Arts (801 Chase St.); at ARC (931 Spa Rd.), you'll find a garden planted to appeal to all the senses. Visit these gardens whenever you like.


Gardens serve many purposes. Get a glimpse of authentic colonial gardens at the William Paca Garden in Annapolis, which celebrates its 30th anniversary this year. Two lush acres feature terraces, a fish-shaped pond and wilderness garden. On this self-guided tour, you can stroll as long and as slow as you want. Visit daily 10-5pm or Sundays noon-5pm (410/267-7619).

Get out of the city in seconds at Tawes Garden, a five-acre botanical sanctuary hidden in the Tawes State Office Building, where Maryland Department of Natural Resources is housed. The gardens re-create the flora of every region in Maryland, from the Eastern Shore peninsula to Western Maryland forests. (Open daylight hours; enter by the DNR lobby on work days; follow an outdoor path when DNR is closed: 410/260-8189 • www.dnr.state.md.us.)

South of Annapolis, in Edgewater, walk the rolling slopes of Londontown Gardens for another lovely experience in the intimate relations of perennials — many from colonial times — and trees. Daily 10-4:30pm. $2 (410/222-1919).

To spice up nature with art, take a Sunday drive farther south to Annmarie Garden on Dowell Road in Solomons. Sculpure blends into woodlands and open lands in outdoor gallery. Admire the design daily 10-4pm (410/326-4640).
Don't overlook your own garden, or a friend's. So much beauty and solace is to be had at home that Annapolis Horticulture Society hosts seasonal open garden days (membership only $15; get info from newsletter editor Judy Thompson at [email protected])
---
95. Write a Story; Think of Bay Weekly
Do you have a way with words and an ear for the issues important to your community? Consider sharing your talents. Bay Weekly is always looking for new voices from Bay Country.

Read our mission statement to find out how we approach the news. Ours is a dream "of people who want more than dismal, doom-and-gloom news and mind-numbing entertainment." Though we don't mind taking a stand, Bay Weekly's goal is "to focus on the good in society and to explore ways to improve our world."

Read our paper to find out what and who we write about. You'll find local and state politics, challenges and solutions to sustaining the environment and ways to play in Chesapeake country. You'll read of the Native Americans, musicians, artists, politicians and interesting characters among us.

You'll find critters of the land, sea, sky and household. Movie reviews. Kids' stuff. Places to go and things to do.

You may find opportunity as well. Send your writing ideas with an outline to [email protected]. Follow up with a phone call on Monday, Thursday or Friday: 410/867-0304. But remember, you can't start out as Bill Burton.
t
o the top
---
96. Sit on the Dock of the Bay
Sit on the dock of the Bay. If it's too much work to find a dock, you'll do fine on a deck or in a deck chair. Watch the tide roll away. You know the rest.
---
97. Get Romantic on a Steamy Summer Night
Go ahead and splurge. After a day on the Bay, take a \ break to prepare for a big night out. Shower up, moisturize your skin and put on your summer finest; white is ideal.

Head to that restaurant or crab house where you've always wanted to go. Hold out for a table by the window, then order a tall, cool rum drink to get things going. Chat a bit; you're in no hurry. Stop to see the sun drop off the hazy horizon. Recall last night's dream. Then order something you don't often get and share it with your partner.
I
f you're up to it, call for an after-dinner drink while you talk some more. Leave behind a generous tip and hold hands going out the door. Now take a stroll or head on home. And though it may be late, don't fall asleep.
---
98. Keep Cool, Play Pool
It's a scorcher of a day. You'd love to take a dip, but the Bay is full of jellies and you don't have access to a pool. Tough break.

How about seeing just how tough your break is? Head to your local air-conditioned billiard parlor to escape the heat and practice your cross-corner bank shot. Try Bill & Billie's Q club in Arnold at 1244 Ritchie Hwy. The tables are open 10am-2am Su-Th; 10am-4am FSa. There are time discounts on the $5 per-person per-hour price: 410/544-8185.

There's also Annapolis Billiards, formerly Jillian's in Parole: 3:30pm-2am daily for $10 per hour: 410/841-5599.

For billiards by the Bay, try CB Reef's at Calypso Bay in Tracey's Landing. The games are free and the bar is open every day at 11am till 1:30am WThFSa: 410/867-9787.

Don't break a sweat this summer: play pool.
---
99. Make a Friend of a Watershed
Summer is water-time: swim-time, sail-time, dive-time, go-fish-time. There's another way to get yourself into the water: imagining yourself into its life. This is a good questions-game for rainy days or car-trips. If you start playing it often, even by yourself, it's amazing what you'll learn.

Most of us know the ABCs of the water-cycle: Rain from the skies. Runoff into streams, rivers, oceans … some down into ground-storage. Evaporation back into the air. And round the cycle again. Conservation-wise, we try to fix parts of the cycle where water pulls soil and pollutants with it as it runs off roads and fields into steams and rivers.

But how about the details? You get started by noticing what's happening with water right around you. Is it dripping down (pretty obvious)? Transpiring up? Either way, where is the air-water coming from or going. What's the wind direction? How far away could these winds be coming from? What might they be carrying along with the water (good stuff as well as bad)?


Is there water in the ground around you? Near the surface? How far down? How many layers of water are down there? Did you know that they have names, just like the rivers and Bay? Aquia, Magothy, Piney Point and more. Which way is the underground water moving? Does it flow into the Bay or is it so deep that it goes right under the Chesapeake? If those rivers are down there, why isn't the ground all squishy? How old is the water?

Last of all — let your imagination go. If the amount of total water on the earth has stayed roughly the same over millions of years, pick out five characters who could have interacted with the water near you from any point in history. Could you be drinking water that dinosaurs drank? Feeling rain on your nose that might have been sloshed around by the boots of George Washington or Betsy Ross? Have migrating butterflies flown through it?

There's no end to these questions: Where does the water that drains off the highway really go? The rain that lands in your backyard? Do birds always have enough to drink? How can you read the clouds to tell you about the water they're holding? How tall can Bay waves get? Can you recite a poem about water? What's your favorite painting or photo of water?

When you reach an 'oops, I don't know' point, start asking questions and looking up water-facts and news. Here are a few books and web sites that could help.

Life's Matrix: A Biography of Water, by Philip Ball; Water from Heaven: The Story of Water from the Big Bang to the Rise of Civilization and Beyond, by Robert Kandel; Water … edited by Sara Ebenreck & Tammy Vitale (at www.chestory.org).
---
100. NJFK: Write and Illustrate Your Own
Picture Book
Summertime reading lists may come from school, but you can write and illustrate your own books to add to the list.

Take a trip to your local library and find three different picture books about a subject you're interested in: weather or whales, mountains or myths, faraway places or long-ago times. Read at the library or check books out to take home.
Figure out what you like best: The illustrations? The words or rhymes? Something you learned? Wondering what would happen next and how the story would end?

Then write a story of your own. Take a dozen pieces of plain white paper (construction or drawing paper works best for this). Stack them on top of each other and fold them in half. Now staple along the seam inside the fold. Your book is ready to write!

Tell the story on one side of the page and draw pictures on the other. Use watercolors to wash summertime into your story, or smudge pastels into the colors of the sea. Use crayons, magic marker or finger paint. Decorate the pages with feathers, flower petals or leaves. Cut out pictures from magazines and glue them into your book. Having trouble drawing a monkey or zebra? Tape animal crackers to the paper. Use glitter for sand and stars.

When you're all done, tie a ribbon around it, and share your new book with a friend.
---
101. NJFK: Goodnight Moon
It's not every night you can say Goodnight, Moon. The sun changes its wake-up call only by minutes, so this time of year you can count on the fact that sunrise tomorrow is going to be only a minute or two later than sunrise today. But Luna keeps a far less regular night-to-night schedule and one that changes by larger degrees, hence our word lunatic. In the course of the month of June, for example, Luna's rising times jumped day by day from 23 minutes to as much as 72 minutes. That means much of the time, Luna works the day shift.


This summer, however, all three full moons brighten our skies more or less from evening thru dawn. July's full moon falls on the 13th, when Luna rises at 9:01pm and sets at 6:25am. The 11th marks August's full moon, which rises at 8:21pm and sets at 6:27 the following morning. And September's full moon falls on the 10th, with the moon rising at 7:50pm and setting at 7:29am.

Perhaps you've noticed a pattern. Every 28 days, the moon makes a full orbit around Earth, showing us its full face once again. It's like clockwork, only a lunar clock. In the course of those same 28 days, the moon itself makes one complete rotation around its own axis, which is why no matter when you look at the moon, you're always seeing the same face.

Three full moons await you this summer, and they promise to brighten your evening, providing a familiar beacon leading to the next day's sunrise. So consider this permission to stay up and bathe in moon rays until you fall asleep. Make your last words of the day Goodnight, Moon.