---
101 Ways to Have Fun on the Bay 1-10
1. Good Day, Sunshine
Maybe the sun knows something, getting up so early these summer mornings. You'll have to be an early bird yourself to find out. Summer Solstice, June 21, sees the sun rise seconds before 5:43am, and it does not set until 8:36 in the evening. The longest day of the year, Solstice boasts 14 hours 53 minutes of daylight.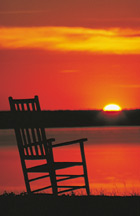 Early risers keeping close track of time may notice the earliest daybreak a full week earlier when the sun rises at 5:42am. Similarly, the latest sunset falls a week after Solstice at 8:37pm. This three-week span is due in part to Earth's not-truly spherical shape and in part to its arching orbit around the sun. A full six months later at Winter Solstice, the phenomenon is more pronounced, causing several minutes difference between latest sunrise, solstice and earliest sunset.

Daylight shifts like a hot commodity, and by July 4 we've already lost five minutes from our morning, so sleep in a little longer before saying, Good Day, Sunshine.

If all this sunlight has you overheating this summer, take solace in the fact that we are actually our farthest removed from the source of that heat, as Earth reaches aphelion — its farthest point from the sun — July 4.

Summer sunrise is early, but it's worth it to be up for the biggest event of the day as Mr. Sol edges above the horizon. By the time he's a flaming orange ball, the pale colors of morning are already hardening. By the time most people get up, the day's colors are sun-bleached into mere shadows of their earliest selves.

We've noticed that even when the day's going to be cloudy, it often dawns brilliant. Even so, it's cool in these early hours, as if every morning were early June. With the world so cool and brilliant, you feel new, too, like you could accomplish not only anything but everything. So when you say Good Day, Sunshine, no matter what else happens, you've gotten the best of the day
---
2. Discover a Bay Beach
Bay beaches lack the great sweep of their ocean cousins. Cut to a human scale, most can be measured in footsteps. They're scarce, too, for nowadays development has closed up most Western Shore waterfront. So when you've found a Chesapeake beach, you've found a treasure.

Bay beaches are most accessible by water. Cruise the shore till you find a sandy, deserted strip. If your boat is big, swim, raft or dinghy in. In kayak or canoe, where you're already close in, help yourself. Beaches belong to all of us up to median high-tide line, but be a gentle, considerate beachgoer.

By land, at the head of the Bay, Elk Neck State Park offers gorgeous beaches. Sandy Point State Park (you'll pay park admission) offers a beach with a view: It's right under the Bay Bridge.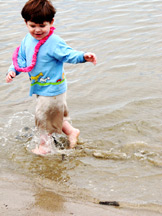 Most mid-Bay public beaches are in Calvert County. The twin beaches boast two public access beaches. At North Beach, you can't miss the beach, behind the boardwalk on Bay Avenue. Out-of-county residents pay $4 (w/age discounts) for a day at the beach plus a per-pole charge to fish off the admirable pier into the Bay. You'll pay to park in the public lot off Chesapeake or Bay avenues.

It's harder to get to the sand and water at Chesapeake Beach's Bay Front Park, but there's a small public parking lot on the eastern side of Route 261 just south of Beach Elementary. Then it's a short walk to the beach.

Farther south, Calvert County offers three ways to reach the water. At all, you'll pay a small admission fee.

Two county parks have beaches. To the north, at Breezy Point you'll find a half-mile of sandy beach plus swimming, picnicking, fishing and camping by tent and RV. (Six miles south of Chesapeake Beach on Rt. 261: 410/535-0259.)

The lovely Flag Ponds Nature Park has not only a substantial beach but also a fishing pier, with easy access for handicapped drivers. It's 10 miles south of Prince Frederick of Rt. 2-4 ($6 w/county discounts: 410/586-1477.)

It's a longer walk to the beach at Calvert Cliffs State Park. Hike 1.8 miles through woods, walk the boardwalk and look down on the work of the busy beavers. Mountain laurel, tulip poplar and sassafras rim the trail that leads you out to the magnificence of the Bay. But don't walk on or beneath the fossil-laden cliffs. They're very unstable (301/872-5688).

Adventuresome beach-goers can trek to the southern extremes of the Western Shore in St. Mary's County. At Point Lookout State Park, you'll find tall pines, fishing areas, campsites, Civil War historic sites and a lighthouse in addition to sandy shores.

If you like what you find on your daytrip, you can pitch your tent at Breezy Point or Elk Neck or Point Lookout State parks.

Where ever you find it, treat your treasure with loving care. Leave no litter behind!
---
3. Charter a Fishing Trip
What better way to learn about fishing than in a hands-on approach from a seasoned angler? Chartering is also a way for those who don't have boats to get on the Chesapeake complex. Prices range upward from $250 for a half day and from $390 and up for a full day. That usually includes six fishermen so you can share the cost.

Many charter boats are called Six Packs because they're limited to six fishermen, so don't on the spur of the moment invite a seventh unless you know the charter boat you have booked is licensed to carry more than six. The skipper cannot bend the rules; it's a strict Coast Guard regulation.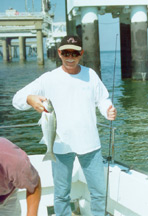 When on a charter boat, pay attention. Observe and learn from what the captain and the mate (most charter boats have mates to assist you) does. Don't be afraid to ask questions, but don't ask for GPS locations when fish are found. Every skipper has his own honey holes and wants to keep them to himself.

A charter trip or two will prepare you for fishing from your own boat, even if it's a rag mop. Also, charter skippers know where fish are, and they talk to each other and help each other. Chartering can't be beat for locating fish — and you're the one to catch them.

In this watery part of the world, you've hundreds of boats and captains on both Bay shores to choose from. How can you make sure you get all you hope for from your day on the water?

Browse boats and captains on-line as well as at the dock. The Maryland Charter Boat Association (www.marylandcharterboats.com) lists more than 300 charters around the Bay. Or browse by location.

In our part of the Western Shore, Fleets of charter boats go out of —
Ask friends to recommend captains they've fished with. We know from experience that not every boat is as comfortable (you'll want a private head, especially if women are in your party) or captain as pleasant as the top of the line.

Weekdays are the best bets, for there's less crowding at the fishing grounds.

When you make the call, ask what you'll be fishing for (or you can express your preference) and how many fishermen can board (some smaller boats only accommodate four anglers). Ask what you should bring and what the captain supplies. Find out before you set out what you'll do if you catch your limit of the fish of the day — head for port or fish for other species.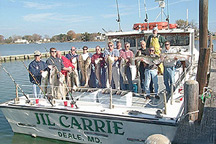 Realize that when the skipper or fishing center stipulates a certain time, that is an order. Much fishing is planned on time of day and tide, and a skipper who starts out late because you are will not be a happy camper. Any problems en route, call ahead.

If you can't find five other people to fish with you, call to ask if 'make-up' parties are available. These lump anglers like yourself together to fill the roster. Many a long-lasting friendship has been made this way.

If you like a crowd but hate planning, book passage on a head boat. Carrying up to 100 passengers, these fishing party boats will get you onto the water for a half day, a day and often a night — with a fishing rod in your hand and bait for its hook. Try the Marchelle out of Bunky's at Solomons (7am & 1pm daily plus 6pm F & Sa: 410/326-3241), Tom Hooker or Lady Hooker out of Rod 'n' Reel (www.rodnreelinc.com); Vamp IV out of Happy Harbor in Deale (301/725-0412).

---
4. Get Cool in the Pool
Beat the summer heat in the cool of a pool. You don't have to worry about undertow or fiesty crabs, and there's always a game of Marco Polo or water volleyball just around the corner.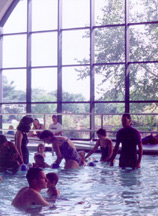 For a tan while you swim, try the Paradise Island water park at Six Flags America in Largo, where you won't be bored with the 12 different water activities. ($69.29 season pass: 877/941-4FUN; www.sixflags.com/america)

Chesapeake Beach Water Park, a local favorite, features two big water slides, water volleyball and a children's activity pool (11am-8pm; $8 members, $14 out-of-county w/local discounts: 410/257-1404).

Chill out in Calvert's outdoor public pool at Kings Landing Park in Huntington (1-7:45 daily; $3 w/ discounts: 410/535-3321).

For an indoor swim, try the Arundel Olympic Swim Center on Riva Rd. (M-F 6am-4pm and 8-10pm, Sa 8am-8pm, Su 10am-6pm; $4 w/discounts: 410/222-7933).

---
5. Keep a Summer Journal
There are plenty of reasons not to keep a journal. There's no time; when there's time, you're too tired; your life is not interesting enough. Besides, you can't write well enough.

There are three reasons why you should keep a journal:
The present. Writing down a few events, or a few favorite recipes each week will help you appreciate the richness of your life in both its joys and sorrows. Writing something down helps you to think more clearly about it. Writing has even been known to help smooth out your feelings.


The future. Jotting a few notes today will make you chuckle with remembrance later. I remember that pie, you'll say. It's the best one I ever made.

Or, that was the worst day of my life. I was so mad at those goats.


The far future. Your children and grandchildren will get a kick out of it. Look, they'll tell each other. Here's grandpa's recipe for those pancakes we used to love so much. Or, I didn't know Mom thought I was smart. I only remembered that she yelled at me to clean my room.
As for interesting:
Many of the pleasures of Chesapeake Country are as seasonal as peaches. Do you eat them? Put them in a pie? What's your favorite way to eat them? Peach ice cream? What brand? How much can you eat at one sitting? Wouldn't you like to know what ice cream or pie your grandmother liked?

Some of the best times of day are early morning and late on a summer's evening. Which is your special time? How often do you sit out on the deck or the dock on a winter's evening and watch the sky fill with stars? What color was the sunrise this morning? How did you feel as the sun peeked above the horizon?

Summer fireworks are special whether you sit out on a dark pier with everyone in the neighborhood or watch in solitude from the back of your fishing boat. What did it sound like from your location? How did the crowd respond? How many ohhs and ahhs did the display rate? Was there music? Were you reminded of fireworks from your childhood? What was different then?

Pleasures of the garden's vegetables and flowers, the fish or crabs (or lack of crabs), the deer that ate the tops off the hostas, the day the cat got caught in the fly paper – these are the memories to warm you in winter. Don't trust your brain to store them. You need a stronger jar. Write them down, whether on computer or in your desk calendar in one of those lovely blank books you're always wondering what to do with.

Write about what you like best and what makes you mad. Write of tastes and smells and colors and moods. The secret is in the writing. Keep your book nearby, or make a special time. Your thoughts will trickle down to your fingers and spill out onto the page. Soon, you'll be surprising yourself at the beauty of your words and the sharpness of your insights.

Make words out of your summer. Make words for the present and presents for the future.
---
6. Eeww, Aaah, Oooh — Fireworks!
Chesapeake Country is the place to be for Independence Day. With many patriotic small towns and American landmarks, you can easily immerse and revel in the celebration of America's independence.
July 3: Getting a head start is Rod 'n' Reel Restaurant's always ambitious show, fired off from Chesapeake Beach's twin jetties. The boardwalk offers great views, as does the boardwalk in North Beach (301/855-8351). Today, too, the Bowie Baysox light it up after their home game against the Akron Aeros (301/805-6000 • www.baysox.com).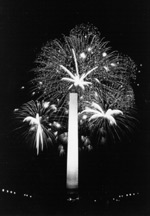 July 4: On the big day, the Chesapeake is set aglow illuminating Annapolis' stretch of the Severn River from the U.S. Naval Academy (410/293-2291). Boaters get a great view from Annapolis harbor; landlubbing alternatives are Dewey Field and Hospital Point at the Academy or any street-end park facing Spa Creek.

Bowie's city celebration lights up Allen Pond Park (301/262-6200 • www.cityofbowie.org).

Fort Meade's McGlachlin Field hosts MeadeFest 2003 where the 389th U.S. Army Band serenades everyone, culminating in their fireworks display (301/677-6111).

Galesville (410/867-1215) and Solomons (888/580-3856) both serve up fireworks over small-town waterfronts.

In Galesville, flip open your lawn chair and settle in along the West River waterfront (410/867-2648). But come early, Main St. closes to traffic starting 6pm. Parking is $5/car on the athletic field at Anchors Way and Main St.. The spectacle is just as popular by boat, anchoring in the West River.

In Solomons, come by land or by sea to see the fireworks when the begin at dusk.

A short trip outside of Chesapeake Country, Baltimore lights up the Inner Harbor (410/837-4636 • www.bop.org). And Washington, D.C., boasts a celebration worthy enough to take place in the nation's capital, coloring the skies over the National Mall in a patriotic climax with Washington Monument as a backdrop (202/619-7222 • www.nps.gov/nama/events/july4/july4.htm).
July 5: The fireworks still aren't over. You can catch one last show at Herrington Harbour South, where they shoot off rockets from Rose Haven's side of Herring Bay (301/855-8435).

All pyrotechnics start at or after dusk and most are preceded by parades, concerts or other fanfare. As always, 8 Days a Week supplies timely, detailed updates.
---
7. Throw a Crab Feast
Good friends, hot crabs and cold beer — soda pop for kids — are what summer's all about on the Bay. That's truer than ever this year, when crabs are scarce and expensive.

We'll assume that you've got some friends and know where to pick up your beer and pop. But where to get the crabs and what to do with them?

Whether you catch your own crabs, buy them dockside from a waterman or purchase them at a seafood mart, eating them is the best part.

To prepare for your feast, make sure you have on hand plenty of butcher paper (or old Bay Weeklys) to cover the tables, paper towels to wipe your hands, spices and vinegar to perk up the flavor, crab mallets and maybe little crab knives and forks.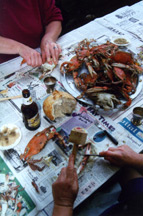 Cooking crabs is easy, although handling the pinchy fellows can be a scarring experience, even with thick gloves and tongs. First you'll need a big pot, preferably one with a removable steamer section. If you don't relish cooking your crabs over the stove — sure to heat up the kitchen — you can set your pot atop a gas or even a hot charcoal grill. There are also gas cookers specifically made for crab cookin'.

Add water to your pot. Pour in some beer, maybe a little vinegar if you like. Once the water's come to a boil, you're ready to steam your crabs. Crab eaters outside the Bay tend to boil their crabs, resulting in an inferior product. Be warned: If you follow this method, your crabs will come out mushy.

Getting your crabs into the steamer can be tricky. Use thick padded gloves to grab the crabs, either by the backfin or head on, pinning the claws to the body. You can also grab each crab using tongs, but do not use the same tongs unwashed to handle cooked crabs.

Sprinkle your crabs with a generous amount of crab spice — some like the traditional Old Bay, others like Wye River's different flavored spices. Cover and wait.

When your crabs have turned brick red in color, they are ready. Don't be over-eager and undercooked your crabs. Lift off the pot's steamer section and dump the bright red, red-hot crabs on a heavy paper-covered table.

Pick your crab. Dig in.

If you're squeamish and don't relish the thought of throwing your dinner into a big steamer pot, you can still have your own crab feast. Seafood markets will sell you crabs and steam them for you as well.So will many roadside crab trucks. Among markets, try McNasby's Oyster House in Eastport, Annapolis Seafood, Chesapeake Seafood in Edgewater, Shoreline Seafood in Crofton, Bayside Crabs in Deale, S&S in Owings and Tyler's in Chesapeake Beach, Captain Smith's Seafood in two locations, Calvert Country market in Prince Frederick and down the shopping strip from Woodfield's in Solomons.

Find full details in our on-line archives for at www.bayweekly.com/year00/issue8_22/lead8_22.html.
---
8. Before You Crack That Crab, Consider
They call them Atlantic blue crabs, but in Chesapeake Country, we call them ours. In the last decade, Maryland's average yearly crab harvest often climbed above 50 million pounds. But in this century, the annual harvest has been as low as 20 million pounds. New research is suggesting that crabs are in serious trouble.

That's the bad news. The good news is that both Bay states — Maryland and Virginia — have taken first steps to pull us back from the brink. The next step is to develop a long-term program to remake the fishery.


Both states will, with this year, reduce the harvest by 15 percent. In Maryland,that means spawning females (the ones whose underside apron is swelled with eggs) are off limits. And the crabs you keep have got to be bigger: big five-and-a-quarter inch males (after July 14; five inches before). For pleasure crabbers, that's not much of a sacrifice to keep blue crabs in the Bay.

You can keep abreast of crab news and catches at the DNR web site, www.dnr.state.md.us./fisheries.

Should we stop eating crabs ? Not necessarily, but maybe we should consider how many we catch and eat. Like any good environmentalist, we should take only what we need.

Don't catch crabs you can't eat and don't patronize all-you-can-eat buffets, which may encourage waste. When you're crabbing with kids, teach them to catch and release, especially the females, which hold the eggs of future crab feasts. Make sure you and they know and obey all regulations on size and catch limits (see Way 12, Catch a Crab).

It can't hurt to consider before you crack a crab — but even the Chesapeake Bay Foundation says they won't dissuade you if you choose to eat a few.

"We do not believe it is time to stop eating crabs, or to stop supporting Maryland's watermen. It is, however, time to appreciate every crab we eat, and to eliminate all waste," says the Foundation's Bill Goldsborough.
---
9. Swim in Magical Luminescence
Treat yourself and a friend to a refreshing night swim in the Bay. As you glide through the cool water, you'll likely see each other sparkle. This may seem like magic, but really it's tiny organisms that live among the plankton. You can see them because they are so numerous and because they glow in the dark. Look for their magical glow on the crest of waves, in boat wakes and on you as you leave the night blackwater.

Take your swim soon, before the jellyfish spoil the water.
---
10. NJFK: Taste Bay Water
Is the Bay water fresh or salty? The next time you're down by the Bay, take a sip. Swig it around and spit it out. How does it taste? Can you smell the saltiness? Can you feel it on your skin after a swim?

The Chesapeake is an estuary, meaning that salt water from the Atlantic Ocean mixes with fresh water from rivers and streams flowing into the Bay, like the Susquehanna River in Pennsylvania and the Patuxent and Potomac Rivers in Maryland.

Table salt, sodium chloride, is the most common mineral in salt water.

Put some drops of Bay water in a small bowl and leave it in the sun for a few hours. Are there minerals in the bottom of the bowl after the water evaporates? Do they taste salty?

Bay waters are more salty the closer one gets to the ocean. Try several spots along the Bay from Baltimore to St. Mary's City. The water is also saltier down deep than it is on the surface because salt water sinks. Can you tell the difference?