---
101 Ways to Have Fun on the Bay 51-60
51. Write to a Friend
E-mail, faxes, pagers — these days we're linked together like no other time in history. Still, communicating via electrical impulses that fly across miles of cable can never replace the sheer tactile pleasure of writing (and receiving) a letter.

This summer, rediscover this time-honored method of keeping in touch.
First, treat yourself to some beautiful stationary and a good pen, one with a satisfying heft that feels balanced in your hand. Now settle into a comfortable, well-lit spot with a tall glass of your favorite drink. Choose the lucky person who will receive this lovely correspondence. Now you're ready to write.

Don't worry about coming up with profound thoughts. An account of your day will do. Or recount a good time that you and your friend shared. Or describe what your friendship means to you. Whatever you write, you'll brighten your friend's day — and your own.
---
52. Paddle The Bay
Canoes and kayaks glide into inviting waters where bigger boats can't go without disturbing wildlife or the environment. You're down in the water, about as intimate as you can be without being in the swim, in harmony with the Bay and its creatures. Slow down your pace as you get in touch with the rhythms of paddling. Learn to be quiet and listen. See how smooth, slow or fast you can go. Get to places most everyone else can only dream about.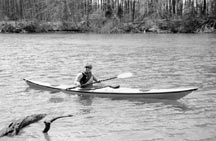 Creep into the Bay's nurseries. In these creeks, marshes and rivers, red-winged blackbirds should make the only sound as herons fish, crabs scuttle, marsh mallow blooms and cattails swell. Paddle quietly and, especially if you enter from the big water of the Bay, skillfully.

Need a little help getting started? New this year in Calvert County, Chesapeake Paddlers offers instruction and guided tours: 410/286-3663 • www.baypaddlers.com. On the South River from Quiet Waters Park in Annapolis, Amphibious Horizons rents boats and launches instructional trips: 888/i-luv-sun • www.amphibioushorizons.com.

Setting off on your own? Rent a boat from East of Maui (410/573-9463) and chart your own course. Getting serious? You can buy there as well as rent. Or shop at Springriver, Eastern Mountain Sports, REI, L.L. Bean, Sunny's the Affordable Outdoor Store — even the big box stores.

Where to launch? In Eastport, the Annapolis Maritime Museum offers a nice launch for canoes and kayaks. The grounds of the museum, which are known as Cap'n Herb Sadler Park, are accessible even when the museum is closed.

Farther south, launch at the tiny Anne Arundel County park next to Herrington Harbour South at Rose Haven. Many beaches (see Way 2) also allow motorless launching.

If you prefer closer shores, try the Patuxent River. From Patuxent River Park–Jug Bay Natural Area you can rent by reservation or bring your own boat. Go north into Western Branch Creek, or paddle the south end of Jug Bay into Mattaponi Creek. (Off Croom Airport Road at Upper Marlboro: annual special use permit $10: 301/627-6074 • www.pgparks.com.)

There's also a free-use put-in with parking on the river northbound side of Rt. 4. The river widens considerably south of the highway overpass bridge. The river flows into the Bay but it's tidal, so one direction or another will be a harder paddle. You'd have a nice downstream paddle if you put in higher, say at Queen Anne's Bridge Road or Rt. 214, but neither place has easy access.

Haul your boat to the water. Pick up your paddle and PFD, load in your safety gear and slide in. Now you're ready for a great Bay boating adventure.
---
53. Wet a Fly
Within the past decade, fly fishing has caught fire in Chesapeake Country, winning the favor of anglers who set as much stock by the art of fishing as the good fortune of catching.


So popular is fly fishing nowadays that it's fast gaining ground on spincasting as a favorite among anglers looking to catch big fish on light line. And that's a good thing.

For beginners, there's a period of adjustment to learn the nuances of casting such long and light rods. Invariably, when you cast 40 feet and more of fly line with no weight to give substance to its fall, it's likely to fall in a tangle as if it were Silly String.

Hook up with one of these captains, and you'll learn not only the casting action to control that long line but also how to manage it by boat or kayak on our beautiful Bay. All gear is provided, so beginners will learn what to buy before getting tangled in confusion at a sporting store.

You can't do better than booking your trip with Bay Weekly's own outdoor columnist Capt. C.D. Dollar on Osprey Expeditions (410/991-8468 or [email protected]).

Capt. Dollar also recommends:
---
54. Freeze up a Quart of Ice Cream
There are few things better in life than ice cream. We're quite fond of many commercial ice creams and soft serves. But home-made ice cream? It's one of those things that when you first encounter, you think history's begun all over again.

The ingredients are what you'd expect plus whatever your heart desires: heavy cream, skim milk, sugar (to taste is best), vanilla and any other ingredients you want — fruit, chocolate, nuts, candy, cookies, coffee or any kind of tea, spices, syrups — that add up to a fluid quart. The challenge is balancing the milk and cream so that your treat is smooth but not waxy.
The basic proportions are:

2 eggs

3/4 cup sugar

1 cup skim milk

2 cups heavy cream

1 tablespoon real vanilla
Some folks use equal amounts milk and cream, honey or maple syrup instead of sugar. For thickening, you can use three egg yolks instead of two eggs or stir a tablespoon or two of flour, corn starch or gelatin into the milk.


Beat sugar into eggs. Heat milk, almost to a boil, while stirring. Beat hot milk into eggs. Cool. Stir in cream, salt, vanilla and any flavorings. Pour into ice cream machine.

Using syrup? Add it after the ice cream begins to thicken .

To get started you need one piece of equipment: an ice cream maker. Simplest is the old-fashioned hand-crank model where your elbow grease combined with salt and ice creates a simple chemical reaction that freezes the flavored cream inside.

Older electric models rely on the same principle, saving you the work but still making a slushy mess as the salt melts the ice and the brine spills forth.

With either of these, the turning gets harder as the cream ices. You've have to taste now and then to know for sure when it's ready.

Krups makes a clever little electric ice cream maker that uses a metal bowl that you put in the freezer the night before. You add your cream mixture, plug it in, and let it grind away. Half an hour later (plus about the same setting time in the fridge), you eat ice cream.
---
55. Paint a Bay Shower Curtain
Wonderful as this area is, some of our summer days are just too hot for outside activities. When those hazy, hot and humid horrors arrive, why not bring some local color into your house through an indoor craft project? Here's one: Paint a shower curtain with a Chesapeake Bay theme.

Plan your design on paper first. Think about our many Bay features: lighthouses, oysters, crabs, blue herons, osprey, skipjacks, bridges, historic buildings, sailboats, even sea nettles. Decide if you want to paint a scene, a random scattering of motifs or a few repeated images. You'll find inspiration in children's picture books, via web searches of images and clipart, even on Bay Weekly covers. A few simple coloring book images of wildlife like crab and osprey are on the website of the Chesapeake Bay Program (www.chesapeakebay.net). They can be saved to your computer, then enlarged using a copier or scanner.

You'll need a plain fabric or vinyl shower curtain or liner. If you're artistically challenged, you may want to buy a clear or translucent curtain or liner to allow tracing designs. Use fabric paints on cloth and acrylic paints (get those marked "permanent") on vinyl. You'll also need a large surface, such as a clean floor or ping-pong table, for spreading out the curtain.

Wash and press fabric curtains; minimize the creases in vinyl curtains by giving them a quick (eight seconds or so) toss in the dryer at its lowest setting. Don't overdo the dryer or your curtain may morph into a weird shape. Lay the curtain flat, securing it with tape at intervals along the edges. Sketch your design, using chalk or a disappearing fabric marker on a cloth curtain, a water soluble marking pen on vinyl.

Some execution tips: Use large brushes for bigger areas and small ones for finer details. For extremely large sections where a solid painted area would be impractical (say, for beaches and water), create a mottled effect by lightly pouncing a natural sponge slightly coated with paint. Slip images you want to copy under the vinyl and trace or paint within their outlines. Make sure each color is dry before introducing another one. If you make a mistake that can't be removed, you may be able to paint over the problem. A crab makes a good cover for a smudge. Don't obsess too much about perfection, though; even primitive pieces have their own charm.

Let your creation completely dry overnight before using. Warning: when showering, watch out for the crabs!
---
56. Thrill to the Theater under the Stars
Everything's better under the stars, and theater's no exception. Stardust sprinkles down, enchanting actors and audience. See for yourself in this summer.

Nestled between City Dock and Eastport along Conduit Street is a small building painted black like the night. Within, you'll find the open courtyard stage of the Annapolis Summer Garden Theatre, performing under the stars for its 38th year. Be sure to stop by soon for at lest one of the two remaining performances. In Shakespeare's The Merry Wives of Windsor — playing June 27 to July 26 — a bachelor attempts to finagle money out of a gentleman's wife. Then, from August 1 to 30, take a new listen at the music for the meaning within the song in My Fair Lady. All shows 8:30pm Th-Su @ Annapolis Summer Garden Theatre, 143 Compromise St.; $12 w/ discounts: 410/268-9212 • www.summergarden.com.

Twin Beach Players: Calvert's newest takes advantage of summer by taking theater outdoors. See Shakespeare Twelfth Night — certain to be served up not only al fresco but nouvelle — for free June 21 and 22 @ the North Beach boardwalk on Third St. and Bay Ave.: 301/855-0009.
---
57. Go Bowl
When the heat outside is like a prison warden keeping your kids from leaving the house, and when that house seems as small as a jail cell, it's time to break out and take the family bowling. America's greatest participatory sport, bowling is perfect for beating Bay Country's summer hallmarks, heat and humidity.


Like hermetically sealed chambers, bowling alleys must keep the temperature cool and constant and the humidity near zero, else those shiny, wooden lanes are liable to wear and warp.

And in a world where ticking clocks add up to mounting bills, bowling is economically charged per frame, whether you're tearing through 10 rounds in 10 minutes or taking your time. Make a day of it and lunch or dinner at the snack bar. Better yet, many bowling alleys sport pool tables, video games and more.

In Anne Arundel County: Severna Park Bowling Lanes, 410/647-081; Annapolis Bowl, 410/266-0700; Crofton Bowling Center, 410/721-2401; in Calvert County (Prince Frederick), Lord Calvert Bowl, 410/535-3560.
---
58. Enlarge Your World
Now that you know where you are, go on to the next spot.

Afoot or afloat, airborne or undersea, on wheels, on the Moon or with your head in the stars, there's a map that can help you get there and back again.

On water, maps become charts. The big two, both compiled into books, are the ADC Chesapeake Bay chart book or the Maryland Cruising Guide, produced right here in Chesapeake Country by Mickey Courtney. Both are developed from NOAA charts, which are sold in sheets rather than books. Find a range of charts at most boating stores.

On charts, land is little more than a coastline, but water is mapped in full detail, including depth, channel markers, hazards to navigation and works in progress. With the compass rose and latitude and longitude clearly in place, you can navigate your own compass course from point to point — assuming you've learned that skill. Just in case, there are also ready made courses to follow, with commonly used magnetic bearings showing the safe way to get you from place to place.

If you want to come home again, learn to use your chart (Coast Guard Auxiliary and Power Squadron Safe Boating courses, regularly listed in 8 Days a Week, are good places), and don't go on the water without one.

For local terrestrial navigation, when you get beyond state highway maps, try the Delorme Maryland Delaware Atlas & Gazetteer. Nowadays the big bookstores have solid map sections plus lots of books mapping getaways for all sorts of travels and tastes. Of course, for finding your way at the local level, you can't beat ADC county maps, which you can find at most convenience stores.

Good companion tools are a compass and GPS.

---
59. Read a Book with a Friend
Try something new at the beach or on the boat this summer. Share a book. Buy two of one title, and make a pact with a friend to read it at the same time. Read individually or aloud to each other — or listen to a book on tape. Set aside talk-time to compare your thoughts as you go.

Choose one of those books you haven't read for a long time, like Rachel Carson's Silent Spring. Remember how touched and alarmed you were by the poignant story of our threatened environment. Talk about how you reacted on that first reading and what we've done since then. Talk about the osprey and bald eagle that have become almost commonplace in our Bay region. Talk about the gifts of nature. Chapter by chapter, share your thoughts and dreams for our Bay-side world.

Or choose a new book by local authors. Try a taste of Locks & Cream Cheese, a kind of upstairs/downstairs mystery story set on the Chesapeake Bay by spouses Rosemary Mild and Larry Mild. Black Rain Corners, a quaint Bayside town, becomes the setting for mayhem and murder involving the disappearance of a million-dollar painting and a jeweled antique painting. Dog the footsteps of endearing sleuths Paco DeSoto and Molly Mesta as you and your reading partner compare the book's characters and setting with real-life people and places of the Bay region.

Who knows? You may decide to write a thriller of your own.
---
60. NJFK: Collect Shells and Bay Treasures
Once you've found a Bay beach, you'll find a million things to catch your eye: bivalve shells delicate as the wings of moths, iridescent mussels, old-gold oyster and tiny crab shells, barnacles looking like the hungry beaks of young birds, bonsai-twisted splinters of driftwood, the segmented limbs of dried sea grasses, ovoid clay pebbles, amorphous anthracite lumps, beads of quartz. All are polished to gemlike smoothness by sand and sea.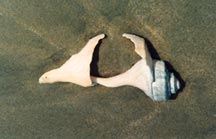 Calvert County beaches are loaded with prehistoric sharks' teeth and bone fragments that tell a story of an ancient ocean teeming with brutes and monsters. Teeth top off at seven inches, which means the Great White Shark that grew them was as big as a box car. But even an ancient tooth as tiny as a rose thorn can be a thrilling discovery. Learn about these treasures from Calvert Marine Museum's pamphlet Fossils of Calvert Cliffs (410/326-2042).

Bring a pocket or pouch to stash your treasures. You don't want to take a chance of losing anything.