---
101 Ways to Have Fun on the Bay 31-40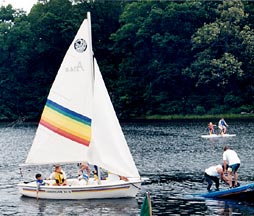 31. Learn to Sail
What drives those obsessed sailors who, swaddled in foul-weather gear, race in the pelting rain just for the fun of it?

Take a sailing course this summer, and you may unlock the secret that will have you tacking and jibing your way along with them. You, too, may be hypnotized by the call of the Bay.

It's more fun than you could ever imagine. The serenity of being propelled through the water by wind alone is an extraordinary feeling. You should try it, but where and how to begin?
Chesapeake Sailing School with classes for adults and children: 301/261-2810 • www.sailingclasses.com.


Annapolis Sailing School, where children and adults learn the 'Annapolis Way': 800/638-9192 • annapolissailing.com.


Womanship, where "nobody yells ... everybody learns," offers lessons for women, families, even men: 410/267-6661 • www.womanship.com.


J World Sailing School, "the performance sailing school:" 410/280-2040 • http://www.sailjworld.com/.


Trade Wind Yachts Annapolis: 800/825-7245 • www.tradewindyachts.com.


Solomons Island Sailing School: 410/320-8247.
All offer instruction ranging from basic to advanced.

To find other sailors who understand your new obsession, try joining a club. Many local sailing clubs have full racing and social schedules.
Other clubs include the Chesapeake Bay Yacht Racing Association in Annapolis: 301/261-5296; the Maryland Capital Yacht Club in Annapolis: 301/261-2215; and the Severn Sailing Association: 410/269-6744 • www.clark.net/pub/ssa/.

Single sailors should try Singles on Sailboats for trips on the Bay with definite possibilities: 410/798-4098 • www.singlesonsailboats.org.

---
32. You Don't Need a Boat to Go Fishing
Maybe your chances of catching are better from a boat, but fish don't care whether you're offering them a bait from a million-dollar sportsfisherman, a rowboat or a pier or the shoreline. If it's tasty, they'll take it.

Throughout the Chesapeake, there are fishing piers, private and public, old docks, shoreline, jetties — all kinds of structures from which you can cast. Your best chances are for white perch, spot, catfish and hardheads, but not infrequently you can be surprised by a bluefish, rockfish or sea trout. Even red and black drum and other prized species have been taken by landlocked anglers. Just be sure you have a fishing license (for sale where you buy bait and tackle).


Fish often come into shallow waters in chase of baitfish, so you're well placed to fish from your own pier or that of a friend or neighbor. Among public piers are those at Matapeake Park on the upper Eastern Shore and the old Route 50 Bridge at Cambridge on the Choptank, which has been converted to a long public pier. It's great for perch, hardheads, spot, catfish and crabs — sometimes rockfish and blues.

There's a public pier on the Patuxent at Solomons, and one of the best in the east is the public pier at Point Lookout State Park. North Beach also has a fishing pier.

At Annapolis, fish from the old Severn River Bridge, where there's a park with picnic tables for the family. There's also Sandy Point State Park, where you can fish from the beach or from south and north jetties. At Thomas Point Park, fish the rip-rap.

Farther north, fish Fort Smallwood Park at the end of Fort Smallwood Road at the mouth of the Patapsco. Where the old fort structure still stands, fish bite and the family can enjoy a shaded picnic. Higher still, there's a busy catwalk at Conowingo Dam on the Susquehanna with a scenic view of that mighty river and its turbulent waters.

And there are others (many state parks have them), and all with enough water for fish to swim — so you to have a chance to catch them.
---
33. Arm Yourself with Art Supplies
If you're going to paint nature or a shower curtain, you've got to have paint. And brushes. And lots of paper towels.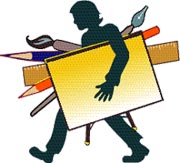 Most of the things you need — and much more you never knew you needed — can be found in art supply stores such as Annapolis Art Things, Inc., 2 Annapolis Street, and American Art, 2104 Renard Court. Another good resource is Art Supply Warehouse, http://aswexpress.com/. Of course, you could start at the dollar store or a crafts conglomerate, but what's an artist like you doing in a place like that?

If it's nature you're going to paint, here's a better-than-beginner's kit, as recommended by John Ebersberger:
Oil Paint: Titanium White (large tube) • viridian • Cadmium yellow light • Cadmium yellow • Cadmium orange • Cadmium red deep • scarlet lake or Cadmium scarlet • permanent rose • ultramarine blue • cerulean blue • permanent green light
Tools: Palette knives: RGM 44, Leow-Cornell (J-2) • gessoed masonite hardboard: 16x20 and 12x16 • Grumbacher extra-soft vine charcoal • large wood or acrylic palette • paper towels • visor or cap with a brim. For brushes, other media and paper ask your art store experts for guidance.
---
34. Organize a 'Better than e-Bay'
Neighborhood Auction
If one soul's trash is another's treasure, imagine how many priceless objects are lurking in your neighbors' attics and basements! Flush 'em out with a better-than-eBay neighborhood auction. Not only will you exchange your dust collectors for objects you really like, you'll get to know your neighbors in a whole new light.

Who knew that the mild-mannered mechanic across the street would engage your child's baby-sitter in a ruthless bidding war for a mushroom-shaped teapot? Or that the quiet, retired government worker living two doors down collects anything with a frog motif? When we stumble across such lust-objects as troll dolls, old fishing rods, flamingo porch lights or glow-in-the-dark Charles and Diana figurines, is any of us really immune from such cravings?

A successful auction requires a little forethought and action. You'll want to decide where the proceeds should go, either back to the original owner or pooled for your next community function. You'll also need to designate a few workers to guarantee a smoothly running event.

The auctioneer must be able to keep the items moving with an enthusiastic, entertaining patter. Ideal candidate? The person who can't stop talking at your parties. In addition, you should have a secretary-cashier to keep track of the winning bidder and bid for each item. If you run the auction on an immediate-pay basis, the cashier should get some bills and small change from the bank beforehand. Otherwise, you'll have to trust and record IOU's.

Pass out flyers with the location, ideally a backyard or a cul-de-sac, and the date and time. Encourage your neighbors to bring at least three items they no longer want. Make it clear the auction is not a dumping ground. All items should be clean and functioning. No broken car seats, puzzles with missing parts or cracked teapots, please.

A great auctioneer will go with the flow. Although the bidding should rise in 25- or 50-cent increments, not every round of bidding need start at the very bottom; the auctioneer may begin at a reasonably low figure. If the proceeds are being donated to the community, the auctioneer may want to group like items together.

Maybe you'll go home with some treasure (a hand painted garden gnome, perhaps?) that fairly screams 'collectible.'
---
35. Try for Par; Take a 'Snowman'
All day, your tee-shots may have the flight paths of boomerangs. After flying straight for a hundred yards, the little white ball takes a hard right and looks like it might land at your feet, only to settle in the deep rough, a mile away from the hole.


It's easy to hate this game.

After hacking out of the rough, you hit a worm-burner across the fairway. You finally get on the green and miss a short triple-bogey putt. Another 8, another snowman, goes on the score card.

Maybe you need more time at the range.

Then you hit the 18th tee. Your arms are tired from 110 strokes. Your are hot, sweaty and frustrated, just hoping to finish the round.

You swing, the ball soars and lands smack in the middle of the fairway. Your approach is short of the green, but you loft the ball close to the pin and make your par putt. Now your round doesn't seem so bad.

The dream is alive.

No matter what your skill level, your golf game can use work and just may, occasionally, soar. In Chesapeake Country there are many courses to play.
Here are a few:
Arnold: Bay Hills Golf Club: 410/974-0669;
Crownsville: Eisenhower Golf Course: 410/571-0973;
Edgewater: South River Golf Links: 410/798-5865;
Lower Marlboro: Mellomar Par Three Golf Course and Driving Range: 410/286-8212;
Owings: Twin Shields Golf Club: 410/257-7800;
Severna Park: Severna Park Golf and Sports Center: 410/647-8618.

---
36. Dive into a Marine Museum
From prehistoric sharks' teeth to draketails boats, the Chesapeake abounds with natural and human history — as well as with excellent marine museums to supply you a time machine.

At Solomons' Calvert Marine Museum (410/326-2042 • www.calvertmarinemuseum.com; 10am-5pm daily; $5 w/age discounts), you can travel back in time and learn about maritime history, paleontology and marine biology all in one trip. See all manner of historic boats, both fresh and salt water marshes and discoveries from the fossil-rich Calvert Cliffs. It's also home to Calvert's iconic Drum Point Lighthouse, a screwpile cottage open for daily tours. The jewel of the boat collection is centenarian buyboat Wm. B Tennison, which sails daily (except M & Tu) at 2pm.


For Southern Anne Arundel County history, visit the charming Captain Salem Avery House Museum, which the Shady Side Rural Heritage Society has restored and filled with exhibits on local history and culture (410/867-4486 • www.averyhouse.org). The museum is open Sundays 1-4pm, but it's busy lots of other times with shows, talks and exhibits of local history.

In the Maritime Republic of Eastport, Annapolis' own secessionist city-state, stop into Annapolis Maritime Museum (formerly Barge House Museum) at McNasby's Seafood House at the water end of Second St. This museum documents and preserves the maritime and cultural history of Annapolis' Eastport community. Come out for a fun-filled day of learning about naval ship building, the seafood industry, commercial shipping, yacht construction, and much more. (Sa 11am-4pm and Su 1-4pm: 410/268-1802 • www.annapolismaritimemuseum.org).

On the Eastern Shore, visit the Chesapeake Bay Maritime Museum (Talbot County: 410/745-2916 • www.cbmm.org; 9am-6pm daily) in St. Michael's. You enter museum grounds by way of Tilghman Island's retired bascule drawbridge. Inside, explore traditions in boat building, commercial fishing, yachting, waterfowling and navigation. See the more than 100-year-old screwpile Hooper Strait Lighthouse, live a moment in the past through the interactive waterman's shanty and marvel at the technological intricacies of Thor, a former pilot house turned weather station. The kids will enjoy the miniature skipjack Spat and the workboat, Katie G. — and much, much more. ($7.50; seniors/$6.50; kids, 6-17/$3.)
---
37. Experiment with Corn on the Cob
Corn on the cob, a delicious accompaniment to steamed crabs — most any summer meal, for that matter — is easily thrown in a pot of boiling water for five minutes, buttered, salted and eaten.

But there is more than one way to cook a cob.

Try steaming. Soak the corn in a pot of salted water for one hour. Start the grill. Peel the husks back without tearing them from the stem. Remove the silk. Butter the corn. Sprinkle chopped herbs, like rosemary or thyme, over the butter. Pull the husks back to completely cover the corn, tying them if necessary. Grill the corn over medium-hot coals, about six inches from the heat, rotating periodically, for 10 to 15 minutes.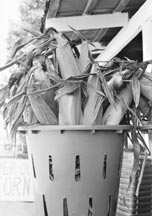 How about broiling? Start the grill. Soak the corn in cold water, husks and silk intact, for a few minutes. Broil on the grill over hot coals, turning frequently, for 15 to 20 minutes, being careful not to scorch. The husks and silk will pull off easily when cooked. Serve with butter and salt.

Or baking. Preheat the oven to 400 degrees. Husk the corn, wrap each ear in foil and add two teaspoons of butter and fresh herbs of your choice to each packet. Bake for 25 minutes.

Make fritters. Mix two large, chopped tomatoes with two teaspoons chopped fresh basil. Season with salt and pepper and set aside. Cut the kernels from three ears of fresh corn cobs. Scrape off the milk and bits. Mix the corn, milk and bits with two beaten eggs. Add to the mixture 1/4 cup flour, two tablespoons cornmeal, 1/2 teaspoon baking powder, 1/2 teaspoon salt, and a pinch of nutmeg. Heat a large, heavy skillet with two teaspoons of oil over medium-high heat. Drop the corn mixture by tablespoon into the hot skillet. Cook the fritters until golden brown, about three minutes. Turn and cook three minutes more. Serve topped with tomato basil sauce.

According to Fannie Farmer, corn is "good with everything." Get out there and get some.
---
38. Cruise Ego Alley
Afloat or afoot, cruise Annapolis' watery main street, where the display will entertain and amuse you.

Come by sea and give your ego a shot in the arm. Even if you couldn't afford that Salthouse 64 motor yacht but bought it anyway, everyone will think you're a millionaire. Or take your dinghy up in to the alley and dock it along the wall to go shopping, eating or both. No matter the vessel, if you've got any vessel you're a 'have' in this little alley.

Even the 'have-nots' or landlubbers can make this scene. Stay cool by sipping a drink from the Marketplace and sitting along the seawall, eyeball-to-eyeball with working crews on crab, clam or oyster boats and styling crews on sail and power boats.

It doesn't matter which category you fall into. Ego Alley is the place to be to people watch and to dream about your next water adventure.

From that spot in the center of the universe, it's an easy shot to launch yourself toward one of downtown's bars. Acme Bar & Grill, Armadillo's, Ego Alley, Griffin's, Maria's, McGarvey's, Middleton Tavern, O'Brien's, Pusser's, Riordan's, Phillips Seafood House — many with sidewalk cafes — all crowd on or around the waterfront.
---
39. Become a Bay Naturalist
Touch it. Taste it. Swim in it. Enjoy it. Explore it. Become a Bay naturalist this summer. There's so much to learn and do and so many ways to do it.

Get your bearings. Look at a map of the Chesapeake Bay. It doesn't just stretch from Baltimore City to the Atlantic Ocean. The Chesapeake Bay watershed is the largest estuary in North America. It begins north of Cooperstown, New York, swoops down through Pennsylvania, Maryland and DC and parts of Virginia, West Virginia and Delaware, on its way to the Atlantic.



Glacial waters formed the Bay more than 10,000 years ago when they flooded the Susquehanna River Valley. Native Algonquins called the Bay Chesepiook, meaning "great shellfish bay," for its abundance of crabs and shellfish. Today the Bay supports 2,700 species of plants and animals.

You can canoe it, sail it, walk in it, swim it, fish it, crab it.

Want to learn more? Start at the Calvert Marine Museum in Solomons (410/326-2042) and work your way up the Bay to the Smithsonian Environmental Research Center in Edgewater (443/482-2200), Jug Bay Wetlands Sanctuary on the Patuxent (410/741-9330), Chesapeake Bay Foundation in Annapolis (888/savebay), and Patuxent Refuge in Laurel (301/497-5887). All offer field trips, exhibits and programs for would-be Bay naturalists.

For more hands-on science opportunities, volunteer. Chesapeake Bay Foundation, Jug Bay and the Maryland Department of Natural Resources offer plenty of opportunities, like Bay cleanups, ecology surveys, mapping grasses and planting oyster bars.

Get out there and get to know your Bay

As usual, we'll keep you informed with weekly updates of any ecological happenings. Watch 8 Days a Week for the latest.
---
40. NJFK: Paint Driftwood Creatures
Once part of a mighty tree, driftwood is tossed about by ocean waves, polished and salted and then coughed up with the high tide. Go down to the tide line of the Bay or beach and look for pieces of wood that have sailed to shore.

What creatures lurk in the gnarled and twisted wood? Can you coax them out with your imagination?

Get your paints and get to work. Will your driftwood be a seahorse with beautiful patterns? A dragon with a forked tongue? A bird with crest or beak? An eel, a swordfish or a great white shark? Glue on some dried seaweed for hair and shells for wings and spines. Use feathers to make your bird creature more real. Varnish will keep your creature intact.

Then make up a puppet show with your driftwood creatures and the seashore mural you make next. (Way 80.)