---
101 Ways to Have Fun on the Bay 21-30
21. Share Bay Weekly with a Friend
The more you share Bay Weekly, the more fun you'll have. Here you've got 101 Ways to Have Fun, and we give you plenty more to do 8 Days a Week. But we know you'll enjoy your outings more if you share your fun with friends.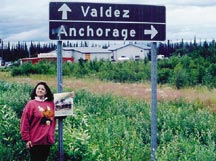 A friend who reads Bay Weekly as avidly as you also gives you a partner to talk ideas with — from whether mute swans deserve to die to whether Bill Burton ought to stick to fishing.

So each week when it's time for your new installment of Bay life, lore and pleasures, don't just pick up one copy. Pick up a copy for your friend, too. Each Thursday, you'll find a new Bay Weekly free, at any of over 400 distribution points, from Severna Park to Solomons in Anne Arundel and Calvert counties.
If you can't wait, you can peek at our website — www.bayweekly.com — late Wednesday night.

Missing faraway friends? E-mail them our website — www.bayweekly.com. They'll learn to love our Bay as much as you do, and soon you'll have a house full of company. But don't let them get off easy. Make them do their homework and explore Bay lore and adventures in our archives through 1998.
Or share Bay Weekly by mail with a friend or two. Two subscriptions are $60, and one is $40 by check or credit card: Bay Weekly: P.O. Box 358; Deale, MD 20751 • 410/867-0304 or 800/579-0304 • [email protected].
---
22. Drive into History
Rolling hills, quaint churches, horse farms … no, not England, but instead, a lovely stretch of Anne Arundel County linking Crownsville, Davidsonville and Galesville. This summer, explore 340 years of history in rural settings with the help of a dozen state historic markers, those hard-to-read roadside signs erected between the 1930s and 1950s. Since vandalism and theft have reduced their numbers in recent years, you'll witness a vanishing legacy.

The markers' locations and inscriptions are detailed in the free map Journey to Our Past, available at the Captain Salem Avery House Museum in Shady Side or the Annapolis Visitor Center. Don't forget your camera, since our route showcases sections of the Anne Arundel Colonial Tour, a designated Maryland Scenic Byway.

Begin in the Annapolis Mall parking lot at the marker sandwiched between the Bank of America and Generals Highway, Route 178. George Washington passed here on his way to resigning as commander in chief of the Continental Armies. So did General Lafayette 40 years later when he returned to visit old war buddies. For additional Revolutionary War sites, head north on Route 178. Past Honeysuckle Lane is the Belvoir marker, where French troops encamped en route to Yorktown. About three miles farther north, along a winding stretch of Route 178 reminiscent of Connecticut, stands the charming Rising Sun Inn. Its marker describes how Rochambeau's troops marched past in 1781.

A left turn onto Millersville Road transports you to the mid-1800s. At that intersection, graceful Severn Crossroads Church (Baldwin Hall), built in 1861, stands serenely. Farther down Millersville Road was Anne Arundel Academy. According to its marker, the aim of this private high school, founded in 1854, was to create in its students "a love for labor, honesty and a high moral life."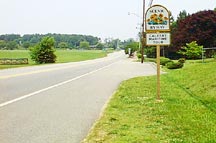 Head to Route 3 south, then Route 424 south. Just north of Route 50 a sign on the left commemorates the former Middle Plantation, patented in 1664. Its rolling acres launch a pastoral drive down Route 424 towards Route 2, a stretch that's also part of the Colonial Tour. Country pleasures abound: berries at numerous farm stands, green pastures, extravagant blooms at the Homestead Gardens nursery. After turning onto Route 2 south, you pass sites where colonial VIPs hung out. Markers indicate that Lord Baltimore and William Penn held meetings near Mill Swamp Road in 1683, while George Washington dined at the long-gone Rawlings' Tavern in Harwood on the way to Annapolis races.

A left onto Route 255 towards Galesville concludes the tour with the peaceful Old Quaker Burying Ground. Its marker, nearly hidden by trees beside Route 468, describes how George Fox, the founder of Quakerism, held the first general meeting of Maryland Friends at the site. Other markers beside the cemetery chronicle homes dating from the 17th and 18th centuries.

A drive to the end of Route 255 returns you to the 20th century. Celebrate by dining at one of the Galesville's picturesque waterfront restaurants or sample snack temptations at the West River Market and Deli.

---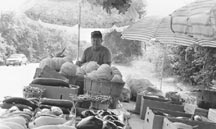 23. Stock Up at a Farm Market
Nothing says summer like corn on the cob, and you can get it fresh and local at the farmers' markets come the Fourth of July. You can also find berries, beans, peas and squash with plump juicy tomatoes just around the corner.

Stop by a roadside stand or visit one of Anne Arundel County's markets, where the farmers who grow the earth's goodies also sell them (410/841-5770)
Annapolis Farmers' Market at Truman Pkwy. and Riva Rd.:
Sa 7am-noon thru December and Tu 7am-noon thru October 14.

Annapolis Farmers' Market at Arundel Center:
Th (starting July 3) 10am-2pm.

Severna Park Market: MTA Park & Ride Lot at Rt. 2
& Jones Station Rd.: Sa 8am-noon,

Piney Orchard Market: Visitors' Center Lot at Stream Valley Drive off Route 170: W 2-6:30pm thru October 29.
Deale Market: Cedar Grove United Methodist Church, Rt. 256:
Th (starting July 3) 3-6pm.

The Calvert Country Farmers' Market has just expanded, filling its new indoor home with local bounty from water and fields. New this year is a butcher and Bunnyhead's full on-premises bakery. Open in July and continuing every Sa and W year round, with the goods of the season, at Prince Frederick Shopping Center, Rts. 2-4 and 231: 410/414-8095.
---
24. Paint Nature
Working with paints out of doors is a satisfying ways of experiencing the beauty of the Chesapeake region. But be forewarned, there's more to painting outside, known as plein air, than making a pretty picture.

Plein air artists paint from real life, recording a moment in time on canvas. The style lends itself well to the type of painting known as impressionism, a movement led by Claude Monet, Edouard Manet, Edouard Degas and Auguste Renoir, among others. Impressionists use color to express light effects on subject matter such as the landscape or a figure in a nature setting.

Lee Boynton is a local impressionist, an artist in residence at Maryland Hall for the Creative Arts and co-founder of the Mid Atlantic Plein Air Painters Association. He believes in a stepped approach to painting outside, saying beginners should hone their skills in the studio first. "Light out of doors changes rapidly, creating a subject that is constantly in flux. The studio is an important place to begin because the light doesn't change and the student can study it longer, learning how to see color and light and put these things together physically and mentally."

Once you get that experience, Boynton advises painting in two to three hour increments. "You have to work fast and be decisive. One of the things people don't always understand is that you only have about two hours before the light effect is so totally different that you are changing what was initially put down."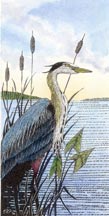 Mornings and afternoons offer the best light, he says. But skip painting at midday when color differences aren't as pronounced. If you want to spend all day outdoors, set up more than one canvas and move from one to another every couple of hours to capture the scene as the light moves.

Look for plein air artists near the City Dock, around the waterfront in Eastport or in local public gardens and at historic sites. But you don't have to leave home to satisfy your fresh air jones. Jean Brinton Jaecks, who teaches art at St. John's College and the Anne Arundel Community College, likes to make her private patch of nature the focal point of her work. A painter in the realist style, she conducts workshops on planting, then painting, picture-perfect gardens.

When you're ready to tackle the vistas of the Chesapeake, Boynton suggests picking spots that demonstrate distance, the trait unique to landscape painting. "One of the nice things about being around the water is that you have fairly long distances where you can see several miles of landscape form." It's best, he adds, to start with places that don't have human elements such as buildings or boats. "They can be distractions."

John Ebersberger is another well-known local painter and, like Boynton, an artist in residence at Maryland Hall and a founder of the Mid Atlantic Plein Air Painters. He tells students of all ages and at every skill level to make sure there are significant distinctions between areas of light and shade in their paintings. And to think outside the line: "The tendency is to first draw with paint. The skill of painting involves the perception of large areas of colors," he says. Shape is formed by placing these large blocks of color next to each other.

Both Ebersberger and Boynton suggest oil paint for working outdoors. "It's more forgiving than watercolor," says Boynton. " If you don't get it just right, you can scrape the paint out and start over."

You're almost ready to grab your easel and head outside. Be sure to dress for the weather and use sunscreen and bug spray. Bring drinking water and something for trash. A cell phone is also useful. See Way #35 for the art supplies you'll need.

---
25. Train for a Race
The health club in January is exercise pandemonium as crowds of people try to make those New Year's resolutions come to life. Everyone is ready to take part in the fight against time and gravity. But as the January chills fade into spring breezes, the best intentions fail.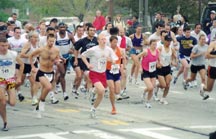 The problem is: What are we to train for? The games of youth have passed us by. That extra 10 pounds doesn't bother us that much. What will motivate us, who will we compete against?

In the end we can really only compete against ourselves. That's just what running lets you do, as you push yourself a little farther and a little faster. This summer, challenge yourself to take a run.

Now all you need is motivation. What better motivation than competition? Pick a date and a race and get ready. In the meantime, run through the streets, find a trail, use a treadmill and train for that race. Training for a race gives you structure and motivation to push yourself.

Four Summer Races
July 5: John Wall Memorial 1-mile track race in Broadneck
August 3: The Dog Day Cross Country 8k at Anne Arundel Community College
August 24: The 28th Annual Annapolis 10-Mile Run
September 7: B&A 10k in Glen Burnie

All four races are put on by the Annapolis Striders: 410/268-1165 or www.annapolisstriders.org.
---
26. Smooth Out at an Open Air Concert
Come summer, Chesapeake County comes alive with the sound of music. It's yours to enjoy whether you bathe in the glow of summer sun or evening moon. From north to south, here they come:

Downs Park, off Mountain Rd, in Pasadena, hosts the free 2003 Bayside Concert Series on Sunday nights from mid June, featuring performances by Time Will Tell, Crazy Horse and The Continentals. Listen as you picnic in full view of the Chesapeake. Fun begins : 410/222-6230 • web.aacpl.net/rp/parks/dp/calendar.htm.

Annapolis' City Dock is venue for the free Summer Serenade Concert Series, with the Naval Academy Band Tuesdays at 7:30pm. Bring your own seats: 410/293-0263 • www.usna.edu/USNABand/Schedule/Schedule.htm#dock.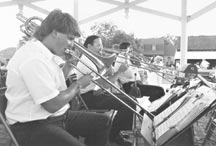 Quiet Waters Park matches Downs Park with its own summer-long series, playing from 6-8pm every Saturday from July 5-Sept. 6. Highlights are The Zim Zemarel Orchestra playing big band and swing music July 12, Them Eastport Oyster Boys lettin' loose with maritime folk music Aug. 2,and Ruthie and the Wranglers heating things up with American roots and country tunes Aug. 30: 410/222-1777.

In Prince Frederick, the Arts Council of Calvert County presents its free Courtyard Concert Series at noon at the courthouse on June 20, July 18, and August 15. Complement your lunch break with a variety of music ranging from mariachi to woodwind to down-home country: 410/257-7005.

North Beach hosts free second-Saturday concerts on the Bay at its Boardwalk pavilion, starting at 6:30pm. It's Doctor's Orders July 12, Kevin Kline Aug. , and the Dixie Power Trio Sept. 13: 301/855-6681.

On the second Thursdays of summer months through September, Chesapeake Beach Railway Museum holds its free Bay Breeze Summer Concert Series featuring local artists to satisfy anyone's musical palate: 410/257-3892).

The Annapolis Maritime Museum kicks off its free summer concert series on July 10 at 12:15 with a performance by local singer/songwriter Jamie Meneely. Other performers keep the tunes a comin' on July 24, Aug. 7 and Aug. 21: 410/263-9446.

The Calvert Marine Museum on June 19 at 7pm sets the stage for summer with a colonial music performance by David and Ginger Hildebrand and kicks up the tempo by Aug 30 with a good-bye to summer concert featuring Martina McBride, one of country music's top female talents: 800/787-9454 • www.calvertmarinemuseum.com.

The regular concerts are perennial favorites, but as summer heats up you'll find ever more outdoor concerts and festivals at which to shake your groove thang. 8 Days a Week will keep you updated as more outdoor music pops up.
---
27. Find the Bay's Best Crabhouse
Too much work to feast at home? Gather all the friends you'd love to spend a couple of hours with, then head on down to one of the many crab houses that pepper the Chesapeake landscape.

Whatever your crab cracking style, we guarantee a good time. In the bargain, you'll typically get a very nice vantage of one of the countless aspects of Chesapeake Bay or its tributaries.

Who serves up the biggest ''jimmies" around? Are "whities"—recently shed crabs — actually better and easier to pick? Are some crabs meatier? Tastier? Where do you find the best bushels? Are Wye River crabs really the biggest and the best?

And the big one this year, as scarcity drives up prices: Are you getting your money's worth? Crabs should be fresh steamed, never reheated, hot, well seasoned and neatly arranged on a tray.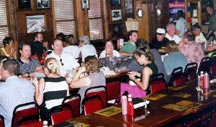 Those are tough questions. Every crab lover has a different opinion. We often reconsider our own opinions on these matters, especially later in the season when crabs are more abundant.

Above Annapolis, a favorite is Cantler's Riverside Inn , which looks out over Mill Creek and the Chesapeake Bay. Farther south in Edgewater, South River boasts a wonderful view from its deck overlooking the South River — as does Mike's, a bridge upriver at Riva Road.

Galesville's about to get a crabhouse when Woodfields opens on Tenthouse Creek late this summer.

In Deale, Skipper's Pier on Rockhold Creek serves a fine tray of crabs, and you can eat 'em in all sorts of weather as much of their deck is covered with a party-ready pink tent.

Chesapeake Beach is home to a trio of crab houses with a view. Abner's Crab House is situated back in Fishing Creek, while Smokey Joe's Grill and Buckmaster Seafood are right at the bustling Rod 'n' Reel charter-fishing port.

Cross the Benedict Bridge for crabs and a view of the wide Patuxent at Benedict Restaurant and Marina.

Down south, Stoney's Seafood House at Broomes Island hovers on Island Creek and the Patuxent River. This season, Stoney's has spread to Solomons and is serving crabs at Stoney's Kingfishers. Your other choice on the island is Catamarans.

---
28. Find Out Where in the World You Are
Compasses tell you where you're going. GPS tells you where in the whole wide world you are. The Global Positioning System is not a military secret anymore. Nowadays, for about $100, you can get a neat little cell-phone-size receiver that will pinpoint your location within 30 feet.

This everyday miracle works by connecting you with a team of the many human-made satellites now orbiting Earth. Your receiver measures and compares distances to compute your position.

Your answer will come in latitude and longitude, degrees, minutes and seconds. Match those numbers with the latitude and longitude on your nautical chart, and voila!

GPS works on land as well as on sea. On your maps, latitude and longitude are the easy-to-miss pairs of numbers often paired with the alpha-numeric grid. That scale won't get you as close as 30 feet, but on land you'll have landmarks to help you.

GPS can also remember where you've been. With the touch of a button, the GPS marks the coordinates. You'll never lose 'site' of your favorite fishing hole — or anyplace else on sea or land you want to return to. GPS will tell you how to come back — once you've figured out the instructions.

In short, the GPS can tell you where you are, where you're going and where you've been.
---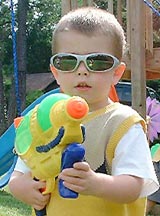 29. Duel with Water Pistols
Pools? Done that. Sprinklers? Bah.

Water fighting is where the action is.

Balloons and simple water pistols can be picked up at any toy store for cheap, and nearly all now come in funky colors and streamlined bodies.

Kids must be wary, though, for their modest budgets put them at the mercy of adults who have the buying power to splurge on an arsenal of long-range, high-capacity hydro weaponry. The latest high-end Super Soakers — like the backpack reserve 300 model — have the capacity to prune up the whole family with their split stream spouts and gallon-plus reserves of water. But be prepared to dig deep in the coffers for these sophisticated machines; they can set you back by as much as $75 — though the compact economy models are much more manageable at around the $10 mark.
---
30. NJFK: Get Down and Dirty: Play in the Mud
When a pouring rainstorm washes the world clean, it's a perfect time to get dirty playing in the new-found mud. Summertime brings on the kind of torrential rainstorms we don't see any other time of year.

Wait for the lightning and thunder to subside. Then stomp your way through the puddles to a bare patch of yard or public playing fields or a sand volleyball court. Where the water still stands in puddles deep enough for a duck to swim, sprint across the ground's bald patches and slide through the mud like you're making for home. Try mud-surfing on a boogie board or piece of a cardboard box. Play tackle football in the mud with friends. Lay on your back and make mud angels. Play keep-away with your dog. Wrestle in the mud with your friends.

If a hot and humid day strikes, the kind that simply begs for a thunderstorm, there's no need to wait for the rain. Fill some five-gallon buckets with water and create your own mud slick on the closest patch of land. Fill up plates to make mud pies and let them bake in the sun. Pretend you're an elephant at the watering hole and the garden hose is your trunk. Roll in the mud and squirt yourself and your friends with the hose. It's how elephants keep cool. Why not us?

When you're done, take off those mud-soaked clothes at the door. You might even do the laundry for your mom.