41. Get Close to a Plebe
It's Plebe Summer and while the rest of the Brigade is in the Fleet for professional training, the new freshmen — or plebes — arrive to begin their indoctrination to Academy life.

July 1, 2003 is Induction Day, 'I-Day' in Academy slang, and you can watch the nervous, serious and determined young men and women as they dress in uniforms for the first time and are sworn in to the naval service.

Later in the summer, after a few weeks instruction by the Detailers, upperclass midshipmen assigned to train the plebes, you can watch the plebes parade across Worden Field. They'll look a little raggedy marching in white works where the Brigade is normally adorned in full dress blues, but you'll be witnessing the transformation of civilians into midshipmen.

The plebes will be arriving in Annapolis from all 50 states and some will be coming from overseas. Homesickness is just one of the trials they'll face. But you can help by becoming a sponsor. It requires only that you open your home and your heart to a plebe. You'll be rewarded with endless 'sea stories' about plebe life.

Apply for the Plebe Sponsor Program at [email protected].

For a schedule of events at the Academy, call the Public Affairs Office at 410/293-2291, or check out the Public Affairs-Events Page on the Academy's website, www.usna.edu.
---
42. Explore Maryland's Colonial Roots
Our little slice of Bay Country is rich in colonial heritage. Take some time off this summer to follow a quick colonial timeline from first landfall to second capital.

At St. Clement's Island-Potomac River Museum you can visit the very spot where Maryland's first European settlers landed. Visit the tiny isle on weekend water taxi trips (noon-4pm; $5 w/age discounts) or tour the mainland museum for insight on how we got started (9-5 M-F, noon-5 SaSu @ Colton's Point in St. Mary's County; $1: 301/769-2222).

From Colton's Point, venture to Historic St. Mary's City, the state's first permanent settlement and original capital. Tour reconstructed buildings and current archeological digs plus visit with living history characters and step aboard a replica of the colonist ship Maryland Dove. Here you'll find many digs and special events highlighting early colonial history (10am-5pm W-Su; $7.50 w/age discounts: 800/smc-1634 • www.stmaryscity.org).

Up north, Historic London Town & Gardens is a former tobacco port rediscovered. Dig into the past by joining a public archeology dig (free by rsvp July 12, Aug. 9; and Sept. 6). See the discovered and reconstructed Lord Mayor's tenement and tour the restored William Brown House. As well as archaeology, there's a fine eight-acre woodland garden (9-4 M-F, 10-4 Sa, noon-4 Su @ Edgewater: 410/222-1919 • www.historiclondontown.com).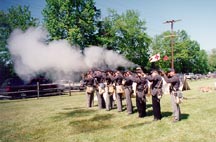 At the end of your pilgrimage is Annapolis, its historic downtown a font of colonial charm. Historic Annapolis Foundation maintains several sites, the centerpiece being the stately William Paca House and Garden, set near the Naval Academy on King George St. Here the foundation hosts history lectures and period concerts. Expand your awareness of the city's past by renting one of the foundation's several audio-guided walking tours of downtown that start from the Museum Store on Main Street (410/267-7619 • www.annapolis.org).

Finish with Maryland's second capitol, the State House in Annapolis, the oldest state legislative building still in use. Built in 1772, our capitol served as the new nation's capitol from November, 1783 until June, 1784. The Old Senate Chamber is preserved as it looked when the Continental Congress met there, or when George Washington resigned as commander-in-chief of the Continental Army, and the approval of the Treaty of Paris ended the Revolution, both in December, 1783. (8:30am–5pm weekdays, 10am–4pm on weekends, with tours at 11am and 3pm: 410/974-3400.)

As always, watch 8 Days a Week for updates of events happening at each spot.
---
43. Organize a Scavenger Hunt
Grown-ups enjoy scavenger hunts as much as the kids do. There is just something uninhibited about going up to a stranger's door and asking for a used 40-watt light bulb or last week's TV guide.

Besides parked inhibitions, all it takes is a list, a bag with handles (so you can tote your findings) and your imagination.

Before you set out, make a list of the things you want to collect. For a twist on the door-to-door game, imagine some new locations. If the beach is your destination, you might list a variety of shells, driftwood and rocks. Make it worth the hunt. Request specific shapes and sizes. If you are on the trail in the woods, you can put acorns, oak leaves and even bugs on the list.

Little children enjoy doing an ABC hunt. They must bring to you items that begin with the letters you are looking for. An S hunt may rake in sticks, stones and sand. If a spider is invited, remember to tell them to set him free as soon as the game is over.

Make the list long and the choices strange. First team back with at least 10 of the items wins. Or set a time and see who can gather the most as the seconds tick away.
---
44. Bang a Steel Drum
The sound of steel drums can carry you to the land of warm breezes, clear blue water and white sandy beaches. Imagine being able to create the music that sends you there.

Here's your chance to kick off your shoes and fish that straw hat out of the closet. There are Maryland panyards where people like you are making music together and having a good time. Some own their own drums and have cruised the Caribbean several times; others have never played an instrument and have no idea where the steel drums (also known as steel pans) come from. The players come in all ages and backgrounds but have at least one thing in common: They love the sound of those drums.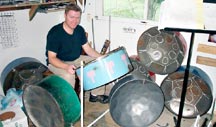 Steel drums can soothe and relax you when used to play old standards like "Yellow Bird" or "Maryanne." They can fill the air with rhythmic energy when a full orchestra performs kicky versions of "Monkey Man" or even AC/DC's "Back in Black."

You might even don your Hawaiian shirt to step up onto the stage to feel the thrill of performing in front of a crowd as your drum blends along with the drums around you. The beauty of it all is that you've just started learning and already you can play.

There's no pressure. Some just enjoy the practice. Each class is lead by a band leader who works with each player individually to bring the whole group together. A rhythm section sets the pace, and students play as much as they can.

In Trinidad, where the steel drum was invented in the 1940s, people get together in community panyards to practice and even compete in various competitions, the largest of which is Panorama, which takes place during Trinidad's Carnival.

Locally, adults can take daytime or evening lessons year-round at Rockcreek Steel Drum School. The eight-week courses cost $200 and include the use of a pan for the duration of the class. No musical experience is necessary. In these warm summer days, many classes are held outside in Arnold and Crownsville (410/349-3690 • www.rockcreeksteeldrums.com.)

A trip to North Brentwood in Prince Georges County will bring you to Panmasters on Rhode Island Avenue, where you can take lessons or experience a Friday night lime (a Trinidad party) (301/864-2610 • www.panmasters.com).

To hear music to get you in the mood, see the Geckos at Acme Bar & Grill on Main Street in Annapolis on Thursday nights; Tropical Ensemble in Baltimore (410/783-9666 www.tropicalensemble.com); or go to Baltimore Carnival July 18-20 to hear a variety of Caribbean music (410/230-2969 • www.bcacarnival.com).

---
45. Keep Your Eye on the Birdie: Play Badminton
A breezy night, a lush, green lawn and birdies flying through the air. Not the chirping, swooping kind, but the ones that get propelled with a solid thwack from a badminton racquet. When was the last time you gave badminton a try?

Here's a quick refresher course:

The game is played with two or four people, a net, a shuttlecock that's also known as a birdie and a racquet for every player. The object is to hit the birdie over the net. Whichever side allows the birdie to touch the ground or sends it sailing out of bounds brings the game to a temporary halt. The other team serves the birdie across the net again. Only the serving team can score, and the first team to reach 15 points wins.

If it reminds you too much of childhood gym, take note: aficionados bill badminton as the world's fastest racquet sport, with birdies reaching 200mph. The sport claimed global legitimacy in 1992 when it became an Olympic medal event.

On the other hand, if those laurels make it sound entirely too taxing for a leisurely summer game, feel free to return to its roots. Badminton's origins have grown a bit hazy with time, but at least one version claims children played it for centuries in India, Siam and Japan as a cooperative game whose players worked together to keep the birdie aloft as long as possible. Kind of a racquet-based hackeysack, and noncompetitive in the extreme.

You can pick up a badminton set from sporting goods stores anywhere. When scouting for equipment, just remember this: The best quality birdies are made with feathers from the left wing of a goose. Which makes it a Bay sport indeed.

---
46. Wait Until Dark
Summer nights offer the best skywatching of the year. Winter's skies are clearer, free from summer's trapped humidity and excess carbon monoxide — smog. But who doesn't like to stay up late on a clear summer night and stare and wonder at the same sights that have intrigued our peoples from time immemorial?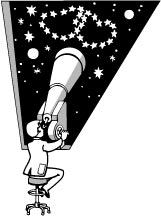 This summer promises to be one to remember, as our neighbor Mars presents its best apparition in recorded history. Throughout July, the red planet doubles in apparent brightness and size. But August is the real McCoy, as Mars comes its closest to us in 100,000 years, with less than 35 million miles separating us on the 27th. This coincides with the red planet's closest approach to the sun on August 30, meaning that all the more sunlight hits Mars' surface and is reflected to us here on Earth.

Mars passes less than one degree away from the waning moon in pre-dawn skies July 17 and actually can be seen from farther south crossing the moon's face.

The Delta Aquarid meteor shower provides up to 20 meteors per hour over the last week of July, with dark skies making up for what is usually a lesser meteor shower. But less is better than we're likely to see in August with the annual Perseid meteor shower, which peaks August 13-14. August's full moon threatens to bleach these out, but clear skies may still reveal some of the brighter shooting stars crossing our late-evening and early-morning skies.

The same stars that our early ancestors observed and that gave stories life still shine overhead all summer long. See if you can find the Summer Triangle, a loose configuration of the brightest stars.

In today's electrified and illuminated world, even moonless skies and clear conditions demand as much as 30 to 40 minutes for our eyes to adjust to darkness, and adjustment can be spoiled with just a moment's light — from passing headlights, for example. So give yourself time to appreciate the constellations, sights like the Milky Way and a planet's intensity. If you're using a star chart to guide your gazing, use a red-lensed flashlight to preserve your night sight.

And take the time and effort to help battle light pollution in your own small way. Use downward-aimed outdoor fixtures, and switch any floodlights to yellow bulbs. Better yet, turn out the lights.
---
47. Track Down the Best Crabcake on the Bay
Chesapeake Bay is known across the land for crabcakes. You can almost always get a good one; sometimes, you come across a great one.

Great crabcakes hold the easy-to-find chunks of meat and none of the space-taking filler. Chunk after chunk falls onto your fork from a jumbo-lump crabcake.
Stoney's — serving its giant and not inexpensive jumbo-lump crabcake dinner on disposables at its original and atmospheric location on the water at Broome's Island, as of summer 2003 in Solomons at Stoney's Kingfishers as well as in a shopping center in Prince Frederick — is considered by many near the top of Western Shore crabcake makers.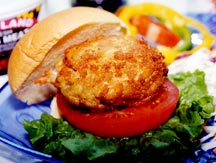 But you won't know for sure until you've eaten more than a few.

Higher up the Bay, Rod 'n' Reel serves a mean crabcake; you'll be sorry if you don't get the big one. Happy Harbor's demands a taste, too.

Pirates Cove on the West River wins many hearts with its lump crabcakes. Now a contender is Steamboat Landing just down the road — or river.

Edgewater Restaurant, with over a half century's experience and a deliciously creamy crabcake, is the best for many people's money. If you want water with your crabcake, try out South River Cafe, new this year at the bridge at Rt. 2.

Above the South River, some swear by Davis' Pub in Eastport; others insist you can't beat Cantlers in Cape St. Claire.

While you're searching for that perfect crabcake, you can anchor your hunt in a single spot or reconnoiter the whole Bay. Open your mind. Often the best crabcake is served up in the most out-of-the-way place. You can take a day, a week, all summer — or the rest of your life.

Good hunting!
---
48. Get Crabby
It takes more than one kind of crab to make a Bay.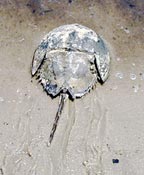 If you want to know all about who you're eating, give yourself the pleasure of reading Pulitzer Prize-winner William Warner's Beautiful Swimmers, which is all about our delectable Atlantic blue crabs.

Of course, blues are not the only crab on the Chesapeake. Out in the water with them are lady crabs and various-spined spider crabs. You'll find horseshoes at the tideline and mud crabs burrowed in flats. Before it's too late, meet one of those slow-moving pith helmets on a Chesapeake beach, where this time of year they're returning, as they have every year since time immemorial, to mate and lay their eggs. Despite its other worldly look, it's harmless — even that long, hard spike of a tail. Think about how it's survived, looking exactly the same, for 30 million years. Then consider that in our times it's closer to extinction than ever before, threatened by harvesting for bait and biotech drug-making.

You wouldn't want to eat these other crabs, but learning about them will give you many hours of pleasure, not to mention the ammo to chat it up with old-timers along the Bay.

Explore for yourself with Alice Jane and Robert Lippsons' Life in the Chesapeake Bay as your reference book.
---
49. Get a Java Buzz
You've seen them, confidently ordering 'a quad decaf vente hazelnut soy extra hot no foam latte,' while you're barely able to mumble 'a regular coffee' before slinking off. This summer can be your time to master the secret jargon of the java hut. You'll get great drinks tailored to your most exacting specifications. The key to sipping success? Know the 'buzz' words!

First, the basics. Choose between regular or decaffeinated. You'll receive the high-test stuff unless you ask the barista (fancy name for your drink preparer) for a 'decaf' or 'half caf' (a mix of the two). Need more of a wake-up? Then order a 'double,' 'triple' or 'quad,' which indicates the extra shot glasses of espresso, an extremely strong coffee made by forcing hot water through finely ground beans, to put in your drink. Next, determine how big a cup you want. Unless they're serving a two- to three-ounce single espresso by itself, most coffee shops offer at least three sizes: 12-, 16- and 20-ounce. Maybe you'd like your drink 'extra hot' or — nice on those wilting days of mid-summer — cold, thanks to ice or freeze-blending.

Now another decision: plain or gussied up? Purists should try an espresso; the weaker americano, which is six to nine ounces of diluted espresso; or a red-eye, brewed coffee with a shot or two of espresso. The traditional repertoire of fancier coffee drinks includes a breve, espresso with steamed cream or half-and-half, or a macchiato, espresso with a little milk foam, but no steamed milk itself. A cappuccino is 1/3 espresso, 1/3 steamed milk and 1/3 foam, while a latte is espresso with steamed milk and less foam, or none at all. The latte's closest relative is the café au lait, which uses regular coffee instead of espresso. Your 'milk' choices include half-and-half, whole, two %, non-fat (say "skinny" when ordering) or the non-dairy soy. For a sweeter drink, make it a mocha, which includes chocolate syrup or cocoa, or request other flavored syrups, like vanilla and raspberry.

Whew! Time to get to work. Your homework is to practice your new vocabulary at one of our area coffee shops. Downtown Annapolis offers Starbucks (which is also in some area grocery chains), City Dock Café, Pony Espresso and Armoa D'Italia among others. Check out the Café Gurus in Eastport, the Big Bean in Severna Park and Common Grounds in Prince Frederick. Drive-through coffee huts have popped up in Crownsville, Edgewater and Millersville. Before you know it, your reward will be a cup of coffee that's molto delicioso (very yummy).
---
50. NJFK: Teach Your Dog Frisbee Tricks
Give your dog plenty of exercise this summer. Walking is good, just like fetch or even swimming. But why not freshen up your repertoire by teaching your furry friend to catch a Frisbee?

Washington, DC's National Capital Air Canines disc dog club recommends that you first get your dog checked out by the vet, to make sure he has strong hips so he won't get injured doing jumping catches. The best dog is a friendly, obedient adult dog — any dog under 14 months shouldn't jump yet — who weighs between 30 and 50 pounds. Border collies are very popular disc dogs.

Before you start ranging Rover, remember a few rules:
Keep plenty of water available for your dog.

Play on the grass so Rover lands soft and safe.

Use a soft disc to protect Rover's teeth; floppy discs are good and there are even soft plastic discs designed specially for dogs.

Never throw the disc right at your dog.

Give your poochy-woochy lots of happy praise; quit when boredom sets in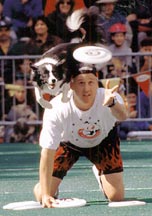 Some people like to build a close bond between dog and Frisbee by feeding dinner out of the disc, though just playing fetch is a good start. Begin by rolling the disc along the ground for your dog to chase. Once you get Rover to return and drop the disc for you, start throwing the Frisbee in the air, flat and low.

It can take months for some dogs to hone the midair catch, so keep at it. For safety's sake, Rover should land on all fours. Improve landing technique by practicing with a hula hoop.

If you get to the point where Rover can make a consistent midair catch, you're ready for basic competition. Most beginner-level contests give you and your dog a minute, then count successful catches, with extra points for the long throws.

Happy training.

For more tips log on to the National Capital Air Canines website at www.discdog.com.