---
101 Ways to Have Fun on the Bay 71-80
71. Picnic with Your Neighbors
You don't have to have a full-fledged block party to enjoy your neighbors. Just invite the nearest people (or the most fun people) in your neighborhood to an old-fashioned potluck supper. Don't plan it too far in advance, or it gets too involved. Just make some calls or walk around one evening giving invitations. Consider asking the neighbors you don't know or think you don't like; you might be surprised.

Get a couple of grills going for meat, so everyone can throw on their burgers. Or forget the main course: The best parts of potlucks are the great side dishes and desserts. From fields and Bay, we've plenty of local bounty to feast on this time of year. Make it byob and byolawn chair, and let the kids run around playing games. Ask the long-time residents to share stories about when the neighborhood was new, and ask newcomers to share something about themselves.

You'll want to do this again.
---
72. Catch a Whopper
There are big fish in that Bay. Some of them, like stingrays, are not so good to eat. Others, like rockfish, are very big — the size record is 125 pounds and about five feet — and very good to eat. So big, plentiful and good to eat that Rocky is the most popular fish to catch on the Bay.

It's also the most profitable. A big rockfish will feed you many meals. A really big rockfish can also win you a few thousand dollars.

Calvert County, home to the biggest charter fishing fleet on the bay, is rewarding the biggest catch of 2003 with a $2,000 bounty. The winning fish must be caught on hook and line on a charter boat registered in Calvert. You've got all summer — indeed until December — to claim your prize. Remember to certify your catch at an official State of Maryland weigh station. (Details: www.co.cal.us/cced.)

Another group of Calvert Captains, the Solomons Charter Captains, have made the pot even sweeter. They've caught and tagged 50 fish. Most will bear $100 or $250 tags, but one's tag is worth $5000. Of course you'll have to be fishing with one of the 30 Solomons Charter Captains to collect: 800/450-1775.
Deale captains, on the other hand, put a bounty on Rocky's head every day enough fishermen care to bet. Each fisherman pays $5 to enter; the biggest fish of the day wins half the pot; the captains keep the other half.
---
73. Play a Game of Croquet
Summer is the season of leisure sports — horseshoes, lawn darts, pool basketball — that invite friendly competition without effort.

Croquet is the ultimate leisure sport. Combining billiards, golf and chess, it is all about angles, strategy and touch with a level of exertion that won't leave you sweating in the summer heat. The pace allows for chatting, joking and even the occasional chest thump.

Viewed from above, the croquet course looks like two staked diamonds. At both ends of the court are two two-wicket alleys in front of a stake. A single wicket holds the center of each diamond. Completing the diamonds are four wickets, two each to the left and right and halfway between the center wicket and the alleys.

Players follow a prescribed path through the nine-wicket course. Starting a mallet's length away from the first wicket, each player shoots through the center wicket twice and alleys twice. The two wickets on either side are played only once.

The object is to beat the other team around the course and "stake out" your balls by hitting the finishing stake.

Players gain bonus strokes by passing through wickets. They can also gain bonus strokes by hitting, or roqueting, their teammates' or opponents' ball. A player who hits a ball gets a "croquet shot," which can direct the ball just hit, helping a teammate or hindering the competition. Once a ball is roqueted, its player is "dead" on that ball and can't hit it again until passing through a wicket.
Get a foursome together and bang the colored balls through a wicket. Drink a beer, talk some croquet and play away a beautiful day.

What else is summer for?

For rules, history, and some interesting insights into the subculture of serious croquet, check out www.croquetamerica.com
---
74. Build a Castle in the Sand
To make a sandcastle, first you need sand. Go to the nearest beach or buy a bag of sand and a big shallow container. Promise that this will be good for hours of fun all summer long.

Once you've got sand, you need water — from the ocean, the Bay or the garden hose.

Add enough water to the sand to make it damp and then pat it into a tall mountain — on the beach or in the container.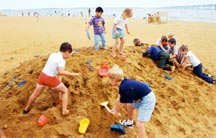 To make turrets atop the mountain, pack damp sand into a plastic cup, small bucket or other round container. Then tip the sand out carefully around the edge of the mountain.

Smooth and carve details to the surface to turn your mountain into a stony castle. Use an old spoon to windows and doors.

For extra fun, put more sand into a bucket and add enough water to make runny mud. Stir in a few drops of blue food coloring. This will look like water in a moat if you scoop the sand out by the handfuls and dribble it around your castle.

Now add a bridge of twigs and add a few twigs with leaves to the top of the castle to look like flags.

Small stones and sea shells can be used for decoration. The rest is up to your imagination.

A sandcastle won't last long, but you'll have the fun of creating something new next time: a mermaid, a fancy car, a dinosaur or a whole village.
---
75. Cut a Rug
Just whisper the words ballroom dancing and watch the world split into two groups: those who can't wait to sashay smoothly across a dance floor and those whose tango needs serious untangling. These dance-averse types usually harbor long-repressed memories of junior high etiquette classes involving spilled punch and stepped-on toes. If you're in their ranks, then think outside the box (step). We know of a couple places where you'll learn to fox-trot without fear and samba with style.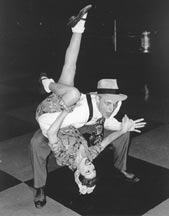 Every Monday at the Eastport Clipper, 400 Sixth Street, Annapolis, you can take a dance lesson starting at 7pm, then reinforce your new ballroom skills from 8 to 11 with live big-band music. The lesson and dance run $7 a head. When your feet need a break, sip a beverage at one of the tables ringing the dance floor and watch the other Fred-and-Ginger wannabes. You'll find the atmosphere casual and kind to beginners.

Aspiring ballroom dancers should also swing over to the Davidsonville Family Recreation Center's Ford Hall. Every second and fourth Saturday, the Davidsonville Dance Club holds a lesson there beginning at 7pm, followed by a dance from 8 to 11. Find the Family Recreation Center approximately one mile from Route 214 at the intersection of Queen Anne Bridge and Waysons Roads. Cost for the evening is $6 for non-members and $4 for members, with membership in the club running $8 per year.

For more in-depth instruction, sign up for the Dance Club's eight-week Wednesday series. Basic waltz instruction starts June 25; Basic cha–cha begins August 20, also at 7. Cost of each 7pm series is $40 for club members: 410/257-0631.

For a different kind of dancing, learn the steps Annapolis danced two centuries ago in William Paca House and Garden's Arts in the Garden series (7-9pm Wednesdays, July 2, 9, 16; $15 per lesson; $40 for the series at 186 Prince George Street, Annapolis. rsvp: 410/410-267-7619 x 8146).

Getting close and physical never was so much fun. Face that music and dance!
---
76. Boat to Dinner
Chesapeake Country has so many good restaurants and summer is the time to go to dinner by boat. You'll set out with the sun high in the sky. Its rays will be a little too warm since you'll be wearing a polo shirt and shorts and not a bathing suit. That's all right: dinner is waiting for you.

At Deep Creek Restaurant (410/757-4045 • www.deepcreekrestaurantandmarina.com) off the Magothy River you can dine on creative seafood dishes such as baked salmon strudel. For great crabs, there's Cantler's Riverside Inn on Mill Creek (410/757-1311 • www.cantlers.com).

On the Severn River is Annapolis, of course, with plenty of restaurants to choose from and plenty of buoys out in the harbor for you to tie up to. From your anchorage, you'll have to ride the water taxi (VHF ch. 68) to City Dock.

Farther down the Bay, cruise into the South River. First stop is South River Cafe at the Rt. 2 bridge (410/956-8057), which has live entertainment Tuesdays thru Saturdays. Continue to the Riva Road Bridge to visit Mike's, with a huge outdoor crabdeck and music some nights (410/956-2784).

Off the West River, Galesville is a popular destination. There's dining indoors and out with views, comfort and weekend entertainment at Pirates Cove (410/261-5050 • www.piratescovemd.com). The party's casual for island-minded weekends outdoors at Pirates' Big Mary's Dock Bar (410/867-2300). For a quieter outlook on the boat-speckled harbor, tie up at Steamboat Landing. You can escape into the cool indoors or sit over the water where big tents take the edge off nature's bad moods (from 5pm W-Su: 410/867-7200)

In South County, on Rockhold Creek, the first stop is Skipper's Pier, with a lively bar, a small dining room and lots of on-deck dining, much of it sheltered by a big, pink tent with heating lamps to extend the season. With its play area, Skippers is a good stop if you've brought the kids (410/867-7110). Next stop is down-home Happy Harbor Inn (410/867-0949), with lots of room indoors and a small deck bar right next to the Deale charter fishing fleet. Or turn into Tracys Creek for Calypso Bay, which offers an island beach and Tiki bar or a comfortable, cool room with a view inside. Stay late for music and pool in the sports bar. (410/867-9787 • www.calypsobaydockbar.com).

Down south, there's Surfside South, with docking at Herrington Harbor South for slow poolside dinners and indoor cabareting, with weekend karaoke dance parties. (410/257-2098)

And we haven't even gotten to Calvert County yet where the pier at North Beach is open to visitors and diners. Chesapeake Beach offers a few more options, each in a protected harbor, at Rod 'n' Reel (301/855-8351 • www.rodnreelinc.com) and, down Fisherman's Creek, at Abner's. All the way down, Solomons is full of choices. Then head up the Patuxent River to Benedict Marina & Restaurant (301/274-2882).

Listen to the water lap against the pier, enjoy the seafood, and smile to yourself when you hear the other diners comment on your boat's clean lines or its clever name.

If you're uncomfortable transiting at night, relax. Summer offers plenty of twilight for you to make it home. You might want to plan your outing for an evening when there will be a full moon or get some friends to join you with their boats so you can form a convoy.

Start for home while the sky is a light gray. The wind and boat traffic will have died down. Enjoy the emptiness on the water and how easily your boat rides on a calm sea. The channel markers will flash their red and green warnings. In the distance, you'll spy the red lights from the Bay Bridge. Night is coming on, but you're almost home and you tie off the first line at your pier as darkness settles over Chesapeake Country.
---
77. Gather a Summer Bouquet
Capture the beautiful colors and delicious scents of summer anytime in a sweet summer bouquet. All you need is a pair of clippers, a basket to carry your treasures, a container to display them and a few minutes to take a pleasant stroll through your summer garden.

Look for flowers with bright colors and varied textures. Zero in on your favorites and be brave. You'll be surprised how well bold colors will work together.


Once you've collected the stars of your bouquet, look for some interesting foliage to serve as supporting players. Many perennials have colorful leaves and branches, some feathery, others rounded or scalloped. Fern fronds add a touch of elegance.

Don't forget your herb garden. Herbs of all kinds add spicy aroma to your bouquet. Bronze fennel, lavender, purple basil and rosemary are perfect choices.

When your basket is full to the brim, it's time to arrange. Choose a container that best fits your needs. One with a generous opening works best for a full summer bouquet.

Place flowers, herbs and foliage one by one into your container. Start with tall-stemmed flowers in the center, then fill in with shorter stems around the outside. Herbs and foliage can then be added as accents.

Give your masterpiece to a friend or keep it for yourself. Either way, you'll brighten your day.
---
78. Still Looking? Cook the Perfect Crabcake
One way you earn the distinction of Chesapeake Country citizenship is by creating your signature crabcake. But you'll only get there by trial and error. Along the way, you've got choices, choices, choices.

First, are you going to pick your crab yourself? If so, you can be sure you've got Maryland crab. Easier but less authentic is to buy it from a seafood shop or even a grocery store. If you're committed to Maryland crabmeat you might be disappointed; local crab is unlikely to be picked till later in the summer. Ask where the crabmeat you buy comes from.

Next, are you satisfied with lump, where leg chunks are included with smaller meat? Or do you want jumbo lump where big pieces are the rule? There's a big price difference, so look at what you're buying before you pay.

Now, what are you going to add to your bowlful of pricey crab? Again, there's no simple answer. You need a little binder. For some, the only choice is cracker crumbs. Others swear by bread. Some add the crumbs dry. Others moisten bread cubes in milk, and still others in olive oil.

If your crumbs are dry, you'll need some kind of liquid: a beaten egg, milk or mayo are the favorite choices.

Now, we're getting really touchy. Do you add flavorings or let the crab speak for itself? Some people add onion or green pepper, while others think such strong flavors ruin the sweet taste of crab. Such purists might allow a sprinkling of chives or fresh cut parsley. Many add a touch of Worchester sauce. Almost everybody adds a touch of their favorite crab spice. A few add lemon, white wine, even horseradish.

Next, mix very gently to keep those lumps lumpy. Shape the mixture into generous cakes.

Now, there's one more choice: broiled or fried. If you dare to guild the lily, melt as much butter as you dare in a hot skillet before sliding in your cakes. If you prefer to live to eat crab many other days, it's almost as tasty to spray cakes and pan with olive oil and broil till brown. A delicious option is to bake at 470 for about five minutes.

Satisfied? Try to win a prize Aug. 29 at Crisfield's Hard Crab Derby (recipes accepted until Aug. 8: 410/968-3494). Their cooking with crab competition puts crabcakes in a class of their own.

---
79. Hit the Trails
Time to stretch your legs and get back to nature. There's no better way to view the scenery and exercise than to measure Chesapeake Country in human scale this summertime.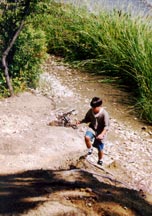 Trails abound in our region and they are waiting to be used to their full potential — for you to explore. You can walk, run, hike, bike, in-line skate, horseback ride, and cross-country ski on the trails. They are also wheelchair accessible.

No matter where you live in Chesapeake Country, you'll find plenty of places to break a sweat, lose your breath and feel the wind breeze against your face.

In Anne Arundel County, there are a plethora of trails to suit your needs and interests. The 13.3-mile paved Baltimore & Annapolis Trail takes you from Glen Burnie to Annapolis. Along Admiral Drive in Annapolis is the Poplar Trail, the second segment of the Colonial Annapolis Maritime Trail, which extends for 16 miles of pure asphalt. The Baltimore Washington International Trail circles around the airport for 11 paved miles. For shorter lengths, try the three-mile loop around Jug Bay natural area in Upper Marlboro.

In Calvert County, Calvert Cliffs State Park offers 13 miles of gravel and dirt paths that take you along the cliffs. For smaller loops, try the American Chestnut Land Trust Loop in Prince Frederick — 3.5 miles.

---
80. NJFK: Make a Marine Mural
Get a long roll of newsprint or plain wrapping paper and roll out a good-sized piece on your back deck. Color in a beach on one side and a cross section of the ocean on the other. Connect them with a tide line separating the land and water.

Now think hard about all the creatures — plant and animal — that use the beach and all the layers of the ocean, from the gulls floating on the surface to the oysters attached to bars on the bottom and everything that swims and floats in between.

To spur your imagination, take a look at Alice Jane and Robert Lippsons' book Life in the Chesapeake Bay.

Now start painting. Fill your mural with food webs of the hunted and the hunters. Remember the very important plants that take energy from the sun and make it into food for the plant-eaters like snails. Remember the critters that crawl, like crabs, the ones that swim, like all kinds of fish, the ones that wait for food to come to them, like anemones, and the plankton, or floaters — microscopic beasties that provide food for everything from baleen whales to shellfish to baby crabs.

When you're all done, use it as a backdrop for a puppet show with driftwood critters.