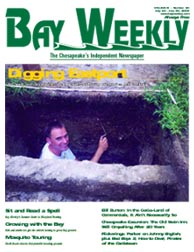 On Our Cover
Digging Eastport
photo by Sam Gordenstein
In this big hole in an Eastportorican's back yard, University of Maryland student Victor Boniface excavates the wall of what was perhaps a smokehouse used for curing meats.

by Bay Weekly staff.

Bay Weekly's summer guide to Maryland reading.
A good book helps summer keep its promise.

Chesapeake Country Excursion
Destination — The Old Stein Inn:still ompahing after 20 years.
by James Clemenko.


Digging Eastport
To avid archaeologists, backyards and long memories tell a story
by Sam Gordenstein

Growing with the Bay
Kids and adults too get the wheels turning to grow Bay grasses
by Jessie McLean Heller
Mosquito Touring
North Beach citizens find plentiful breeding grounds
by Bay Weekly
Way Downstream

In Anne Arundel County, council considers legislation to protect crabbing as a cottage industry, with watermen guaranteed the right to sell crabs and store equipment at their homes…
Across the U.S., the eagle has rebounded. U.S. Geological Survey finds two percent more eagles nationally and 6.1 more percent in the northeast…
This week's Creature Feature: In Los Angeles, what to do with 72-year-old Emma Harter's pack of tiny, feral, wolfish Chihuahuas.