Appreciation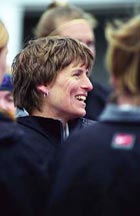 Loyola Coach Diane Geppi-Aikens
1962-2003
by Stephanie Chizik
As spring crew season started this year, I found myself struggling to stay composed as I stood behind The Diane Geppi-Aikens — our eight-crew shell and the college's newest and fastest boat — on Loyola's Curly Field. Diane Geppi-Aikens, head coach of the women's lacrosse team, sat in her wheelchair surrounded by her team while my own coach, Albert Ramirez, also fighting back tears, introduced the woman we came to honor.

I've never played lacrosse, but I am a Loyola athlete. Ramirez was right in choosing Diane as the namesake for our boat. Not only did the dedication ceremony bring together two teams that normally do not mesh, but Diane's struggles with cancer have helped me through my own lesser battles. Her name on the sides of the boat gave me the inspiration to row my way through each day to the retching finish of each regatta. The other teams may not have understood why a lacrosse stick graced our bow, but all nine Greyhounds ready to row knew exactly what it meant to have that symbol floating down the course with us: Like Diane, we will not give up.

As an intern at Bay Weekly, her lesson has served me again. I have had to overcome obstacles each day. It's been important to have someone like Diane to look up to when I'm frustrated with deadlines or having problems with my writing progress. With Diane Geppi-Aikens as an inspiration, it's been easier to trudge through my troubles and give to my articles the respect that I know they deserve.

An earlier Bay Weekly intern, Kristin Hagert, knew Diane better and felt her inspiration directly. A lacrosse Greyhound, Hagert played for Diane for four years, perfecting her game under the guidance of the woman who, Kristin wrote in sadder days this year, "asked me to do many mentally and physically difficult things in the years that I have known her."

In her prize-winning Bay Weekly story Lacrosse Dreams four years ago (Vol. VII, No. 31: August 5-11, 1999), Kristin explained how inspiration works:
As a sophomore, I enjoyed my first Division I start.

I remember when Diane came up to me that day when I was stretching with the team. Leaning forward to stretch hamstrings sore from sprinting the day before, I wondered how my legs would make it through another day.

She stood about a foot away. In a low voice, not to disturb the team bonding, she called me by my nickname and whispered, "Hags, you are going to be starting tomorrow. You've been playing well and you deserve it." With that she walked away.

As the memory of dragging myself to the turf at 5am one fall morning and struggling through a two-hour penalty run — not only to learn discipline but also to lose my dinner from the previous night — flashed through my mind, I realized a few things.

The 5am wake-up call to a two-hour sprint/conditioning workout can only be withstood if you love what you are working toward. The body-altering weight-lifting program that changes you from the figure of a girl to a machine — what they call an "athlete" — is only willingly done if you love what you're doing it for. The mind-boggling struggle between three final exams, two final papers and traveling to Dartmouth for a game in the second round of the NCAA Tournament — in a three-day span — can only be juggled if you love the sport that makes your life that much more difficult. Accepting the amount of playing time that you are granted and a limited social life can only be done out of love. Out of love for lacrosse, I willingly submit myself to this rigorous college routine.

All that hard work finally paid off. Tears of pain, frustration and fatigue had brought about tears of joy and pride. I had worked to improve my skills for 11 years, and I was living my dream.

The hardest thing Diane asked of Kristin was still to come. That was giving her eulogy, on July 3, after a brain-stem tumor finally conquered Diane Geppi-Aikens on June 29.

"Some may say that Diane was robbed of her life," Kristin told Diane's admirers and family at the Cathedral of Mary Our Queen in Baltimore, "but I disagree. She overcame and accomplished more in her 40 years than most people do in 90. A piece of her will live on in each and every one of us, and we will take comfort in knowing that we carry her with us always."

Both Kristin Hagert and I grew up in Riva, studied and played at Loyola and worked as interns at Bay Weekly to learn the trade of Bay journalism and to prepare for challenging futures, for me as a writer and for Kristin as a lacrosse coach. Both of us have been inspired by Diane's life and her struggle against death to strive for the impossible and to fight for it every day along the way.