N
o
t
J
u
s
t
f
o
r
K
i
d
s

Who says reading has to be a spectator sport?
by April Falcon Doss
Plenty of Maryland authors write and illustrate books. Some write about their favorite things. Others make up the worlds they write about. Some work as co-authors with another writer. Some don't do the writing; instead they illustrate, bringing someone else's words to life with the pictures they create. Here are some of the ways Maryland authors write and illustrate books that Maryland kids love:

Make Writing an Adventure:
Annapolis resident Bianca Lavies was a photographer for National Geographic Magazine before she began writing and illustrating children's books. Her books have been about armadillos and killer bees, snakes and salmon and tundra swans. She's adventured around the world taking photos, and she wrote a book about wasps she studied at her own home. No matter what you write about, make it an adventure!

Write About What You Know:
Elizabeth Spires is a poet who lives in Baltimore. She wrote a picture book called The Big Meow that encourages kids to "Listen to your tiny voice: Be brave." And — maybe because she teaches and writes poetry — she's also written a book, The Mouse of Amherst, that tells the fictional story of a mouse named Emmaline, who just happens to meet a poet named Emily Dickinson. Together, they find magic in words.
Write About What You Love:
Lois Szymanski's favorite book when she was young was Misty of Chincoteague. Since then, this Maryland children's author has written a whole herd of books about horses (and other topics). She still keeps horses of her own.


Write With Someone Else:
Writer Anne Tyler is famous for her novels about Baltimore. When she decided to write a children's book, she found a partner to work on it with: her daughter, Mitra Modarressi. Anne Tyler wrote the story for Tumble Tower, and Mitra did the illustrations. Since then, Mitra has written and illustrated children's books on her own.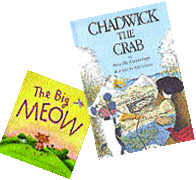 Write About the Bay:
Maryland author Priscilla Cummings is author of the Chadwick the Crab series, including Chadwick the Crab, Chadwick Forever, Meet Chadwick and His Chesapeake Friends — plus other books about the Bay and other subjects. Why not invent your own series about an osprey or a heron or an oyster? You could write as E.B. White did about a mute swan in danger. Or about a kid who goes fishing during rockfish season. The Bay's the limit!

If You Don't Want to Write, Make Pictures:
Annapolitan Lisa McCue is the illustrator for the popular Corduroy series of children's picture books. You can illustrate stories — your own or stories that someone else makes up — any way you want: Draw, paint, take photographs, make collages. Only your imagination sets the limit on what you can do.

If You Don't Write or Illustrate, You Still Get to Vote:
Maryland offers two prizes in children's literature each year, and both prize winners are decided by Maryland's kids. The BlackEyed Susan Award and the Maryland Children's Book Award Program are coordinated through schools, asking students to decide which books are their favorites — from preschool picture books up through high school. Start a book club with your friends and vote on the books that you've liked reading the best this summer.
---
Kids' Stuff This Week
Saturday, July 26
Butterfly Hike
Kids ages 10+ flit and float your way with the butterflies of Maryland on a three-mile hike+. Bring water and a field guide. 8:30-11am @ Patuxent Research Refuge Visitor Center, North Tract, Rt. 198 between Bal/Wash Pkwy and Rt. 32. free; rsvp: 301/497-5887 • patuxent.fws.gov.

Sunday, July 27
Become an Entertainer
Kids ages 5-12 make puppets and give a show. 2-4pm @ Marietta House Museum, 5626 Bell Station Rd., Glenn Dale off Rt. 193. $2; rsvp: 301/464-5291 • www.pgparks.com.

Slithering Snakes
Kids of all ages w/parent or guardian meet the native snakes of Maryland. Ask a naturalist all your questions about these slippery animals. 2:30-4pm @ Battle Creek Cypress Swamp, Gray's Rd. off Sixes Rd., Prince Frederick. $3 w/discounts; rsvp: 410/535-5327.

Monday, July 28
American Music
Kids of all ages go on an American musical journey with musician Barbara Martin. Sing traditional songs and clap different rhythms. 1:30pm, 3 & 7pm @ Annapolis Public Library, West St. free; 410/222-1750.

Wednesday, July 30
Clay Play
Kids of all ages take grandparents or parents to create a masterpiece of clay and paint. 10am-2pm @ Calvert Pines Senior Center, 450 West Dares Beach Rd., Prince Frederick. $2; $4 for lunch; 301/855-1170.