A good book helps summer keep its promise
Among summer's many promises is time: Time to be instead of do. For many of us being involves a good view, a comfortable place to sit and nothing we need do except turn with the sun. For others of us, being is active time, plunging into water, woods or wilderness.

Whichever you are, a good book helps summer keep its promise by keeping you company as you fill your easy chair, beach lounge, camp stool, commodious log, Adirondack chair or airplane seat.

A good book can take you anywhere, and we've all traveled with one or another in strange places and distant times to old worlds and new worlds. Perhaps in all your wanderings of the lands of Oz, you've forgotten that there's no place like home.

To remind you of native wonders, Bay Weekly's writers and readers have gathered a Chesapeake library, stocking it with classics, local history, mystery, nature, novels, poetry and tales tall and true. Most of our books are by Marylanders and almost all are about Maryland. An exception is Marylander Rachel Carson's Silent Spring, because that landmark book set the standard of sustainability by which we now try to live. Another exception is Maryland-born Dashiell Hammett's The Maltese Falcon, and it's on our list as a standard-setter, too. Last is a section of books by Bay Weekly writers, who are here, there and everywhere when they're not writing for Bay Weekly.


Local History

Pirates on the Chesapeake: Being a True History of Pirates, Picaroons, and Raiders on Chesapeake Bay, 1610-1807
By Donald G. Shomette: underwater archeologist and prolific writer. Centreville: Tidewater Publishers, 1985

From 1635, writes Donald Shomette, of Dunkirk, "piracy would flourish … for the next 200 years."

Blackbeard, alias of the 18th century English captain Edward Teach, pillaged the mid-Atlantic Coast. A favored haunt was the mouth of the Chesapeake, where he attacked trading ships headed to Europe. In battles, he dramatized his long dark beard by lighting a hemp rope that slowly burned on either side of his face. If you're boating around Cape Henry, you're in Blackbeard waters.

In Annapolis' South River territory, homegrown 18th century pirate Richard Clark terrorized the area, always slipping away into one or another cove.

Shomette's book is rich with detail, less swashbuckling in style than its subject might suggest, but without question the source for information on early Bay pirates. A map in the center of this book helps you relate Bay places to pirates … after which, let your imagination take you back in time!

— Sara Ebenreck
The Last Waterman
by Glenn Lawson: son of the Bay who has lived what he writes; Crisfield (Maryland) Publishing House: 1988

Told from the perspective of waterman Hon Lawson (the author's brother), this excellent narrative sketches the history of Chesapeake Bay and the watermen who lived and worked on it. The Lawson family made a living on the Bay for the past 200 years. Through hard times and rare, short-lived good times, the family lived the rise and fall of Bay fortunes. One consistent feature of that history is conflict.

Watermen have always been at odds with state laws. They see state officials making decisions that have little bearing on reality. Lawson presents the arguments of the various sides fairly, and he considers the historical context that surrounds each conflict.

In our time, the nature of the dispute is changing. Past conflicts primarily pitted the individual against the state, but both sides now realize that everyone is seeking the same thing: a healthy Bay.

In the words of Hon Lawson: "Much as I hate to admit it, the Department of Natural Resources is the only hope I have of catching another oyster … We're not being killed by what's happenin' on the Bay. Our problems are comin' from what's happenin' on the land."

— Dick Wilson

Maryland's Eastern Shore: A Journey in Time and Place
by John Wennersten: historian, author and Bay biographer; Tidewater Publishers: 1992
The Eastern Shore of Maryland "has been a distinct society for over three hundred years," writes John R. Wennersten, who lived there for many years. Isolation and resistance to change are, in part, responsible. The Bay Bridge, which opened in 1952, has eroded the Shore's isolation, but its resistance to change is as strong as ever. Indeed, Somerset County's motto is semper eadem, always the same.

Wennersten uses the "soil, soul and sea" to seek the Eastern Shore's history and culture. The stories of soil and sea are well known. Fertile rivers, creeks and land have provided a great bounty to the self-sufficient Eastern Shore resident.

What most startles and captures the reader is the history of race. Tobacco brought wealth to the region in colonial times, but also the plantation economy and an expansion of slavery. Nearly 40 percent of Maryland's slaves lived on the Eastern Shore. "Nothing haunts the Eastern Shore of Maryland quite like the specter of Negro slavery," Wennersten writes.

The abuses of slavery, the Civil War, emancipation, Jim Crow, the struggle for equality, lynchings, the race riots in Cambridge and Salisbury, all are candidly portrayed and discussed. This is a disturbing and maddening history, but one worth learning.

— Nancy Hoffmann


Dancing with the Tide: Watermen of the Chesapeake
by Mick Blackistone: Poet and writer of and Bay lore; marine trades expert; Tidewater Publishers: 2001
Scientists, politicians, the Chesapeake Bay Foundation and the Department of Natural Resources study and fret over the Chesapeake Bay while watermen live "from harvest to harvest." And it's the life of the waterman that Mick Blackistone, of Fairhaven, portrays so well in a book that updates — but doesn't change — the story told by The Last Waterman.

Blackistone takes you into their kitchens before sunup as sandwiches are made and thermoses filled with coffee. Then it's onto the water to find holes chewed in nets by beavers and an old oyster bed that no longer brings much luck. But there are also days when the crabs are running and the pound nets bursting.

Following the seasons and the watermen as they move from one fishery to the next, Blackistone travels with them in their Bay-built boats, oystering, catfishing, haul seining, eeling and crabbing.

It's an alluring life, but full of worries over the Bay's health, new regulations controlling their work and the need to make a living.

Of a morning's catfishing, Blackistone writes:

After fifteen minutes I'm feeling the bitter wind blow off the river and turn to stare at forty square plastic tubs that will need to be filled with fifty pounds each of catfish today if Bob is going to meet suppliers' demands for fish. A buyer in New York wants 1,200 pounds and one in Jessup, Maryland, wants 1,000 pounds tomorrow morning. Bob will be paid forty cents a pound.

— Nancy Hoffmann


Mystery
The Maltese Falcon
by Dashiell Hammett: master of the hard-boiled detective story; 1929; Vintage Crime/Black Lizard Edition: 1992
If Edgar Allen Poe began the mystery, then Dashiell Hammett mastered it. You can't know mysteries unless you've read Hammett.

A Marylander only by birth, Hammett was born in 1894 in St. Mary's County, where both his first and last names still flourish. He set his Sam Spade stories in the hard streets of San Francisco, and The Maltese Falcon — which he wrote during his short peak years in the 1920s — propels us back to those glamorous but deceit-filled times of patent-leather shoes and popping pistols.

The quest is to discover the whereabouts of a one-foot tall black bird statue, but the value goes far beyond the slight, convoluted plot: It's being there, a deathless act of magic performed by sentence, scene and style.

— Stephanie Chizik

Killer Riches
by Chassie West (2001): mystery writer; Avon Books, 2001

The motto of the writing business is "write what you know."

Chassie West, of Columbia, has done exactly that with her set-in-Maryland mystery series. West's African-American Maryland upbringing influences her descriptions and details throughout the story; she peppers the pages with phrases like "better than a chili dog from Jake's" and "the color of Nunna's Sunday morning biscuits."

Leigh Ann Warren is a former D.C. cop who's the heroine of a series. In Killer Riches, the third in the series, Warren traipses across the Old Line State to discover her hidden background and kidnapped foster parents.


The Killer Strain: Anthrax and a Government Exposed
by Marilyn W. Thompson, Pulitzer-Prize-winning investigative reporter; Washington Post editor; Harper Collins: 2003

The threat of anthrax and the war on terrorism may not seem like Bay topics, but part of the threat and much of the official response happened right here in the Chesapeake watershed — at the Capitol in the District of Columbia, the Brentwood, Maryland postal complex and multiple federal government offices.

Marilyn Thompson, who lives in Deale, became fascinated with the story herself and lets us feel the unique impulses and actions of the people who became anthrax poisoning cases. Her prose reads like a compelling novel. Then her interviews lead us inside government offices, scientific labs and health centers to follow the rushed and often confused investigative responses. This is a real-life murder-mystery made more chilling because the killer has not yet been found.

Follow Thompson's updates in the Washington Post.

— Sara Ebenreck

Nature


Silent Spring
by Rachel Carson: biologist and writer; Houghton Mifflin: 1962

In 1945 when Reader's Digest turned down Carson's proposed article on insecticide experiments under way in Patuxent, Maryland, not far from her Silver Spring home, they had no idea that within 20 years Carson would become one of the most influential writers in America.

First serialized in the New Yorker in 1962, Silent Spring begins with a story: There was once a town in the heart of America where all life seemed to live in harmony with its surroundings … Then a strange blight crept over the area and everything began to change … Everywhere was a shadow of death … There was a strange stillness … No witchcraft, no enemy action had silenced the rebirth of life in this stricken world. The people had done it themselves.

Carson was branded a "hysterical woman" by her detractors, but her incendiary thesis is laid out clearly and logically. Silent Spring is often credited with starting the environmental movement. Rightly so. The eventual ban on the insecticide DDT is one of the book's legacies.

Forty years later, the emotion wallop is still there. If you read Silent Spring again — or for the first time — you'll have to think about our relationship with our environment. Be warned, you may be moved to action.

— Sonia Linebaugh


Beautiful Swimmers: Watermen, Crabs and the Chesapeake Bay
by William W. Warner, Pulitzer-prize winning writer; Little, Brown: 1994

William Warner brings to life the mysterious blue crab and its Chesapeake Bay home through the eyes of the watermen whose livelihoods depend on them, the scientists who study them, the townspeople who devour them and the beautiful swimmers themselves.

Warner follows the crabs from conception, describing courtship dancing, lovemaking, combat, and the pure instinct to stay alive:

We can but little imagine the sheer terror which the sight of a blue crab must inspire in a fat little killfish or a slow-moving annelid worm. The crab's claw arms will be held out at the ready, waving slowly in the manner of a shadow boxer. Walking legs will be slightly doubled, ready for tigerlike springs …

Warner ventures beyond the crabs to describe the crab industry as a whole — from its history to crab house operations to what it takes to be the best crab picker — and how other industries such as pound-net fishing are inextricably linked to this oftentimes misunderstood creature of the Bay.

— Lauren Silver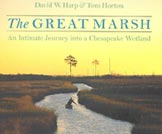 The Great Marsh: An Intimate Journey into a
Chesapeake Wetland
by David W. Harp: award-winning Chesapeake photographer; and Tom Horton: Baltimore Sun columnist and author of Bay Country; Johns Hopkins University Press: 2002

An aerial image of morning mist rising from trees by the Nanticoke River and a close-in photo of a marsh elder bush alive with migrating monarch butterflies: Study them, and you're there, too. David Harp lets you see Eastern Shore's Blackwater Wildlife Refuge. Tom Horton's text takes you along as the two authors canoe or kayak the watery pathways.

In their preface, Harp and Horton note that Maryland was once 25 percent marsh. Today wetlands count for only seven percent of the state. Yet they provide unparalleled kinds of habitat, recharge aquifers and filter pollution. Those are the facts.

It's the beauty of this book that leads us to feel why wetland protection is so important, even if some of us never choose to make the watery journey. Fox cubs, newly hatched pelicans, bullfrogs, yellow-rumped warblers and snowgeese make us aware of who else lives on this planet with us. Hunters, trappers, archeologists and watermen appear — but the focus is clearly on the living mystery of the place itself.

You could treat the 122-page book as a two-month reader, turning over a two-page spread for each new day. It's a book that shimmers and provokes. You'll keep on opening it.

— Sara Ebenreck


Novels of Land and Sea


Run to the Lee
by Kenneth F. Brooks Jr.: Lifelong Chesapeake resident, novelist and journalist; Johns Hopkins University Press, 1965; paperback 1988

Captain John Talbott stood alone at the wheel of his 90-foot freight schooner, out of Baltimore and headed to Solomons, in the midst of an unrelenting December snowstorm "bound to the wheel just as surely as if he was actually wrapped in chains …"

Why Talbott was out in the dark night hours of the harsh storm, singing his prayers to keep himself awake, how he made it past the shoals of Cove Point and into harbor with his load of coal — every page brings vividly alive the era of the great Chesapeake freighters and the men who sailed them.

Replaced by steamboats, then by the railroads and trucks of the land-ways, those working boats have passed into museums and history. But the images of the best captains, bound to their crews and knowing the Bay so they could see her in their minds even in a hard storm, still give us models to steer our lives by. It's a short and powerful classic, written for all ages.

— Sara Ebenreck



Chesapeake
by James A. Michener: author of Hawaii, Texas and Tales of the South Pacific; Faucett/Ballantine: paperback 1978 … and still printing

At 1001 pages, this book will all by itself carry you through a vacation. Opening with the native peoples' response to early European voyages of discovery, the book takes a classic Michener flight through the explorations of John Smith, the trials of early colonists and the slow creation of a new society in the Chesapeake region. Quakers figure in, as do Puritans, Catholics and the free-living folk who live by no law but their own. Pirates and politicians, African slaves and abolitionists make their marks on this place. Railroads, steamships, skipjacks and skiffs move through the pages. Even the Chesapeake retriever has its chapter. From 1583 to 1977, we get Michener's overview of the life of this place and its people. For the last two and a half decades, 1978-2003, you're on your own.

Inspired to write, anyone? If you'd like to follow Michener's example, all the notes that show his own process for figuring out a regional history are stored in Easton's public library archives. Go check them out!

— Sara Ebenreck



Patriot Games
by Tom Clancy: Juggernaut of action-adventure fame; Berkley Books: paperback, 1988

Former CIA analyst Jack Ryan morphs from tourist to hero, but while saving the life of British royalty, he's put himself and his family in jeopardy with international terrorists.

After escaping from a British prison, Sean Miller, who is part of a radical group of the Provisional IRA, plots his revenge against the Ryan family. From the United Kingdom to North Africa to the United States, Miller tracks and ensnares Jack Ryan in his trap. As in all of Clancy's work, how you get from here to there is fast, fun and dramatic.

As far afield as Clancy takes us in his enormously popular books, this one is rooted in Chesapeake Country. Jack Ryan teaches at the U.S. Naval Academy in Annapolis. The final solution to the book includes a harrowing sequence of events at the Ryan home on sandstone cliffs overlooking the Bay.

"Follow me, gentlemen." Jack led the three through the sliding-glass doors onto the deck that faced Chesapeake Bay …

"Welcome to Peregrine Cliff."

"The view is marvelous" …

Could these be Calvert's cliffs — where Clancy himself lives?

— James Clemenko



Sea Swept; Rising Tides; Inner Harbor
A romance trilogy: the lives and loves of three brothers on the windswept shores of the Chesapeake Bay; by Nora Roberts: New York Times bestselling author; Penguin Putnam: 1998-1999

Cameron, Ethan and Philip Quinn were each tough and troubled street-boys when they were adopted by Eastern Shore college professor Ray Quinn and his wife, Stella Quinn, M.D. As the trilogy opens, the now-adult Quinn boys face a crisis: Ray Quinn has been fatally injured in a single-car accident. In the preceding months, he had taken in a fourth abandoned street-wise boy, Seth. In his dying words, with town gossip circulating about why Ray cares so much for this boy, he asks the three older sons to care for Seth.

They agree. The three parts of the trilogy follow the impacts of that decision on the lives of a world-class sailboat racer (Cameron), a hometown waterman (Ethan) and a top-notch Baltimore advertising executive (Philip). Not surprisingly, since Roberts is Queen of Romance, three women enter the picture and are — one per book — swept into intense relationships with the three men. By trilogy's end, sometimes torrid romance and family integrity have triumphed.

A mythic town, St. Christophers, on the waterfront of lower Eastern Shore, Maryland provides the setting. Herons, marshes, crab-feasts and boat-building lend their ambiance to the action. It's a light but warm read that will leave you feeling good about the humanity of folks named Quinn.

— Sara Ebenreck

Poetry

Blessing the Boats: Poems 1988-2000
by Lucille Clifton: former Maryland Poet Laureate; BOA Editions: 2000

On a stone wall in the student center at St. Mary's College of Maryland, the title poem of this book is etched:

May the tide
that is entering even now
the lip of our understanding
carry you out
beyond the face of fear …
I stopped to read the lines literally hundreds of times in the course of my years teaching at that college. The boat blessing, a deep ritual in Chesapeake region, is here also a symbol for the blessing of our consciousness as we grow to new, sometimes fearful, understandings. I do not know how many students read it as they finished their walk up that central stairwell, but I nearly always did.

Lucille Clifton's poems have been emblazoned on New York subway signs and intertwined with the jazz of musician Paul Winter. She is, truly, a poet for the people. We read her reflections, from the point of view of a crab, on our Maryland crab-cake culture and of her thoughts as she reads the news of a schoolchild who has killed another. Poems on what it is to be black in a white-dominant culture and reflections on surviving cancer join poems about a fox that visits her Southern Maryland home. Travel with Lucille Clifton's poems and you'll know that, while life can be harsh, it is also suffused with a blessing light.

— Sara Ebenreck


Weavings 2000: The Maryland Millennial Anthology
Edited by Michael S. Glaser: director of the Voices reading series at St. Mary's College of Maryland and recipient of the Columbia Merit Award in Washington, D.C.; Maryland 2000 Commission

Poets — and poetic prose writers — speak from and to the human heart. From Maryland's northwest mountains to the southern marshes, from city-spaces to open waters, this anthology allows us to wander the many diverse emotional and physical landscapes of the Chesapeake region.

What is extraordinary here is the opportunity to find a handful of writers whose angle of vision appeals to you — then to seek more of their work.

A quote from then Maryland Poet Laureate Roland Flint opens the collection: "At the end of our bloody century, we might well pray that our country will turn more and more to the life of the spirit, and, when it does, a national archive of the spirit will be found in our poetry." In Weavings 2000, we have a Maryland portion of that work.

— Sara Ebenreck

Tales Tall and True


Chesapeake Boogaloo: Fish Scales, Game Trails and Puppy Dog Tales
by Keith Walters: Outdoorsman and outdoors writer; Bozman, Maryland: Aerie House, 1974

Walters is living the Chesapeake dream. On the Western Shore, he fished evenings and hunted weekends during his 30-year career with NASA. On retirement to the Eastern Shore, he made his play his work.

There's a quest in each of the many short stories in this book, giving a lovely purposefulness to his meander through the places of Chesapeake Country (and farther afield) with the human and animal companions of a lifetime. They're so rich with detail that you learn the craft and customs effortlessly. And they're all so brought to point that, were Walters not a journalist (you can keep up to date with his stories in the Easton Star-Democrat) that you'd swear he was a lying fisherman.

A Whole World of Trouble
by Helen Chappell: journalist writer of essays, local histories, mysteries and romances; Simon & Schuster: 2003

Helen Chappell of Royal Oak on our Eastern Shore can't seem to stop writing. The creator of the hilarious, and sometimes poignant, Oysterback Tales and Oysterback Spoken Here, brings new life to her wacky fictional village with the novel A Whole World of Trouble.

A typical Oysterbacker, Miss Audrey died in an incident with an alligator while vacationing at Gator Gardens in Florida. Two daughters are waiting for brother Wayne to get Mama's ashes through airport security and home for the funeral. Carrie lives up and down the East Coast in her Econoline van, while her disapproving sister Earline lives a "conventional" Oysterback life working at the View 'n' Chew, a combination video and sandwich shop. The two are drawn into a roil of emotions by their Mama's death.

With A Whole World of Trouble, Chappell finds more poignancy and simple wisdom in the humorous heart of "an open-air insane asylum like Oysterback." Chappell's sympathetic eye, sharp wit and keen ear leave the reader with warm feelings for all of our eccentric neighbors — fictional and otherwise.

Two Pieces Of Clothes: A Conversation
by Hal Roth: Vienna, Maryland: Nanticoke Books, 2003.

Hal Roth collects stories. In 1997, he was reading his book Conversations at a Country Store aloud to a group of elderly African Americans at the Pleasant Day Adult Day Care Center in Cambridge, Maryland. "I don't know much about what my great great-grandfathers did because nobody ever wrote it down," said one of the listeners.

Those words prompted this book of reminiscences. In it, Roth has captured the essence of their experience by asking simple questions, in this vein:

"The late Nicey Ennals was the oldest living relative of Harriet Tubman at the time the conversations were held. I asked Miss Nicey to tell me what she knew about Harriet when she was growing up."

Then he stands back and lets the elders tell their tales.

Now, somebody has written this living down for everybody to know.

— James Clemenko
---
Books by Bay Weekly's Writers
Steve Carr, Bay Weekly columnist
WaterViews
Annapolis Publishing (410/280-1414): September 2003
WaterViews blends the talents of three long-time friends in reflections on Chesapeake Bay. To Steve Carr's 25 essays of nostalgia and warning, signature Bay photographer Marion Warren lends landmark photos while cartoonist Eric Smith of The Capital contributes a cutting edge.


Sara Ebenreck, Bay Weekly contributing writer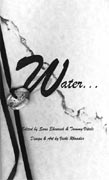 Water …
Edited by Sara Ebenreck and Tammy Vitale; Art by Vicki Rhoades; Solomons: The Center for the Chesapeake Story (410/394-0743 • www.chestory.org) 2002

This book draws the arts of Southern Maryland — poetry, reflection, questions, brush-art and song — into connection with some of the disturbing facts we know about our waters. Contributors range from the well-known — Tom Wisner, Elsavietta Ritchie, Michael Glaser — to those in print for the first time. The youngest contributor was nine and the eldest 90.


Sara Ebenreck with Gary Pendleton,
Bay Weekly writer and artist
Upcoming in 2004, the history and heritage of the Calvert County town of St. Leonard.


Edward Allan Faine: Not Just for Kids How-to Cowboy
How the Frog Got his Bree-Dup
by IM Press: 301/587-1202

A children's book illustrated by cartoonist Jim Hunt, who has contributed many Bay Weekly covers.

Little Ned Stories
by IM Press: 301/587-1202

A chapter-picture book series for ages four to eight.



Bill Lambrecht: Bay Weekly cofounder and editorial analyst; Washington correspondent, St. Louis Post-Dispatch
Dinner at the New Gene Café:
The New Politics of Food in the Genetic Age
St. Martin's Press: hardback, 2001; softcover 2002
Investigative reporter Lambrecht lays out the fault lines of a powerful but unproved new technology.

Biotechonology companies are knocking down species barriers as they race one another to alter the genetic building blocks of the world's food. In the United States, the homeland of this quiet revolution, since 1996 the acreage of genetically modified crops has soared from zero to more than 70 million. More than half of America's processed grocery products — from cornflakes to granola bars to diet drinks — contain gene-altered ingredients. This Mendelian magic is creating a brave new world — before people can weigh the potential costs and benefits.

"Stunningly comprehensive and intensely absorbing. Should be required reading for anyone who eats," wrote Kirkus Reviews.

Cottonwood Sins: True Tales and Twisted Politics along Lewis and Clark's Missouri River (working title)
St. Martin's Press: 2004

Written for the '04-'06 Bicentennial of Lewis and Clark's westward odyssey, Cottonwood Sins chronicles the unnatural decline of America's longest and most historically significant river, and the battle unfolding over its restoration. At the heart of the conflict is the broader environmental dilemma between controlling nature in the name of progress and restoring our natural world.


Sonia L. Linebaugh: artist, writer; former Bay Weekly associate editor and current contributing writer
At the Feet of Mother Meera: The Lessons of Silence
Xlibris (www.xlibris.com): hard and softcover, autumn 2003

At the Feet of Mother Meera chronicles a modern-day spiritual quest that combines living in the world with intense spiritual experience.

It's not some faraway stranger seeking — and finding — enlightenment, but a Chesapeake Country neighbor, which makes the story at once easy to believe and amazing. Fairhavener Sonia Linebaugh's quest led her to Germany, to the feet of Mother Meera, a mysterious young woman who lays hands on the heads of seekers and looks in their eyes. From the tender encounter of this darshan comes an explosion of revelation.

Linebaugh says, "In Silence, our lessons in living and light begin." Sometime this fall, find a quiet corner and enjoy the silent lessons of this book.

Carolyn Stearns: Bay Weekly contributing writer
The Inheritance
PublishAmerica (www.PublishAmerica.com): 2003
Two women born 40 years apart come to know one another — and themselves — by sharing their life stories. Each writes in the first person, uncensored, which is what they've been wanting all their lives.

Quiet Please: Eaglet Growing

and



Where Did All the Water Go?
Tidewater Publishers: 2002, 1998

Illustrated by David Aiken, these children's books capture natural wonders — and in one case problems — of Chesapeake Bay.

Spirit-Walking
IM Press: 301/587-1202

A record of encounters past death.