---
Update: Vol. I, No 14
Chesapeake Country Excursion
Destination — Old Stein Inn
Still ompahing after 20 years
by James Clemenko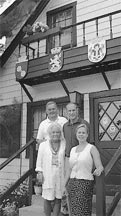 Two generations of the Selinger family: Karl and Ursula with son Mike and his wife Beth.
Gekommen feiern Sie Jahrestag des alten Stein Gasthauses zwanzigster.
No, you're not in Germany; you're still in Chesapeake Country. If you head along Route 214 toward the Chesapeake Bay, you'll come across a small slice of Germany — the Old Stein Inn, where for 20 years now, citizens of Chesapeake Country have been able to taste and experience a different culture.
What's a German restaurant doing in Chesapeake Country?
Twenty years ago, Karl and Ursula Selinger, emigrants from Germany, traveled to Mayo on a driving quest. They found an old house that had once been Anne Arundel County's first gas station, a market and a tavern. They decided that it would be perfect for their authentic German restaurant.
After 17 years laboring for love, the founding Selingers retired to Mexico. Their son Michael now runs the restaurant with wife Beth and chef Michael Cummings. Together, they have continued the tradition set by the previous generation, combining German and American cuisines.
Typical German foods and beers abound. If you're in the mood for bratwursts or wiener schnitzle, Old Stein has plenty to serve. You'll find pilsners and weissbiers if you're on a liquid diet.
For an amalgamation of ethnic dishes, look no farther than Old Stein's award-winning Munster cheese and crab soup. It combines the best of Chesapeake Country, crabs, with the German propensity for hearty soups.
If you want to celebrate a special day with family and friends, the Old Stein Inn can assist you, even if you want that wild mushroom soup that isn't on the menu.
"On request, we have brought in special beer and made specific dishes. This has happened for rehearsal dinners, birthday parties and anniversaries," said owner Mike Selinger.
Among Old Stein's traditional menu items, one has earned celebrity.
The Old Stein was selected for a Critic's Choice segment of the Food Network's The Best Of television program, in which restaurants suggested by viewers are profiled. The dish profiled: Rinder Rolladen.
Rinder Rolladen is beef — often thinly sliced flank steak — nicely rolled around bacon, carrots, onion, pickles, salt, pepper and German mustard, then rolled in gravy. The segment garnered The Old Stein fame beyond Chesapeake Country.
"Being on television has brought in customers from Virginia, Delaware and New Jersey," said Michael Cummings, who began as dishwasher at the Old Stein and, after culinary school, returned to the kitchen as chef.
Not only are customers coming from afar to the Old Stein for food, they are coming to drink beer outside.
Mike Selinger constructed an authentic biergarten so patrons can experience the German tradition of eating, drinking and being merry while listening to music and looking at the stars.
In this 20th year of existence, the Old Stein Inn will undergo more changes.
"I want to give the place a face lift. Everything but the tin ceiling will be renovated," said Selinger. The front room will be expanded out to the side, enlarging the main dining room. In doing so, Selinger hopes to recreate the essence of a hofbrau haus-style beer room, complete with double-sized long tables.
The construction will include a partial roof over the biergarten, so no matter what the weather brings customers can imbibe without getting wet. Enlarging the kitchen and parking lot are also on tap. These changes will help expand the menu and number of customers able to taste a slice of Deutschland.
Come and sample the food, beer and wine during Old Stein's 20th anniversary party July 26 in the biergarten at 5pm (see 8 Days a Week for details).
So, Gekommen feiern Sie Jahrestag des alten Stein Gasthauses zwanzigster: Come celebrate Old Stein Inn's 20th anniversary. And when you're there, say hello to Old Stein's permanent guest, Roger, a ghost who inhabits the bar area.
Follow Rt. 214 toward the Bay. When you pass Turkey Point Road on the left, expect the Old Stein — an old house that stands alone — to turn up soon on your right. But don't come Monday or Tuesday. The Old Stein Inn's open Wednesday through Sunday: 4-10pm FSa and 4-9pm WThSu.
410/798-6807 •
www.oldstein-inn.com
.