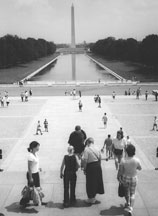 Inside the Lincoln Memorial, a 19-foot-high and 19-foot-wide statue of our 16th president gazes down the Washington Mall, past the monument to the U.S. Capitol building beyond. With his back to the Potomac River and the whole country behind him, is he keeping his eye on Congress to ensure that his legacy endures?

Murals on the inside of the memorial, which was completed in 1922, depict Lincoln's life. The Gettysburg Address and his Second Inaugural address are inscribed here.

Thirty-six columns surround, representing the states in the Union at the time of Lincoln's death. But it is the massive seated Lincoln, carved from white Georgia marble, that commands attention. The president is subdued, head tilted down, eyes sad.

Abraham Lincoln embraced the ideals of our nation's founders — "that all men are created equal." So it was no wonder that this spot was chosen for the March on Washington for jobs and freedom on August 28, 1963. Martin Luther King gave his "I Have a Dream" speech from the top step of the Lincoln Memorial. Words chiseled only recently on the granite step now mark the spot where King stood to deliver the speech that became famous.

Recessed from the gleaming exterior, the temple inside is shaded and cool on the hottest summer day. Four million visitors are said to come to the Lincoln Memorial each year. Many have sought to stand in the very spot the Rev. King delivered his speech. Now, the guessing game is over. The legacy endures.

Find the Lincoln Memorial in Washington, D.C.'s West Potomac Park, flanked by the reflecting pool to the East and the Potomac River to the west. Open daily and staffed by park rangers from 8am to midnight every day except December 25.

Destination: Chesapeake Country ~ 8/27 - 9/3, 2003 Issue #35
Lincoln Memorial

by M.L. Faunce
---
Destination: Chesapeake Country ~ August 21-27, 2003 Issue #34
20th Annual North Beach Bayfest
Saturday & Sunday, August 23-24
All the town's a stage for you to play on this weekend during the 20th anniversary North Beach Bayfest. If you've not been to North Beach in a while, you may be pleasantly surprised by what you see — both Bayside and thruout the community.

The background is the Bay and the town's sandy beach, boardwalk and fishing pier. In the foreground, musicians — Mama Jama, 2nd Conspiracy, The 2-4 U Band, and Yesterday's Child — play from noon-6pm. From noon-6:30pm Sacchetti Music also entertains. All you have to do is listen in and get loose. There'll be crabs and shrimp to eat, antique cars and martial arts to see (Sa only), and crafts to buy, with 140+ vendors including Maryland Writers' Association, who will offer autographed books for sale. Activities for children, too. noon-6:30pm both days @ the North Beach boardwalk. free: 410/257-9618 • www.nbeachmd.com.
---
Destination: Chesapeake Country ~ August 7-13, 2003 Issue #32
Marion Warren at Discovery Village
by Stephanie Chizik

In 83 years, Marion Warren has taken hundreds of thousands of photographs capturing the faces and lives of the Bay. If you've flipped through one of his several books, come upon his vision of Chesapeake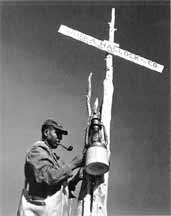 Country in a doctor's office photo or gotten caught up in the display gallery at the Miller Senate building, you've seen the beauty that Warren achieves with each photo. But until you've seen these pictures at his only permanently on-loan gallery, then you haven't felt the power of his pictures as they come to life.

"He's quite a man," said Stephen Berry of Davidsonville, who saw for himself at the invitational opening a week ago. "His pictures really tell a story." This collection of 50 black and white photos will show you exactly how Chesapeake Country has evolved throughout the past century. Strolling along the small main hallway of Shady Side's Discovery Village you may even see one of the framed faces walking amongst you — or at least persuade yourself that you have.

9am-5pm M-F @ Discovery Village, 4800 Atwell Road, Shady Side. Follow blue signs off Snug Harbor Rd.: 410/867-2100 x152 • www.discoveryvillage.net.
---
Destination: Chesapeake Country ~ May 8-14, 2003 Issue #19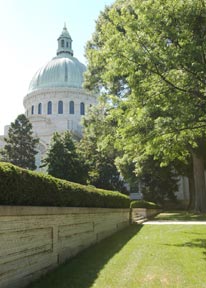 U.S. Naval Academy
by Nancy Hoffmann
"How long have you been in the Navy?"

"All me bloomin' life, sir! Me mother was a mermaid, me father was King Neptune. I was born on the crest of a wave and rocked in the cradle of the deep. Seaweed and barnacles are me clothes. Every tooth in me head is a marlinspike; the hair on me head is hemp. Every bone in me body is a spar, and when I spits, I spits tar! I'se hard, I is, I am, I are!"

For generations, upperclass midshipmen have been asking this question of plebes. And every new class of plebes claims this auspicious seafaring lineage. It's a rate they must memorize.

It's tradition, along with throwing pennies at Tecumseh before an exam. The bronzed figurehead of the USS Delaware scowls at all he surveys, but he bestows exceptionally good luck on any midshipman whose penny lands in his quiver.

Then there's the language of midshipmen. The campus is called the Yard, a bed is called a rack, a sophomore is a youngster, a squirrel is a Yard dog, a hamburger is a Z-burger, a date is a drag and a not-so-good-looking date is a brick, but a mid who's a terrible swimmer is a rock.

Behind the Academy's brick walls are tree-lined walks, monuments to naval heroes and, everywhere you look, midshipmen rushing to class, formation, athletics, lectures, parades and inspections. It's time to find out what it's all about.


Start out at the Armel-Leftwich Visitor Center on King George Street inside Gate 1. You can watch a short film on midshipman life, view two floors of exhibits and sign up for a guided walking tour of the Yard. The center is open 9am to 5pm, but tours are not given throughout the day so be sure to check the website or call. Guided tours are $6.50 for adults, $5.50 for seniors and $4.50 for students first through 12th grade.

Due to security concerns, only cars with DOD stickers may drive onto the Yard, but cars with handicapped tags may enter after inspection. Every visitor over 16 must show a photo ID.

One last thing: In the British navy during the days of wooden ships, young men training to be naval officers were stationed in the middle of ships to relay orders. They were called midshipmen.

Information? www.navyonline.com. 410/263-6933.
---
Destination: Chesapeake Country ~ April 24-30, 2003 Issue #17
You Can't Know Chesapeake Country If
You Don't Read Bay Weekly

With this issue, we turn 10. We hope you've read all 489 issues. If you keep reading these pages each week, we'll have many more decades to celebrate. And you'll be among Chesapeake Country's smartest and liveliest citizens. Good reading!
---
Destination: Chesapeake Country ~ April 17-23, 2003 Issue #16
Hammond-Harwood House
by Sonia Linebaugh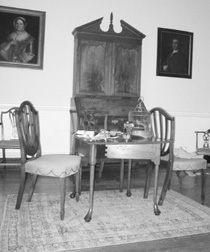 Though it's not on the Maryland Pilgrimage, there are plenty of new reasons to visit the Hammond-Harwood House where the garden, dominated by huge and ancient boxwoods, blooms with Lenten roses, japonica, flowering quince, vinca and more. Closed to the public since January, the three-century-old house reopened this month with rooms have been set up as if a family might still live there.

Executive director Carter Lively points to a table with a large book and some draughtsman's tools. "That's the real James Gibbs' book of architecture from 1728," says Lively. "We turn the pages every day. One page shows the cartouche with decorative scroll work that's in the pediment at the top of the house. It looks as though someone has just stepped away from the table."

A small parlor is set up as a family might use it. The adult table holds a bird cage. The children's table features a house of cards. In a look and touch basket, copies of old paintings called conversation pieces show family leisure time in similar settings. The basket also holds a black block that appears to be made of pressed paper pulp. It's really a block of tea. Also in the basket is a bag of loose tea for touch and smell. With these touches the house comes alive.

In one bedroom hangs a oil painting of Anne Protor beautifully and realistically captured in a moment of childhood. "The very doll!" in the painting sits below in a chair similar to that in the painting.

Lively calls the the elegant three-section house "an academic house."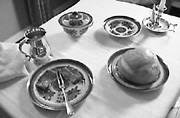 By which he means "it was designed by an architect and built according to a plan. That's most unusual for the period."

Tobacco planter Matthias Hammond, age 25, began construction in 1774, under the supervision of architect William Buckland who died later that year. Building was completed soon after the Revolutionary War. The final resident was Hester Ann Harwood, whose family had occupied the site for 145 years.

On her death in 1926, St. John's College purchased the house, using it as a kind of decorative arts classroom and even a fraternity house. Later, the Federated Garden Clubs of Maryland purchased the house and property. In 1940, the Hammond-Harwood House Association was formed and continues to manage the property.

Hammond-Harwood House, 19 Maryland Ave., Annapolis. Adults $6, Children $3. noon-5pm W-Su, w/last 40-minute tour at 4pm: 410-263-4683 • www.hammondharwoodhouse.org.
---
Destination: Chesapeake Country ~ April 10-16, 2003 Issue #15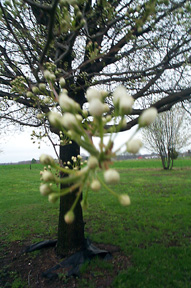 Pear Blossoms with a Past
by Steve Carr • Photos by Cristi Pasquella
The cherry trees of Washington get all the publicity, but in terms of sheer volume, nothing can hold a candle to Maryland's ornamental pear trees.
Whole regions — Route 50 around Bowie is one — seem covered white, puffball riots of color. Is the State Highway Administration planting them for our visual enjoyment, or is some Johnny Pearseed secretly sowing our roadsides as we sleep?

Behind the blossoms is a tale of human manipulation gone out of control.

These decorative pears, usually referred to as Bradfords, were brought here in 1918 from China as an ornamental tree with a nice shape — but without all the messy fruit.

Like aspens, the Bradfords are clones. Replicating identical versions, they sprout from a single parent. The coastal plain of Maryland has proven to be fertile ground indeed, for they grow like gangbusters around here. As a result, they've also become a favorite choice for landscapers in the sprawling subdivisions and commercial shopping malls of Maryland. If suburban sprawl had a flag, then the Bradford pear tree would be its shining symbol.

Unfortunately, the first version of these pretty pear trees had a problem. At about 20 years old, they no longer had strength to hold up their branches during ice or wind storms. Each winter storm brought more ornamental pear trees crashing to the ground. What were we to do?


Somebody had the bright idea of asking scientists at the National Agricultural Research Center, near Beltsville, to make us a better pear tree. Government arborists created all sorts of hybrid pear trees, some with fancy names like Aristocrat, Chanticleer and Redspire. Their cross-pollinated offspring — escapees from the Beltsville and Glenn Dale labs — can now be seen flowering throughout Chesapeake Country.

Alas, these pretty aliens are squeezing out every other native tree in sight, including the native shadblow, which looks like a smaller version of the Bradfords and is also in bloom right now, but which can't compete against the ever-expanding pears.

This is what happens when humans start trying to engineer the natural world. We end up with the whole place covered in pear trees and not a single piece of fruit to eat. Enjoy their blooms now, but if you're planting, consider a shadblow instead.
---
Destination: Chesapeake Country ~ April 3-9, 2003 Issue #14
Stretch Out with Yoga
by Sara Kajs
Is winter still in your bones? Spring is time to stretch out and go with the flow. As the wisest yoga teachers say: just remember to breathe.

This week, two centers in Chesapeake Country offer free classes to introduce you to the world's oldest system of holistic health in yoga. Comprised of postures, breathing, exercise and meditation, yoga tones muscles and improves body alignment, reducing stress while increasing energy and vitality. This artistic form of exercise originated in India around 5,000bc and has been rejuvenated over the last decade.

Up in Anne Anne Arundel County off Bay Ridge Road, Annapolis Yoga, the county's largest yoga studio offers, introductory, Vinyasa or flow yoga, pre-natal, restorative and gentle yoga. There is also a free class that combines all levels of yoga and introduces meditation. Pre-registration is required, and you may only sign up for one class.

At the tip of Calvert County in Solomons, Chesapeake Yoga Center offers a medley of free classes in introductory and intermediate yoga, plus Tai Chi and Pilates. Sample classes are open on a first-come basis, but call ahead to get the information you'll need to choose the right class.

Destination: Annapolis Yoga Free classes
Information? 410/268-3838 • [email protected] • www.marylandyoga.com
Intro: April 3 9:30am & 7:45pm, April 5 10:45am, April 6 10:45am, April 7 11:30am & 7:30pm, April 8 6pm, April 9 5:30pm

Vinyasa (Flow Yoga): April 3 7-8:30am, April 8 11:30-1pm

Gentle: April 7 9:45-11am

Pre-natal: April 6 6-7:30pm

Retorative: April 4 11-12:30pm

Mixed Levels w/Meditation: April 9 9:30am
Destination: Chesapeake Yoga Free classes
Information? 410/326-4421 • [email protected]
Intro: April 7 5:30pm, April 9 7:30pm, April 10 5:30 pm, April 12 9am

Vinyasa (Flow Yoga): April 7 7:30pm

Experienced: April 10 7:30pm

Pilates: April 8 5:30pm

Tai Chi: April 8 7:30pm, Apr 11 7:30pm
---
Destination: Chesapeake Country ~ 3/28/03 - 04/02/03 Issue #13
Battle Creek Cypress Swamp
by Kathryn Reshetiloff

Immerse yourself in a primeval scene as you walk among bald cypress trees, their knobby knees poking out of the mud and water. The 100-acre sanctuary supports the northernmost limit of a cypress swamp, recalling a time, some 100,000 years ago, when swamps like this covered the land.

You won't see any prehistoric relics lumbering about, but the sanctuary supports a wide variety of wildlife. Following a boardwalk trail, you meander among the giant cypress trees, some 100 feet high and more than 1,000 years old. In weeks to come, wildflowers — including violets, spring beauties, May apple and pink lady's slipper — blanket the ground.


You might stir up a white-tailed deer, muskrat, mink, raccoon, skunk or opossum. Salamanders and tree frogs breed in the swamp, and spotted, painted and mud turtles bask in the sun atop logs and cypress knees. Birdwatching is particularly good at Battle Creek with many warblers, including Kentucky, worm-eating, prothonotary, parula and hooded, returning to the swamp each spring to breed.

In the nature center, explore more closely through exhibits that focus on area natural and cultural heritage.

Free Tu-Sa 10am-4:30pm; Su 1:00-4:30pm. From Route 4, just south of Prince Frederick, turn west onto Sixes Road (Route 506). Left on Gray's Road to the sanctuary, on your right.