This Week's Features:
---
by Ben Tausig
Here is the dirty secret of crosswords: They are made by human beings. We stash our friends' names in grids, allude to our lives and pull theme ideas from drunken conversations at the bar. The last has actually happened numerous times; I keep a black pen in my pocket and write reminders on my hand. Once, I thought of a puzzle about being underemployed while biking home from my then-job as a barista at a kitschy dessert café in Hell's Kitchen, New York.
---
Three-hour tour through Annapolis highlights culinary history
by Carrie Madren, Bay Weekly staff writer continue reading...
---
Sniff around SPOT thrift shop in St. Leonard
by Margaret Tearman
---
So what do you call your water escape?
by Alice Snively
---
Fish are there; but rules say you've got to put them back
Back in the early 1940s when I was sophomore in high school, the subject I hated most was ancient history, taught by Gordon Fairbrother, who later switched to journalism and who nearly 60 years ago I competed with to write the news.
---
Topping trees distorts their shape and reduces their ability to withstand wind
It's a fable that shearing the tops of trees stops them from growing tall. Topping trees not only distorts their growth into an ugly form; it also makes them less wind resistant. If you need a tree that doesn't grow tall, select a short species.
---
Staving off global warming through emissions reductions
What countries that signed onto the Kyoto Protocol are fulfilling or surpassing their commitments? Which are falling short and why?
—Dan S., via e-mail continue reading...
---
Whatever you call it, Aril's moon smells of spring
Thursday night the waxing moon appears high in the east at sunset with bright twinkling Regulus less than one-half degree below. A first-magnitude blue-white star, Regulus is the heart of Leo the lion, one of the oldest constellations and a harbinger of spring. Armed with a telescope or a pair of binoculars, look for Regulus' yellow companion star, R. Leo. continue reading...
Illustration: © Copyright 1925 M.C. Escher/Cordon Art-Baarn-Holland; Graphics: © Copyright 2007 Pacific Publishers. Reprinted by permission from the Tidelog graphic almanac. Bound copies of the annual Tidelog for Chesapeake Bay are $14.95 ppd. from Pacific Publishers, Box 480, Bolinas, CA 94924. Phone 415-868-2909. Weather affects tides. This information is believed to be reliable but no guarantee of accuracy is made by Bay Weekly or Pacific Publishers. The actual layout of Tidelog differs from that used in Bay Weekly. Tidelog graphics are repositioned to reflect Bay Weekly's distribution cycle.Tides are based on National Oceanic and Atmospheric Administration and are positioned to coincide with high and low tides of Tidelog.
---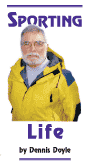 White perch are back and biting
Like Pavlov's dog I began to salivate as soon as I saw the bobber dip. I set the hook, my rod bending nicely as the first silvery perch of the year tore across the shallows in front of me. My bright yellow float trailed a swath of noisy bubbles as the fish pulled it out toward the middle of the creek. The perch run was on. continue reading...
---
Where We Live by Steve Carr
Playing next in Chesapeake Country
I just got home from a vacation on the Gulf Coast of Florida, where I witnessed development on an almost unimaginable scale. The folks who complain about growth around here ought to head south to the Sunshine State for a crash course in what seriously cranked-up development looks like.
---
Green funding for the Bay passes the House and moves into the Senate … Buy Beaulieu wine by the case to benefit the Bay … Spring fever at the gas pump: prices rise to $2.54 a gallon … Navy sonar accused in deaths of gray whales and sea turtles … and last but not least, this week's Creature Feature: Richmond, Virginia's beloved pair of peregrine falcons live up to their name.
---
Early Primaries: Good Reason for Buyer's Remorse
If you think presidential election seasons are long and boring, you haven't seen anything yet.
---
Cold Water Shock a Threat in Any Air Temperature
Department of Corrections
---
The Return of Pine Lake's Party
The Chairman's 3rd Annual Report on Community Catastrophe
by Allen Delaney, Party Chairman continue reading...
---
---
---
---
---