Got a Nose for a Bargain?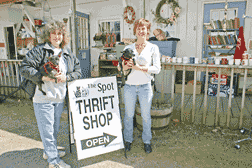 Mary Keeler helps Mark Conrad, below, of Fairborne, Ohio, add to his collection of military patches.
SPOT co-founders and sisters Fabienne Ament, left, and Ellen McCormack, right, holding Annie and Peanut, black Chihuahuas from Calvert SPCA.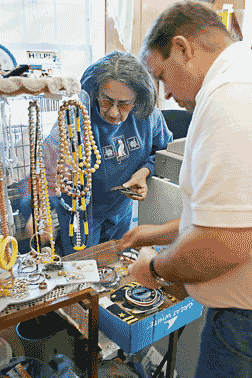 Sniff around SPOT thrift shop in St. Leonard
by Margaret Tearman
This is a flea market even dogs can love. With over 1600 square feet of bargain treasures waiting to be discovered, and 100 percent of profits earmarked for humane organizations, Stop Pet Overpopulation Thrift Shop, or SPOT, in St. Leonard has goods for both human and beast.
SPOT is the brainchild of a family who loves animals. Founders of Southern Maryland Spay and Neuter Inc., Mary Keeler and her two daughters, Ellen McCormack and Fabienne Ament, started their a 501(c) charitable organization out of frustration. "We had been fostering animals and volunteering at the various humane groups for 20 years," said McCormack. "There are just so many unwanted pets and a real need for a low-cost spay neuter clinic in Southern Maryland. But nobody is stepping up to the plate."
SPOT the thrift shop is the women's moneymaker. SPOT profits are shared with humane groups across Southern Maryland, mainly in Calvert County. Recipients include Calvert Animal Welfare League and the Humane Society of Calvert County. But the main goal is to construct and operate a low-cost spay-neuter clinic to serve Calvert, Charles and St. Mary's counties.
Fleas to Elephants
SPOT is also a treasure hunter's dream. Inventory changes daily as Calvert animal lovers and friends discover a spot to unload white elephants for a good cause. But not their biggest elephants. Like all thrift stores, it can't use mattresses, appliances, computers or stained or broken items.
"We completely rely on donated items," says McCormack.
The merchandise is as varied as the collectors who visit to seek out the bargains, ranging from costume jewelry to military uniforms, candleholders to vintage lamps, hand-thrown pottery to hand-painted birdhouses.
It's an eclectic collection, but "not too orderly, not too neat," says McCormack. "That would take a lot of the fun out of it."
SPOT has found a devoted pack of treasure seekers, and Keeler keeps a notebook with requests from serious collectors.
"One of our regular customers is a former big-band musician," says Keeler. "He collects and reconditions discarded musical instruments, then donates them to area schools."
Collectables on the SPOT customer watch list include "all things Elvis," vinyl records from the 1950s and 1960s, old barbershop items, vintage cookbooks and presidential memorabilia.
Author Tearman couldn't resist a hand-painted dog dish for her dog Roscoe — aka Sparky.
To keep up with popular culture and its demands, SPOT has jumped into the pool of Internet auctions.
"Some of the donations are pretty valuable," says McCormack. "We've started putting those items on eBay."
It takes an elevated level of expertise to sniff out those really valuable items.
This year, professional appraiser Steve D'Hondt has joined the SPOT pack of volunteers. His expertise was apparent when he spotted the biggest treasure to date: a World War II Italian officer's dagger.
"When I realized what we had," says D'Hondt, "I was pretty excited. It was a really special piece and collectors are willing to pay a lot of money for rare military items." The dagger was put up for auction on eBay and sold for $1,250.
"It was the biggest sale, the biggest day, we've ever had," said McCormack.
Too Much of a Good Thing
From your shopping success, Southern Maryland's pets and their owners benefit. A recent beneficiary, McCormack reports, "had just taken in a couple of abandoned cats but didn't have the money to have them spayed and neutered. She told me I need your help, but I promise I will pay you back someday. This is how we help people and their pets."
The number of homeless animals in the tri-county area is staggering. On average, more than 13,000 domestic animals pass through Tri-County animal shelter each year. Fewer than 30 percent survive. According to shelter supervisor Kim Stephens, 10 percent are reclaimed by owners, 10 percent adopted and 10 percent rescued by humane organizations.
The dedicated animal lovers behind SPOT are working to reverse these statistics. "The thrift shop has brought in $10,000," says McCormack. "Southern Maryland Spay and Neuter is ready and willing to take out a loan for the balance of money needed to establish a clinic. We just need to find someone willing and able to run it."
Find SPOT in the Chesapeake MarketPlace, St. Leonard. Open 10am-5pm Wed.-Sat. and noon-5pm Sun.: 410-562-6516 during store hours; 410-586-2063 after hours.