George Washington Ate Here
Three-hour tour through Annapolis highlights culinary history
by Carrie Madren, Bay Weekly staff writer
Down a paper shot-glass of Kona coffee at Hard Bean and you're off, traipsing the historic sidewalks of Annapolis, snacking your way through history. On Capital City Colonials Food and History tour — debuting April 12 as the newest of Annapolis' historic tours — an 18th century guide leads you to 16 sites of historic — antique or modern — culinary interest.
If straight-up history bores you, this sampling tour with ties to Annapolis' cultural history may be your cup of tea. A costumed guide leads your tour groups of two to 15 to restaurants, inns and more to sample nine tasty treats. It's a hearty jaunt off the beaten path of Main Street, City Dock, down Prince George Street, College Avenue, past St. Johns College, crossing between the State House and Lawyers' Mall, returning via Main Street. But you do get to sit and rest at the stops.
Among the first stops of your tour, Middleton Tavern serves up crab balls in its 18th century tavern, founded by a ferry owner back when ferry licenses also required a public house offering food, drink and lodging to weary travelers.
Walk on to City Dock, for a taste of modern history at Aroma d'Italia, where owner Boris Ghazarian — trained in Italy by a fourth generation gelato-maker — scoops up half-chocolate-half-strawberry take-out cups.
Past the Naval Academy — where midshipmen eat in the world's largest dining facility, which dishes up 11,000 meals per day and can grill up 3,000 hamburgers per hour — you stop at Big Cheese for European cheese and bread.
Seven of the stops feed tourists ungarnished history. Among these is the antique and artifact-filled home of author Anne Jenson, whose family has owned the same home since 1771.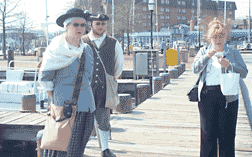 Led by 18th century guides, you can sample food and drink from 16 sites of historic culinary interest on Capital City Colonials Food and History tour.
Colonials — even the kids — drank low-alcohol beer because water was unsafe, Capital City Colonials coordinator and colonial tour guide Susan Denis told a preview tour in March.
This tour is non-alcoholic, but it stops at two wine cellars. At the Inn at 30 Maryland Avenue, you'll sample a bite-size pastry filled with chicken Astoria salad. Descending the tight spiral staircase, past the Members Only sign, into Harry Browne's wine cellar, you won't sample the vino, but you might win a gift certificate.
Tea replaced beer as the colonial drink of choice, though tea taxed by England started a different kind of party. On this tour, Hammond-Harwood House serves a teacup of nonalcoholic raspberry shrub, a fruity colonial punch.
At Maryland Inn, the treat is a softball-sized popover with butterballs. Down the street, it's a scoop of one of Annapolis Ice Cream Company's dozens of flavors. But you won't find oyster ice cream, a colonial favorite.
Stop by stop, you'll nibble enough to fill you midday.
On Annapolis' first food tour, you'll catch a nation-wide wave: New York City offers a chocolate tour, New Orleans a Creole and Cajun food tour and in Boston's Little Italy, an Italian food tour.
Other innovations stretch to 21st century technology. Gone to history are shouts over traffic from backward-walking guides. These guides speak into a headset microphone that transmits stories and history to your earphone. Since everyone hears equally well, there's no need to jockey for position. Stragglers miss nothing.
All together, Capital City Colonials new Food and History tour is a jaunt on which Chesapeake Country natives will gladly accompany their visitors.
Tours run rain or shine — except in torrential downpours. Kids won't find the three-hour stroll engaging, but foodies and adults will take in hearty history with their snacks. Starting April 12, reserve your space in tours led Th,F,Sa at 11am and Su at 1pm. $38/adult; $21/ages 8-14; $14/ages 3-7. rsvp: 410-295-9715; www.annapolisfoodtours.com.