Pugh's Music Reviews
by Matthew Pugh
Fool's Gold

I figured that Gold Mind Squad would be musical savants; I figured that their music would be genius. I was wrong.
Popularity doesn't automatically mean that a band's music is good. That's the case with the popular Annapolis-area band Gold Mind Squad, which goes by their initials, GMS.

Formed in June of 2001, GMS features Brent Allen on guitar, Evan Via on guitar, David Benischek on vocals, 'Brando' on bass, 'Rooobyn' on drums — with, I suspect, Maybelline on make up.

The Hype
Since their album Survival of the Richest was released last fall, this pseudo-punk, hard-rock quintet has made significant noise in the Metro area. Their song "Butterface" exploded on to DC 101 and quickly became the most requested song on the program Local Lix.

From there, it snowballed. Live 105.7 played "Butterface," which caught the ears of Baltimore Raven's owner Art Modell, who then put the song on the 2003-2004 play list at the team's M&T Bank Stadium. Baltimore station 98 Rock spun the tune and featured GMS on several on-air interviews and at several 98 Rock-presents music events, including Thrash at Rash.

Washington's 99.1 WHFS now features "Butterface" on their network and invited GMS to play at last year's HFStival at RFK Stadium with Jane's Addiction and Audioslave.

Squad's song "Remember" is featured on Billboard Magazine's Hard Music 2003 compilation, and they've played to several sell-out crowds at the 9:30 club in DC and Towson's Recher Theater. They also broke then-local, now-famous band Good Charlotte's attendance record at Piezano's in Annapolis with more than 600 paid.

With the money raised on CD and merchandise sales alone, the band was able to buy a new Ford Econoline Conversion Van and trailer to expand their touring reach.

Reading this resume, I was impressed. I had to get my hands on a copy of Survival of the Richest to hear what the fuss was about. I figured that the Squad would be a collection of musical savants with capabilities beyond normal men; I figured that their music would be genius. I was wrong.

The Album: Side One
Survival of the Richest is a two-disc, 17-track package of racket with little outside a narrow music scope of experimentation. Disc one was produced, mixed and mastered by the group's guitar player, Via, and opens with the album's title track.

Within the first measures, a negative tone is set with a song about the world's demise through the eyes of misunderstood suburbanites and a linear production absent the infectious grit that's a hard-rock must.

Track two, "Hey Kid," has an interesting Roobyn-driven intro that flounders into dissonance and inaudible shrieking, a form repeated throughout the album. "Kid" is a fragile revolution song, sarcastically encouraging kids to drop out of school and question authority. "This is your time to take control of your life," shouts Benischek, who pens GMS's lyrics.

Lyrics become superfluous with GMS, as the next track, "Broken Hero," proves. If the album's liner notes didn't come with lyrics, Benischek would be unintelligible.

Track four, "Better Off," is a post-modern power ballad conceived by teenage 20-somethings. You get a taste of Benischek's voice — warm and listenable — on track five, only to have it soured when he breaks into plugged-nostril singing reminiscent of Blink 182's Tom Delonge.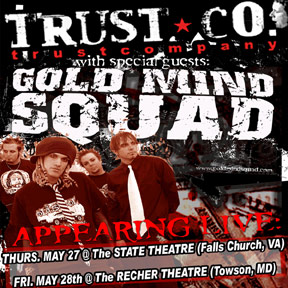 "Angel," song five, is a raunchy number about a promiscuous woman who fills the composer's life with misery. To get even, he sleeps with Angel's full-bosomed friend. He would have better evened the score playing her this song.

"Stripped" and "James" follow. Both are songs about personal loss. "James," the more serious of the two, reveals a vulnerable side to GMS, as they briefly travel into lighter chords with a softer touch by Allen and Via.

Listening to track eight, "Price to Pay," I wonder why I spent money to buy a CD that features musicians screaming about life's anguish. When I buy a CD or concert ticket, I want to be carried away from life's troubles, not reminded of them.

"Defeating Me," deals, again, with a broken relationship. There's a pattern of train-wreck endings to GMS's involvements with the opposite sex and an apparent refusal to look inward for reasons. Introspection — rather then finger pointing with grungy power chords — may lead GMS to discover the people, and musicians, they long to be.

"Someday" starts with a quiet and morose Benischek. As with other songs on the first disc, "Someday" leads back into heavy guitaring and ear-piercing screaming. It's the best and last track on disc one.

More Listener-Friendly Disc Two
Gold Mind Squad made a wise decision by bringing outsider Steve Wright of Wright Way Studios in Baltimore to produce the second disc of Survival. Wright has produced for notables like Jimmie's Chicken Shack and Dru Hill. There is a sense on disc two that Wright challenged GMS's abilities, as the songs vary in style and form.

Disc two is more listener-friendly than the first, but it still fails to carry me away any farther than wishing I were far away from my CD player.

The opening track, "Remember," has a tough, head-banging hook but loses its kick as the song develops into layered screams through a megaphone. This is one of GMS song that's receiving radio attention.

"My Own Way" dabbles into the rap-rock phenomenon, making it sound like every other song on WHFS airwaves. There's no experimentation with time signatures, unusual chords or instrumentation.

"Further From You" has potential to be a good number — if it had the punch of, say, a Rage Against the Machine or Metallica. Tighter syncopation is needed among Allen, Brando and Via.

Track four, "Butterface," is GMS's best tune. It contains a catchy hook, solid beat and an uplifted chord progression. No wonder the song has received much attention. Butterface is a popular contemporary term used by young men to describe a woman with an attractive figure and not-so-attractive face. As in, everything looks good but-her-face. GMS is the first band to use the term in a song; hence its popularity.

Following is "My Side" which features a crisp riff, driving beat and a thumpy bass line.

"Let It Be" — which could have been given a different title — is the last song on the album. Having good harmonies, it reeks of Good Charlotte influence and fills the pop requirement that all punk/hard-rock bands must have a nice-guy track.

Where GMS has been successful is in selling an image. They seem to hate grown-ups, authority and wealth. Yet they're all adults, determined to becoming "the biggest band on the planet" and named Gold Mind Squad.

Survival of the Richest is more about a gimmick than art. Musically, the band is weak, but they've proven their marketing wherewithal, and kids are buying into it. Will GMS lose sleep knowing that it's their image and not their music that's taken them to the top? Probably not.