Burton on the Bay
by Bill Burton


We've Made the Patapsco an Ugly Duckling of a River …
… but Joe Stewart and I love it

The Patapsco, the river that connects the Port of Baltimore to Chesapeake Bay, has an image problem. Big time.


"At least, he should rinse himself off," A blonde woman in a bathing suit, chirped. The man she was referring to was Joe Stewart, 57, who had just completed a Patapsco River swim of about four miles from Baltimore County's North Point State Park to Venice on the Bay.

More than 50 Patapsco boosters turned out to welcome Stewart as he completed his river crossing; three hours and 33 minutes. And, no, once on the beach, the first thing he did wasn't taking a shower.

Nor did he even rinse himself off. And, might I add, he looked none the worse; he wasn't eaten up by contaminants; all fingers and toes were on hands and feet. Matter of fact, he looked more refreshed than the band of environmentalists who waited anxiously in a sweltering day for his arrival.

Then about half the crowd, including two congressmen and several county politicians, were ready to wade into the river a-la former State Sen. Bernie Fowler and his band on the Patuxent, another tributary of the Chesapeake whose status is questionable.

The Wade 'n' See Method
Wade-ins have become more popular since Bernie made his first in 1988 at Broomes Island; the object was to determine how deep one could step into the Patuxent and still see white sneakers. The wade 'n' see method has gone a wee high-tech since then. At the Patapsco it wasn't sneakers the waders were peering into the water to see; it was a black-and-white metal disk suspended by a rope.

Obviously this isn't what might be called a scientific approach to water clarity, but it sure is a way to get a relative handle on sediments, gunk and other woeful things that stain waters, which of course has an impact on a tributary's ability to grow aquatic vegetation vital to the ultimate health of Chesapeake Bay.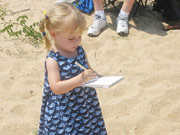 photo by Heather Boughey
I long for the time granddaughter Grumpy can wade in it to dipnet a crab and, in waters chin high, still see her sneakers.

When Bernie Fowler, still a senator at the time, first measured the clarity of the Patuxent, he marked the depth he could still see his sneakers with a line on his overalls. It was 10 inches. He has still to make his wade-in for '04, but last year it was 24.5 inches and has been as high as 44.5 inches (1997), which might sound good. But consider that in the 1950s and '60s when Bernie was a crabber and fisherman, he could spy his white sneakers at depths of 57 to 63 inches.

It's the goal there to restore visibility to that depth. Up here on the Patapsco, which I can see from the big bow window of my house at Stoney Creek, I'm sure the activists would settle for 36 inches.

This year at Venice on the Bay, it was 23 inches. Just think: In waters an inch shy of two feet, a highly visible disk of black and white became invisible to the naked eye. We've got a long way to go.

Hey, in Stoney Creek, the shores of which are practically in my side lawn, in 2000, the visibility was a tad less than two and a half feet when the Stoney Creek Community Association did a wade-in near the community pier a couple hundred yards from my home. I guess the sponsors figured that was too dismal a measure, certainly not compatible with a good community life on the water, because they haven't done another wade-in since. But I did.

The day after Joe made his swim — and Fran Flanigan, chair of Patapsco-Back River Tributary Team announced the Venice on the Bay sounding — I sauntered down to the dock. My new glistening white New Balance sneakers were visible at 27 inches. That's a slight improvement, but Stoney Creek, too, has a long way to go.


photo by Heather Boughey

Swimming Against the Tide
Joe Stewart also had a long way to go. His swim to bring attention to the Patapsco was about the same distance as the length of the Bay Bridge, and he did it against the wind and the tide. It was his third crossing in all.

When I asked him if he got a mouthful of the Patapsco, he said he did. It didn't taste bad, but he wouldn't have wanted to swallow. The swim, he said, was "exhilarating" seeing that it was for a good cause. Seeing also that the water temperature was about 72 degrees, while those of us scanning the river from shore were on treeless sand with a hot sun beating down on us at 90 degrees plus. "It gave me energy," said the man who describes himself as an "average lap swimmer" yet an "enthusiastic one."

Where We Go from Here
Now that the swim and wade-in are over, where do we go from here? Can the Patapsco be restored? I've been around here for 48 of my 78 years, and I can't count the times legislators and politicians have promised bays, wetlands and rivers will be cleansed and restored. Same old story. Play it again, Sam.

But I left the sands of Venice on the Bay a little more optimistic after talking with legislators on the state and federal level about the Patapsco. State Sen. Phil Jimeno said support for cleaning the river is evident in the state legislature. Congressman Wayne Gilchrest, well known for his environmental views, said he figures Congress is about ready to give support to "turning things around. It's a priority issue."

Congressman Ben Cardin also said that Washington has become interested in the river my Stoney Creek empties into. The Patapsco, which takes in the Port of Baltimore, is a once-clean and thriving river humans have virtually ruined via neglect and the intrusions of industry and commerce. So how can it be ignored?

In recent years, rockfish that prefer clean waters now swim in the Patapsco in highly catchable numbers, though it's suggested by state environmental authorities that crabs and some fishes be consumed in limited portions if at all. Sure, the Patapsco is just one of so many tributaries to the Bay, but it's my river. I see it every day, and I long for the time granddaughter Grumpy can wade in it to dipnet a crab and, in waters chin high, still see her sneakers.

One More Thing
Incidentally, Joe Stewart, an accomplished photographer, has documented in pictures life on the Patapsco. If you're interested, give him a call at 410-243-4418. His work can be a reminder of a treasure that we can have — if we're willing to stay the course. Enough said …