Marie is going on a picnic.

This is the opening line of a memory game played with children.

Sis says: Marie is going on a picnic and she's taking potato salad.

Little Sis says: Marie is going on a picnic and she's taking potato salad and hot dogs.

Brother says: Marie is going on a picnic and she's taking potato salad, hot dogs and Dinty Moore beef stew.

Dad says: Marie is going on a picnic …

You get the idea.

This summer, our fictional Marie is going on a picnic. In fact, Marie is going on 15 picnics to celebrate each week of the season. Like many of us, Marie has her favorite parks and recreation spots not far from her Annapolis home. But this summer she's vowed to rove farther, becoming an explorer of Bay Weekly territory — the land of Anne Arundel and Calvert counties, caught between the waters of the Patuxent River and the Chesapeake Bay.

It's a land that catches water, too. Anne Arundel boasts 553 miles of shoreline, 71 creeks, eight bays, 14 islands and 15 lakes. Calvert, with 165 miles of shoreline, has 23 creeks, one bay, five islands and six lakes.

Nature's land and water treasures await Marie's summer of discovery.


Three Red Lines sway and turn in the breeze at Annmarie Gardens, above.
Week One: Annmarie Garden

A special occasion marks the start of summer, with Marie going on a picnic at Annmarie Garden, a pleasant 90-minute drive south to Solomons.
Marie and husband Dan are celebrating their 20th wedding anniversary. When they met as summer interns in Washington, D.C., Marie and Dan courted in the sculpture gardens of the Hirshhorn Museum. Now, some of those sculptures have been transplanted to the 30-acre Annmarie Garden on St. John's Creek. Marie can't wait to see them in their new setting. In particular, she's always loved George Rickey's "Three Red Lines."
It was in Rickey's own rural garden that he first worked out a method for bending thin sheets of metal into hollow blades that swing in arcs with the slightest breeze. Three Red Lines stands 37 feet tall with the grace and mobility of a dancer. Inner ball-bearings and shock absorbers allow the three red arms to move and pivot in response to the wind without fear of capsizing.
Dan also wants to explore the wooded paths that wander through meadows and woods set with more sculptures. At the end of a serpentine path, they'll picnic on a granite bench among the stones of the Council Ring.
This could be the beginning of a tradition.
Marie is planning a superb picnic for their date at Annmarie Garden.
Marie's Artful Picnic: Chicken patè with capers on water crackers; arugula greens with candied walnuts, sliced French breakfast radishes and Dijon mustard vinaigrette; Cornish game hen with lemon-pepper rub, roasted in advance and wrapped in foil; tabouli wheat salad with fresh tomatoes, olive oil and lemon juice; lemon balm iced tea.
The boat ramp at Annapolis' Truxtun Park.
Week Two: Truxtun Park

Marie and Dan like to kayak, but their friends like to walk. The four will do their own things, then meet for a picnic supper close to home in Annapolis' Truxtun Park. Bill and Kelly will hike along the pathways above Spa Creek, while Marie and Dan will launch their kayak into the creek from an Annapolis street-end park near their home and paddle the urban waterway among moored sailboats and waterfront homes to the park's boat ramp.
Both couples will check on the work done to stabilize the steep slopes of Spa Creek. From the top, the seeded compost has disappeared into a natural-seeming slope. From below, biologs are still visible. They'll decay by the time the plantings behind them have matured.
The four will cool off at the public outdoor pool before settling down at a picnic table near the rain garden.
Marie will pack supper into a waterproof cold pack that will stow easily in the bow of the kayak.
Marie's Kayak Picnic: Sushi of fresh California rolls and salmon/yellow fin rolls; crispy cold adzuki beans; iced green tea; orange slices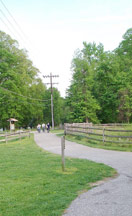 Bicyclists, walkers, runners and more use the 13-mile-long B&A Trail Park.
Week Three: Baltimore and Annapolis Trail Park

Marie's dad will be visiting this week, and she's looking for a picnic spot that's easy for a man with a walker. The Baltimore and Annapolis Trail Park is ideal. There are benches and picnic tables all along the trail's 13-mile-long corridor, but Marie will stake out a table near the handicapped-accessible Earleigh Heights Ranger Station. Importantly, it has an accessible public restroom.
From there, they'll people-watch as walkers, runners, bicyclists, in-line skaters, horseback riders and volksmarchers share the most popular park in Maryland, a 10-foot-wide paved path along the route of the old B&A Short Line Railroad.
The route once connected the state's capital with Baltimore, its major port. Now, the trail, within 66-foot-wide park boundaries, is lined with suburban homes, wetlands, forests and meadows. It also passes near restaurants and shops at Arnold Station, Severna Park, Jumpers Hole and Marley Station.
After their Thursday picnic, Marie and her dad will hang around to catch the informal live bluegrass of the B&A Trail Porch Pickers at the Ranger Station. The trail park closes at dusk in all other areas, but the music goes on until 10pm — though Dad won't make it that long.
Grills and campfires are not allowed, but Marie has planned a menu to suit Dad's taste.
Marie's Father's Day Picnic: Cold meat loaf sandwiches with spicy mustard; fresh mozzarella slices, tomatoes and basil leaves drizzled with olive oil; watermelon; iced tea with lemon slices.
Week Four: Patuxent Research Refuge

Dad will still be visiting, so Marie has planned a Saturday picnic at Patuxent Research Refuge's National Wildlife visitor center near Laurel.
At Patuxent Research Refuge, a two-car tram carries visitors on a 35-minute tour of the park.
On the long entry drive from Powder Mill Road, she'll open the car windows to let in the sweet smell of pine needles and leaves that marks a transition to a nature-oriented world.
At the visitors center, they'll explore numerous exhibits on global environmental issues, migratory bird studies, habitats, endangered species and the tools and techniques used by scientists. They'll also see wildlife artworks, some by students of all ages competing in annual junior duck stamp contest. Dad can sit on a bench as needed.
Then they'll board the two-car tram for a 35-minute tour accompanied by a guide who points out tree swallows, bluebirds, dragonflies, tree frogs, geese and ducks as the tram wanderers slowly between human-made ponds and natural wetlands and forests.
The ride takes in four stages of forest. The new forest is characterized by small trees of the pioneer species sweet gum, plus evidence of some disturbance like a fire or logging. Then comes a young forest of sweet gums mixed with pines. Once pines have grown tall enough to provide shade, hardwoods start mixing in. Guides refer to this as the untidy teenage stage. Finally the tram passes into a mature forest, where the atmosphere becomes cooler with more space under the trees. Hardwoods predominate. Dad is sure that he's at the stage of an old-growth forest, but you have to travel to Pennsylvania's Cook Forest to see that.
Marie's called ahead, so she knows that while picnics are not encouraged, you can eat your simple meal in the visitors center court. She'll pack everything in a small cooler and a carry bag.
The boardwalk at King's Landing Park.
Marie's Second Picnic with Dad: Broiled salmon sandwiches with dill pickles and tomatoes; mango chutney sauce; cut carrots, celery and radishes with humus dip; Dad's favorite molasses cookies; club soda with lemonade.
Week Five: King's Landing Park

Marie's daughter Stacey is enjoying a few days of freedom before her summer job. She'll join Marie for a kayak trip at King's Landing Park in Calvert County. After carrying the kayak from the parking area to the boat launch at the edge of the 200-foot fishing pier, they'll rest, eat lunch and admire the view. Here the Patuxent is broad and smooth. A heron stares into the water, then stabs suddenly at a fish. Fishermen stare into the water and wait for their bait to attract its prey. It's a perfectly peaceful, sunny summer day.
On the water, Marie and Stacey will paddle across the Patuxent to explore the Black Swamp Creek or work their way north along the wooded bank to Cocktown Creek, flowing east back into the marshes of the park. Herons, egrets, red-winged black birds, dragonflies and mosquitoes are at home here. Marie feels the same. Stacey is in charge of a meal to suit her vegetarian diet.
Stacey's Vegetarian Picnic: Pumpernickel rounds with date/cream cheese spread; kidney bean, garbanzo and corn salad with scallions and tomatoes; soy sauce and lemon dressing with crumbled tofu; Red Zinger iced tea.
The pocket park at Rose Haven is little more than a crescent of beach, but its view of Herring Bay is expansive.
Week Six: Rose Haven Park

Rightly called a pocket park, Rose Haven is no more than a grassy parking space for up to five cars and a crescent of beach opening to Herring Bay between jumbled riprap. The opening is for access by water creatures who need the beach edge to lay their eggs or to hide from predators, but it also serves for the human need to go out on the water. There's just room for Marie and Dan to launch a kayak into this sheltered bay on the western edge of the more turbulent Chesapeake waters. From here, they'll paddle past busy Herrington Harbour Sough and head north, exploring the shallows where ducks, gulls, bald eagles and osprey prey on fish, crabs and small mollusks.
They'll put in at an isolated beach for a light picnic, then search for sharks' teeth and other 15-million-year-old fossils thrown constantly onto the sands by eroding clay cliffs. When they return to Rose Haven Park, they'll be perfectly placed to watch Herrington Harbour's Fourth of July fireworks, beginning about 9pm on Saturday, July 3. Their summer adventure will be perfect if they've remembered mosquito repellent.
But they're really hoping that Herrington's traditional pre-fireworks picnic continues this year, so they can make reservations to spend the evening in revelry on Herrington's nearby beach.
Marie has planned another compact, stowaway meal for transport on the kayak.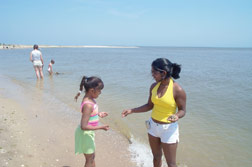 Rebecca and Kali Elwell frolick along the beach at Flag Ponds Nature Center.
Marie's Light Teatime Picnic: Watercress salad with pine nuts, parsley and chives, lemon dressing; chilled avocado soup; melon and ugli fruit with lemon sauce; mineral water.
Week Seven: Flag Ponds

Marie is sure to like everything about Flag Ponds. Several miles of trails lead through a variety of habitats, including upland forest, wooded swamps and open marshes. A beautiful beachfront offers the tang of Bay water, the shush of waves rolling up sand strewn with shells, fossils and driftwood. The boardwalk from the fishing pier though the pines at the back of the sand dune leads to the surprise of prickly pear plants growing among the loblolly pines. These cacti have flat circular lobes and yellow flowers in season.
On the walk back, there are relics of a pound net fishery operation from the early 1950s to be found. The musty scent of camping out brings the tiny space of a fishing shanty to life. Bunks — two and three high — fill one end of the single room, while a primitive kitchen with a wood stove fills the other. Men who worked the pound nets lived here February to November as long as the fishing flourished.
Marie's picnic lunch will come from the Calvert Country Market in Prince Frederick.
Marie's Bought Picnic: The "best chicken salad on the East Coast"; cole slaw; kettle-cooked potato chips; cookies; bottled ginger-beer.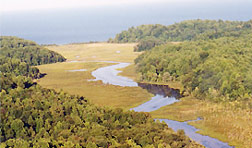 The water route of Parker Creek winds into the past as Calvert County's only remaining pristine waterway.
Week Eight: Parker Creek

Marie and Dan love canoeing just as much as kayaking. They've signed up for a July 18th canoe trip on Parker's Creek near Port Republic. Scientists' Cliffs Road is not normally open to the public, but on this day Marie and Dan will follow the road all the way to the end, where a gate will be open for them. They'll continue down a long, country drive to a big white farmhouse whose oldest part dates to the 1800s. There, another gate leads downhill to Warriors' Rest, where they'll meet up with the canoeing party.
They've been advised to bring a snack, drinking water, bug spray, sunscreen and hat. Canoes and guides for the two-and-a-half-hour trip are provided by American Chestnut Land Trust. Canoeists must provide their own muscle. If the tide is low, they'll have to carry the canoe across the beach to the creek. Winds and tide may require stiff paddling.
The water route winds into another time on the only remaining pristine creek in Calvert County. Houses and malls disappear as wildlife comes into view along, in and above the slow-moving creek. Bald eagles, herons and egrets rise over Bay grasses and trees. Endangered tiger beetles might be spotted. Peace settles in.
To slow their return to the highway, Marie and Dan will picnic on the shady porch at the Land Trust's barn. There, at the Gravatts Trail head, they'll consider whether to add a walk to their day's activities.
Marie will bring apple slices, raisins and mixed nuts and bottled water for the canoe trip.
Tarrel Johnson with Imani, Michael Turner, Elijah Smith and T.J. Johnson at Lake Waterford Park.
The picnic will stay in a cooler in the car until they reach the barn.
Marie's Post-Canoeing Picnic: Mushroom patè with garlic and parsley; potato salad with scallions, radishes, ripe olives, green beans, chives, oil and vinegar; cold peeled shrimp with vinegar/soy sauce marinade; lemon balm tea.
Week Nine: Lake Waterford

With its old-fashioned picnic grove under the shade of mature trees, Lake Waterford is a rural delight within easy reach of busy Ritchie Highway in Pasadena. Marie will picnic here with her sister and the eight-year-old twins.
The 108-acre park has sports fields and courts, but it's the hiking and the bird watching that lures Marie. For the kids, it's all about the imaginative wood playground and the ducks on the freshwater lake.
Marie's Kid-Friendly Picnic: Grilled hotdogs with catsup, mustard and sweet pickle relish; corn grilled in the husk after soaking for three hours in cold water; macaroni salad with celery, carrots and grated mild cheddar cheese; oatmeal/peanut butter no-bake cookies made on the stovetop by the twins and their mother; orange yogurt drink.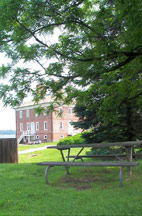 There's something new in the garden every day at Historic London Town and Gardens.
Week Ten: Historic London Town and Gardens

Marie hasn't been to Historic London Town in some years, but she remembers that it has a garden with a view of the South River. She's planning to savor the 45-minute solitary walk through eight acres of garden. With both native and exotic plants, the London Town Garden is neither manicured nor wild. It's well-maintained yet exuberant with flowers, trees, shrubs and greenery that excite the senses with beauty and scent at every season: magnolias, hollies, wildflowers, azaleas and rhododendrons gone lush and green, perennial flower beds. A volunteer there once told her, "There's something new in the garden every day." Marie vows to visit more often.
Lunch is her summer favorite.
Marie's Solitary Picnic: Spinach salad with oranges, raisins and carrots with cheese herb dressing; eight grain bread with avocado, tomato, fresh basil leaves and Swiss cheese; hard-cooked eggs with pickled red beets; iced tea sweetened with lemonade.
Week Eleven: Captain Salem Avery House
Marie and Dan will greet the morning with brunch on the grounds of historic Captain Salem Avery House in Shady Side. The house, whose oldest part was built circa 1860, was home to a waterman and his family for 30 years and remained in the family until 1921. It perches in the heart of a Bay-side community on the south edge of the West River with a broad water view. If the morning is not too hazy, a sign at the lawn's edge will help Marie and Dan name what they see: Cheston Point, Sand Point, Dutchman Point, Curtis Point, Thomas Point and the open Bay. Marie and Dan will spread a blanket or use one of the benches near the water's overlook if the flat lawn is still wet.



From its perch along the West River, Captain Salem Avery House provides a broad water view of Cheston Point, Sand Point, Dutchman Point, Curtis Point, Thomas Point and the open Bay.
After a leisurely breakfast, they'll admire Vanity, a round-bottom racing sailboat from the 1930s that now makes its home in the Avery's front yard. Then they'll wander around the yellow frame-house to the open-faced shed housing the Edna Florence, a locally built wooden workboat also from the 1930s. If they come on a Sunday, they'll visit the home's museum when it opens at 1pm.
Breakfast will be kept warm and cold in separate insulated bags.
Marie's Breakfast Picnic: Iced coffee latte; melon salad with ginger and almonds; warm asparagus wrapped in crepes with basil and pinenut dressing; sausage with cilantro and sun-dried tomatoes; cranberry juice.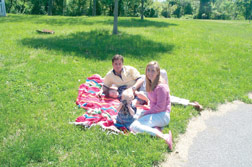 One of the best-kept secrets in the area, Generals Highway Corridor Park is a beautiful place for kids and adults.
Week Twelve: Generals Highway Corridor Park

Marie learned about Generals Highway Corridor Park from Dale and Amy Raymond, who live in the nearby Saefern neighborhood. Though they are Annapolis natives, the Raymonds discovered the park only after they had children. Now, they come often with four-year-old Jack and baby Luke, eight months. It's one of the best-kept secrets in the area: a beautiful place where Dale can join Amy and the boys for lunch. Other days, Grandpa brings the boys. Marie will bring her twin nephews, who are young enough to enjoy the playground and old enough to walk the trails.
Marie plans a lunch with a Mexican theme. She'll use the park grill.
Marie's Grilled Mexican Picnic: Grilled turkey breast rubbed with orange juice, olive oil and herbs; fiesta slaw with bell peppers in three colors; black bean salad with salsa; taco chips; banana-pineapple cooler.
The park at Galesville Pier offers a front-row seat of the West River as well as tables, benches, a grill and a fishing pier.
Week Thirteen: Galesville Pier

When Marie attends a meeting in Southern Anne Arundel County, it will be a perfect opportunity to stop at Galesville Pier for a front-row seat on the busy waterfront. The small park has tables and benches, a grill and a short path along the water's edge, as well as a narrow fishing per. The park centers on a flagpole surrounded by a whimsical sculpture made of boat props.
Sailboats rule this expanse of the West River with more than two dozen marinas and boatyards. Yardarms clank. Gulls cry. Boats glide past. The sun and water work their magic. The afternoon flies by.
Leftovers are on the menu, though Marie will add hummingbird cake from Galesville Country Market.
Marie's Leftover Picnic: Cold pasta and tomatoes with anchovy/caper dressing; sesame crackers with red pepper hummus; raspberry yogurt; hummingbird cake; spring water
Week Fourteen: Battle Creek Cypress Swamp
Marie is excited about the trip to Battle Creek Cypress Swamp. It's home to 100-foot bald cypress trees that have curious bumps called knees bent up out of the water all around them. These trees can live for 1,000 years. A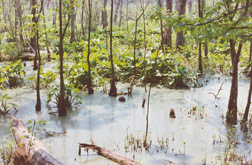 The bald cypress trees at Battle Creek Cypress Swamp can live to be 1,000 years old.
short boardwalk leads visitors among them into a transformed world. Dinosaurs or mammoths might appear in the eerie dreamlike landscape. There's a heaviness to the air as if it hasn't moved in the 100,000 years that have passed since similar swamps covered much of the region. Frogs and songbirds sound like strangers in this setting. It's almost a shock to arrive back in the usual woods with a nature center focused on local wildlife and cultural history.
Marie will bring a meal that's a culinary adventure.
Marie's Adventuresome Picnic: Pea and potato samosas; eggs hard-boiled in tea and soy sauce; fresh tomato, cucumber and spring-onion sambal; cold rice with cilantro-coconut chutney; chilled mango lassi.
Week Fifteen: Jug Bay Wetlands Sanctuary

Marie and Dan will find the gem of Southern Anne Arundel County at the 1,250-acre Jug Bay Wetlands Sanctuary on the edge of the Patuxent River. One of the largest freshwater tidal wetlands on the East C
At 1,250-acre Jug Bay Wetlands Sanctuary is one of the largest freshwater tidal wetlands on the East Coast.
oast, the sanctuary boasts that more than 250 bird species have been spied here. With an observation deck overlooking wetlands and river plus seven miles of boardwalks and trails, Marie and Dan hope to spot some birds that are new to them, but they'll still thrill to the sight of a great blue heron lifting off or an osprey carrying a fish to its perch.
They'll keep eyes peeled for insects, fish, snakes, frogs, toads, birds, muskrats, beavers and turtles among the wild rice, cattails, spatterdock and other aquatic plants.
They'll picnic under tall hardwoods by the nature center, a welcome respite from the brilliant sun along the water.
Marie's End-of-Summer Picnic: Pita bread with garbanzo beans, avocado, pimento-stuffed olives and spinach leaves plus sesame seed dressing; zucchini bread with cream cheese and chives; sliced mango with fresh mint; orange-yogurt smoothies with ground hazelnuts.
By the end of Marie's fine summer of picnics, she'll start planning for next year's 15 weeks of summer. There are adventures still to be had: Patapsco Valley State Park and the walking trail by BWI and Jefferson Patterson Park — and the list goes on …
---