Dock of the Bay
Flush Tax Signed
Finally, something politicians agree on
Chesapeake Bay; Republicans; Democrats. Strung together, those words conjure up strife and discontent.

But on May 26, nothing was usual in Annapolis.

Democrat and Republican leaders of Maryland came together to sign into law the Chesapeake Bay Watershed Restoration Fund, known familiarly as the Flush Tax.

Under the watchful eyes of the crew of the Pride of Baltimore II and school children from St. Mary's Catholic School, Eastport Elementary School and Severn River Middle School, the three men who make Maryland politics work gathered to sign a bill all called "historic legislation."

"This bill," said Gov. Robert Ehrlich, "is for these kids here today. For Josh Ehrlich. For Josh Ehrlich's grandchildren."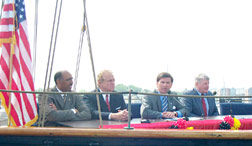 photo by Louis Llovio
Lt. Gov. Michael Steele, Senate President Mike Miller, Gov. Robert Ehrlich and House Speaker Michael Busch set aside their differences to celebrate the passage into law of the Flush Tax.

After a contentious 2004 legislative session, Ehrlich, Sen. President Mike Miller and House Speaker Michael Busch set aside their differences to celebrate an accomplishment that not only benefits their political futures but also Chesapeake Bay.

The bill, signed into law by Ehrlich, will charge Marylanders $30 — for many, in the form of a $2.50 surcharge on their sewage bill — to raise money to clean up Maryland's 66 worst sewage treatment plants on and around Chesapeake Bay.

The Flush Tax is how the governor plans to pay for upgrading Maryland's sewage treatment. The 66 targeted plants produce 95 percent of the treated sewage flowing into the Bay. Even treated wastewater still contains so much nitrogen that it's one big cause of the Bay's decline, represented by last summer's dead zone stretching 150 miles from the Bay Bridge to the York River in Virginia. Dead zones are areas with too little oxygen to support life.

The tax will raise $60 million to fund technology upgrades, enabling Maryland's 60 biggest sewage treatment plants to remove 97 percent of the nitrogen from the water they pump back into the Bay and its tributaries.

On board Pride of Baltimore II, moored at City Dock in Annapolis with sailboats and yachts anchored in Spa Creek behind it, the three men spoke of the work and compromise it took to bring the legislation to life.

"This is the end product of a lot of work," said Ehrlich who spoke several times during his prepared statements of putting aside political philosophies and party differences. He encouraged political leadership from both parties, both houses of the legislature and the governor's office in future efforts, including taking on oyster depletion next.

Busch, a political foe of Ehrlich, took the microphone to thank him. "Your leadership," he said, "made this happen."

But in politics, old wounds don't heal so easily.

At times the four men — a silent Lt. Gov. Michael Steele looked on — seemed uncomfortable and reserved.

Miller couldn't pass up mentioning that the governor's original bill did not include septic tanks, a legislative inclusion that almost killed the bill. Then, in the spirit of cooperation that ruled the day, he added, "This bill is the result of the House, Senate and executive branch working together."

After all three signed the bill into law, Lt. Gov. Michael Steele walked up to the podium announced that the bill was now law. Then he donned earmuffs and fired one of Pride II's cannons.

Charles County's Mattawoman and Easton's wastewater treatment plants will be among the first to receive funds from the tax.

—Louis Llovio

---

Ask the Plant Professor
Wet Lawn? Create a Bog
Q We intend to replace parts of our lawn with gardens. However our lawn is very wet. Rainwater stands for a long time. Do you have suggestions for evergreens, trees and bushes for wet soil?

A Some people work hard to create bogs in their yards. Many unique and desirable plants, such as pitcher plants, require moist conditions, and you may want to retain some standing water so that you can plant them. In addition, temporary spring or autumn pools are critical for the life stages of much Maryland wildlife, such as amphibians, which in turn provide food for birds. (Since these pools dry up in summer or between rains, there is no mosquito danger.)

An array of garden books in stores or libraries feature plant lists for wet soils. Our publication Native Plants of Maryland ($5) lists plants' moisture requirements in an easy-to-use format. Also, many native plant nurseries catalogs indicate which plants grow best in wet soil. For a list of Maryland native plant nurseries, see the Maryland Native Plant Society website: www.mdflora.org

Ask the Plant and Pest Professor is compiled from questions sent to the website of the Home and Garden Information Center, part of Maryland Cooperative Extension, an educational outreach of the University of Maryland. Ask a home gardening or pest control question and find other help: 800-342-2507 (Mon.-Fri. 8am-1pm) • www.hgic.umd.edu.
---
Putting Cicadas on the Map
Are you dodging cicadas or patiently waiting to see one?
Chesapeake Country is buzzing. But more than the incessant screech of the 17-year cicadas themselves, the region is swapping stories, calling in radio shows, recounting sightings and buying cicada T-shirts. Small talk has turned from unseasonably hot weather to who has cicadas — and who doesn't.

Since February, we've braced for this expected onslaught of winged insects. Now they've appeared in full force. In a wooded area south and west of Annapolis off Riva Road, the cicadas' hum was comparable to a vacuum cleaner running all day. Yet across Route 2 in Annapolis and south, all's quiet but for bird song.


Where is this mystery line of demarcation?

Maryland Department of Agriculture is trying to find out.

On the Ag website, cicada fans are invited to post updates for their area, with estimated numbers, soil temperatures and other significant cicada news.

"I've never experienced this before, but I would say they are numbering in the tens of thousands," an Arnold resident off Ritchie Highway reported. In Ferndale, "several hundred" cicadas emerged in a writer's yard — only to "seem to have been met by waiting birds as they emerged."

Cicadas in Washington, D.C., and Virginia emerged earlier than in Chesapeake Country.

Carrie Murray Nature Center in Baltimore saw mass emergence on Wednesday, May 19. "Even though it was cloudy, they were pouring out of the ground all day," said Lloyd Tydings, Carrie Murray Nature Center's amateur entomologist.

By the last week in May, most parts of northern Anne Arundel County and Annapolis were dodging cicadas. Edgewater has cicadas, which emerged the third week in May. At the tip of Rhode River, the Smithsonian Environmental Research Center is experiencing the invasion. Galesville, however, has seen just a few. West River United Methodist Camp, at the end of the West River, is missing out on most of the cicada buzz, as are Deale and Dunkirk. Strangely silent, too, is Jug Bay Wetlands Sanctuary to the west.

On the Eastern Shore, except in certain lucky areas, cicada watchers have had to travel to the Western Shore to experience the invasion.

As May ends, most cicadas have emerged. "If you have no cicadas by May 27, you are probably out of luck," reports the Ag website.

Patterns of occurrence sometimes depend on environmental conditions, according to the Home and Garden Information Center, part of Maryland Cooperative Extension.

Areas with sandy soil are not likely to have cicadas. An established hardwood forest area will see tons more cicadas than will a sandy area or an area that has seen substantial disturbance in the soil in the last 17 years.

Help the Department of Agriculture pinpoint cicada emergence areas by reporting your location, periodical cicada activity and any known cicada activity in 1987. Reporting no cicada activity also provides valuable data for their survey. To post your cicada report, log onto www.cicadas.info.

—Carrie Steele

---
Save the Barns
As one of 11 Most Endangered Historic Places, Southern Maryland's old tobacco barns get new hope
We live among a dying breed. Like many endangered species, this breed owes its demise to habitat destruction and neglect by its traditional protectors. Southern Maryland's wooden tobacco barns are fading as urban development closes in. The state's 2001 tobacco buyout policy — which encourages former tobacco farmers to try new crops — has left many barns abandoned.

Now the deteriorating barns have found more protectors. Preservationists from Anne Arundel and Calvert counties — as well as Prince George's, St. Mary's and Charles counties — won recognition from the National Trust for Historic Preservation for the counties' vacant tobacco barns. An estimated 5,000 Southern Maryland barns, including 400 in Calvert alone, landed on its 17th annual list of America's 11 Most Endangered Historic Places.

The National Trust is a non-profit organization that, since its founding in 1949, has safeguarded historic sites — from single buildings to entire communities — across the nation. Barn lovers from Southern Maryland's five-county delegation hope this year's listing will stimulate awareness and help secure funding to keep the barns a permanent feature of our landscape.

"It was a major accomplishment to get the barns listed, which is the first step to recognizing that these are important historic resources," says Donna Ware, Anne Arundel historic planner. Ware hopes the designation will inspire southern Marylanders to think of new and creative uses for the decaying agricultural icons.


courtesy of Calvert County, photo by K. Uunila

A few of the barns have already been adapted as sites for commercial cut-flower businesses in Calvert. The stripping rooms of two former Calvert tobacco barns, where tobacco farmers would pull the leaves from the stalks of the plant during the winter, have been converted into cold rooms for flower arranging, according to Calvert historic planner Kirsti Uunila.

"Agricultural use of the barns is preferable, since it maintains the historical significance of the barns," says Uunila.

Any new use is preferable to no use at all. Jefferson Patterson Park and Museum in Calvert has breathed new life into an unused dairy farm and an unused tobacco farm, transforming one into an exhibits design center and converting the other into a shipping center for receiving and storage, according to Uunila. Now Calvert plans to issue a regular State of the Barns report to detail the number and types of threats facing the barns and to count and record the barns' locations.

To improve the state of the barns near you, there are several steps you can take. First, Ware says "let your elected officials know that saving this traditional part of the landscape is important to you." Second, you can donate to the National Trust via its website, www.nationaltrust.org.

If you have an abandoned barn in your own backyard, the official website of Calvert County recommends that you, first and foremost, repair any damage to the roof, which is the most important part of the barn. In addition, watch for termites, cut away any vegetation growing near the barn, and prevent water from pooling around the posts where they contact the ground. For more information to care for your barn, visit www.co.cal.md.us and head to the What's New section.

As the once productive, but now idle barns of Southern Maryland give fresh meaning to the phrase use it or lose it, preservationists aren't taking any chances with one of the region's most prominent landmarks of its rich heritage and tradition.


—Lauren Silver
---
In Oklahoma, these bandits are a slippery bunch indeed. Police can't figure out who has stolen more than two tons of used cooking oil stored behind restaurants, but at least the cops have a sense of humor. "They made a slick getaway," Edmond, Okla., police spokeswoman Glynda Chu told Reuters…
In New York, the Jets football team is planning to power its new gridiron with alternative energy. The proposed $1.4 billion New York Sports and Convention Center will have 25,000 solar collection tubes and 34 40-foot-tall wind turbines…
In China, a vast red tide so dangerous that it can paralyze humans is spreading off the eastern coast, the state-run media warned last weekend. It's the same problem afflicting Chesapeake Bay only much worse: nitrogen pollution from sewage and industrial waste that chokes oxygen out of the water…
In California, fanciers of haute cuisine had better start weaning themselves of foie gras, which comes from geese force-fed to enlarge their livers. The state Senate last week passed legislation banning sale of the patè from force-fed birds, which means that Gov. Terminator soon could be deciding what kind of patè Californians can eat…

Our Creature Feature comes from Michigan, where the Detroit Zoo soon will become the first major zoo to quit exhibiting elephants because of physical and emotional stress it causes these great and majestic mammals.

Elephants in the wild roam vast areas, live in families, make close friends and even mourn their dead. But when confined to tiny spaces in zoos and circuses, they suffer more than most humans admit. That's why pachyderms Winky and Wanda will be headed from Detroit to an elephant sanctuary thanks to what the Humane Society of the United States calls "an enormously important precedent."