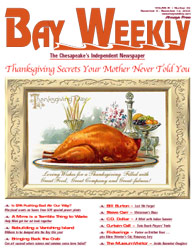 On Our Cover
Antique Thanksgiving postcards
Thanksgiving Secrets Your Mother Never Told You: Once you've cooked the perfect turkey, you'll want the whole bird to be your partner in making your dramatic enterance. Then carving it becomes part of the show.



Thanksgiving Secrets Your Mother Never Told You
by Sandra Martin & Kimberly Goode
To the Thanksgiving table, everybody brings expectations. How are you going to satisfy all those high hopes if you can't roast a turkey — let alone bake a perfect pie?

Museum Visitor
Inside Banneker-Douglass
Editor's note: This is the first of Bay Weekly's occasional tours of museums in Chesapeake Country.
by Louis Llovio

Check out the updated Archives featuring stories from 1993 & 1997!


In Annapolis, state Board of Public Works approves a plan to place 3,000 sterilized Asian oysters in cages at three Chesapeake Bay locations: the Severn River at the Naval Academy; the Patuxent River in Calvert County; and the Choptank River in Dorchester County…

In Britain, famed chocolate-maker Cadbury makes it so nature can eat the wrappings…
In North Africa, a plague of grasshoppers engulfs a small town south of Khartoum…
This week's Creature Feature: From San Diego, scientists figure out how baby dolphins swim so fast.