Burton on the Bay

Lest We Forget

The world will little note, nor long remember what we say here, but it can never forget what they did here.
— Abraham Lincoln: "The Gettysburg Address," Nov. 19, 1863

Sadly, less than a century and a half later, this is not necessarily the way things stack up. Some, undoubtedly too many, forget not only what is said but what was done here and o'er there.

November 11 is Veterans Day, an occasion to honor those who gave their lives so this nation can long endure and to pay tribute to those who served and survive to this day. But long before the powers-that-be changed Armistice Day to Veterans Day, commercialism began to take over.

Veterans Day has become the occasion for super deals on anything from can openers to Cadillacs. Some even get the day off from work or school, but among them and the remainder of the citizenry are too few who pause for even a moment of silent thanks to those who answered the call to duty — whether in the Revolutionary War or the latest conflict in Iraq.

I dare say a third of our populace cannot recall the name of a single soldier, sailor, marine, airman or coast guardsman who was awarded the Medal of Honor, the highest tribute our nation can bestow on its men and women of the military for valor in combat. Too soon so many forget not just what those heroes did, but shamefully, the heroes themselves.

Medal of Honor: 116 Heroes
Lest we forget, just out this Veterans Day is Peter Collier's new book Medal of Honor, Portraits of Valor Beyond the Call of Duty. Today, fewer than 135 recipients of the Medal of Honor are living. The exploits of 116 of them are covered in this magnificent historical volume of 254 pages.

This is truly an interesting and informative coffee table book with its 11-inch-by-10-inch format, but this is not a volume written to be part of the decor of a room or to gather dust. It's a book to be read once and again. Those featured within are deserving of our awareness.

This is not a blood-and-guts account of swashbuckling heroes; no, it is a collection of tastefully done brief narratives in which you will find no boasting, swaggering, strutting or hyperbole, just Collier's account of how they earned the Medal of Honor, along with a capsule portrayal of what they did before and after their acts of valor.

These are real people who did something beyond the extraordinary; it is written on their faces so brilliantly photographed in recent years by Nick Del Calzo. A full page picture of each of the 116 captures a subdued pride not in what they had done but in their opportunity to do it.

I defy anyone who values our nation to turn to page 151 where is pictured Lewis L. Millett — standing erect though then entering his 80s — and not feel overwhelming pride that our country turns out men like this. There he is, his right hand in snappy salute, and on his left chest are nine rows of campaign ribbons bearing stars and clusters signifying battles and campaigns of World War II and Korea.

There are wrinkles on that old face and neck, the mustache is white, the left eyebrow is arched, but beneath both brows are eyes that look, if I might say so, straight into your very being — so much that you want to hunt him down just to say thank you, old timer, thank you.

Accompanying each profile is a cameo photo of each medal recipient at or about the time he was presented with the only American medal that hangs from the neck. Some don't look old enough or big enough to catch a 20-pound rockfish, never mind wade into the fray of combat to save the lives of their buddies, hold a position against incredible odds or go hand-to-hand with the enemy, all in the name of duty.


In the Company of Patriots

We'll go into some of their stories, but first a few moments of personal reflection. I was born eight years, a month and four days after the signing of the Armistice at 11am November 11, 1918, at Compiegne, France. Our country was so much different then, and so were our values. Not just legitimate heroes but all who answered the call were appreciated, and in almost every city and town across the country on either Decoration Day — now Memorial Day — and on Armistice Day (or on both) were church services and parades to honor those who came back and to remember with reverence those who didn't.
In our village, leading the parade was a man named Dumas, atop whose head was a Roughriders hat signifying he served with Teddy Roosevelt in the Spanish-American War. On his chest were medals and beneath him was a horse. By World War II's commencement, he still led the parade, but in an open car from which he occasionally returned a wave with a salute. His somber face reflected pride and satisfaction.
Behind Dumas was a Marine who had served in the Boxer Rebellion. Then came by the scores the once Doughboys of World War I. It was another soldier of that war who first made me aware of the Medal of Honor and all it stood for: one Alvin Cullum York of Pall Mall, Tennessee.
Our involvement in World War II was just around the corner, and I guess to boost patriotism, newspaper publishers wanted a hero, and where else but in the comic pages. A syndicate came up with the strip Sergeant York, based on the life of a country boy who had been turned down as a conscientious objector. He served, and in the battle of the Argonne, his detachment was pinned down by machine gun fire. Sergeant York charged a second machine gun nest single handed and captured 90 men. Then, he marched his prisoners ahead of him and in a third nest captured 42. For those actions, York was awarded both the Medal of Honor and promotion from buck private to sergeant.
You won't find Alvin York in Collier's book. He passed away 39 years ago and this volume was planned as a chronicle of those still alive — though some didn't make it from their interviews until publication date. Among those: our first WWII ace, my old hunting companion at Remington Farms on the upper Eastern Shore, who passed away last winter: Joe Foss.
Here was a guy who signed up in 1940, but upon graduating from flight school at 26 was considered too old for combat. But he successfully lobbied to get into the fight by the time of Guadalcanal. In an 11-day stretch, he shot down a confirmed 23 Japanese aircraft, some more that couldn't be confirmed, was himself shot down four times and later added four more enemy Zeroes to match Eddie Rickenbacker's World War I record.
He was later governor of South Dakota, first commissioner of the old American Football League and host of one of the first TV outdoor shows before being president of the National Rifle Association.
Few of the 3,440 honored with the Medal of Honor since its inception in the Civil War went on to such great accomplishments; most went back to being ordinary citizens. Their previous achievements are their legacy.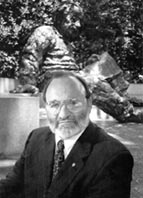 Brian M. Thacker earned a Medal of Honor after calling in an artillery strike on himself to provide a retreat for his fellow soldiers pinned down by enemy troops in Vietnam.
Maryland's Medalist

Take Brian M. Thacker of Wheaton, as an example. He's 58 and retired from the Veteran's Administration, and he now lives a comfortable life and enjoys three squares every single day. But for eight days in 1971 at a hilltop in Kontum Province, Vietnam, all he had to munch on was a "single ant that got within my range."
There was nothing to wash that ant down with; for those eight days there was no water, not a drop, and there was no looking for the wet stuff. Thacker was concealed in bamboo with the enemy so close to him at times he could literally smell them. "I hoped they couldn't smell me," he told me by telephone. The thick bamboo lessened dehydration during the day, and his wool nightshirt (one doesn't always have time to dress properly in combat) shut out the cold at night.
He knew he had to get out, timed morning firing patterns and lulls, then made a break for friendly lines, crawling, stumbling, trying to run. He made it to be medivaced to Pleiku and was sent to Japan for hospitalization.
What got Thacker in this pickle is an example of what one can and will do when combat gets tough, as it did when his six-man observation team was matched against a much superior force of North Vietnamese in hand-to-hand fighting. Three of his men were killed, two re-supply helicopters were downed and the enemy was preparing for the final assault.
Thacker organized a withdrawal, lingering behind to provide covering fire. Then he did what can be difficult, perhaps impossible, to comprehend by those who have never been dealt a hand in combat. He called for U.S. Artillery to target his very own position in a desperate effort to keep the enemy at bay. That takes guts, pure and simple guts.
In the chaos, Thacker became separated from his men, making it to the bamboo forest and that single ant. In the thick of battle, one acts or reacts almost without thinking, out of instinct. But what about when one is hemmed in amidst the enemy in a bamboo thicket day after day. What thoughts go through one's mind? I asked Thacker, who promptly answered "Where's my next glass of water coming from."
Like so many others who have been honored with the Medal of Honor, Brian Thacker was genuinely surprised on learning that one would be presented to him by President Nixon in 1973. There's a mutual fiber that runs through heroes; they consider what they did as what their comrades would do under the same circumstances. No big deal. It's called Duty.
In both front and back inside covers of Medal of Honor, published by Artisan, out of New York, the winners have offered capsule comments. Thacker chose not his words but those of Oliver Wendell Holmes Jr.:
The great thing in this world is not so much where we stand, as in what direction we are moving: To reach the port of heaven, we must sail sometimes with the wind and sometimes against the wind — but we must sail, and cannot drift, nor lie at anchor.
On this Veterans Day, if you can't read Medal of Honor, check local TV listings for American Valor, a 90-minute documentary airing at 9pm on WETA out of Washington. You will see interviews with many in the book, as well as old news reel footage, photographs and bits of military art.
But above all, on this and every November 11, take a break from the promotions, the sales, the commercialism, even the daily routine and spend a moment in somber reflection to thank those for whom the day honors. Don't just think it or even whisper it. Speak it quietly and reverently if only to yourself. You'll feel better for it — and maybe, just maybe, your expression of gratitude will be heard. Enough said …