To the Thanksgiving table, everybody brings expectations. How are you going to satisfy all those high hopes if you can't roast a turkey — let alone bake a perfect pie?
by Sandra Martin and Kimberly Goode
Thanksgiving dinner matters.

It's America's national feast, uniting in a single setting so many rituals — national holiday, harvest celebration, personal day of accounting, family reunion, prodigal return — that we look forward to it with a hunger that's harder to slake than mere appetite.

For the host, Thanksgiving dinner is a matter of standing. She or he at whose home we gather is chief of our tribe. Grandmother or Mother has Thanksgiving down pat. She probably makes it look effortless (like a swan gliding serenely over the surface, she's been paddling like hell underneath). Her reign — and the style of her stuffing — is absolute, even after her family is old and wise enough to have their own ideas about how to do it better. Her stake is perpetuating her authority until she's ready to relinquish it — possibly to eat at your table.

If your standing as host is a recent elevation, you've got to prove yourself worthy of the honor you've inherited, been voted or usurped. Not only must you live up to Mother's standard, you must surpass it if you hope to undercut all the pretenders out there jostling to overthrow you. If you don't feed her well enough, one of those may well be Mother herself. So your stake is proving yourself.

Even the Thanksgivings of intentional communities set high stakes. Hosts at these more democratic feasts may not be responsible for doing the whole dinner. But they've got to set the scene, warming the home to a good facsimile of Grandmother's house and solving the mystery of how to seat a dozen at a table meant for two. Doling out the menu spreads both the work and the stakes. A new recipe that didn't set or a contribution not eaten is a humiliation that sours the feast and lingers in spoiled memories. At communal Thanksgiving feasts, everybody's got to rise to the occasion.

Even guests have high stakes in this feast. The table at which any American chooses to eat Thanksgiving dinner is the best they can do. So they come to the table knowing that whatever's missing here can never be recovered.

No wonder more Thanksgiving dinners than ever are eaten out or carried in. There's solace in leaving all those expectations to a chef to whom your only obligation is money.

On the other hand, cooks who've mastered Thanksgiving's secrets can count many blessings. Read on so you, too, can start counting.

Simple Steps to a Perfect Turkey
If you had to kill and clean it as well as cook and eat it, turkey would be a tough bird to prepare. As it is, the only tough part is unlearning all the old family recipes that ruin perfectly good birds. The secret to perfect turkey is simplicity: You pop it in the oven and let it roast. It can take care of itself while you cook the rest of Thanksgiving dinner.

There are more do not's than do's to roasting Thanksgiving's centerpiece to a perfect T.

You don't need to rub your bird with butter, add any liquid to the roasting pan, salt it, cook it breast down, cover the pan or baste it while it's cooking.

Do wash and dry the bird. Remember to remove neck (usually in the body cavity) and giblets (often in the neck cavity) before roasting. Confident cooks boil them for gravy or soup (and even use the giblets in their dressing) but that's another story.

To keep the juices in and fat down, spray the dry bird with oil mist (you can buy aerosol sprays or buy a non-aerosol spray can to make your own).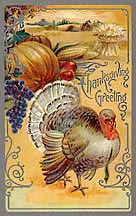 Arrange with wing tips under the back on a rack above a dripping pan already misted top and bottom with oil spray.

In a 325-degree oven, cook 20 minutes for each pound of turkey. Now let your turkey roast.

Leave it alone — until the time equivalent of two pounds from the time you've calculated it will be done. Now's the crucial hour when correct action will assure you moist, juicy turkey that earns you praise.

You need to test the roasted turkey's internal temperature to make sure it's done to a T. Many turkeys come with a pop-up timer already placed in the breast; but by the time these pop up, at 180 to 185 degrees, the breast is most likely already dry.

Better is a gradated meat thermometer. Stick it into the thick breast meat and continue roasting. When the thermometer reads 170 in the breast (or 180 in the thigh) it's done to perfection. Lift the bird onto the counter and admire its brown, crispy beauty. Then shield it with foil and let it rest at least 15 minutes. This keeps the heat and allows the juices to settle throughout the whole bird.

Carving your turkey would be easier backstage in the kitchen — but privacy would spoil your dramatic entrance. Take your choice of two ways around that obstacle. One, carve half your turkey in the kitchen and leave the pieces attached to the majestic bird for presentation. Two, carry it to the table fully plattered; then transfer (carefully) the whole bird to a sideboard and cutting board. Carve on the cutting board while other dishes are being passed. Replatter and serve.

Begin carving by severing leg, thigh and wing. Holding the bird in place with a serving fork, prod for the joints with a newly sharpened knife. Once you've found them, insert the point of your knife to pierce; then exert downward pressure to cut.

Start with the thigh; then sever the legs. Tip both pieces on end for slicing. Cut severed wing at the elbow joint into two pieces for wing-fanciers.

If you're carving one side before serving, start your dismembering cuts in the kitchen. At the table, remove thigh-leg combination and wing for slicing on a board.

The breast is easy. Start from below and make one clean cut beneath the whole breast to the bone. Make a similar but vertical cut from wing joint to bone. Now cut neat, complete serving slices from the outside in.

All this takes practice. Start now, roasting plenty of whole chickens before Thanksgiving.

Follow these simple guidelines and your turkey will be so good your guests will want take-home packages, so buy a big bird — plan at least a pound per person — and have plenty of leftover containers on hand.

Mashed Potatoes
Again, the secret of perfect mashed potatoes is so simple that, once you've made these, you'll be tempted to make them everyday. Use the low-fat variation, and you can eat them that often without looking like a potato. If you've tried other approaches, you'll kick yourself around many a block for not knowing this secret sooner.

Choose thick-skinned baking potatoes. Plan one per person for Thanksgiving, when side dishes abound, and you'll probably have leftovers.

Cut potatoes lengthwise into quarters. Boil half-covered with water until fork tender. Turn up the heat to evaporate most of the remaining water. Cool until you can touch without burning your hands. Spear with a fork quarter by quarter and peel with a knife. Drop into a heavy bowl.

Every six quarters or so, mash with an old-fashioned waffle-faced hand masher.
That's all there is to it except for the seasoning. Season with salt to taste, and a bit of ground white pepper. To make your mashed potatoes rich and moist, you've got lots of choices as fat or thin as you'd like. For full fat, use butter and cream. For no-fat to low-fat, use chicken stock, buttermilk or yogurt. Add little by little until you've got enough. You'll know.

Cover with foil and keep them warm in oven until serving time, or rewarm in the microwave.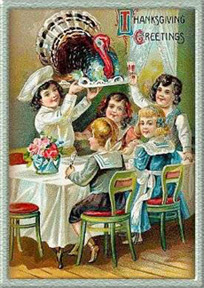 Thanksgiving is about tradition, so this feast may not be the time to innovate with a mainstay like mashed potatoes, as did one rookie Thanksgiving host. Lured by a fancy cooking magazine recipe into horseradish mashed potatoes— which may have paired well with beef — he overpowered the turkey and the guests.

But if you wish to experiment, consider other root vegetables. You could boil and mash with your potatoes, parsnips, turnips or cauliflower for a mild tang; cloves of elephant garlic would make a stronger announcement. Add seasonings at the mashing stage.

Cranberry Sauce
Once you've discovered that cranberries don't grow in cans, you're ready to make your own cranberry sauce. The simplest sauce may be the best: Simmer washed cranberries in apple juice and sugar or honey with a dash of salt to draw out the flavors. As the sauce thickens, the juice adds some sweetness. You'll want more, but maybe not as much as you think. Add sweetener little by little until you don't pucker.

Cranberries are so easy you may want to serve a raw cranberry relish, as well. The standard uses a blender to chop the cranberries with a whole orange plus sugar. Not so standard is cranberry salsa. Chop berries and onions along with a crisp green jalapeño or two. Then chop in some fresh mint and season with a little sugar, a little salt.

The Secrets of Stuffing
Whether you call it stuffing, dressing or filling, it begins with bread. Just how wet to make that bread is where problems start. Get the proportions right, and you've learned the secrets of stuffing. Everything else you add — meat, vegetable, fruit or herb — gilds the lily. Curiously, it's these additions that give stuffing its first name whether oyster, sausage, giblet, chestnut or apple. These solid ingredients are complemented with a sauté of onions, celery and, for turkey, sage.


"Not everything turns out good, but you have to experiment or else you won't discover new ideas," says Chesapeake Bay food writer Whitey Schmidt. Whitey's right — but Thanksgiving Day is not the time to experiment.

What you're after that day is "a marvelous, endless feast that unfolds like a three-act play," in the words of St. Mary's County chef William Taylor, who designed Thanksgiving dinner for Bay Weekly's in 2001 [Vol. IX, No. 45].

To prepare all the dishes the feast demands and to deliver them to the table at the same time, you need experiments already proven.

Cookbooks suggest widely varying proportions of dry to liquid ingredients. A safe foundation is one-half measure of liquid stock to one measure of dry solids. The more solid ingredients and their complements you add, the more stock you'll need. Many excellent recipes match solid ingredients with crumbs one to one.

Cookbooks also start you thinking about what tastes suit you. Family favorite Fannie Farmer offers a delicious assortment of dressings ranging from the traditional to mint. Don't plan on kissing anyone if you try her Onion Stuffing with Six Whole Onions.

Another standard, Joy of Cooking, uses milk or wine as a substitute for stock. If you want to kick it up a notch, try the revised edition's Corn Bread Stuffing with Hot Peppers — chili, poblano, anaheim and jalapeño.

The Williams-Sonoma Thanksgiving Cookbook favors a sourdough dressing with sausage and prunes. For servings of eight to 10 they use a lot of prunes: two cups.

The Silver Palate offers many types of stuffing, including a nice variation using three different types of bread: cornbread, white bread and whole wheat.
Annapolis' own Junior League Tyde and Thyme cookbook delivers an herbed cranberry stuffing using brown sugar and dried cubed orange with raisin bread crumbs as a secret ingredient.

Still, at Thanksgiving, most of us want stuffing to stay true to our roots, so the favorite recipes is often Mother's, and she seldom measured her ingredients.

That's true in the Goode family, where JoAnne Goode spans five generations each Thanksgiving with her grandmother's oyster dressing. "The secret to grandmother's dressing is the blending of the juices and the light sautéing of the oysters," says Goode. "It's a typical old-fashioned, Southern oyster stuffing."

Goode pulls apart one loaf of day-old white bread into a large bowl, to which she adds diced onions and celery sautéed in butter with salt, pepper and turkey stock. Next comes a second light sauté of oysters in butter with oyster juice and turkey juice.

Not even the favorite chefs of Chesapeake Country can tell you stuffing's exact proportions. But they will tell you how they've experimented and what experiments they've liked the best.

"Everyone likes stuffing differently. Some like it dry some like is moist. I like mine moist," says Schmidt, who moistens his stuffing with stock made from the turkey's giblets.

Schmidt gilds the lily with local homemade sausage, a habit he learned from his older sisters, who taught him to cook. Of course Schmidt, who's just published The Chesapeake Bay Oyster Cookbook, wouldn't leave oysters out of his stuffing. "Mix the sausage on the top of the oysters and broil," he advises. When oysters figure in his stuffing, he adds corn bread to the mix.

To add flavor, he uses fresh spices like thyme, sage and marjoram plus a little pinch of packaged poultry seasoning. "The smell of the poultry seasoning is what makes everyone hungry. When you walk into my house, it's the first thing people smell and they are ready to eat," adds Schmidt.

Oyster and sausage stuffing with fresh herbs is also the secret of Executive Chef Brian Chapman of Topside Restaurant in Galesville. "I like to grind my sausage and oysters in a food processor and add cayenne pepper and basil. The fresh basil brings out the flavors of the turkey stock," he says.

But it's white bread that's the secret of Executive Chef Ben Bensaeid of The Maryland Way Restaurant in Solomons. He's got another secret to make his stuffing moist. "I like to take fresh bread, cube it and soak it in milk for about an hour," he says. For more flavor and moistness, Bensaeid makes fresh chicken stock, seasoned with fresh white pepper, white wine, herbs and lemon juice.

Stock makes the stuffing at Harry Browne's in Annapolis, too. "I always cook stuffing that's moist using fresh chicken stock from scratch, wine and a Plugra butter from Europe," says Executive Chef Tony Spagnoli. On the stove, the stuffing begins with a fresh vegetable sauté of onion, carrots, celery and parsnips. His secret ingredient is chestnuts.

The secret to stuffing at Killarney House, in Davidsonville, is cooking it wrapped in tin foil. "We like the traditional Irish stuffing of bread, sage and onions. When it's cooked in the foil, it forms a crust on the outside of the stuffing that's just delicious," say Killarney House co-owner and Ireland native, Anthony Clarke.

If you've discovered the secrets of stuffing, people will want more. Bake a big panful — plan on a cup or two per person. Mist the pan with oil; bake in a medium oven for 45 minutes covered and up to 15 minutes uncovered to brown.

Easy as Pie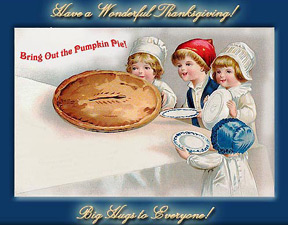 The perfect pie depends on the perfect pie crust. Pretend, if you like, that the perfect pumpkin custard or seven-apple filling will carry the day. But spoil your crust, and you've nothing to put perfection in.

Pie crust masters get perfection by practice. They make pies as often as you make dinner. For the rest of us, pie crust is as easy as pi. If we're gifted, we easily carry the recipe out to the last decimal: 3.141592 … Alas, the world is full of pi and pie illiterates.

For that reason, the occasional practitioners of pie are well advised to keep a package of store-bought pie crusts in the freezer. All you do is fold them out into your pie pan, crimp, fill and bake. The taste is good if not heavenly.

Have your heart set on perfect pie crust for your Thanksgiving pie? We've got the recipe, shared with us by a pie maker who ancestors arrived in Maryland with the Baltimore colonists on the Ark and Dove.

But you've got to promise to start early — by early we do not mean Thanksgiving morning; we mean days ahead — and give yourself plenty of time to make your hands live up to this perfect recipe.

The secret is not the ingredients but their handling. For a flaky crust, the fat must melt in the oven, not in your hand. So scrupulous was this pie-maker that her rolling pin was an old-fashioned glass one, filled with ice water.

Touch-Me-Not Crust
Double Crust (halve for single crust, reducing shortening to 6 T)
2 cups flour (no need to sift)

1 teaspoon salt

3/4 cup shortening (lard is best for the pie though not for your arteries)

4-5 tablespoons ice water

Spoon flour into measuring cup and pour into bowl.

Add salt and blend.

Cut half of shortening in with forks until mixture resembles coarse meal. Then add remaining shortening until particles are the size of lentils.

Add ice water, a little at a time, mixing lightly with fork.

Shape dough into firm ball with hands. For double crust, divide dough into two balls.

Roll one ball of dough to a 12-inch circle on a lightly floured, cloth-covered board.

Place loosely in nine-inch pie pan. Trim at edge of pan and crimp.

Stop here for a pumpkin or other single- crust pie. Prick sides and bottom and bake for eight to 10 minutes at 475 degrees before filling.

Continue for a double-crust pie:

Fill unbaked crust with pie.

Roll out remaining dough for top crust.

Place crust over filling. Cut vent holes for steam to escape. Trim edges to one inch larger than pan.

Fold edge of top crust under edge of bottom crust. Moisten rim of pan. Flute edge.

Bake as directed for filling.

Send us your recipes for leftovers, plus good leftover stories. Then look forward to reading and laughing in our special double issue on the streets Nov. 26, the day before Thanksgiving: [email protected].