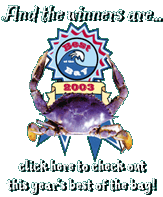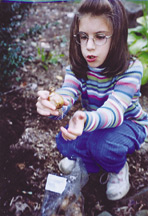 Not Just for Kids
See You in the Spring!
by Martha Blume

Want to plant some buried treasure? November is the time to put in bulbs. No, not light bulbs. Flower bulbs: crocus and daffodil, tulip and hyacinth.

What's a bulb?
A bulb is a like a storage room in the basement. Flowers that grow from bulbs store their complete life cycle, as well as their food reserves, underground.

Most bulbs flower in the spring or early summer. Then they die back to ground level. They begin to grow again in the fall and flower the following growing season. Planting your bulbs now gives them a head-start on growth.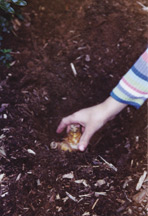 True bulbs have five major parts. The basal plate is the bottom of the bulb from which roots grow. That's the part that looks hairy. The fleshy scales, which make up most of the bulb, are where the food is stored. The tunic is the skin-like covering that protects the scales from damage and drying out. The shoot is the pointy part that holds the developing flower and leaf buds. The stem will grow from this part, so that's the part that goes up when you plant it. Lateral buds come off from the base and will develop into 'bulblets' or new, little bulbs.
Most bulbs will form new bulbs from the original. After a few years, the bulbs become crowded. That is when a gardener should dig them up and carefully divide them. Plant them again and you'll get even more beautiful flowers the following spring.
Recipe for Planting Bulbs

1. Dig a hole. Usually the bulb package will tell you how deep to plant the bulbs. Depth varies depending on the type of bulb. It may be three to six inches deep.

2. Plant two or three bulbs in each hole.

3. Cover the bulbs with good organic soil for a blanket from the snow, and say, "See you in the spring!"

Wait Until Spring
When spring's magic awakens the bulbs, you'll have a beautiful quilt of many colors blanketing your yard.
---
Kids' Stuff This Week
Friday, November 7
Finding Nemo Party
Kids ages 2–6 join in games, coloring contest, crafts, refreshments and much more. 11-12:15pm @ Southern Community Center, 20 Appeal Ln., Lusby. $5. rsvp: 410/586-1101.

Fridays, November 7 & 11
Hollywood Flyers
Kids 12 and up bring parents along for this adventure in flight. Watch aviation-related classics and documentaries. Call for times @ College Park Aviation Museum, 6600 Kenilworth Ave., Riverdale: 301/864-6029.

Saturday, November 8
Stone Soup
Kids of all ages, can you make soup out of rock? Find out in this production of Stone Soup performed by The Lost Caravan. 11:30am doors open, noon lunch, 12:30pm show @ Chesapeake Music Hall, Busch's Frontage Rd., Annapolis. $12 includes hot dog, PBJ, chips, drink and dessert; rsvp: 410/626-7515 • www.chesapeakemusichall.com.

Thanksgiving Ceramic Basket
Kids 7 and up get hand dirty in a two-day clay workshop. Day 1 get to know clay in a ceramic basket project. Day 2: Return on November 14 to paint your project. 10-noon @ Paint 'N Pottery, 5 Oxford Way, Huntington. $25. rsvp: 301/855-8000 • www.paintnpottery.net.

Wednesdays, November 12 & 19
Babies in Bloom
Parents bring babies up to toddler age for a fun-filled half hour of stores, songs, rhymes and fingerplays. 10am @ Eastport-Annapolis Neck Library, 269 Hillsmere Dr., Eastport. free: 410/222-1770.

Plan Ahead
Bird in the Hand
Deadline Nov. 9–Kids ages 3 to 5 have fun being creative with hands in November 24 turkey day. Learn to draw a turkey from your hand, eat snacks for energy and play games. 11am @ Northeast Community Center, 4075 Gordon Stinnett Ave., Chesapeake Beach. $3. rsvp @ your nearest Calvert County community center: 410/257-2554.

---
Calling Chesapeake Country's 2003 Babies

We're collecting pictures of Bay Weekly's newest readers to spotlight on our last "Not Just For Kids" page of the year.

Send your favorite baby picture (with baby's and parents' name and address; baby's birthdate; your name and address) to: Bay Weekly P.O. Box 358 Deale, MD 20751 (original photos will be returned) or e-mail: [email protected].

Send digital photos in .TIF or .JPEG format at 150 dpi, no smaller than three inches wide.

Photos must be received by Thursday, December 18. We'll send family and baby a souvenir copy!