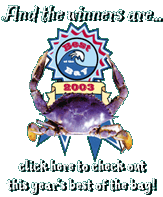 Dock of the Bay
Is EPA Blowing Bad Air Our Way?
Maryland wants no fumes from 500 upwind power plants
You'd think Joseph Curran might be getting a little tired of this.

For the second time in a year, Maryland's attorney general has sued the Environmental Protection Agency over changes to the Clean Air Act. This time, he and officials from 12 states and several cities are taking issue with rules proposed by the Bush administration that exempt older coal-fired power plants and other industrial sites from installing new pollution controls when the facilities are upgraded.

Curran and his cohorts argue the rules will gut protections for the environment and public health. They also contend that only Congress has the authority to make sweeping changes in the Clean Air Act. EPA officials, meanwhile, say the rule "preserves the public health protections" and will result in significant changes in emissions.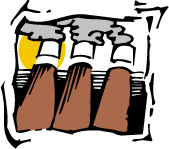 Curran's office and a similar batch of states also filed suit on New Years Eve 2002 challenging a set of related Clean Air Act changes backed by the administration. The new rules, signed by EPA's administrator in August, were made final on October 27 and will take effect in 60 days. Nationally, more than 500 power plants, most of which lie west and upwind from Maryland, would be affected by the changes.

According to Curran's office, some 650,000 Marylanders suffer from respiratory illness. Those who can't blame the state's already dirty air for their ailments are at least aggravated by the microscopic soot and smog-causing pollution that float aloft and unseen from power plants and other sources in the Midwest.
On the other side, with the Bush administration, is the industry that benefits from the new policy. Scott Segal, director of the Electric Reliability Coordinating Council, a group of power companies that supports the change, said the new rules will clarify federal regulations. "Litigation from the Northeast attorneys general can produce nothing but confusion," he said.

Gov. Ehrlich has backed Curran's move on the Bush administration, despite the governor's close political and personal ties with the president. Word has it that acting state Department of Environment director Kendl Philbrick told Ehrlich that cleaning up the Bay will be even more difficult and costly if Midwestern power plants are allowed to keep spewing their nitrogen and other pollutants at current levels.

The wheels of justice can turn slowly on cases like these; Curran first started fighting Midwestern power-plant pollution with a lawsuit in 1999, and a court date for that case was just recently set for 2005. But officials in the attorney general's office believe that the new case might be taken up soon because several states involved in the lawsuit will be forced to comply with the rule by the end of the year.

Whenever the day in court, Curran vows to keep on keeping on. "The air we all breathe needs to be improved," he said. "The rule announced by the EPA is a step in the wrong direction."

— Gary Starikoff
---
A Mime is a Terrible Thing to Waste
Help Mimi get her act back together
For more than 17 years Mimi the Mime has walked on stilts, juggled and tried to get herself out of the dastardly box to entertain visitors to Maryland's Renaissance Festival.

But October 10 was no day for laughter.

Performing at the Pennsylvania Renaissance Festival on an eight-foot wall she had been leery of all summer, Mimi played like Humpty Dumpty. She had a great fall.

"I can't believe this is happening," alter ego Cybele Pomeroy remembers thinking as the ground rushed toward her. "I was blowing bubbles and I leaned over to redo my bubble wand, lost my footing and started to go down. I tried to grab the wall with one hand, like Tom Cruise in Mission: Impossible."

Next thing Pomeroy knew, she was lifting Mimi's face off the ground.


Still in character, Mimi refused to call out for help. "I hope someone saw this and will come to my aid, because I am not calling out for help. And I don't think I can get up by myself," she remembers thinking.

Carted off she was, but without ice or elevation to avoid upsetting children streaming into the park for School Day at the festival. She also worried that the ice pack would smudge her white-face make-up when she had two more shows that afternoon — plus Saturday back in Maryland.

Because of the extent of her injuries, though, her show could not go on.

Mimi was rushed to first aid and then to a nearby hospital for X-rays. Uninsured and afraid of costs, Pomeroy refused an ambulance and was driven to the emergency room by a friend in the festival owner's van.

Though the news wasn't good, spirits remained upbeat. When the admitting nurse placed identification around her wrist Cybele asked: "Does this mean I drink free all night?"

But it was not all fun and games, and as a performer Pomeroy had reason to worry. "This cannot go under Workman's Compensation, as I am a private contractor. I sign a Hold Harmless Agreement along with my contract with the Pennsylvania Renaissance Festival, just as I do at every other fair I work. I am listed as Self Pay," she says.

Her prospects for help were slim.

Pomeroy suffered a broken right wrist and a broken elbow; worse, her left tibia and fibula are broken right above the ankle. "I'm in casts from my knuckle to armpit and my kneecap to my toes," she says.

"Cybele's loss of income as a result of being incapacitated, just compounds the financial problems," says C.J. Crowe, director of the Chesapeake Arts Center and director of Pomeroy's upcoming production Watergate – The Musical.

A playwright by trade, Pomeroy earns her living performing; the early fall days of the Maryland Renaissance Festival are a big source of income. "I learned a long time ago that it's slightly harder to starve as playwright than as a poet," she says.

To put Pomeroy back together again, her friends are organizing The Humpty Dumpty Piano Bar Benefit to fund her mounting medical bills and ongoing rehabilitation.

"I have been stunned by the support," says Pomeroy of the friends that have come to her aid. "I feel blessed."

"She is a wonderful, creative, artistic person and the best friend anyone could have," Crowe adds. "I will do anything I can to ease her suffering and worry."
Carrol's Creek Restaurant in Annapolis is hosting the benefit, donating space and a bartender.

Features will be fun and a silent auction of jewelry, pottery, hand-blown glass and artwork donated by local artists and craftspeople, including potter Joe Vitek and silversmith Rob Piland.

The charge is "whatever you can afford," says Crowe, who's banking that people Mimi has entertained for two decades will turn out for her now.

Pomeroy has struggled before. "My first gig was at a McDonald's," she says. "I got paid $10 and a hamburger."

But now she's hoping Billy Crystal was right in Spinal Tap, when he said "Come on people, mime is money!"

Humpty Dumpty Piano Bar Benefit: 7:30pm, Tues., Nov. 11 at Carrol's Creek, Annapolis: 410/263-8102. Donations of support and art for auction gladly accepted: 410/553-0006.

— Louis Llovio

---
Rebuilding a Vanishing Island

Millions to be dumped into the Bay this year
Scientists, soldiers, politicians and engineers crowded into the dinning room at the Chesapeake Bay Beach Club, a view of the Bay on which they all work so diligently spread out before them through the plate glass window lining the room. They mixed, mingled and told jokes as only festive scientists, soldiers, politicians and engineers can.

Over a decade, they've brought an admittedly bizarre idea into reality, and now this restoration team was celebrating rebuilding one of the Bay's vanishing islands.

But the party couldn't start until assorted dignitaries from the Coastal America Partnership arrived by helicopter to hand out their sixth annual Partnership Award to the Poplar Island Environment Restoration Team.

Coastal America Partnership was founded in 1992 by the first President Bush to inhabit the White House "to protect, preserve and restore coastal environment by integrating the federal government with state and local governments as well as non-government agencies," said director Virginia Tippie.


Rebuilding Poplar Island, the cause of the day's celebration, took that many forces. "We're trying to understand the engineering of the ecosystem," said Eastern Shore Congressman Wayne Gilchrest.
By 1990, Poplar Island was reduced to a scant 10 acres from its mid-19th century mass of 1,140 acres. But for all those years, it's been eroding, taking with it the habitat that was a natural home for many species.
By the early 1900s, the mid-Bay island had split into three landmasses. That fact didn't slow down developers. who during that time built numerous farms, a post office, a school and a sawmill on the island.
In 1931, when the northernmost island had shrunk to 134 acres, the Jefferson Island Club was established as a weekend retreat for Democratic politicians. It was a popular vacation spot for both Franklin Roosevelt and Harry Truman.
By 1960, the island had been eroded to 80 acres.
Before Poplar Island could disappear, two federal agencies considered using dredged material from navigation lanes leading to the Port of Baltimore to recreate, from almost nothing, Poplar Island and return it to its 1847 configuration.
According to one of the agencies, the U.S. Fish and Wildlife Service, erosion, ship waves, land subsidence and sea level rise had caused more than 10,000 acres of Chesapeake Bay wildlife habitat to be lost during the last 150 years.
By 1998, the bureaucratic hurdles had been cleared and U.S. Army Corps of Engineers got to work on what's become Maryland's biggest public works project. Rebuilding Poplar Island will continue at least until 2016.
So far, 38 million cubic yards of Bay bottom have been dredged and dumped to create the island. Progress is slow, moving at two feet per year, so the 150-acre perimeter — the first part of the job — should be filled by 2009.
Hurricane Isabel battered the island but did not steal its new acreage. "The native grasses, with seven to eight inch roots, held the soil," said Corps of Engineers' Gwen Meyer.
Meanwhile, Fish and Wildlife has watched over 125 acres inhabited by colonial waterbirds and nesting bald eagles.
Eventually, an 800-acre shallow water cove will encourage the recolonization of equal acreage of underwater grasses. Trees, shrubs and grasses will support terrapins, birds, foxes, raccoons, squirrels and deer.
"As we flew over the site today," said acting Fish and Wildlife director Richard Bennett, "I couldn't help but think of the line from the movie: If you build it, they will come."
That's good, because rebuilding Poplar Island has cost taxpayers a pretty penny. So far, rebuilding this vanishing island has cost $160. For fiscal year 2004, the U.S. Senate appropriated $14.1 million to the Army Corps of Engineers, with Maryland slated to spend 25 percent of that amount. The price tag for the whole job will run to $427 million.
— Louis Llovio

---
Bringing Back the Crab
Can art succeed where science and common sense have failed?

Lately, we've tried most everything but the magic of arts to bring back the Bay's blue crabs. That's going to change this weekend when nearly a dozen painters, bards and scribes stir the pot in Crab Soup, a celebration of callinectes sapidus at the Avalon Theatre in Easton.

If you can't taste this heady soup in person, you can listen in to the celebration live on radio. Indeed, Crab Soup is a show made for radio, and just as in the Golden Age of radio, a live studio audience stands in for ear-only radio audiences. The Avalon event first-nights a new Bay-themed show on WRYR 97.5-LP FM, Chesapeake Country's community radio station ["How I Did It Myself on Do-It-Yourself Radio," Vol. XI, No 10: March. 6]. Coming up monthly henceforth, listeners lucky or well placed enough to receive the low-power, volunteer-run grassroots FM station can tune into Chesapeake County with Tom Wisner. Tom Wisner, who lives near Solomons, is Chesapeake Bay's poet laureate.

Artists and poets, Wisner claims, see ordinary events from a fresh perspective. If that sounds stuffy, like something you'd hear from dusty poets of thin volumes, then you haven't heard Tom Wisner.
I wonder if some people
Ever wonder what it's like,
To be put into a kettle,
And have the lid shut tight?
Wander in the darkness
You can't find your way around,
You are destined to become
The tastiest treat in town.

The prospect of this week's show turned even the usually sober Bay columnist Tom Horton into a songster of sorts, as he translated an old Elvis Presley rhyme into crab-catching-culture-ese for his October 24 Baltimore Sun column noting the Avalon show:
Wella blessa my soul
What do I see
Virginia police boats comin' after me
I pull my crab scrapes
Right outa the mud — I'm a wreck — I'm all shook up!"

Horton joins Wisner on the Avalon's menu in an evening of music and magic around the taste, touch and topic of the Bay critter most of us love to eat.

So does biologist and story-teller Walter Boynton of the Chesapeake Biological Laboratory in Solomons, who'll give the audience quick crab factoids as an appetizer of sorts.

Other courses are served up by Smith Island storyteller and crab-picker Janice Marshall. Dallas and Kaki Bradshaw, who carry the songs and stories of Tangier Island, season the menu with flavors with the original Bay crab-catching-culture. Mix in Frank Schwartz (who's played with O'Malley's March) and Teresa Whitaker, composer of some new crab tunes for the show, and you've got the recipe for Crab Soup.

The big puppets of the Mother of Waters Puppet Theater will help set the stage. For more crabby visuals, the work of Bay photographer Dave Harp, sculptor Tilghman Helmsley and painter Joe Mayer will be on display.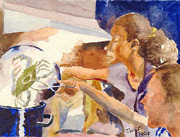 Steamed Alive by Tom Wisner.
Saturday, November 8 is your only chance to see as well as hear Chesapeake Country — though it's also broadcast live that night on 97.5FM. The date and time of Wisner's monthly show has not been set; check
www.wryr.org
for updates. But on future Chesapeake Country radio programs, Wisner promises artists, poets, musicians, educators, scientists and community activists will join him to ponder and celebrate the Chesapeake.
WRYR is a story of Chesapeake innovation itself, as a grass-roots, mostly volunteer station serving Bay-side communities on both Western and Eastern shores out of offices in Churchton and an antennae across the Bay below St. Michael's. You'll find not only music and entertainment but facts on environment and smart growth there. The nonprofit group SACReD, South Arundel Citizens for Responsible Development, supports the station and Chesapeake Country, Tom Wisner's program.
PBS's Point of View series will also be taping, for a documentary on low-power radio.
See
8 Days a Week
for tickets to the Avalon Saturday, November 8.
— Sara Ebenreck
---
In Annapolis, the state's powerful Board of Public Works last week thumbed its nose at Anne Arundel County Executive Janet Owens and others urging caution by approving a plan to place 3,000 sterilized Asian oysters in cages at three Chesapeake Bay locations: the Severn River at the Naval Academy; the Patuxent River in Calvert County; and the Choptank River in Dorchester County…
In Britain, famed chocolate maker Cadbury wants to keep chocaholics from becoming litter bugs. The company said this week that it will begin making candy packaging out of a corn starch polymer that dissolves in water…
In North Africa, a plague of grasshoppers was so dense that 11 people died and thousands more became ill when grasshoppers engulfed a small town south of Khartoum. Authorities said the grasshoppers gave off a pungent odor that made breathing in the town difficult…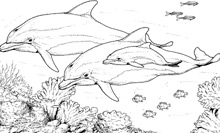 Our Creature Feature comes from San Diego, where the mystery of how baby dolphins swim so fast has been solved. An aerospace engineer told New Scientist magazine last week that dolphin calves position themselves in a way that enables them to be sucked along in the slipstream of their speedy mothers.

Professor Daniel Weihs said that a baby dolphin instinctively aligns the midpoint of its body a few inches from its mother's tail, and the result is water flowing around the calf in a vacuum that cuts most water resistance. The suction field is so strong that calves of other mothers sometimes get sucked in when dolphins race by.