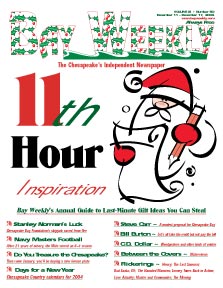 On Our Cover
11th Hour Inspiration
Design by J. Alex Knoll
Again this year, inspiration arrives in the nick of time, as Bay Weekly writers share — indeed, invite you to steal — the creative solutions they've devised for friends and family.

11th Hour Inspiration
Bay Weekly's Annual Guide to Last-Minute Gift Ideas You Can Steal


Bay Life
Chesapeake Centric for 2004; Monthly & Daily Calendars for a New Year
by James Clemenko


Between the Covers
Waterviews: by Marion Warren, Steve Carr and Eric Smith
reviewed by Sandra Olivetti Martin.


Check out the updated Archives featuring stories from 1993, 1995 & 1997!


Stanley Norman's Luck
Chesapeake Bay Foundation's skipjack saved from fir
by James Clemenko


In Texas, even at Christmas local tree growers can't get any respect in the Statehouse…
In Virginia, fish cops can't get the budget they need to help save the Bay … In New Jersey, hunters go for bear…
This week's Creature Feature: In New Zealand, turning pests into profit: far-too-plentiful Australian Brushtail Possum makes lambs' wool feel almost like cashmere.