Letters to the Editor
We welcome your letters and opinions. We will edit when necessary. Include your name, address and phone number for verification. Mail them to Bay Weekly, P.O. Box 358, Deale, MD 20751 • E-mail them to us at [email protected].
---
Look for Sue Sheehan at the Pearly Gates
Dear Bay Weekly:
Barbi Shields' Appreciation of Sue Sheehan (Vol. XI, No. 49: Dec. 4) was outstanding. I first met Sue more than a dozen years ago when I was trying to get money for a new water and sewer system for Rose Haven. Del. George Owings was the first person to come to our rescue, and thus I came to know — and appreciate — Sue. She was warm and friendly and helpful. I don't know if she will be choreographing plays in heaven, but I think St. Peter could put her to better use as a receptionist at the Pearly Gates. Even people who don't get in will remember her warmly.

— Tom Gill, Rose Haven
---
Good-bye Old Friend
Dear Bay Weekly:
As I drive through Chesapeake Beach, I am reminded daily of an old friend I will continue to miss. Stinnett's Restaurant is no longer open.

It was just a building, right?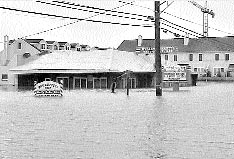 My memories say it was much more. It was a comforting part of my family's (and probably yours, too) history. We shared good times and bad times at Stinnett's: hundreds of meals after Buccaneer football games, news of upcoming events, politics, sorrows and accomplishments.

We could always count on seeing someone that we hadn't seen in a while and renewing those relationships.

Often, for personal events, like anniversaries, birthdays, weddings and even funerals, we ended up at Stinnett's. It always brought a reassuring I'm-home-and-safe comfort. We always knew what to expect. The atmosphere was all family. The food was at-home good, the service great and the possibility of watching Bay water slowly come across the floor in a torrential downpour was a special, friends-only entertainment. The quick-forming, gigantic puddle in the front parking area was always a challenge.

Stinnett's employees, too, were part of our family and they knew us well. They'd remember what was happening in our lives and check to see that we were doing all right. They'd remember what we liked and didn't like. They each had their own families but seemed to feel that they were truly a part of our family, too. They helped make Stinnett's the relaxing place we liked to be. We thank them and wish them well.

The times, they are a changin' — whether we want them to or not. So we'll have to find another local restaurant and hope for the best. It will take a while to establish a new family connection where we feel so welcome and comfortable.

I thank Gerald and Fred Donovan for continuing their family tradition as long as they did. The memories will now have to last a lifetime — unless I can change their minds …

— Cheryl Emery, Owings

Editor's note: Low-lying Stinnett's was a victim of Hurricane Isabel.