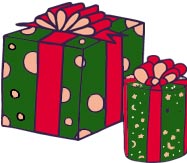 Not Just for Kids
Gifts Kids Can Make and Give
by Martha Blume
Need a gift for a special friend or relative and your piggy bank is empty? Those close to you will like handmade gifts best. Here are some that don't require a lot of materials other than your own creative brain.

For Mom: Make spicy potpourri
Potpourri is French for rotten pot. That is unfortunate because potpourri smells good, and the ladies in your life will like to tuck it in their closets or drawers. Mix together some good smells from your kitchen. Here are some ideas: broken cinnamon sticks, vanilla beans, whole cloves, whole nutmegs, allspice, dried lavender, dried lemon or orange peel. Package it in a small clear jar with a ribbon around it, a basket with fine weave, a pretty box, or a pretty square of fabric tied with a bow.

For Dad: Write your own book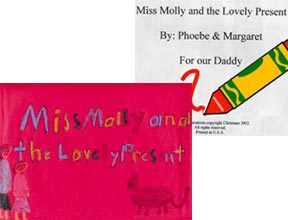 Find a favorite picture book and rewrite it with facts from your own life. You can type it on the computer or use your own neat handwriting. Illustrate it with your own drawings, scanned family photos or clip art. Be sure to put your name and the date in the by-line.

For Grandma and Grandpa: Gifts in a jar
Choose a favorite soup recipe. Gather the dry ingredients and layer them in a mason jar in a colorful arrangement. Here's a good one:

Chicken noodle soup in a jar
1/4 cup red lentils
2 Tbs. dried onion flakes
2 1/2 tsp. chicken bouillon powder
1/2 tsp. dried dill weed
1/8 tsp. celery seed
1/8 tsp. garlic powder
1 cup medium egg noodles
1 bay leaf

Layer the ingredients in a pint-sized mason jar in the order given, starting with the lentils on the bottom. Seal the jar, adding a pretty piece of fabric under the lid. Attach the following directions on a gift card: Boil 8 cups of water. Stir in the soup mix. Simmer for 25 minutes. Remove the bay leaf. Add 1 1/2 cups of frozen corn and 2 cups of cooked, diced chicken or turkey. Simmer until well-heated.

Other edibles you can layer in jars include snacks; dry cookie mix ingredients; hot chocolate mix with mini-marshmallows and peppermint sticks.

Package your gifts with holiday greetings and plenty of love, and you're sure to receive thankful hugs all around.
---
Kids' Stuff
Friday, December 12
Healthy Holidays
Kids of all ages make a holiday ornament for their Christmas tree during Solomons Christmas Walk. 6-9pm @ Solomons Medical Center, 14090 H.G. Trueman Rd., Solomons. free: 410/535-8233.

Saturday, December 13
Nature's Little Helpers
Kids ages 4-8 learn to make a pine cone bird feeder to take home and hang outside for feathered friends staying in town this winter. Kids must bring an adult. 10am @ Earleigh Heights Ranger Station, Earleigh Heights Rd., Severna Park. free; rsvp: 410/222-6244.

Nature Explorers
Kids ages 6-9 sit around a campfire to learn how animals keep warm in the winter. 10am @ King's Landing Park, King's Landing Rd., Huntington. $3 w/discounts; rsvp: 410/535-5327.

Charlotte's Holiday Adventure
Kids ages 3 and up learn what Charlotte and her grandmother are up to this holiday season in The Lost Caravan's children's theatre production Charlotte's Holiday Adventure. Hot dogs, peanut butter and jelly, chips, drink and dessert for lunch. 11:30am doors open; noon lunch; 12:30pm show @ Chesapeake Music Hall, Busch's Frontage Rd., Annapolis. $12 includes lunch and show; rsvp: 410/626-7515 • www.chesapeakemusichall.com.

Wednesday, December 17
North Pole Adventures
Kids ages 2-5 play reindeer games and make a snowman to take home. 10:30am-noon @ Southern Community Center, Appeal Ln. (off Rt. 765), Lusby. $5; rsvp: 410/586-1101.

Worth the Trip
A Wild Holiday Celebration
Kids of all ages see many of the world's creatures and listen to the Battersby Duom who perform musical comedy at the Children's Holiday Celebration. Donated gifts benefit Alexandria Battered Women's Shelter. 1-4pm @ National Zoo, 3001 Connecticut Ave., NW, Washington, D.C. free, but bring a donation for a needy child: 202/673-4637 • www.fonz.org.
---
Calling Chesapeake Country's 2003 Babies
We're collecting pictures of Bay Weekly's newest readers to spotlight on our last "Not Just For Kids" page of the year.

Send your favorite baby picture (with baby's and parents' name and address; baby's birthdate; your name and address) to: Bay Weekly P.O. Box 358 Deale, MD 20751 (original photos will be returned) or e-mail: [email protected].

Send digital photos in .TIF or .JPEG format at 150 dpi, no smaller than three inches wide.

Photos must be received by Thursday, December 18. We'll send family and baby a souvenir copy!