Bay Life
Chesapeake Centric for 2004
Monthly and Daily Calendars for a New Year

As Old Man Winter blows a chill down from the Great White North of Canada and sprinkles us with snow, many of us are already picturing ourselves tanning and swimming at some tropical destination. But how can we plan for the future without a guide?

No, we're not talking about a psychic, but rather calendars. Next year — 2004 — is right around the corner. Do you have your new calendar to plan your vacation or structure your life?

To assist you, we've selected 12 that focus on Chesapeake Bay, nature, history, people, artistry and humor.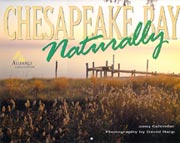 January
Chesapeake Bay Naturally
Photographer David Harp captures the natural beauty of Chesapeake Country in this wall calendar.

From a proud blue heron perched overlooking the water to a view of the bow of the Rosie Parks at the Chesapeake Maritime Museum in St. Michaels to Sandy Point Light surrounded by ice, images of our watery neighbor are aplenty.

Proceeds from calendar sales go to the Alliance for the Chesapeake Bay, a non-profit group helping restore the Bay to its previous grandeur.

$11.95 in local bookstores or online. Tide-mark Press. 800/338-2508 • www.tide-mark.com/chesapeake.html.


February
The Nature Conservancy
Nature never looked so good as in the Nature Conservancy's 2004 wall calendar.

Photos from coastal islands to dramatic waterfalls to mountain streams highlight this landscape calendar. Naturally, sales benefit the Nature Conservancy. If you're looking to join up, the last page offers discounted membership.

At local bookstores or online. The Nature Conservancy, Arlington, Virginia. 703/841-4850: $15.99 • www.nature.org.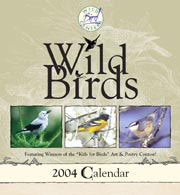 March
Wild Birds
If birds of a feather flock together, then the Wild Birds 2004 wall calendar is united in its mission — to celebrate special birds and to honor the winners of the Kids of Birds art and poetry contest.

Kids from across the nation share their interest in wild birds with their photos and quotes. Photos taken by amateur photographers show bluebirds in winter, a hummingbird hovering above a special bird feeder and more.

Wild Bird Center, Park Plaza Shopping Center, 550 Governor Ritchie Hwy., Severna Park. $9.99 or free w/$50 purchase: 800/945-3247 • www.wildbirdcenter.com.

April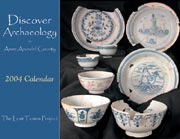 Archaeology in Anne Arundel County
The past comes alive in the Lost Towns Project 2004 wall calendar featuring artifacts and dig sites resurrecting Anne Arundel County's past. Adena spear points, dig sites, unearthed pottery and glassware illustrate inside the 12-month calendar.

Proceeds from calendar sales support archaeological research and historic preservation in Anne Arundel County, in partnership with the Galesville Heritage Society and the Anne Arundel County Trust for Preservation.

Make check to Lost Towns Archaeology Project, P.O. Box 1573, Annapolis, Maryland 21404. Or call to order. $11.95 each or 3 at $10 each: 410/222-7441 • www.geocities.com/actpres/calendar.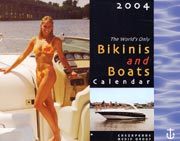 May
The World's Only Bikinis and Boats Calendar
In certain corners of Chesapeake Bay, there are more boats than people. The Chesapeake Media Group has taken it upon themselves in this wall calendar to showcase 12 powerboats to interest many, from the 48-foot Super Sport fishing vessel to the Baja 36 Outlaw off-shore racing craft.

Oh yeah, in addition to pleasure crafts there are 12 bikini-clad women modeling with each boat. Need I say more?

Chesapeake Media Group, Riva, Maryland. $14.99: 800/200-3507 • www.bikinisandboats.com.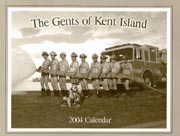 June
The Gents of Kent Island
What's good for the gander is good for the goose, so we doff our hats to the Gents of Kent County, who've doffed more than that to appear in this wall calendar.

From the sheriff's department to a dive team to fire fighters to bankers, these gentlemen bare it all for your pleasure.

Proceeds help fund a new Kent Island Volunteer Fire Department that will serve Kent Island and Queen Anne's County.

Kent Island Volunteer Fire Department, Stevensville. $12 + $3 shipping and handling: 410/643-5454 • www.kivfd.org.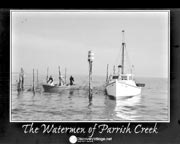 July
Watermen of Parrish Creek
This local calendar honors men and women who have spent their lives making a living and feeding our appetites from the bounty of Chesapeake Bay.

The Watermen of Parrish Creek wall calendar shows captains and their vessels in the line of duty — working the Bay for crabs, oysters and more. This calendar also helps you keep track of the phases of the moon.

Purchase at Discovery Village or Captain Salem Avery House Museum, both in Shady Side. $10: 410/867-2100 • www.discoveryvillage.net.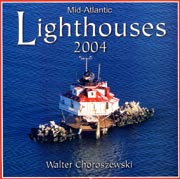 August
Mid-Atlantic Lighthouses
Photographer Walter Choroszewski captures three Maryland lighthouses in the 2004 Mid-Atlantic Lighthouses wall calendar. On the cover is the Annapolis Maritime Museum's latest addition — Thomas Point Shoal Lighthouse.

In addition to Thomas Point, the Concord Point Lighthouse in Havre de Grace and the Fort Washington Lighthouse in Fort Washington are the local standouts this year.

Order via 908/369-3777 or www.aestheticpress.com. $11.99. Aesthetic Press, Inc., Somerville, New Jersey.


September
The Old Farmer's Almanac Every Day Calendar
If you can't trust old farmers, who can you trust? This desk calendar from the Old Farmer's Almanac brings you "wit, wisdom and lore for every day of the year."

Weather lore, historical facts, household hints and general wisdom appear on these 365 pages. Find a reminder on April 15 that your taxes are due. On July 26, learn where the phrase "mud in your eye" comes from.

Order via 206/842-8922 or www.almanac.com. $10.99. Yankee Publishing Inc., Dublin, New Hampshire.

October
Aerocatures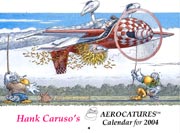 St. Mary's County artist Hank Caruso draws this humorous one-of-a-kind wall calendar each year to satisfy aviation enthusiasts. He's built up a loyal following of airplane buffs since starting the calendar in 1982, so if you want one you'd better act quickly.

Caruso gives life to the warplanes and workplanes of history, his caricatures capturing the machine's personalities. This year, Caruso features the EA-6B Prowler, the Martin B-57, the Extra 300S and more. Each month's pen-and-ink drawing is accompanied by a brief history, and two tear-out color caricatures are stowed in the fold of July.

Order at www.aerocatures.com or call 301/863-9939. $15 plus $3 shipping and handling per order. Maryland residents add 5% sales tax. ForeFeathers Enterprises, California, Maryland.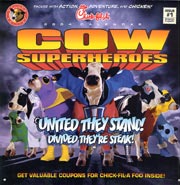 November
Cow Superheroes
Chick-fil-A's herd of justice, these bovines suit up to fight crime — the eating of burgers. They have evolved from corporate kitsch to pop culture. In this wall calendar they perform ever wilder feats in comic form.

Each month features a special superhero cow — like The Gristle Missile, the only cow with horsepower — using its powers to thwart people from eating burgers. Corny — but funny — captions make pun-filled quips on each scene. An added bonus: coupons for free Chick-fil-A food each month.

$5 at all Chick-fil-A locations including Annapolis Mall: 866/CFA-2040 • www.chickfila.com.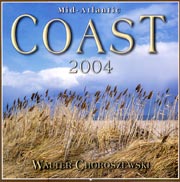 December
Mid-Atlantic Coast
In case you haven't read 8-Days a Week, this weekend is the annual Eastport Lights Parade in Annapolis. Photographer Walter Choroszewski's Mid-Atlantic Coast wall calendar features a past parade.

An overhead view of St. Michaels on a warmer day and a serene photo of Chesapeake City showcase two other Maryland destinations.

Order at www.aestheticpress.com or call 908/369-3777. $11.99. Aesthetic Press, Inc., Somerville, New Jersey.