In some places, mayors holds the big stick. But in Anne Arundel County with its many unincorporated areas, the county executive is boss, wielding control over our lives in matters from taxation to public safety to development. And governing is no picnic in Anne Arundel, with its striking diversity — from its paved-over populous north to its rolling, rural south.

This election is viewed as especially fateful. The largesse that accompanied boom times has disappeared, and the next executive will be forced into wrenching choices about spending for schools, public-employee salaries and land preservation.

Key decisions regarding development and growth management hang in the balance. Many citizens have devoted dozens of evenings away from their families crafting local planning documents whose fates remain unclear. Will the next administration listen to the vision of its citizens? And does the county's most powerful leader understand that decisions regarding development of fragile lands in Chesapeake Country are part and parcel to the quality of our lives?

As part of Bay Weekly's most extensive campaign coverage ever, we bring you interviews with the incumbent, Janet Owens, a Democrat who was elected in 1998, and her GOP challenger, former state delegate Phil Bissett.
---
Janet Owens ~ The Democratic Incumbent
Four years ago, Janet Owens was an incensed citizen. Driving rural roads from her home in Davidsonville to her girlhood home in Lothian, a farm she'd recently inherited from her mother, she saw sprawl and got mad.

"I really can't stand what's happening to the county," she told Bay Weekly in 1998. "I'm free now, and with my years of management experience, I felt this was the right time and the right place for me to try to make a genuine, long-term contribution."

You see the sort all the time in election years: well-meaning Davids taking on well-armed Goliaths. After the vote is in, most of them you don't hear from again.

But for Owens, the analogy held true. She not only beat incumbent John Gary, she did it without the support of her Democratic party leadership — first overcoming their hand-picked choice, Republican switch-over Diane Evans.

Once she'd won, many a pre-dawn hour she must have asked herself why, why, why did she take on such a job.

It's a job that allows you no life, says her husband, David Sheehan, who is also her advisor and co-campaign manager.

As the political neophyte quickly learned, it's also a job as packed with booby traps as a Halloween funhouse. She walked into a $450 million backlog; stumbled on conflicts of interest in her newly assembled staff; blundered into territorial wars over development — Safeway in Southern Anne Arundel County, the David Taylor Center on the Broadneck Peninsula; dined on humble pie served up by Maryland's powerful Senate president, Mike Miller; and saw herself parodied in larger-than-life effigy.

That was just the small stuff. On the big scale, weigh budget surprises, September 11, anthrax and deficits.

How has a small-time orphans' court judge managed this big job? And why should she want to keep doing it?

Read on …
BW Has running this juggernaut that's Anne Arundel County been tougher than you imagined?
JO Looking back, I'm amused at how totally naive and innocent I was about what I was walking into. It's so much bigger than anything I could have anticipated. It's a universe of problems 24/7.

I was not prepared for the animosity against government I found. And I've been astonished about things people write in or call to complain about. Then you have the big things: schools, environment issues, land use issues, enforcement issues, police, fire, social services, health, mental health. It's all of it every day, because you never know what's coming.
BW This time around, you're the incumbent. What are the advantages and disadvantages of your position?

JO As an incumbent, the day-to-day work — the state deficit, the revenue cap, the big changes Superintendent Eric Smith is making in the schools — is always there. You're never free from thinking about one thing or the other. On top of that, there's the campaign. As a candidate, it was much less stressful because I didn't have the responsibility.

BW As a challenger, you can take the offensive, while as the incumbent, you're on the defensive. You've had time to make enemies, so grudges have built up …

JO One thing I've learned on the fourth floor of the Arundel Center is that few people come without wanting something. I say 'no' 75 percent of the time, usually because of financial constraints. Take the Parole redevelopment, for example. Citizens want to know what's going to happen, but I can't help them. I don't have a role until the owner and potential buyer come to terms. The county has no role until the deal is finalized.
BW What makes you want to keep such a job for four more years?

JO It takes so long to move a bureaucracy. In the ideal world, this job would last six years, and I wouldn't be running again.

I want to finish some things I started. The things I felt so strongly about four years ago are some of the things I'm most proud of.
BW You speak often of your farm roots, and one of the things you said you felt so strongly about four years ago was preserving farmland. How well has preservation succeeded in your administration?

JO I wanted to reach 10,000 acres in my term, and I've done it. From 1979 until I took office, the county had saved 6,000 acres of agricultural land from development. In the last four years, we've added 4,699 acres. That's 48 percent of the total.
BW At what cost?

JO Probably $9 million, through three kinds of funding programs: Rural Legacy, the Maryland Agricultural Land Preservation Program and now Installment Purchase Agreements, a zero-coupon bond program with a 30-year payout.
BW Tell us about some of the newest purchases.

JO We just got the money approved by the Board of Public Works for the King Leatherbury property [on Muddy Creek Road in West River where racehorse-trainer Leatherbury pastures his horses].

I'm sure you've heard about the wars between Governor Glendening and William Donald Schaefer …

Editor's note: The antagonism between the present and former governor is often acted out in meetings of the Public Works Board, which approves all spending for public works projects. Two of the three people on the board are Glendening and Schaefer.

… I took William Donald Schaefer there myself, and he honored his commitment. We've done as well as anyone in the state [in getting state funding for land preservation], and I owe a debt of gratitude to both Governor Glendening and William Donald Schaefer.

We've been working with King Leatherbury since January, and I've been getting inquiries through the Department of Economic Development for a proposed golf course on his property. Somebody came in to see me about his and said 'Ms Owens, have I got a deal for you.' We could have 50 acres for Open Space, and I think he wanted 85 houses. I said, 'I'm sorry but it's not gonna happen.'

Now, we're buying the development rights to that 170-plus acres for $1.2 million.
BW Development rights?

JO King continues to own the property, but once it goes through [the agreement awaits signatures], he cannot develop it.
BW With lean years, will we be able to continue buying farmland or purchasing easements or development rights?

JO I don't see it. They already put limits this year on Open Space. Earlier, during the tail end of the legislative session, they were talking about abolishing those programs. 'You might have a bad year, but don't end them,' I said, 'it takes too long to get programs operational.' That could have an impact on all our parks and recreation.
BW Parts of the county already feel left out on that score. We have an Adequate Facilities Law that hasn't seemed to work well in some places. For instance, in Southern Anne Arundel, there has been little progress made on schools and roads. The area is short on recreational facilities, swimming pools or bike lanes. In a highly taxed area like that, are parts of the county falling behind?

JO All over the county, there's a need for more space for recreation. But the need for recreation in Southern Anne Arundel is key.

Other parts of the county have really very effectively lobbied for what politicians refer to as place holders in the budget. Once a thing gets into the book, it begins to take on a life of its own. Mr. Klocko has been an extraordinarily effective councilman for Crofton and Davidsonville. Millions of dollars have gone to Davidsonville … the Riva Park. There's not been that kind of advocacy before.

Editor's note: Incumbent Seventh District Councilman John Klocko died two days after this interview.

BW Are you saying that Southern Anne Arundel has not had a voice at the county level? Certainly, lack of representation has been a campaign issue this year. In the Primary, which had competition in both parties, John Klocko's Crofton neighbor Ed Reilly was the winner. But Ed Wayson, who lost on the Republican side, and both Democrats — Peter Perry, who lost, and Bill Rinehart, who prevailed — live south of the South River.

JO There's certainly not been the same allocation of dollars …

BW If you continue as county executive, will such imbalances be corrected in the next four years?

JO The budget looks barren, but we can plant the seeds now.

And there'll be little things. Like with the dog parks. That took only $20,000, and volunteers raised most of it. All projects don't takes so much money. It really takes ingenuity. Identifying the right people at the local level who want to do something and trying to give them the resources they need to make it happen.

There's no will that I've seen to raise taxes. We're going to have to create partnerships with everybody under the sun as I look at the financial picture.
BW How bare do you expect Anne Arundel's budget closet to be?

JO We don't know the extent we'll be directly hit. There are a couple of areas that we know. Utility taxes from electric deregulation brought a specific budget item directly committed to Anne Arundel County. That could be wiped out, and an $8 million-dollar direct hit would hurt. But compared to some other jurisdictions, the county right now is in good shape. I'm really proud that we raised our bond ratings during this term.
BW Has Bill Rinehart had your support for the Seventh District Council Seat that John Klocko held so effectively?

JO I tried to stay out of it — although it was hard in the sense that Bill Rinehart's mother was my second-grade teacher and his sister my sixth-grade teacher. I've known Bill my whole life, but I didn't get involved in that campaign. I figured it would be too divisive.
BW What is your short list of achievements you claim in your four years as county executive?

JOSchools, I'm so proud of: The hundreds of millions of dollars we're putting into our school system, in increases in salaries for teachers, retention of teachers, the wiring of our schools for thousands of computers that have gone in.

Education to me is not just K to 12. It's lifelong, so I'm thrilled with new buildings going up at Anne Arundel Community College and the expansion of our senior centers, with the opening of the Annapolis and Pasadena centers. The new Crofton Library …

BW What's the single most popular thing you've done.

JO It's different things. You talk to the teenagers in Glen Burnie, and they say the best thing I ever did was the skateboard park. The dog parks make me smile: That's more like a love affair. I never dreamed the extent to which they would become a meeting place for human socialization. Chesapeake Arts Center in Brooklyn Park is just wonderful …

I wanted the Annapolis symphony to be able to play outdoor concerts, so my personal favorite is the little amphitheater at Quiet Waters Park.
BW On the flip side, what's been the hardest?

JO The David Taylor Center has been the biggest single challenge because of everyone involved. But I still believe it's been the right thing at that location for Anne Arundel County, and it will stop some folks from having to commute to Washington. Long-term, I think it's just going to be an extraordinary generator of continuing defense-engineering research for the county.
BW What do you still need to fix?

JO Continuing with the schools … public safety … land use … Small Area Planning — although I think I'll be out of office before we finish the Small Area Planning process. It's horrible; it's too long, almost unfair to people — but its on track according to the General Development Plan.

And trails. I want to finish some work on trails. I love them. We have a better Greenway Plan and hiker-biker plan than we do a comprehensive transportation plan.
BW What would you hope to get done on transportation in the next four years?

JO We've begun incremental growth in the availability of van service for seniors and disabled — but that's a drop in the bucket.

I don't see the county, except for our Department of Aging, ever getting into the direct provision of transportation. We have Annapolis Transit in this part of the county and, thanks to Arundel Mills, we have public transportation for people to get to and from work — which is a first in West County.

The fact that we tore down all our old transit infrastructure in the county over the last 30 years makes it very hard.
BW People operate on perceptions, and there is a perception that you are closely aligned with developers and not sympathetic to the worries of many Anne Arundel Countians about unwise development. Should people be worried about where your heart lies?

JO No, no. And I ask that they look at my total record. People tend to pick one thing and focus on it. I would ask that they look at the whole array. And one of the things I'm most proud of is our mobile crisis team. It's wonderful, wonderful, and the police couldn't function without them.
BW The thing that worries us at Bay Weekly most of all is the preservation of land, so we can have a future where our children enjoy the same pleasures we have.

JO There's no time [left] … and people north of the South River don't feel that sense of urgency. My first year, people in Glen Burnie and Brooklyn Park said 'why should we support preservation of land when it's only going to benefit wealthy landowners.' There's a perception that all farmers are wealthy because of the land. We also have to preserve farmers.
BW As county executive, how do you sort out the difference between South County constituents, with their desire for land preservation, and people in North County, where there's not so much land to preserve?

JO It's always a question of balancing. In Brooklyn Park, it's tough trying to find a little spot of green space for a pocket park.

Overall, we're talking about quality of life for everybody, and that means different things to different people. I think, for example, if you said we're going to have streetlights all over South County, you'd have people marching to the Arundel Center. Yet in Brooklyn Park, I get bombarded about more streetlights, or I get calls that the lights are out.

The extraordinary diversity of this county is what makes it such a strong county. I wish it was easier for people to get to know one another. I think our form of government, the way the council districts are worked, limits everybody's ability to look at the whole. My job is to look at the whole county, trying to juggle and balance. I've even thought about an amendment or charter review commission about maybe having two councilpeople to run at large.
BW Before you leave, let's take on last look at development. Safeway never did work with you to cut down their size
JO They wouldn't do it … I'm sorry I didn't fly to California to talk with the company early on. That's the only thing I'm sorry for. Otherwise, I did everything else I could do.
BW Do you have any hope for managed, limited-size development in still-rural communities?

JO I think there is. Developers are talking the language of Smart Growth and infrastructure.
BW What power do you have to get developers to work in sizes and businesses smart for our communities?

JO That's going to vary.
BW So we're going to have to have a Wal-Mart in Parole?
JO I don't know. That's even a question now. But as it stands, all the codes Wal-Mart is allowed are legal. The forthcoming design standards that community is working on will determine the look.

---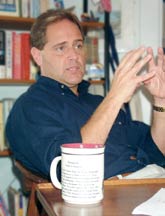 Phillip Bissett ~ The Republican Challenger
Soccer-coaching Republican candidate Phil Bissett sports a preppy style, but he's quick to tell you he belongs to the working class — by heritage and work ethic.

His roots reach back nine generations in Chesapeake Country, to 1768 on his father's side. "I was on the water from day one," he says, learning the Bay's ways from the Cadle Creek watermen of his mother's family.

Bissett signed onto his first job at 12 years old, earning $1.10 an hour cleaning up job sites for his father, a sheet metal worker who'd gone into business for himself.

Instead of college, the young Bissett had a couple of years of fun in Florida before signing on with Giant Foods and joining the Teamster's Union. He was still a Giant warehouse man, and a Teamster, during his first year as a delegate to the Maryland General Assembly.

How he got that job shows you what else Bissett had been doing through his 20s and 30s.

"I registered to vote in 1974 and started building my way up into the party," he says. From Young Republicans to presidential volunteer to Bobby Neall's driver back when the Democratic state senator was a Republican running for Congress, Bissett learned the rules of the game from master players.

He made himself so valuable that he was rewarded with a seat in the General Assembly, appointed to the seat won by legendary African American physician, entrepreneur and legislator Aris Allen, who died in the second month of his third term.

Bissett also learned that politics is a game with losers as well as winners. Mentor Bobby Neall never did get to Congress, and George Herbert Walker Bush, for whom he volunteered in '88 and '92, was a one-term president.

Bissett got his own experience losing in 1998, when challenger Dick D'Amato campaigned him out of the General Assembly. Bissett says that he lost because he "got complacent and lazy."

Now Anne Arundel county executive is the job for which the 46-year-old has a hankering. He'd like to have challenged fellow Republican John Gary, the previous executive, in 1998. But he opted out of that race. Now, he's out to beat the woman who beat Gary, Janet Owens.
BW You're running for Anne Arundel county executive. We're in a recession, and there's sure to be real competition for dollars and hard cuts to make and take. Every interest and county department is going to be wanting more — while even the state has begun to cut back. Looks to us like this job could be a real headache. Why do you want it?

PB It's a challenge that's not overwhelming.
BW Your experience in elected office has been in the legislature, where you served eight years. Your constituency there was what — 120,000? Now you are seeking to quadruple that, to 489,656. What prepares you to run a large, complex organization like Anne Arundel County?

PB I'm bringing political experience both at the state and local levels to the job. I already have the experience of running the county, per se, as chairman of the Anne Arundel County delegation in the General Assembly [from 1995-1998]. As a delegate from District 30, my responsibilities were representing Broadneck, Annapolis and portions of South County. When I became chairman, my responsibilities broadened because they became the entire county.

From that perspective I already have that broad-based knowledge and vision of what the needs are. I have a unique understanding of state and county budgets and how they relate to one another.

I can't stress how important experience and leadership abilities are in this race, because we're seeing they are not being employed currently.

I have the political experience, I have the legislative experience, the small business experience, the administrative experience and the corporate experience. I can converse from the billiards room to the board room.
BW How would you do the job better than Janet Owens?

PB If you put a plan in place, with short-, medium- and long-term planning, you will succeed. You surround yourself with people you trust and who you know are competent, and you let them do their jobs. You do not surrender control of the government to any special interest or non-elected person.

For one thing, there is an over reliance on state dollars. We get $25 or $30 million in state money. Anne Arundel needs to position itself, particularly in these tight budget times, to be as self-sustaining as possible to insulate some of the shock of the budget cuts coming when we're looking at a $2 billion deficit in this state.
BW How do you feel after the Primary Election, pumped or bruised?

PB Primaries are party-building tools. Our problem in the Republican party is that we're not prepared to lead. We've never developed that farm team. We've never had a bench in place ready to take over.

So when we do have a primary, you hear some people say, 'you can't challenge the incumbent. It's not right.'

I say, it makes us grow. It makes people pay attention to us. Controversy is good. Controversy equals coverage.

I'm psyched. I was one point off of my primary victory prediction. I predicted 65-35 and it was what — 64-36 percent? So our polls are accurate.

I'm going to make a prediction today. Write the number 53 percent down. Tuck it away, break that envelope out November 5 and see how it looks.
BW Behind the scenes in the primary, did you have the party leadership on your side?

PB That was one of the advantages I came into this race with. This is my fourth election. I've never lost a primary. My history, my roots in the party go way back.

Bob Ehrlich and I served together on the Judiciary Committee. We're old friends. My opponent didn't know how to gauge that support.

BW I want to look ahead to your strategy in this race, because your opponent was elected without the support of party leadership. How did she manage that, and how are you using it?

PB There was no plan in that '98 election. The only plan of the voters in that election was to get rid of the incumbent, John Gary. Mickey Mouse could have won that race.

As far as her putting on a concentrated effort to win, that didn't take place. It was 'put your name on the ballot and see what happens.'
BW But in the primary, Janet Owens beat Diane Evans, who did have party support from the Democratic leadership — and who left the Republican party rather than run against John Gary in the primary …

PB Diane had party support from [Senate President] Mike Miller, but when you're talking Democratic primary voters, you're talking liberal women, and Janet fit that bill. Diane didn't. She was seen as an opportunist.
BW How much did you spend to win the primary nomination?

PB We raised $60-some thousand and spent $50,000 to $55,000.
BW How much will you need to spend to unseat a sitting executive?

PB We'll be able to have enough money. I'll admit I've had a little trouble raising money in this particular race. But money's not going to buy happiness in this race. As soon as my opponent comes out with negative ads, which she will soon, it'll work against her.
BW From where does your money come? From what kinds of sources in what kinds of amounts?

PB I have donations from $5 to the maximum, $4,000. I have more single-family, small-business builders than I do developers. Regular people on the street have always been my support.
BW Anne Arundel's rural lands keep slip-sliding away. Should the present executive have done more to staunch the flow? Would you?

PB Twenty years ago, when agricultural preservation was put in place, it had a goal of 20,000 to 40,000 acres over the next 20 years. We're at 20 years, and we haven't met 10,000 acres — and I don't think we have another 10,000 acres left.

Why? Farmland preservation has been used as a political tool. With all due respect, we have Rec and Parks running this, and they can't keep ballfield grass cut. Land preservation should be run by a major agency.

Second, it's not being backed up with correct funding to buy the properties. Two years ago, the governor took $7 million away from the county because we didn't have a plan or projects in place. This year, we lost another $300,000.

You gotta fund it and give it the highest priority if you're going to do it.

BW What commitment to farmland and rural preservation do you make?

PB We're at a point where we're going to have to reassess what we have done, why we have done it and how we're going to do it in the future. That's exactly what we plan to do. I don't want to make decisions based on information deficit. Any new CEO coming into any organization is going to make an assessment.

We're going to assess where we are in regards to building permits, environmental policies and programs and funding — the whole thing. We need to do audits for every single agency internally and externally.
BW Are you calling for a moratorium on permits?

PB If I did a moratorium, everything would stop. I'm not going to stop the process. It has to go on for us to determine what's wrong by following every kind of permit through the process. I call my plan a working moratorium, a window of opportunity.
BW What's going to be better afterwards?

PB I'm going to have the knowledge to make correct decisions for the county and a plan in place to take us where we need to go.
BW Speaking of plans, what would you do with the Small Area Plans?

PB We need to enhance it somehow to give Small Area Planning some follow-up capabilities. The citizens put all this time into coming up with good documents for the future of our areas, and then they go home. How do they know the process is being followed up?

BW Will the committees continue as part of the review process?

PB They will continue. But we need some type of charge for them to do the follow-up.

BW Do you think that people who were on the committees will actually do it again, after all that went into their deliberations, all the work and animosity and bureaucracy?

PB If they see some sincerity and see that they have an active role that matters, they will stay involved.
BW Polls consistently rank development high on the worry list of Anne Arundel voters. What will you do about the direction of county growth?

PB I'm not going to stop residential and commercial growth in the county. Yet I can control the magnitude of development and determine what kind of businesses, what type of development we want that is compatible with our quality of life.

There are a lot of areas the business and environmental communities can work together. Nowadays, it's good business to be environmentally sensitive. There needs to be that balance.
BW Is there that balance?

PB I'm not so sure there is. When I sit in traffic and it takes me 45 minutes to get out of Mayo, then it takes me five minutes to get from Woodland Beach to Annapolis, I think something is wrong. I think it's short sighted. I haven't seen the long-term vision put in place. And I haven't seen this county abide by the Smart Growth concept that's the law.

BW Your environmental record in the legislature didn't win you A's from the League of Conservation voters. In fact, on their selected bills, your grades ranged from 50 percent to zero during your years in the General Assembly. Have you undergone a conversion?

PBThere were some in that organization that wanted me to go, so they cherry-picked the votes, and that's what you see here.
BW We believe Anne Arundel County needs officials who support the environment. If we can't count on your record as an assessment to guide voters, then what can you give them to count on? Once you're not voting, what will you do to protect the Bay?

PB Put policies in place that prepare us for the future. You put the policies in place, you fund them appropriately and you make sure all your agencies and department heads understand the vision.
BW What's your vision?

PB I want to make sure that my children have the same opportunities that I and my parents did, to enjoy the same pleasures in life that we did, with access to the water and good clean air.
BW But they aren't going to. We've already used up most of the land.

PB That's why I'm talking about a comprehensive approach. The reality is we aren't going to stop development. You have to have a plan in place for how it happens.

Now, there is none. We have developers and politicians dictating what goes where and how, with no consistency.
BW Do you pledge to follow Smart Growth?

PB Absolutely. We're not going to follow it to the T, because one size doesn't fit all. We're going to adapt it and use that concept to set up our plan.
BW Good versus bad development has polarized citizens under both John Gary and Janet Owens. Does every community in Chesapeake Country need a fully developed shopping center?

PB No, I don't think they do. Yet I think that people in those areas deserve access. Should we put a plan in place that has access for every community to utilize? Yes.
BW How would you balance people's need for services in their community with Edgewater's massive development?

PB Cooperation is a critical part of it. You sit down and communicate with citizens in an area. Back to the Small Area Plan example, you do it in a way that allows them to have input.

That's leadership. That's what's been missing.