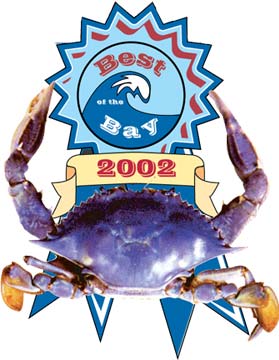 It's Time Again for Bay Weekly's Best of the Bay!
If you were one of the thousand-plus readers to fill out and send in your Best of the Bay ballot last spring, this is your story, and what a fun one it's been to put together. We received hundreds of ballots by mail, and a couple hundred more, this year, over the Internet. All these ballots provided our summer intern, Cynthia Owens, few idle minutes as she dutifully noted and compiled the results.

Those results proved a fascinating look at life in Chesapeake Country. Some questions respondents agreed upon: Ballots were near unanimous in their appeal for a clean and healthy Bay. Also agreed upon was the belief that the Bay itself is the best thing about life in these parts. Not so decisive were your responses to Biggest Gripe about Chesapeake Country, where people scrawled their distaste for everything from traffic to NIMBYs to mosquitoes to pollen. So varied were the gripes, in fact, that in the end a dozen respondents voting "nothing" won out. And darned-right divisive were the responses for Best of the Bay's political crown and shackles, if you will: Gov. Parris Glendening 'won' both, proving that you can't please all the people all the time.

Best of the Bay is a team effort and the result of much hard work. Special thanks to contributors Martha Blume, Bill Burton, April Falcon Doss, Lisa Edler, M.L. Faunce, Carol Glover, Marnie Hansen, Nancy Hoffmann, Betsy Kehne, Alex Knoll, Chris Kulczycki, Bill Lambrecht, Sandra Martin, Katie McLaughlin, Eileen Moore, Annette Najjar, Matthew Pugh and Brent Seabrook.

This second time around, Best of the Bay has only gotten better. Remember, this is your story, and we encourage your feedback. We also welcome suggestions for additions — or deletions — to next year's Best of questionnaire, beginning the issue of February 6, 2003.